Opinion: A first-wave feminist for a third-wave audience, Polly Gray makes us reassess what is really means to be a powerful woman (tá leagan Gaeilge den alt seo thíos)
"I'm having trouble these days, and I'm twice the man you are"
Tommy Shelby is easily one of the best anti-heroes of recent years, but it is Polly Gray, the ferocious and stylish Alpha-female of the Birmingham gang, who is the better protagonist for many Peaky Blinders' watchers. The show boasts several outspoken, formidable female characters, to the point where more cynical viewers might consider their inclusion unrealistic as the show takes place decades before the women's liberation movement takes off. Aren't the likes of Polly Gray and Ada Thorne anachronistic inventions designed to appeal to modern sensibilities?
Such is the odd conflict between writing fiction and historical research. Fiction uses metaphor, symbolism and above all the imagination. History is seen as linear and transparent and the accounting of facts, but historical fiction, with its use of metaphor and style, can create a new way of writing history down, making it vivid, emotional, sensual and psychological, which is exactly why Peaky Blinders is so successful and exactly why Polly Gray can exist.
The women of Peaky Blinders
Series creator Steven Knight must be a feminist because by creating such a strong character he positions Polly Gray in response to the dominant male narratives of history instead of parallel to it. Polly Gray "does" history as well as a man; she tells us the untold story of the Birmingham gang, exposes historical injustice and most importantly, embodies a past in which women were not oppressed and proves that women could succeed in a man's world. Polly shuns the socially constructed notions of what it means to be a woman and defies the traditional power structure that exists in 1920s England.
It must be noted that, in historical fiction in general, women are very obviously in the margins of the plot and perhaps this is a portrayal of how women were (and still are maybe) in the margins of society. In historical fiction, we come to notice that most female characters in novels, TV shows and films rely heavily and depend on men in some form or another.
But the character of Polly Gray defies all of this and the men in the Shelby family often actually rely on her. In fiction, it is absolutely imperative for a character to be fully developed or developing, and not act as a pre-planned caricature of an idea, moral, or message. A strong female character in fiction is not a means to an end. She is not a scheme designed to exhibit the various traits of the feminine psyche, or merely represent the collective experience of a community in a patriarchal society. Knight seems to understand the importance of a strong female character, not only to explore and deconstruct the mythic power of femininity, but their importance as a personal and private voice true to their own character.
A recap on the first four seasons of Peaky Blinders (warning: contains spoilers)
"Sometimes the women have to take over. Like in the war."
Polly embodies many feminine natures in Peaky Blinders and what is meant by a feminine nature is the understanding of the female character archetypes that are common in literary works. According to most Jungian psychologists, there are seven main female archetypes and Polly seems to embody all of them; the mother, the maiden, the queen, the huntress, the wise woman, the mystic and the lover, and her gypsy background is undoubtingly a contributing factor to all of this.
Polly is feisty, daring, clever, creative and insightful. She is as powerful in heels as she is in bare feet. Not only that but Polly's experience on the gallows in the opening episode of the third series of Peaky Blinders has given her a new understanding of herself. "She has a fearless quality that makes somebody very dangerous, when they no longer fear death," says Helen McCrory, who plays the character in the series. "There's no stopping her." More so, the character of Polly Gray delves further than all of these Jungian archetypes and that is what makes her iconic as a female protagonist.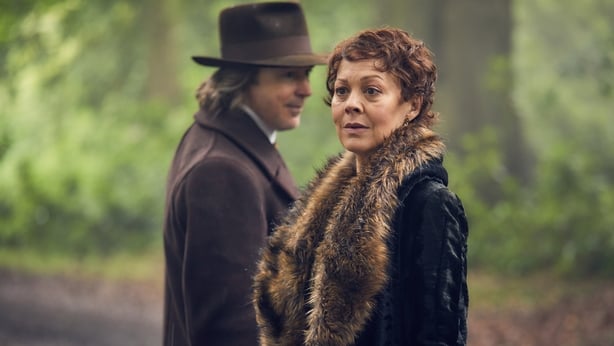 "Men don't have the strategic intelligence to conduct a war between families. Men are less good at keeping secrets out of their lies."
Polly shamelessly smokes, has a gun, threatens a nun with a hatpin and tells Aberama Gold (Aidan Gillen) to "f**k' her before the swan dies". She dresses to kill (no pun intended) and makes the viewers rethink the term power dressing, all of this contributing to her iconic character. Polly Gray is a first-wave feminist for a third-wave audience, and she makes us reassess what is really means to be a powerful woman. She has many one-liners that pack a punch and which highlight her role as matriarch. But the big question that she asks, one that consolidates her as a female icon, is "why should the boys have all the fun?"
---
The views expressed here are those of the author and do not represent or reflect the views of RTÉ
---
Cén fáth gur deilbhín feimineach é Polly Gray ó Peaky Blinders
Tuairim: Feimineach í Polly Shelby atá gan scáth gan náire do aimsir na linne ina mhaireann sí agus téann go mór i bhfeidhim ar lucht féachana an lae inniu
"I'm having trouble these days, and I'm twice the man you are"
D'fhéadfaí a thuairmiú go bhfuil Tomás Shelby ar cheann de na frithlaochra is fearr atá ar an scáileán le cúpla bliain anuas, ach dáirire, is í Polly Gray, an bhean dhóighiúil, fraochmhar seo atá i bhfad níos tabhachtaí do lucht leanúna na sraithe. Bancheannaire galánta is ea í ar an ndrong seo as Birmingham. Cuireann Peaky Blinders mórán ban os ár gcomhair atá chomh láidir agus chomh ceanndána sin sa tslí is b'fhéidir nach gcreidfeadh roinnt den lucht féachana soiniciúla iontu. Is féidir linn tuairim na ndaoine soiciúla seo a thuiscint mar gan amhras, tá an tsraith suite i bhfad roimh a leithéid de rud agus saoirse na mban. Mar sin, nach ceapadóireacht míoiriúnach atá in Polly Gray agus Ada Thorne atá díreach ag freastal ar lucht leanúna an lae inniu agus taithí againn ar shaoirse na mban? Ní ná é.
Tá an tseift seo éifeachach mar tugann sí dúshlán don lucht féachana idirdhealú a dhéanamh idir an fhírinne stairiúil agus an ficsean, na comhábhair is tábhachtaí san fhicsean stairiúil. Úsáidtear meafair, siombalachas, agus cruthaitheach sa bhfiscean agus is iad fíricí bun agus barr na staire. Ach, leis an seánra seo (an ficsean stairiúil), lena stíl agus lena chur chuige, samhlaítear slí i bhfad níos bríomhaire chun an stair a chruthú. Coraíonn a leithéid sinn, cuireann sé ag smaoineamh sinn, agus sin an fáth go bhfuil an oiread sin rath ar Peaky Blinders agus is mar sin go bhfuil a leithéid de charachtar agus Polly Gray ceapaithe ann.
Ó RTÉ Raidió na Gaeltachta's Bláthnaid libh, Cathal Watters ag caint faoi Peaky Blinders
D'fhéadfaí a thuairimiú gur feimineach é Steven Knight mar leis an gcarachtar láidir seo, Polly, tá sé ag tabhairt dushláin do insint agus guth firinscneach na staire. Tugann Polly Gray léargas eile dúinn ar an stair, insítear an scéal eile dúinn ar an ndrong seo as Birmingham léí, taispeánann sí go raibh cos ar bolg ar mhná san aimsir chaite gan amhras, ach sé an rud is tábhachtaí a dheineann sí ná an léiriú an thugann sí dúinn ar bhean atá mar chroí lár na staire ní ar a himeall. Téann Polly go hiomlán i gcoinne rialacha traidisiúnta an tsaoil a bhí ann do mhná i Sasana sna 1920idí.
Mar sin féin, is fiú dúinn, tagairt don bhfírinne agus don bhficsean arís, na gnéithe is tábhachtaí, dár ndóigh, a bhíonn fite fuaite san fhicsean stairiúil. Seanscéal go deo atá ann, gan dabht, go mbíodh (agus b'fhéidir go bhfuil fós) mná ar imeall sochaí na staire. Is cuid den stair í an easpa stádais sin a bhí ag mná. Sin í an fhírinne. San fhicsean stairiúil go ginearálta, bíodh sé ar an teilifís nó ar an leathanach, braitheann mná, ar shlí amháin nó ar shlí eile ar na fir. Ach arís, feicimid nach dtagann Polly Gray leis an tuairim sin, agus a mhalairt de scéal a bhíonn ann do na Peaky Blinders a bhíonn ag brath ar Polly go minic.
Ó Peaky Blinders Series 2 Episode 2, iontas lá breithe do Polly
San fhicsean, tá sé thar a bheith tábhachtach go mbeadh na carachtair ag forbairt i gcónaí agus nach bhfuil siad curtha os ár gcomhair mar mhóitíf réamhcheapaithe. Maidir le bean láidir san fhicsean stairiúil, más toil linn an chríoch caithfimid toiliú leis na dóigheanna. Tuigeann Steve Knight an tábhacht a bhaineann le charachtar láidir baineann a chruthú, ní hamháin chun cíoradh agus scagadh a dhéanamh ar chumhacht na mban, ach chun ardán a thabhairt dá nguth príobhadach agus dá nguth pearsanta.
"Sometimes the women have to take over. Like in the war."
Is iomaí 'nádúr baineann' atá i bPolly gray sa sraith stairiúil seo agus is é atá i geist le 'nádúr baineann' ná, na tuiscintí ar an nádúr baineann nó ar an aircitíopa baineann atá le fáil go coitianta i saothair liteartha. Dar le síceolaithe Jung, tá seacht gcinn de na haircitíopa seo le feiceáil go minic i saothair liteartha, agus tugann an charachtar Polly Gray guth dóibh ar fad; an mháthair, an mhaighdean, an bhanríon, an bansealgaire, an saoi, an bhean mhisteach agus an leannán. Níl aon amhras ann ach oiread go gcuireann a cúlra giofóige go mór leis sin ar fad.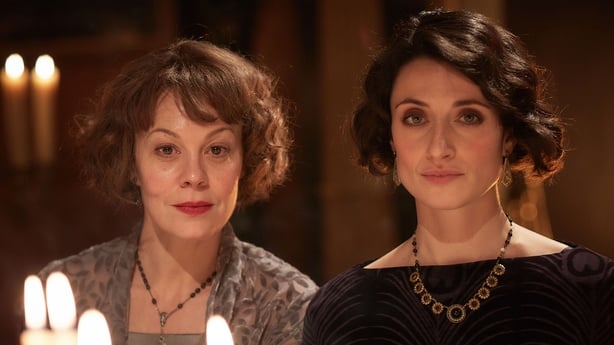 Tá sí glic, cruthaitheach, lánléargasach agus tá sí chomh muiníneach sna sáilí arda is atá sí agus í cosnocht. Ní hamháin sin, ach tuigtear dúinn go bhfaigheann sí tuiscint níos doimhne uirthu féin nuair a cuireadh chuig na croiche í sa triú sraith, agus nuair a éalaíonn sí ón mbás. "She has a fearless quality that makes somebody very dangerous, when they no longer fear death," arsa McCrory. "There's no stopping her." Chomh maith leis sin, is mó atá i gcarachtar Polly ná na haircitíopí sin dar le Jung, agus is de bharr sin go bhfagann sí rian orainn mar charachtar.
"Men don't have the strategic intelligence to conduct a war between families. Men are less good at keeping secrets out of their lies."
Caitheann sí gal gan náire, tá gunna ina glac aici, bagraíonn sí bean rialta le biorán gruaige, agus deir sí le Aberama Gold (Aidan Gillen) go bhfuil fonn leathair uirthi 'before the swan dies' sa chúigiú sraith. Bíonn sé gléasta go péacach i gcónaí agus bíonn ar na lucht féachana athmhacnamh a dhéanamh ar cad is feistiú ceannasach ann agus cuireann sé seo ar fad le tábhacht a carachtair. Is feimineach í gan scáth gan náire do aimsir na linne a théann go mór i bhfeidhim ar lucht féachana an lae inniu. Chomh maith leis sin, is bean dheisbhéalach í, tréith a thacaíonn lena ról mar mhatrach na clainne, ach is í an cheist is mó a chuireann sí, a dhaingníonn í mar bhean láidir ná seo; 'why should the boys have all the fun?'
---
Is leis an údar na tuairimí a léirítear anseo agus ní léiríonn siad tuairimí RTÉ
---