Analysis: many assume the conductor is just there to keep the beat, but it's helpful to imagine them as a producer in front of a studio mixing desk
The conductor is one of the most recognisable figures in the musical world, standing in front of choirs and orchestras, waving their mysterious magic wands - but what are they actually doing? Many assume that conductors are just there to keep the beat, and whilst that's part of the job, it's more accurate to think of conductors as silent musicians whose instrument is made of people - so how do they make the music happen?
Starting the music
Imagine 60 people, assembled together in a room. You'd like them to sing together as a group, but how can you make sure that they all start at the same time? You could start singing yourself and hope that they join in, but wouldn't it be more effective to agree to start on your signal? That's exactly what conductors do. They sweep their arms upwards to tell the group they should breathe in and get ready to sing, then let their arms fall downwards again to signal that the singing should start.
Tempo
Once you've started the group singing, the next thing you need to ensure is that they don't speed up or slow down – you may have witnessed a concert where the audience starts clapping along with the band and the clapping gets faster, and faster, and faster… Research has shown that this is almost inevitable.
The conductor's job is to fight the group's influence and keep the music moving at a steady pace. Using patterns like the one below, conductors draw shapes in the air, guiding the musicians through the music, bouncing on each beat to keep everyone moving at the same time.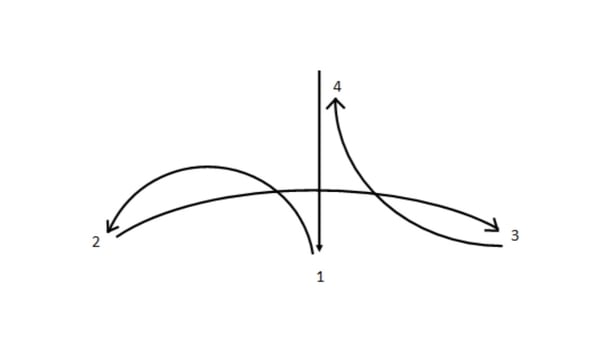 Interpreting
Any good musician knows that it's not just about playing the right notes at the right time, the challenge is to make musical choices that make the performance come alive – what style of vocalising is most appropriate for the piece, and which instruments should the audience hear most clearly during each section? It's helpful to imagine the conductor as a producer in front of a studio mixing desk. They can turn the volume up on the violin section, or turn the percussion section down a little.
The conductor decides in advance what their version of the piece will sound like and using their body language and facial expression guides the musicians in front of them to produce that sound. This is why every conductor's 'cover version' of the same piece will sound unique. Consequently, before arriving at their first rehearsal, the conductor spends hours in preparation becoming familiar with every instrument's line in the piece and crafting their own interpretation of the music.
Teaching/rehearsing
Conductors don't just work with professional musicians. All over the country, amateur groups such as choral societies and youth orchestras meet to make music together. Many amateur musicians don't read music and/or struggle learning pieces alone. Conductors working with these groups are therefore not only directors, they are teachers, ensuring that everyone is taught how their part should sound.
They might also offer technical help to the group – for example with my choir, Loud & Proud – Scotland's LGBT+ Choir, I spend time each week using games and exercises to teach singing technique, giving singers take-home skills to use again and again. Some regard this as the most important job a conductor has and that most of the conductor's work is therefore done before they get on the podium on concert day.
We need your consent to load this rte-player contentWe use rte-player to manage extra content that can set cookies on your device and collect data about your activity. Please review their details and accept them to load the content.Manage Preferences
From RTÉ Radio 1's Marian Finucane Show, David Brophy joins Marian in studio to talk about life as a conductor
Moral support and leadership
Performing in front of an audience can be intimidating. Most musicians appreciate a conductor standing in front of them offering moral support throughout the experience. Conductors are often inspirational leaders who decide the artistic direction of the group. This can involve choosing exciting new repertoire to play or developing new techniques to improve performance.
It might also involve inspiring the group by giving pep talks or using body language to provide reassurance that they are performing well onstage – a single well-timed smile from the conductor can make the difference between a mediocre and a bombastic concert!
We need your consent to load this YouTube contentWe use YouTube to manage extra content that can set cookies on your device and collect data about your activity. Please review their details and accept them to load the content.Manage Preferences
Composer Leonard Bernstein conducts with his facial expressions
Administrator
Unfortunately, the life of a conductor isn't always glamorous. Whilst conducting is their main duty, they are often part of the administrative team that keeps the group running. They may have to attend meetings with sponsors, directors or other stakeholders. Conductors of amateur groups might also take care of booking the rehearsal room or purchasing sheet music for the group. Many conductors also work as self-employed practitioners and therefore must have a talent for self-promotion and managing their own business affairs.
Conductors have many responsibilities. They are accountable to sponsors, directors, the composer of the music, the audience and, of course, to the musicians in front of them. Conducting is a job that requires confidence, intelligence and great people skills – after all, without the goodwill of the musicians following them, conductors would produce nothing at all.
These silent musicians influence every single other player's experience of making music - perhaps their batons really are magic wands after all!
Dr Kathleen Cronie is the musical director of Loud & Proud, Scotland's LGBT+ choir, and teaches voice at the North East of Scotland Music School.
---
The views expressed here are those of the author and do not represent or reflect the views of RTÉ
---