Analysis: there's still a lot of work to be done to ensure that women stay engaged with sport on an equal footing with men.
"I've always just enjoyed camogie. A good few of my friends stopped, especially around first year or second year. I just kept going with it, because it never really lost its appeal for me. There was a point, maybe in first year, where I wasn't very enthusiastic, but I'm well back into it now!" says Caoimhe Doyle, 17, from Co Kilkenny.
Caoimhe has played camogie for Danesfort GAA since she was "tiny," first for the under 8s and now as a right wingback on the minor and intermediate team. She wears the number 5 jersey proudly and has stuck with her sport right through school, even as other girls dropped off.
How to get more women playing sport? 'One of the ways is by providing females with opportunities that are actually fun'. Insights from @AngelaCarlin7 @UlsterUni - video by @_LauraGaynor - based on a piece by @thatdanishgirl #20x20 https://t.co/LduN00mp1b pic.twitter.com/UxIRio3wQF

— RTÉ Brainstorm (@RTEBrainstorm) November 18, 2020
This makes Caoimhe's story a little different. While boys and girls are fairly evenly matched in childhood, something starts to change around the age of seven or eight, when the "gender play gap" emerges and disparities in levels of physical activity and sport participation start to show. The time after puberty is also a key point where the drop-off rate in sport is greater for girls than it is for boys. This gap persists into adulthood, where women report significantly lower levels of participation in physical activity and sport.
The 2018 All-Ireland Senior Ladies' Football Championship Final saw a record-breaking 50,141 fans in the stands and this Sunday's upcoming clash between Galway and Dublin in Croke Park is likely to be another bumper day. Off the back of three hair-raising Camogie finals last weekend, it's been an exciting summer for women's sport. Earlier this year, the BBC launched its #changethegame campaign and RTÉ has partnered with the 20x20 'If she can't see it, she can't be it' campaign. 
But despite the increased interest and media coverage of women's sport, there's still a lot of work to be done to ensure that girls stay engaged with sport on an equal footing with boys, says Dr Angela Carlin, lecturer in exercise and health at Ulster University. "At the individual level, it's trying to address the day-to-day barriers," she says. Something which won't be done easily.
We need your consent to load this rte-player contentWe use rte-player to manage extra content that can set cookies on your device and collect data about your activity. Please review their details and accept them to load the content.Manage Preferences
From RTÉ News, The new 20x20 campaign seeks to increase participation, media coverage and attendances at women's sport by 20% by 2020
These barriers include; issues around visibility and gender balance; the transition from childhood to adolescence and the difficulties this brings around a lack of time; the influence of peers and fun; issues around perceived femininity; and the strict structure and competition element of sport.
(1) Encourage and provide sport for the fun of it
Carlin says fun gets overlooked in a sporting context, but the research has consistently shown that the main drivers for keeping boys and girls at any age engaged in sport are fun and being around their peers. While coaches and parents might value competition and wanting the child to succeed, children and adolescents place less value on that.
This is is why encouraging sports and activities that aren't competition and rule-based up until a much later stage is key. "Because even if you look across under 6 and under 8 sport in Ireland, from the get go, they're in tournaments and it's all competitions," she says. "When we think about sport, we traditionally go to the definition that it is structured and it's often competitive in nature." But for girls who already have low levels of activity, competition and structure may be perceived as barriers and can be "quite off-putting."
Schools are a great source of providing opportunities to be physically active, but most of the provision of extra-curricular sport is in relation to team sport, Carlin says. "So they'll have a Gaelic team, a hurling team, a soccer team. In many cases as well, those are not open to everyone. After-school training and games often, you know - there's teams and panels selected for those and they're restricted."
Carlin says those types of structures are likely only appealing to the highly active, sporty kids and that this can create a vacuum in terms of providing other opportunities for sport that are more informal and where the focus is fun rather than competition.
There needs to be a "plan B" for those that don't want to go down that route, she says.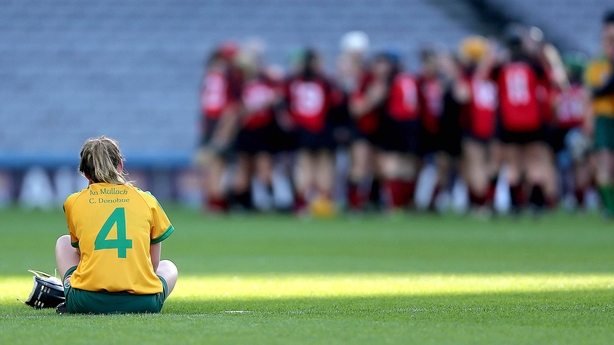 (2) Build peer support into programmes
At a young age, the barriers to sport and physical activity are much more structural and physical, Carlin explains. In children aged eight to nine, it's more likely that they rely on parental involvement: "They're relying on mummy and so on, to support them being able to attend and engage in sport."
"But then we know again, as we come into that shift, adolescence and puberty, it's less likely the physical and structural barriers that are cited, it's much more then, interpersonal reasons, things like; 'I don't like it, it's boring,' and social environment as well; 'friends aren't going, I don't wan't to go, I don't want to take part'."
"All of the research now tries to look at the influence of peers and friends and tries to build, then, peer support into programmes to get girls more active," Carlin says.
(3) Make it easier for girls to balance school and sport
As children get older and make the change from childhood to adolescence, there's often a shift in priorities. While a lack of time is an issue for girls and boys, research has shown that girls are more likely to cite increased pressure from school as a reason for not participating in sport, Carlin says. Other factors are competition from other interests, including technology and smart phones, which is a big factor for both boys and girls now as well.
"As they move into secondary school, they would rather maybe go up to the town and socialise with their friends for an hour than go and do activity… so that's maybe replacing time in the evenings that would have previously been spent being active," she says.
We need your consent to load this rte-player contentWe use rte-player to manage extra content that can set cookies on your device and collect data about your activity. Please review their details and accept them to load the content.Manage Preferences
From RTÉ Archives, a camogie match in Mayo in 1956. Photographed by PJ Gilmore, the film shows girls from both teams lining out before the game
(4) Increase visibility and coverage and attendance of women's sport
Role models do matter and for little girls and young women who might dream of seeing themselves on the pitch, "if you can't see it, you can't be it" is especially true. Carlin says addressing the overall gender imbalance when it comes to sport is key, but nevertheless research has shown something surprising.
"In some qualitative work that we've done, we sort of expected role models and things like that to come out as a driver, but many say no, it was more friends."
But the reason for that could be because the role models aren't there to begin with, Carlin says. Which is where initiatives like 20x20 come in, which aims to increase media coverage of women's sport, attendance at games and female participation in sports by 20% by the end of 2020.
(5) Teach girls to believe that they can do it
Along with visibility and role models, Carlin says an issue that comes up frequently around girls and sport is around "perceived femininity" - sport is unfeminine - and not wanting to be sweaty or not wanting to mess up their hair.
Carlin points to the successful This Girl Can campaign from Sport England, which uses a number of slogans, including "fit got real," and a host of real women of all shapes and sizes, ages and races and abilities, to share the message.
We need your consent to load this rte-player contentWe use rte-player to manage extra content that can set cookies on your device and collect data about your activity. Please review their details and accept them to load the content.Manage Preferences
From the RTÉ GAA Podcast, a look ahead to Sunday's camogie finals, the lessons learned by Kerry and Dublin last Sunday, and the psychology of an All-Ireland final replay
The other issue that ties into perceptions of femininity is belief in their own abilities. "People who don't take part in sport, particularly older adolescents and adults, it's generally because they have low self-efficacy, they don't think they have the perceived competence. And again, this goes back to competition," she says.
Carlin says evidence shows that low self-efficacy is usually linked to negative experiences that have stemmed from childhood or adolescence. This could be a bad experience in a PE class, a teacher, or not getting picked for a team.
"So another key thing in adolescents and teenagers is just promoting and trying to increase their own self-efficacy and their own belief that they are competent and it's all kind of part of helping them overcome those barriers."
Camogie makes you feel like you belong in the place where you're from
For Caoimhe, the social and community aspect of playing Camogie is really important: "It makes you feel like you belong in the place where you're from. I just get a rush out of playing, it's a great sport like," she says. Although she's in her Leaving Cert year, having something like Camogie to get her out of school and the library, really helps her balance things, and her club is understanding if she can't make a training session.
Caoimhe intends to keep up the sport even when she goes to college and seeing older teammates do this has helped her see it's possible. "There's a good few older girls on the team who have made an effort to keep it going - even though it is difficult to get down on the weekends from Dublin maybe, if you're there… It means a lot to play with the older girls, they're role models for all the younger ones as well. It means that you don't have to give up when you're 18, you can keep going."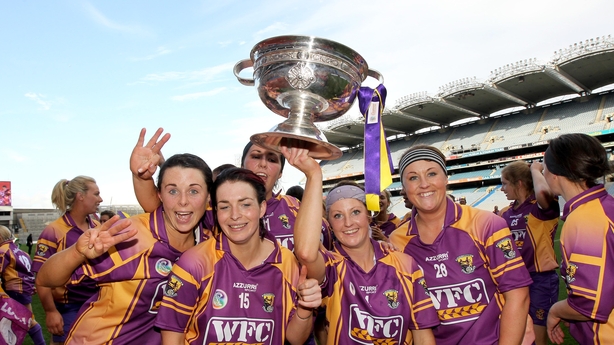 On the "gender play gap" Caoimhe says "it's got to have something to do with the way that Ladies sports is viewed and emphasised I think. There's not nearly as many boys at that age dropping out. My brother is 15 and he plays under 15s and with minor and the drop off rate is so low, like no one stops playing. I think, probably sports is emphasised more to them than it would be to girls."
The 17-year-old counts sisters Una and Mary Leacy, the legendary Wexford Camogie stars, as some of her role models. But there are plenty of homegrown Kilkenny stars to look up, as well.
"[E]ven in school, we've got past pupils who are on the (Kilkenny) team and I think it's just great to have someone to look up to. It helps to be able to see it on television, it makes it feel like a major sporting event, which it is - it's not just the mens."
---
The views expressed here are those of the author and do not represent or reflect the views of RTÉ
---