Opinion: how Dublin and Ireland could reimagine urban and suburban living for the 21st century and avoid total gridlock
By Shane O'Mara, TCD
Looking back, we all wanted to know why we hadn't done it sooner. Dubliners and visitors alike said that city walking was, once again, wonderful. Change became inevitable, though, after the disastrous events of June 2023. Dublin's population of 1.4 million in August 2019 had become 1.6 million in 2023 and exceeded 1.8 million in 2030 as the capital became an international city of scale. Population, incomes and economic growth continued their strong upward paths.
The short-lasting but hard Brexit of 2019 brought many extra jobs to an already-pulsating Dublin. The swift, emergency re-accession of the UK to the EU after its sharp, deep and economy-wide recession slowed, but did not halt, the westward job-flow, especially in the fin-tech sector. For want of viable alternatives and lack of political will, traffic volumes had grown relentlessly, as public investment fell far behind what was needed to stem private car use. Dublin was ever-more crowded, finely-balanced and awaiting a fall.
From RTÉ 2fm's Dave Fanning show, an interview with Shane O'Mara about his new book In Praise of Walking
That June, the weather was very warm, well outside the average for Ireland. That month also brought the first joint meeting of all the heads of the OECD member states to Dublin, hoping, perhaps quixotically, to reimagine global governance for the 21st century and beyond with the grandly-named Dublin Global Governance Round. Government ministers, in particular, hoped for a permanently-located global institution for the governance of the tech sector to be based in Dublin, given Ireland's centrality as tech hub.
The Government was proud to show the country off to the world for four days. Planning the event was a security and logistical nightmare, with thousands of delegates and their security teams attending. Planning started in June 2020, with advance block-booking of virtually all the hotel rooms within a 20km radius of the Spire. AirBnB restrictions were also relaxed to accommodate the expected delegate and visitor onslaught. Many country delegations block-booked the grand estate hotels ringing Dublin – requiring numerous car-conveys to get to the various conference venues such as Dublin Castle, the Convention Centre and the RDS.
From RTÉ Radio 1's This Week, RTÉ Western Correspondent Pat McGrath on if traffic gridlock and soaring property prices are driving people away from the capital for a better life in the west
It didn't take much to bring Dublin traffic to a halt. Initially, it was a few vehicle crashes occurring at the same time with predictable and paralysing consequences. A speeding truck crashed and overturned on the inbound lane of the Port Tunnel, which caused a multi-truck and car pile-up and fire, knocking the Tunnel out of commission for weeks. An inattentive van driver crashed through the Merrion Gates, striking a passing DART, taking the track and train out of commission for several crucial days, forcing more people into their cars to get to work.
Unusually heavy and prolonged rain showers in the weeks preceding the conference caused major flooding, and Dublin's underprepared water-handling systems were tested beyond their limits. The canals burst their banks, and sewers and drains overflowed, causing many more road closures.
The first morning of the convention was chaotic and embarrassing for the Government
Things did not improve. The day before the conference, a pile-up on the M50 involving a chemical spill at the major Red Cow interchange shut traffic in all directions. Hackers and anarchists also saw their chance to attack the Dublin traffic management system to disrupt the convention. Step-ladders, spray paint, hammers and wire-cutters effectively knocked out traffic cameras and cut off traffic controllers. Hackers managed to take down the traffic control system entirely, jamming traffic lights on red, stalling traffic everywhere. There were hundreds of reports all over the city of minor collisions, further amplifying the traffic chaos. So much for Ireland's readiness to house global governance of the tech sector, given our ill-preparedness to fight a determined cyber-attack.
The first morning of the convention was chaotic and embarrassing for the Government. The Taoiseach was upstaged by the Prime Ministers of Lower Slobbovia and Ruritania. They had sensibly refused cars in favour of bicycles and both arrived ahead of time to the opening ceremony in Dublin Castle, finding few Government officials present, and other delegations struggling to arrive. The Taoiseach eventually made it on foot. The US President, staying in the US Ambassador's residence in the Phoenix Park, cycled with her entourage the short distance to Dublin Castle, diverting through the urban village of the Liberties, where she was cheered on by the locals.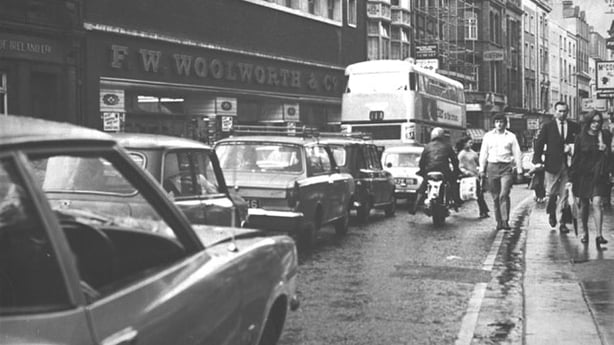 Many visiting delegates were trapped in their long car-conveys in the unpleasant and unseasonable heat. Eventually, bored and frustrated, they decanted their overheated vehicles and did something remarkable: they walked, and they talked as they walked. The differing delegations mingled as they ambled along, relearning the lesson they had forgotten cloistered away in conference rooms. Walking is social, stimulating joint problem-solving, as well as occasioning enjoyable gossip about other leaders. Relationships were formed. And as they walked, they were greeted by local residents providing water and laughter.
The Dublin Round eventually got underway. Hastily-organised, additional sessions focused on integrating housing, work and transport into urban planning. Radical ideas were discussed and politicians realised the coming revolution in self-driving cars and buses, car-sharing apps, bicycle use, rail transport, coupled with walking for mobility, health and well-being would break old transport models forever.
From RTÉ Radio 1's Arena, Brainstorm contributor James Fraser on the role the bicycle has played in literature and art
Fast-forward a few years to 2030 and everything had changed. The then-Taoiseach, foregoing his usual role of passive observer, had become an active governor, ensuring change rather than promising it. Memories of the wondrous, car-free Dublin during the Grand Départ of the Tour de France of 1998 were revived.
One bright spark realised allowing people to move under their own steam, one foot in front of the other, was much easier, safer and healthier in a car-free city - and the idea of a total private car ban between the Royal and Grand canals was born.
This was more easily done than anyone in Government could have predicted. A combination of self-drive and shared-car use, bicycles, very frequent electric buses, pedestrianised roads and a dramatically expanded Luas tram system ensured buy-in from people sick of daily sitting in their cars. Dedicated, sheltered cycle paths, based on the Dutch model, made cycling attractive again, even on rainy days. Street upgrades with rain shelters, comfortable seating and lots of trees and shrubbery made the streets of the capital more like urban sitting-rooms than noisy thoroughfares.
The RTÉ Brainstorm podcast examines if car-free cities are the way to cut through city-centre gridlock. With Ulf Straumeyer from NUI Galway and David O'Connor from TU Dublin
Dublin, and Ireland, had reimagined urban and suburban living for the 21st century. Politicians finally accepted that more than 70% of the population of Ireland lived in urban centres, and that this was an irreversible trend. A charter for walkability and universal mobility, allowing people to walk and cycle and move safely and securely under their own steam was placed at the core of transport planning. The streets of Dublin became destinations rather than thoroughfares. Densification and walkability became the watchwords; NIMBY became a term of righteous abuse.
A land audit showed what many suspected: the Government and its agencies owned huge quantities of urban land which could be used for housing and development. An integrated semi-state land development agency was created, taking ownership and development rights away from the other semi-states. These semi-states instead became service operators and providers. The vast land bank was quickly developed and property prices at last became affordable again. Parents no longer had to sell their own homes to help fund the home purchases of their children, who, in turn, no longer had to commute long distances on clogged roads.
Magnificent and walkable residential quarters were developed at the great transport hubs of the city. Ireland's carbon footprint fell substantially as the use of public transport rose. Dublin also turned its face to the sea – one of its greatest and unsung assets. A major and generous sea-walk and cycleway was quickly constructed the length of the bay, running from Howth to Bray.
A charter for walkability and universal mobility, allowing people to walk and cycle and move safely and securely under their own steam, was at the core of planning
Walking in Dublin became pleasant and quick. No longer did walkers have to wait en masse at traffic lights for permission to cross the road. Walkability with the ageing and mobility-impaired in mind was mandated, improving the quality of life and dignity of all. Other wonderful benefits accrued as walking became a normal part of everyday life. Hospital admissions for everything from heart attacks to obesity slowly started to fall, providing savings for an overstretched health service. Air quality improved greatly, as did the national carbon footprint.
The world's largest city, Tokyo, had set a little copied example. Despite Japan's status as world-leaders in car manufacturing, Tokyo and other major Japanese cities provided virtually no on-street parking for cars. Dublin followed suit: on-street car-parking was progressively and aggressively removed, replaced by wider footpaths incorporating trees, as well as numerous safe and usable bicycle stands. Children now bused, walked and cycled safely to and from school, with attendant improvements in learning and attention in class. Social connectedness improved noticeably and levels of loneliness, stress and depression fell, and happiness and well-being rose markedly.
Other Irish cities quickly followed suit. Galway installed a tram system that ran from the populous suburbs of Knocknacarra in the west of the city, along the seafront, through Salthill, and all the way to the major centres of employment in the east of the city. Galway quickly became the most walkable small city in Ireland; its urban planners finally stopped pouring cars into its medieval streets and spent their transport budget on cycling, walking and reliable public transport.
From RTÉ Radio 1's Morning Ireland, RTÉ Western Correspondent Pat McGrath reports on the Galway Cycling Bus
Rural-dwellers weren't forgotten either. The decision of 2019 to rollout broadband to the remotest of rural areas had many unintended benefits. Ireland became a testbed for public service mobility apps. People living in rural areas were no longer prisoners of sporadic bus services, as real-time demand for transport could be managed using apps.
Visitors from everywhere saw the positive effects of Ireland's accidental walking revolution. The trend quickly spread, and other urban centres rediscovered the same walking benefits for their citizens. And Dublin's chaos in June 2023 became little more than a bad memory, one quietly walked away from.
Dr Shane O'Mara is Professor of Experimental Brain Research at Trinity College, Dublin, and author of the recently-published In Praise of Walking: The New Science of How We Walk, and Why it's Good for Us' (PenguinRandomHouse).