Analysis: it's 200 years this month since the acclaimed Irish mathematician was born in Co Sligo
By Michel Destrade, NUI Galway and Alastair Wood, DCU
One of the greatest 19th-century mathematical physicists, George Gabriel Stokes was born in Skreen Rectory on the wild and remote Sligo coast on August 13th 1819. He went onto become a distinguished academic and public servant, spent a record 53 years in the most famous mathematical chair in the UK, was president of the Royal Society and was knighted by Queen Victoria.
Yet up to now, few in Ireland have heard of him, despite the plethora of theorems, laws, principles and conjectures that are named after him in the physical sciences. While Belfast had Kelvin, Cork had Boole and Dublin had Hamilton to celebrate, there was no city or major university in Co Sligo to keep his memory alive. It is also true that all of his working life was spent in Britain though, like many emigrants, he returned every summer to visit his many relatives and even married an Irishwoman, Mary Robinson, daughter of the astronomer in Armagh Observatory.
The youngest son of the Rector of Skreen, Stokes was educated first there and then in Dublin and Bristol. Apart from his elder brother, all the Stokes had attended Trinity College to become academics, physicians and clergymen in Ireland. Advised of his outstanding ability, his widowed mother found enough money from relatives to send him abroad.
Stokes' main contributions were in continuum mechanics (particularly fluids) and optics
He entered Pembroke College at Cambridge as an 18 year old and later graduated as "Senior Wrangler", the best mathematics student in the whole university. Eight years later, he became the 13th holder of the Lucasian Chair of Mathematics, one of the world's most prestigious academic positions and held by such luminaries as Isaac Newton and Stephen Hawking. Besides his personal research, he made a major contribution to scientific administration in Britain during his 31 years as secretary of the Royal Society, deciding on the publication of papers and allocation of grants.
Stokes became a towering figure of the Cambridge school of mathematical physics in the 19th century and carried out an extensive correspondence with major European scientists. He worked tirelessly in pure as well as applied mathematics and physics. His main contributions were in continuum mechanics (particularly fluids) and optics. He had an enquiring mind and made insightful forays in other fields. In fact, two of his most important discoveries were in physics, where he established the true origin of fluorescence (a term he coined),  and in medicine, where he showed that haemoglobin transported oxygen in the blood. 
He kept professional links with Ireland, visiting regularly as a consultant to Howard Grubb, a  lensmaker in Rathmines. He also advised the Earl of Rosse on the optics of his great telescope, The Leviathan at Birr Castle, as well as his father-in-law Dr Robinson at Armagh Observatory.  He was also interested in railway bridge design, serving on the Commission of Inquiry into the collapse of the Tay Bridge in 1879, when a train and its 75 passengers fell to their deaths in the Scottish estuary.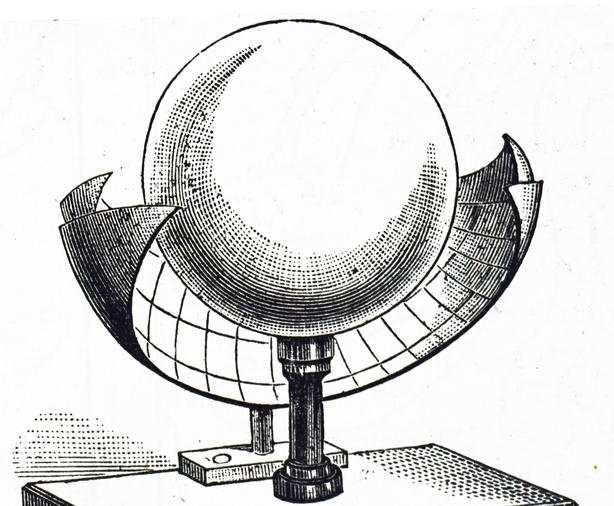 Stokes was a deeply religious person, highly interested in the links between science and faith, and very much involved in the Creation versus Evolution controversy which followed the publication of Darwin's Origin of Species. Although his portraits show him as an austere figure, he was apparently highly generous with his time and advice, always happy to help others with their career and progress. He sometimes broke into poetical sentences in the middle of dense computations, remarking for example on "the surf which breaks upon the western coasts as the result of storms out in the Atlantic" in his paper "On the theory of oscillatory waves", undoubtedly a nod his childhood in Sligo.
The legacy of his work is immense, especially in the mathematical formulation of the equations describing the motion of fluids. Famously, he realised that viscosity had to play a significant role in the motion of objects through fluids, or else they would not experience lift, so that birds (or now planes) would not be able to fly.
He modified the so-called Euler equations of fluid motion to what is now called the Navier-Stokes equation (Claude Navier was a French civil engineer also working on this problem around the same time). This equation is very useful to compute for example the forces at play in tubes and pipes, but becomes extremely complicated to solve in general. In fact, so little is known about its possible solutions that the Clay Mathematics Institute listed it as one of its seven "Millenium Prize Problems" in 2000. The $1,000,000 prize for a solution is still on offer. 
George Gabriel Stokes - Life, Science and Faith, edited by Mark McCartney (Ulster University), Andrew Whitaker (Queens University Belfast) and Alastair Wood (Dublin City University), has just been published by Oxford University Press 
Professor Michel Destrade is Chair of Applied Mathematics at NUI Galway and Visiting Professor of Mechanical and Materials Engineering at University College Dublin. He is a former Irish Research Council awardee. Professor Alastair Wood is Emeritus Professor at the School of Mathematical Sciences at Dublin City University
---
The views expressed here are those of the author and do not represent or reflect the views of RTÉ
---