Analysis: Queen Victoria's wedding marked a switch to getting a dress that was just for the big day.
By Rebecca Arnold, Courtauld Institute of Art
Queen Victoria, writing in her journal on the day of her wedding to Prince Albert, noted:
Slept well & breakfasted at 1⁄2p. 9, before which Mama came, bringing me a nosegay of orange flowers … Had my hair dressed & the wreath of orange flowers put on my head … I wore a white satin dress, with a deep flounce of Honiton lace, an imitation of an old design. My jewels were my Turkish diamond necklace & earrings & dear Albert's beautiful sapphire brooch.
Her dress, with its soft glowing satin and heavy silk lace, was to become the template for decades and perhaps even centuries of future brides. Its combination of sculpted bodice and full skirt, contrasted with glittering jewellery, floral headband and sheer veil was to inspire first the aristocracy, and then gradually a wider swathe of the general public to associate white with the bridal gown.
In many ways, Victoria's became the quintessential wedding dress. It meant a switch from wearing whatever your most fashionable or "Sunday Best" outfit, to procuring a design that was special for this one day alone. It also meant that wedding dresses started to tend to be outside fashion.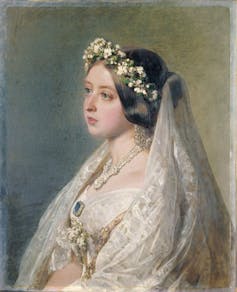 Although there are trends in particular styles, many elements remain unchanged. This is an outfit that has increasingly been mythologised and marketed as extraordinary and spectacular, beyond the realms of the everyday.
Seeing so many together in the V&A's exhibition, Wedding Dresses, 1775-2014, bridging three centuries, what is striking is the way dresses became less connected with contemporary fashions during the 1930s. They began to evolve their own romantic style. Although all are dateable and connect to prevailing styles, there is a sense in the later dresses that they tend to hark back to a glamorised version of evening or ball gowns from previous eras.
We need your consent to load this rte-player contentWe use rte-player to manage extra content that can set cookies on your device and collect data about your activity. Please review their details and accept them to load the content.Manage Preferences
From RTÉ Radio 1's Ray D'Arcy Show, an interview with Elizabeth Emmanuel who made Princess Diana's wedding dress
As with their 2012 show Ballgowns: British Glamour Since 1950, the V&A's recent exhibition draws principally upon its collections to document a type of dress that can seem anachronistic.
It does so despite its hold on the popular imagination and, in the case of wedding dresses, its significance within many women's lives. That the wedding dress has become so crucial a part of the tradition and ceremony of marriage is a testament to good marketing on the part of the wedding industry, and to the notions of fantasy, romance and perfected femininity that are attached to its pale layers.
The wide historical period covered by the current exhibition enables visitors to understand the ways this tradition has gained popularity and meaning. The impact of wider social, cultural and economic events are also hinted to. It also, perhaps most importantly, demonstrates the meaning of the dress to individuals, the role it has played in the story of their life and memories passed on through the generations.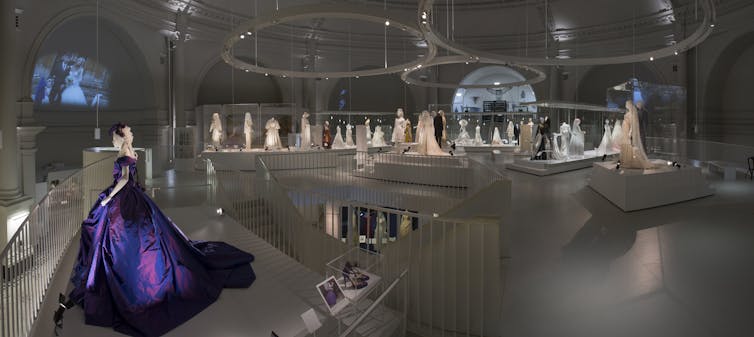 Early on in the exhibition's planning, curator Edwina Ehrman encouraged people to send in pictures of their families' weddings. This produced a fascinating glimpse into the ways styles changed over the decades, as well as the ways wedding groups have been photographed. The exhibition has since travelled internationally, drawing large crowds, before its return to London.
The Museum acquired its first piece of wedding dress in 1900, although this was from a groom, rather than a bride. It was a late 17th century suit, reputedly worn by Sir Thomas Isham for his 1681 wedding. Interestingly, it was part of a group of garments acquired together as good examples of fashionable dress of the period, rather than for its association with weddings. Since then, a multitude of examples has been donated and purchased.
We need your consent to load this YouTube contentWe use YouTube to manage extra content that can set cookies on your device and collect data about your activity. Please review their details and accept them to load the content.Manage Preferences
From Say Yes to the Dress Ireland
The exhibition focuses on grander examples, from lush 18th century gowns to Victorian dresses trimmed with layers of silk lace flounces. Also on show are gowns by leading designers, such as Vivienne Westwood, whose historically influenced styles make her a favourite choice for brides. Her work is represented by the vivid deep purple gown loaned by Dita Von Teese, which she wore for her 2005 wedding to Marilyn Manson.
The dress is a perfect example of the lush, 19th century silhouettes still favoured by many brides. They look back to the styles of earlier designers also represented here, such as Charles Frederick Worth. It also suggests the glamour associated with celebrity weddings, and the prolific press coverage which serves to popularise wedding trends still further.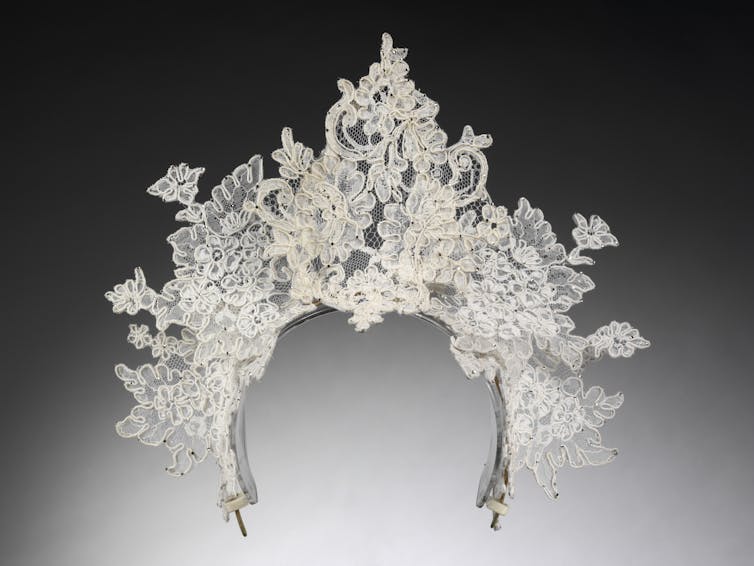 When moving through the Fashion Gallery and up the staircase to the mezzanine where the more recent examples are shown, one gets a real sense of quite how central and almost sacred this one style is. But whether that's a win for fashion, the romantic soul, or just the wedding industry, is another question.

Rebecca Arnold is Oak Foundation Lecturer in History of Dress and Textiles at the Courtauld Institute of Art
This article is republished from The Conversation under a Creative Commons license. Read the original article.