Analysis: the story of Irish CND shows the Cold War's impact on a peripheral non-nuclear country like Ireland
In examining the impact of the Cold War on Irish society, the Irish Campaign for Nuclear Disarmament (CND) is a striking example of how Irish activists responded to the conflict. Founded a year after the emergence of its British counterpart in 1957, CND was a small but visible presence in Irish society, organising protests outside the American, British and French embassies in Dublin and well as marches in Dublin, Belfast, Derry, Limerick and other urban centres.
While the group's views chimed with a majority in Irish society, most Irish people abhorring the emergence and use of nuclear weapons, it fell victim to Cold War suspicions. In common with peace activists in Britain, the United States and other countries, it was accused by conservatives in Irish society of having communist and pro-Soviet sympathies.
From RTÉ Archives, a 1979 epsiode of The Late Late Show Special devoted entirely to a debate about Ireland and nuclear power
Formed in London in November 1957 with Canon John Collins as chairman, Bertrand Russell as president and Peggy Duff as organising secretary, CND had a major impact on the international peace movement. Its annual march from London to Britain's Atomic Research Information Department at Aldermaston, Berkshire, first held in 1958, was pivotal in transforming it into an internationally-known, popular campaign. CND soon attracted the attention of Irish peace activists.
A group from Ireland was present at the first Aldermaston march, and an Irish CND organisation was set up shortly after. It attracted supporters of previous Irish peace groups and Ciarán MacAnally of the Irish Pacifist Movement was a founding member. Its other founders included prominent Dublin Quakers such as Lucy Kingston, also a well-known member of the Irish Pacifist Movement, as well as leftists such as the maritime historian and activist John De Courcy Ireland, the veteran republican socialist Peadar O'Donnell and the communist Roy Johnson.
The involvement of prominent leftists in Irish CND brought the group to the attention of the Gardaí, and also attracted adverse comment in journals such as the Catholic magazine Christus Rex, which accused CND of having communist sympathies.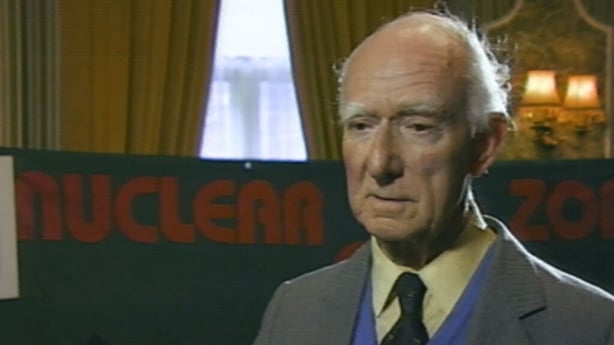 Visiting CND delegations from Ireland joined Irish people in Britain in participating in the Irish contingent at Aldermaston annually. It also held protests in Ireland itself. Soon after the group's founding, Irish CND members protested outside the British and United States embassies in Merrion Square, Dublin, on 29 August 1958, demanding an immediate cessation of nuclear tests. In 1961, a Gael Linn newsreel captured a 200-strong group of Irish CND activists, predominantly students, marching to Dublin's American, British and French embassies.
In 1962, a smaller CND demonstration gained national attention when Garda dogs were used at a march of around 60 people to the American embassy. A photograph of Noël Browne, a CND supporter, being accosted by a Garda dog occasioned considerable controversy when it appeared on the front page of the Irish Times. The American Ambassador Matthew McCloskey informed Washington that the 'scuffle received wide publicity and thus achieved presumed purpose organisers'.
From RTÉ Archives, an episode of Newsbeat from 1966 looks at plans to build a bunker in Galway with room for 55 people in the event of a nuclear attack - but who should the chosen ones be?
Irish CND attracted police attention on both sides of the border. An August 1958 Garda report on the organisation noted that 'practically all the members of the committee had come under notice previously for their efforts in the Irish Pacifist League, and some of them are also active members of the Irish Workers' League'.
In Northern Ireland, the Royal Ulster Constabulary kept a close watch on the group. Like their counterparts in Dublin, they were attentive to the presence within CND of known communists such as Seán Murray, a veteran member of the Communist Party in Belfast.
The Irish CND appealed for support from both Catholic and Protestant clerics. At first glance, its views chimed with those of the Irish Catholic Church, as leading clergymen such as Bishop Michael Browne of Galway and prominent clerical periodicals such as the Irish Ecclesiastical Record were critical of the emergence of nuclear weapons internationally.
From RTÉ Archives, a RTÉ News report on an anti-nuclear march In Dublin, October 1983
However, many within the Church, including John Charles McQuaid, the influential Catholic Archbishop of Dublin, were suspicious of peace and nuclear disarmament groups as they felt they were controlled by communists. Accordingly, McQuaid rejected an offer to meet with a delegation of CND members, stating he was already familiar with the organisation and its aims. He also successfully dissuaded fellow members of the hierarchy, such as Cardinal D'Alton of Armagh and Bishop Lucey of Cork, from meeting with peace activists.
Protestant clergymen, meanwhile, expressed disparate attitudes towards the Irish CND. Ireland's Quakers were naturally supportive, given that The Reverend Alex Watson of Lambeg and Seymour Hill Presbyterian Church in Belfast was an early and outspoken supporter of the group, and became chair of CND in Northern Ireland. Other Protestant clergymen expressed anti-communist suspicions of CND paralleling those held by McQuaid. The Reverend Albert McElroy, a non-subscribing Presbyterian based in Belfast, claimed during the height of the Cuban Missile Crisis that CND was a 'tool for communists'.
Is it time to give nuclear power a chance? @ellamcsweeney Paul Deane @UCC @eriucc @piyushnitjsr @UCC & Kieran O'Connell @WeAreTUDublin look at the role of nuclear when it comes to energy & climate change on the Brainstorm radio show @drivetimerte @rteradio1 Thursday pic.twitter.com/f2AmM0z6MF

— RTÉ Brainstorm (@RTEBrainstorm) August 20, 2019
Irish CND fell into abeyance later in the 1960s, and was revived again in the early 1980s as the threat of nuclear war between the two Cold War blocs reasserted itself again. Figures such as Peadar O'Donnell and John De Courcy Ireland were involved in the new group, providing continuity with the original incarnation of CND.
The group remains a fascinating example of the Cold War's impact on Ireland, and shows how social movements focusing on peace and nuclear disarmament exhibited themselves even in a peripheral non-nuclear country.
---
The views expressed here are those of the author and do not represent or reflect the views of RTÉ
---