The Brainstorm Long Read: understanding the pattern of Anterior Cruciate Ligament injuries is key to managing the risk for players at every level
"I heard the pop and then when I fell, I tried to move it. Then I heard the crack and I knew. When I went to my physio and he said 'cruciate', I burst into tears. I just thought it was the end of the world. It still kind of hasn't really hit me yet".
That's 16-year-old Sarah Condon from Co Limerick. She's played camogie since she was just four years of age and plays for Knockaderry Camogie Club and is on Limerick's minor county team.
It was a really rainy, mucky day in February of this year when she returned to the pitch for a match after a week off training due to an injury. Going into a huddle, another player hit the side of Sarah's right knee with the butt of a hurley and that was it. "I fell down then and the pain was like a shot in the knee, it was outrageous. It was something I have never felt in my life," she explains. 
Up until the injury, Sarah was training "probably every night of the week" between football, club camogie and county camogie. "I was aware of it, but I never thought it would happen to me. The first thing I thought was that my knee popped out. But then when I saw it, my reaction was 'oh my god my cruciate is gone'."
The rise of the dreaded ACL injury in the GAA: "at first, I thought my knee had popped out". @KnockaderryGAA camogie player Sarah Condon talks to @thatdanishgirl about her experience of the injury. Read the article in full at https://t.co/N50PmZsdS8 pic.twitter.com/STxmkUOAGV

— RTÉ Brainstorm (@RTEBrainstorm) September 11, 2019
Sarah isn't alone. Mayo's Jason Doherty has had to bow out of the Championship thanks to an Anterior Cruciate Ligament (ACL) injury. In June, Tipperary's Patrick 'Bonner' Maher was ruled out after a season-ending rupture on his ACL during the team's Munster championship win over Limerick. 
The dreaded injury is relatively rare but significant and can take a player off the pitch for up to a year - or for good in some cases. Research shows that around 83% will return to playing their sport within 12 months and about 65% will return to playing competitive sports. People who rupture their ACL have a higher risk of re-rupture or an ACL injury on the opposite knee and some face longterm consequences later in life with osteoarthritis. Women are also more likely to sustain an ACL injury than men and research has shown that menstrual cycle tracking could help optimise girls' and women's performance and decrease the risk of injuries. 
"It feels like there's a lot more younger people (injuring their ACL)," Sarah says. Two other boys in her school have ruptured their ACL. When Sarah told the team that her cruciate might be injured, many of them had stories to tell about friends it had happened to. "When I did it, I kept hearing about more people doing it and they were really young as well," she says. 
We need your consent to load this rte-player contentWe use rte-player to manage extra content that can set cookies on your device and collect data about your activity. Please review their details and accept them to load the content.Manage Preferences
From the RTÉ GAA Podcast, Des Cahill and Peter Sweeney are joined by Kerry legend Colm Cooper and former Westmeath All Star Dessie Dolan to talk about the All-Ireland football semi-final clashes
The ACL is a strong ligament in your knee and its main job is to prevent the shin bone from moving forward in relation to the femur, says Dr Colum Moloney, Senior Physiotherapist in Isokinetic Testing and Rehabilitation at University Hospital Limerick. "In simple terms, it provides stability to the knee so that when you twist and turn it stops the knee from giving way."
Anecdotally, it seems ACL injuries are on the rise, but whether it's actually happening more often or not is not definite at the moment, Moloney says. "But if it is, then the key thing is to prevent it," he adds. "Once you're injured, it's a long road."
Data from the GAA Injury Benefit Fund reports show that claims for all knee injuries accounted for 30% of all claims in 2018, up 10% on the number of knee injury claims in 2008. But getting an accurate picture of the trends in ACL in Ireland "is nearly impossible, as we don't have a national registry like they do in other countries," says Dr Catherine Blake, Associate Professor in the School of Public Health, Physiotherapy and Sports Science in UCD.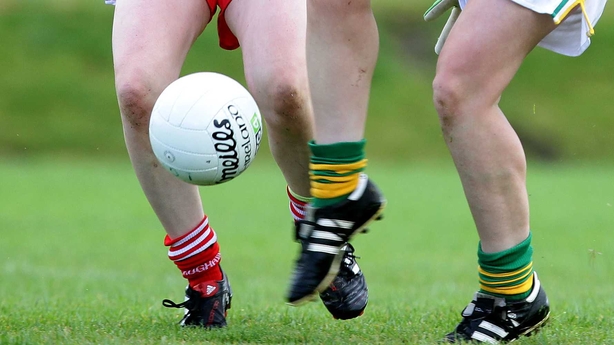 "For example in Denmark, Finland and Sweden, all orthopaedic trauma injuries are registered to a database through their national health systems. Another example would be an injury database from hospital admissions in Victoria, Australia. These are definitive, high quality datasets and while there are year to year variations, they do show a trend to more ACL injuries in children and adolescents. At the same time these are still relatively rare injuries when you look at the number occurring per 100,000 population."
Because Ireland doesn't have a unique electronic health record, people's contact with the health system can't be tracked. On top of that, much of the sport-related ACL emergency care and surgery is provided by private clinics, which means the Irish Hospital Inpatient Database for the public system doesn't capture ACL injuries well, Blake says. 
She has been involved with the GAA National Injury Surveillance Database since its inception in 2006 in collaboration with UCD. It's the largest systematic injury surveillance database in Ireland, but it only captures inter-county male teams. Dr Mark Roe, a postdoctoral researcher in UCD with the GAA database, says that teams have to opt in at the start of the year to join the database and that to accurately track the incidence of injuries, what's needed is mandatory compliance. Another way would be to integrate the insurance claim database with the injury surveillance database.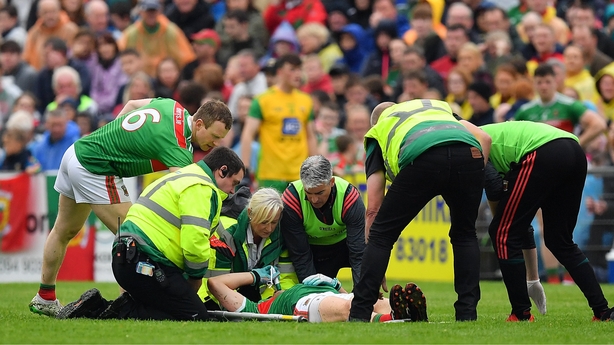 Since 2008, the database has tracked injuries across football and hurling for a total of 83 seasons. "It's a big dataset," Roe says, "but there's certainly a lot of room for improvement in terms of recruitment." Ideally, the database would capture all players down to club level, both ladies and mens and at all ages. 
Roe says ACL injuries account for about 22% of knee claims made to the GAA insurance fund and that overall they account for 6% of all injuries. "It sounds like a lot. But the big thing is that when we look across all running-based field sports, it's about 1.5% of athletes. So what we can say is that most senior inter-county teams will not sustain an ACL injury this season, but when we put two seasons together, they'll probably pick up one."
This means about one in 68 players will sustain an ACL injury and to prevent just one injury, 130 athletes would have to go through a prevention programme like the GAA 15, a warm up which was designed in part to reduce ACL injuries and which focuses on teaching fundamental movement skills, landing techniques and change of direction. Roe explains that trials of these programmes have found that they can cut the risk of injury in half for players, making prevention key.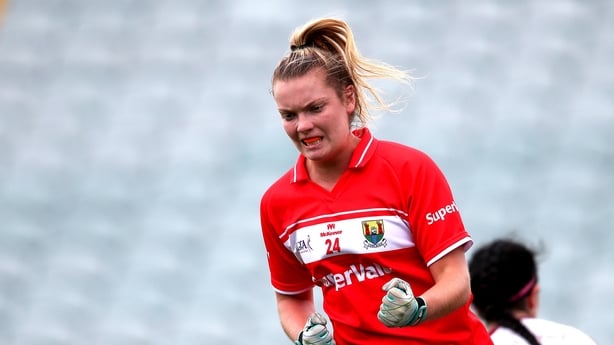 But there's something unique about the patterns that do emerge in ACL injuries and they tell us a lot about what needs to be done to prevent them, Roe explains. The first is that the majority of ACL injuries are non-contact and typically occur when changing direction or landing and about 30% of them are contact-related. 
"The other thing we know, is that two-thirds of these injuries will occur in match play and that's interesting because the field sport athletes on average, will only spend about 10% of their time in total in actual, competitive games. So that's something a bit unique about the demands of match play and how they relate to training. If we're going to manage risk, we have to prepare players for the demand of their sport, that's the big take-home message."
International studies suggest that ACL injuries are on the rise in adolescents, but it's not possible capture that here in Ireland and there might be a caveat. "We definitely can't say (that there's an upward trend). Even if there is an increase it's still an incredibly low rate and that might be one of the reasons for the upward trend. Because the base number is so small, it's more likely, in relative terms, to appear to be a much bigger problem," Roe says. 
We need your consent to load this rte-player contentWe use rte-player to manage extra content that can set cookies on your device and collect data about your activity. Please review their details and accept them to load the content.Manage Preferences
From RTÉ 2fm's Game On, a discussion about the spate of cruciate injuries being suffered in women's sports with Enda King from Sports Surgery Clinic and Jerome Quinn
Dr Daniel Withers, consultant orthopaedic surgeon at the Sports Surgery Clinic (SSC), explains that rather than a true increase in the number of people with ACL injuries, it's likely to do with advances in diagnostics and treatment and an increased awareness around the injury, as well the sheer number of people involved in the GAA particularly.
Diagnosis and surgery for ACL is much more accessible now, he says. An MRI will confirm the rupture and the surgery to reconstruct or repair the ligament takes about an hour, followed by a night's stay in the clinic and then you're home the next day. 
"I think Ireland is quite a unique country in itself - the GAA is so massive here," Withers says. "Every single village, every town has a GAA club and every club has girls playing, boys playing, all ages. There's so many people playing the sport. So you've got GAA, you've got people who like soccer, you've got rugby, you've got a lot of different sports where there's a lot of twisting and turning and pivoting and landing and jumping, where that puts you at risk of an ACL injury."
We need your consent to load this rte-player contentWe use rte-player to manage extra content that can set cookies on your device and collect data about your activity. Please review their details and accept them to load the content.Manage Preferences
From RTÉ Radio 1 Sunday with Miriam, Irish sports star Kevin Moran and his brother, orthopaedic surgeon, Ray Moran 
The biggest issue for someone with an ACL injury is the time loss from sport, Enda King, Head of Rehabilitation at SSC, says. "There's a period post-injury where you're preparing for surgery. There's the time required to let the knee settle down before repair and then there's quite a long recovery time afterwards, anywhere between six months to a year."
"There's very few injuries that require that kind of extensive lay-off," he says. What's so dreaded about it all isn't the nature of the injury, it's the long-term, guaranteed time loss. Thankfully, the vast majority are able to go back to sport, King adds. Return to sport is a "multi-factorial thing" that depends on personal choice and circumstance, but "there are very few barriers to return to play after ACL reconstruction."
"There can be a little doom and gloom around (ACL injuries) and that's understandable because a year out is a big deal for anybody. But those that want to get back generally get back. It's not how long has it been, it's how do I test and that's what you can judge your success on, or how ready you are, or how good your knee will do." 
It was awful, I wouldn't wish it on my worst enemy
Mark Roe with the GAA injury surveillance database believes that what's needed at the top level, between team coaches, physiotherapists and doctors, is an understanding of the trends at play. "They need to understand how, where and when injuries happen. They need to understand how in terms of are they contact or not, when in terms of what stage of the season or the game, then where in terms of what activity, is it training or match play. Because if we don't understand the pattern of how these injuries happen we'll never be able to do anything about how we manage the risk."
Patterns of injury across all field sports are remarkably similar, he says. The top 4 injuries that will account for 40% of the total, are: hamstring, ankle sprain, adductor related groin pain and quadriceps pain. "It's kind of frightening how similar it is all the time. These aren't random events, this pattern is crystal clear to us at this stage in all these field sports. This is happening again and again and again and I think it's largely because we're not actually fully wrapping our heads around how these events unfold."
"There's been a shift. We're getting to grips with understanding these trends around these injuries. So rather than calling them injury prevention programmes, we are now calling them risk management studies. Because we may not prevent this but we are doing something to manage the risk of it happening."
We need your consent to load this rte-player contentWe use rte-player to manage extra content that can set cookies on your device and collect data about your activity. Please review their details and accept them to load the content.Manage Preferences
From RTÉ Archives, GAA president Dr Mick Loftus launches a conference on sporting injuries at Croke Park in 1986
For Sarah Condon, the first two days after surgery were fine. "But then when the painkillers wore off after the surgery, oh my god", she remembers. "I described it to my mother as if someone got a hammer and started squeezing my knee and hitting my knee. I would spend most of my time sitting on the couch and I remember standing up and I could feel the blood rushing through my knee and I could feel absolutely everything going on. It was awful, I wouldn't wish it on my worst enemy."
It's a long road to recovery and, if all goes well, she expects to be back playing in February 2020. "I probably won't go back to football, but I am fully going to go back to camogie. Camogie is my one sport. If I can, I will, but if I can't… I just can't."
---
The views expressed here are those of the author and do not represent or reflect the views of RTÉ
---