Opinion: many destinations have become so popular that locals feel their quality of life is being adversely affected
Everyone loves a good holiday. Right now, the high tourist season is in full swing and internationally the tourist industry is booming. According to the World Tourism Organisation, a record 1.4 billion international tourists travelled around the world in 2018
But it is becoming increasingly clear that not everyone is having a good time. Many destinations have become so popular that local residents now feel that their place is receiving too many visitors and that their quality of life is being adversely affected. Even tourists themselves are beginning to feel that the destinations they visit are so congested and over-crowded that the quality of their tourist experience is not living up to expectations.
This phenomenon of overtourism has become associated with a growing number of European cities including Barcelona, Amsterdam, Bruges, Rome, Paris and Venice. All of these cities have seen a backlash to tourism, as local residents voice concerns and mount protests to reclaim their cities from what they perceive to be the harmful effects of too much tourist activity. While tourism creates employment and generates wealth, it is also associated with overcrowding, congestion, littering, environmental degradation, increased rental and housing prices and inappropriate and disrespectful behaviour on the part of some tourists. 
We need your consent to load this rte-player contentWe use rte-player to manage extra content that can set cookies on your device and collect data about your activity. Please review their details and accept them to load the content.Manage Preferences
From RTÉ Radio 1's Drivetime, a report on overtourism with tour guide and hotelier Stephen McPhilemy and TU Dublin tourism lecturer Kevin Griffin
It is not just a European issue. The strongest growth in global tourist flows is currently being experienced in Asia, where improved access, a rising middle class and increased disposable incomes are all influential factors. Research recently produced by Oxford Economics suggests that four of the top five cities by passenger arrivals by 2025 will be Asian – namely Bangkok, Hong Kong, Macau and Dubai. London will be the fifth city on the list.
Overtourism is also not just an urban phenomenon. Places as diverse as the Isle of Skye in Scotland, Machu Picchu in Peru and Mount Everest have all been reported as experiencing difficulties associated with tourism overcrowding in recent times, while Thailand's iconic Maya Bay is closed to the public indefinitely.
Thanks to a combination of alienated local residents, tourists dissatisfied with their holiday experience, overburdened infrastructures and perceived threats to the environment and cultural and heritage treasures, tourism is now more of a political issue that ever before. Governments everywhere are starting to address overtourism, but there are no easy solutions. In an era of global mobility, more and more people are travelling for all kinds of reasons, and this is not going to change in the foreseeable future.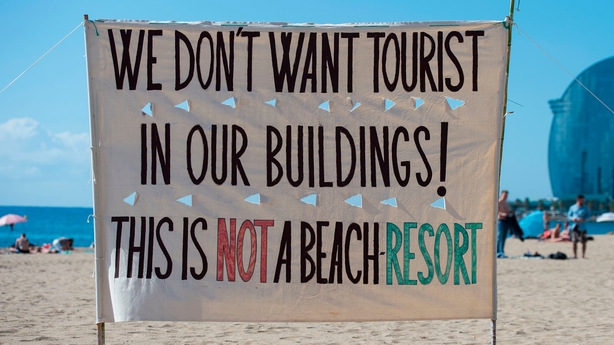 People who study tourism have long argued that tourism inevitably causes places to change. Patterns of change can be identified, and the academic argument has always been that change needs to be managed if the capacity for places to handle tourist numbers is not to be exceeded. Too often, governments embrace tourism for the expected economic returns that it can generate and inadequate thought is given to planning for, and managing, the far-reaching changes that tourism can have. Very often, interventions are reactive, as distinct from proactive.
Governments affected by overtourism are now actively trying to build the political consensus needed to implement measures in an effort to curb and control the problems. Imposing taxes on tourists is an obvious approach: New Zealand has just introduced a levy on international visitors, the proceeds of which will go towards supporting infrastructures and protecting natural attractions, while Amsterdam has introduced a tax on day-trippers from cruise ships.  
De-marketing is another obvious approach. Recently the city of Bruges in Belgium announced that it would stop advertising day trips. In Ireland, the development of the Wild Atlantic Way represents an attempt to spread tourism along the west coast, but it simultaneously aims to take some of the pressure off Dublin, where 56% of overseas visitors stayed in 2017 according to Tourism Ireland.
We need your consent to load this rte-player contentWe use rte-player to manage extra content that can set cookies on your device and collect data about your activity. Please review their details and accept them to load the content.Manage Preferences
From RTÉ Radio 1's Drivetime, John Cooke reports on overtourism at the Cliffs of Moher
Other measures include placing limits on cruise ships (Bruges and Dubrovnik), trying to control the supply of AirBnB properties (numerous cities including Dublin), using technology more effectively to manage distribute tickets and tourist flows, regulating anti-social tourist behaviour (as has happened in Rome) and restricting tourist access to locally oriented festivals (as in Venice). More needs to be done too on educating tourists about how to act more respectfully and responsibly in their holiday decision-making and holiday behaviour. 
Devising and implementing strategies such as these is not easy. While some of those adversely affected by overtourism, such as  local residents who do not benefit financially from the industry, welcome such moves, others can interpret them as being anti-growth and as threats to their livelihood.
However, some cities like Barcelona are making good strides. The city's Strategic Tourism Plan 2020 contains an important shift in thinking: rather than thinking about tourists and residents in dichotomous terms, it views tourists as being temporary residents. As such, it both understands the city as being the preserve of all who engage with it (thereby giving a rationale for taxing all who engage with it), and it moves tourism centre-stage, acknowledging its importance for developing other economic sectors and other urban functions. The quality of tourist experience that it envisages involves guaranteeing the well-being of the people who live in the city. In peak holiday season, this might seem a very lofty ambition for many destinations, but it is one they must strive for if tourism is to remain a force for good.
---
The views expressed here are those of the author and do not represent or reflect the views of RTÉ
---