Analysis: we do it anything from 7 to 25 times a day but what exactly is behind that passing of gas and is it bad for us? 
This article is now available above as a Brainstorm podcast. You can subscribe to the Brainstorm podcast via Apple Podcasts, Stitcher, Spotify or wherever you get your podcasts.
The earliest joke known to mankind originated in Sumeria, now southern Iraq, around 1900 BC. To no one's surprise, it was a fart joke. We have always found noises down under entertaining, but where do they come from? Are they bad for us? Let's take a gas-powered trip to the underbelly of science.
Farting or flatulence refers to the passing of gas through the anus. The word flatulence comes from the Latin flatus, which can be translated as blowing, breathing, snorting or breaking wind, all extremely poetic descriptions of this particular phenomenon. Flatulence in itself is perfectly normal and has even been quantified: the average person passes about 400-1500 millilitres (roughly three quarters to two and a half pints) of gas daily, which is probably more than you thought. The average number of farts has also been estimated, with gentlemen blowing in the wind 14 to 25 times a day and ladies a dainty seven to 12 times.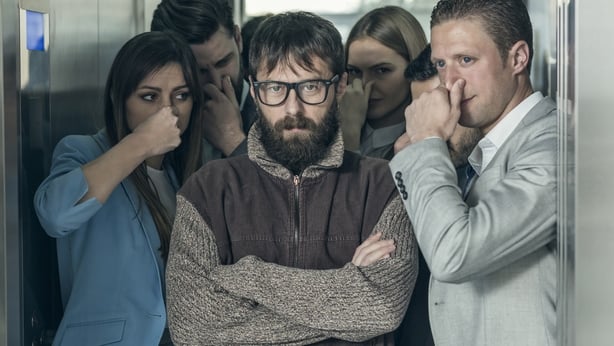 Where does all this gas come from? Part of it comes straight from the atmosphere as gas that we swallow, mostly made up of nitrogen and oxygen. Excess of these gases is generally expelled as burping, but some of it finds its way through to the dark side. As such, anything that increases the amount of air swallowed will increase the volume of these gases in the bowels: chewing gum, smoking, using a straw, even sucking on pens. On rarer occurrences, such as following stomach surgery for severe heartburn, the ability to burp is reduced and thus most gas exits the other way. A patient who had undergone this type of surgery was documented as passing gas at a rate of five litres (about nine pints) per hour, surely something of a record.
Although nitrogen and oxygen contribute, the majority of intestinal gas comes from fermentation of food by bacteria present in our gut. This gas is mostly composed of hydrogen, methane and carbon dioxide, which together with the swallowed nitrogen and oxygen make up 99% of flatulence. The amount and type of gas produced by fermentation depends on the type of bacteria in the gut - which varies from person to person - and fundamentally on diet. Fun fact: methane and hydrogen are flammable, so stay away from candles located at buttock height.
It is known that certain foods are more likely to produce intestinal gas. This is because some of their components cannot be properly digested and absorbed by our digestive system and thus arrive in the colon pretty much intact, to the joy of billions of bacteria who proceed to feast on it and show their gratefulness with copious amounts of gas. These foods include pulses such as beans (no surprise there), lentils and chickpeas, vegetables like cabbage, broccoli and Brussel sprouts and fruits such as apples and prunes. Dairy products can also produce substantial amounts of gas in the gut of lactose-intolerant persons, as can wholegrain products like bran. Interestingly, sugar substitutes like sorbitol and mannitol used in slimming products are not digestible either and can also cause those sheets to fly high in the night.
The average number of farts has also been estimated, with gentlemen blowing in the wind 14 to 25 times a day and ladies a dainty seven to 12 times
Aside from specific foods, anything that disturbs proper digestion of food can increase gas production. For example, ailments that lead to poor digestion such as pancreatitis and celiac disease can cause noisy days. Not chewing your food thoroughly has a similar effect.
This is all well and good, but nitrogen, oxygen, hydrogen, methane and carbon dioxide are all non-odoriferous, so where does the smell come from? The remaining 1%, which is composed of various different gases that share the common characteristic of containing sulphur. The presence of high levels of sulphur-containing amino acids makes protein-rich diets brew particularly offensive flatus.
In 1998, researchers went to the trouble of determining which of three gases (hydrogen sulphide, methanethiol and dimethyl sulphide) was responsible for the attack on our nostrils and concluded that hydrogen sulphide was the culprit. So how did they determine this? Well, they collected the flatus and had it judged by specialists. As stated in the scientific paper, "in an odour free environment, the judges held the syringe [containing the gas] 3 cm from their noses and slowly ejected the gas, taking several sniffs. Odour was rated on a linear scale from 0 ("no odour") to 8 ("very offensive")." Think about this next time you feel like complaining about your job.
We need your consent to load this rte-player contentWe use rte-player to manage extra content that can set cookies on your device and collect data about your activity. Please review their details and accept them to load the content.Manage Preferences
From RTÉ 2fm's Dave Fanning Show, an interview with zoologist Dani Rabaiotti about her book The Definitive Field Guide to Animal Flatulence 
If we know where the gas comes from and what makes it smelly, what's behind the noise? Contrary to popular belief, it is not due to your buttocks fervently applauding the sheer magnificence of your flatulence, but it rather has do to with the amount of gas passed, the speed at which it passes and the tightness of the anal sphincter. The gas passing through the sphincter ring causes vibrations in the muscles similar to those in a musical instrument: the faster the speed of gas passing, the louder the flatus.
The size of the sphincter – depending on how tight it's closed – doesn't determine the volume of the sound but rather the pitch: the smaller the opening, the higher the pitch and the squeakier the fart. Relaxed sphincters produce lower noises.
Finally, what is the point of farting?
Excessive build-up of gas inside our bowels can lead to distension (enlargement, like a balloon), cramps and even constipation. Release of this trapped gas relieves the pressure on the walls of our bowels and helps to bring everything back to normal. On the inside, anyway. Outside, you may have no friends left or you may have set fire to your house.
If we know where the gas comes from and what makes it smelly, what's behind the noise?
Medical records showed that Adolf Hitler suffered from uncontrollable flatulence, a tough condition for any political and military leader in need of a dignified presence. To treat this embarrassing disorder, he took numerous preparations which included atropine, a drug we now know can cause altered behaviour. Could we blame the Second World War on excessive farting? 
---
The views expressed here are those of the author and do not represent or reflect the views of RTÉ
---