Analysis: Leitrim spends €392 per person on roads, Galway spends €86 per head on housing and Meath spends €44 per citizen on recreation and amenities
By Gerard Turley and Stephen McNena, NUI Galway
With the local elections taking place next week, it's a good time to consider the role of local councils and especially their economic function as a provider of local services funded by taxpayers' money. In terms of both spending and income and, in particular, commercial rates,  here are some big differences between local authorities. These can be accounted for by variations in expenditure needs arising from differences in the physical, socio-economic and demographic profile of the area and its population
The Local Authority Finances website allows taxpayers to see how their money is spent locally. Aiming to improve transparency and accountability by informing the public on how taxpayers' money is spent locally, it can be used to access and understand individual council income and spending budgets. It can also provide cross-council comparisons, with a view to identifying differences in local authority spending and income, as well as star performers and council laggards. 
Initially developed by PublicPolicy.ie with funding from Atlantic Philanthropies, the website shows local council income and spending by revenue sources (user charges, commercial rates, local property tax, central government grants etc) and expenditure functions and local public services (housing, roads, planning, environmental services, recreation and amenities etc). We've used date from here to create the summary table below and the following findings. 
From RTÉ Radio 1's Drivetime, why BusConnects is a key local election issue in Dublin
Of the eight functional areas that local councils provide, four service divisions account for 75% of total current spending. These are housing (€351 per person nationwide in 2019), roads (€208), environmental services (€152) and recreation & amenities (€102).
But across the 31 local authorities, there are sizeable differences in terms of how much councils spend per person. The highest and lowest spend per head occur with Dublin City Council and Meath County Council, at €1,751 and €635 per inhabitant respectively.
For housing, expenditure per person ranges from €686 in Dublin City Council to €86 in Galway County Council. On roads, the range is from €396 in Leitrim County Council to €92 in Fingal County Council.
For environmental services, including the fire service and street cleaning, Dublin City Council spends €362 per person whereas Meath County Council spends €84 per person.
On recreation and amenities, including libraries, the arts and leisure (parks, playgrounds, sports and leisure facilities) spending per capita ranges from €223 in Galway City Council to €44 in Meath County Council.
We need your consent to load this rte-player contentWe use rte-player to manage extra content that can set cookies on your device and collect data about your activity. Please review their details and accept them to load the content.Manage Preferences
From RTÉ Radio 1's Today With Sean O'Rourke, Gary Murphy from DCU and Kevin Doyle from The Irish Independent on local election issues
As for spending changes over time, the more urban, eastern local authorities have witnessed the largest increases in day-to-day spending since the last local elections, with the more rural local authorities experiencing the smallest increases and even some recording reductions in day-to-day spending since 2014. In contrast, all local authorities experienced reductions in current (and even more so in capital) spending between the local elections of 2009 and 2014, coinciding with the years of austerity. Even with the recovery in the general economy since the last local elections, the issue of the rural/urban divide remains a serious challenge for our policymakers, both local and national.
Funding sources also differ, reflecting differences in tax bases and economic activity. Take, for example, the two Galway councils and consider the shares of revenue income in rates and in grants as indicators of autonomy and dependency. The commercial rates share of revenue income in Galway County Council is 23%, but it is 42% in Galway City Council where the industrial and commercial property base is higher. The central government grants share of revenue income in Galway City Council is 25% compared to 38% in the more rural Galway County Council with less business activity.  
This difference between rural and urban councils is countrywide, with the more urban densely populated councils able to rely more on own-source incomes such as commercial rates, retained local property tax (LPT) and user charges, resulting in a greater degree of fiscal autonomy for these councils, while the rural less populated county councils have to depend more on central government grants to provide local public services.
Commercial rates account for about 30% of total revenue income, as against the local property tax which accounts for only 8%
As most tax revenue (as distinct from service charges and central government grants) for local councils is in the form of commercial rates and not LPT, we report the commercial rate called the Annual Rate on Valuation (ARV), for 2019. In Ireland, income from these business taxes is used as a balancing item to equalise budgeted expenditures with budgeted income from all other revenue sources, to ensure the local balanced budget rule is met. What is interesting is the cross-council variation in the ARV, as is evident in the table.
For those local councils that have not revalued the commercial rates base recently, the ARV ranges from 79.25 in Kerry County Council to 56.77 in Tipperary County Council. Where local councils have undertaken a recent revaluation of industrial and commercial properties liable for commercial rates, the ARV ranges from 0.2760 in South Dublin County Council to 0.1500 in Fingal County Council. Indeed, two of of the four Dublin councils are amongst the councils that levy the highest ARVs in the country, but, on the other hand, the other two Dublin councils have the lowest ARVs nationwide. As for these cross-council differences in the ARV, the ARV in 2019 in any local council is a reflection of that council's ARV levied in the past.
As a tax on business property, commercial rates account for about 30% of total revenue income, as against the LPT which accounts for only 8% of revenue income. Given the Government's recent and regrettable decision to, yet again defer the revaluation of residential properties for LPT purposes, this imbalance between business and non-business taxes to fund local public services is an issue that requires more analysis and discussion. Indeed, the local elections provide an ideal opportunity for voters and policymakers to debate this and other local concerns.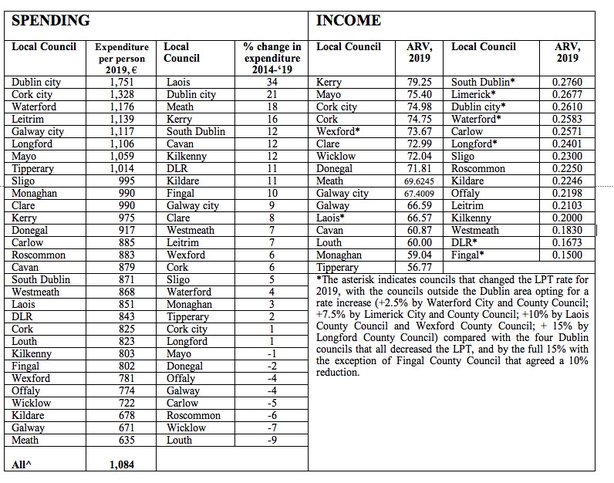 Given the variations in the profile, circumstances and choices of the different areas and their constituents, these cross-council differences in budget income and spending are not unexpected. The argument in favour of decentralisation and having local councils, after all, is to bring government closer to the people so that citizens get what they want given their differences in preferences and willingness to pay, rather than the uniformity than comes with central government provision.
In the run-up to these local elections we urge voters to use the website to get a breakdown of their local council income and spending and how it compares to other councils and the national average. By doing so, they can see how taxpayers' money is spent locally.
Dr Gerard Turley and Stephen McNena are university lecturers at the J.E. Cairnes School of Business and Economics at NUI Galway. Their research interests include public policy and the economics of local government.
---
The views expressed here are those of the author and do not represent or reflect the views of RTÉ
---