Opinion: the social hierarchy and gender roles in Disney's version of Peter Pan differ significantly from J.M. Barrie's novel
By Jade Dillon, Mary Immaculate College
Children's literature and film are important sources of learning in the developing years of a child. For example, the ideological messages that are encoded in the fairy-tale model of Walt Disney animations have a strong impact on the subsequent child consumer. Noticeably, the motifs in Disney's animated stories are significant when considering the representations of girlhood that are perceived by children.
Of course, many of the Disney stories that are popular amongst the general public derive from classic fairy-tales by The Brothers Grimm and Hans Christian Andersen, Victorian and Edwardian novels, and folklore tales. These original texts are sinister and often malicious in their content, yet Disney manages to subdue these traits and create a colourful wonderland for children. However, these films are laced with societal and cultural messages about the "normative" structure of gender. Interestingly, J. M. Barrie's 1911 novel Peter Pan and Wendy has been severely altered to suit the ideologies of gender stereotypes.
While the Disney adaptations of children's literature provide entertainment for the viewer, they simultaneously reinforce social ideologies through their cinematic reflections and gendered stigmata. This is evident in the 1953 animated adaptation of Peter Pan, as the issues of social hierarchy and gendered ideologies are at the forefront of Disney's animation.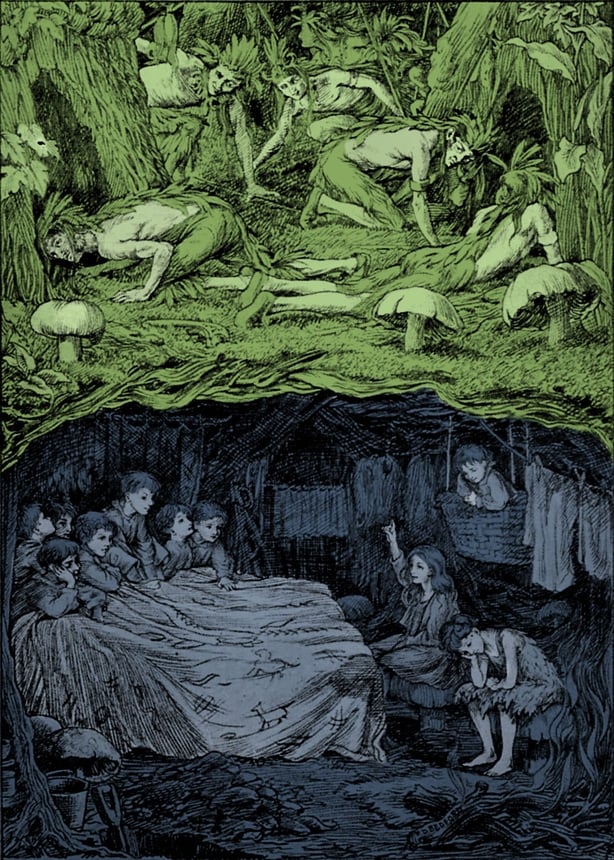 Though these are present in Barrie's original novel, Disney incorporates the domesticated ideology in a manner which offers a visually pleasing and desirable association for the designated gender roles of patriarchal society to young viewers. The visual discourse of the 1953 film by Disney's animators heavily contradict F. D. Bedford's original illustrations from Barrie's novel. The harsh features of Peter Pan are softened to make him more attractive to a younger audience, while the mermaids are made more beautiful than monstrous. Such detailing has a significant impact on the authentic characterisations of Barrie's protagonists as they move away from their original trajectory and enter into a more idyllic state of being.
Female passivity is illustrated by Wendy Darling as she becomes the pseudo child-mother of Neverland and thus becomes a figure in the continuous cycle of gender stereotyping. Though these are reflective of social norms in the 20th century, Disney romanticises the notion of domesticity and female submission. It's evident in the melodic melodies that Wendy sings to the Lost Boys as they mimic a lullaby to portray the child-mother that Wendy has become. Disney portrays this feminine ideal in an idyllic atmosphere that demonstrates the woman's position in the homestead, while the father figure (Peter Pan) is seen as strict provider.
If Wendy embodies the role of mother and innocence, violence and sexualisation are heavily interlinked in Disney's portrayal of Tinker Bell. Like in Barrie's novel, there is a clear distinction of gender-specific roles placed upon these female characters where Tinker Bell represents everything that Wendy can never become. While Barrie presents this in the original text, Disney places a spotlight on the beauty standards and sexual appeal of the female body.
We need your consent to load this rte-player contentWe use rte-player to manage extra content that can set cookies on your device and collect data about your activity. Please review their details and accept them to load the content.Manage Preferences
From RTÉ Radio 1's Arena, Chris Wasser on the history of Peter Pan in film
There is also an element of bodily anxiety that Tinker Bell endures in this adaptation which can be damaging to the child viewer. She continuously critiques her image in reflective surfaces and pinches her thighs as though disgusted with their shape. Disney's choice to adapt Tinker Bell's character in this manner is a significant reflection of the socio-cultural dynamics regarding bodily expectations and autonomy.
As she walks across the mirror on Wendy's nightstand, Tinker Bell's confident expression diminishes as she watches her body move with noticeable disappointment. This is a very poignant moment as the female body is used to signify the transition of unawareness to actuate self-awareness that children, particularly girls, experience as they move from childhood innocence to puberty.
Disney chooses to portray this for comic effect as music is played to mimic her footsteps and her frantic expressions once she starts to examine her body. But this "comedic" aspect of Tinker Bell's agency is the very opposite of humorous, as it is associated with the pressure of maintaining idealised beauty standards.
While Disney is making progressive developments to recent animations, there are elements of gender stereotyping that lurk beneath the surface
Moreover, her body is overtly sexualised throughout Disney's animation, which is demonstrative of women being constructed as part of the male gaze. Physically, Tinker Bell is illustrated as a voluptuous woman with wide hips and enlarged eyes which all seem to indicate a sexually awoken female figure. Her fuller hips are suggestive of her pubescent state, while her gaze is alluring and inviting. This is heavily contrasted against Wendy's more innocent expressions and child-like body which lacks the curves that Tinker Bell exposes.
Similarly, Wendy's blue nightdress is symbolic of her pure form, while Tinker Bell's vivid green, strapless dress is bolder as it illustrates her exotic nature. Without consent, Tinker Bell is physically attacked by Peter as she is violently shaken to produce pixie dust for him. This can be classed as a symbolic rape, whereby her body is used for male pleasure without consent or desire. This lack of autonomy is significant, as it alters Tinker Bell's self-actualisation in relation to the Neverlandian characters as Hook states "a jealous female can be tricked into anything". Instead of existing as an independent character, she is there to serve as a pawn in the realm of male privilege, while Wendy falls into the role of domestic keeper.
The use of Wendy and Tinker Bell as classifications of feminine representations in Disney's film show the reality of 1950s' American society whereby the female figure must conform to social "normalcy". There is a direct link between Disney's portrayal of female characters and the ideological messages their films encode, particularly in Peter Pan.
While Disney is making progressive developments to their more recent animations (Frozen, Moana etc.), there are elements of gender stereotyping that lurk beneath the surface. As female agency and autonomy continue to grow in our modern society, it is of vital importance that children are given role models who are not trapped in the roles of Wendy or Tinkerbell.
Jade Dillon is a doctoral researcher and English tutor at the Department of English Language and Literature at Mary Immaculate College
The views expressed here are those of the author and do not represent or reflect the views of RTÉ
---