Opinion: research has found that concussion can affect a player's balance, reaction time, multi-tasking and risk of further injury
By Mark Matthews and Chris Bleakley, Ulster University 
Sports-related concussion has been in the spotlight over recent years, with data showing an increased incidence in many sports. Whilst much of this increase is due to greater awareness and improved diagnostic approaches, regular reports of professional athletes retiring early due to concussion, continues to trigger important discussions around player welfare.
When we see players collide on the field, rising dazed and unbalanced, the obvious question is have they sustained a concussion? Will they be taken off for assessment? And will they be ready for the next game? There is an ongoing international effort to develop an efficient and accurate tool for pitch side diagnosis of concussion. However, until we find a procedure that can rule in and rule out concussion with 100% accuracy, we should stick with the mantras of "recognise and remove" and "if in doubt, sit them out".
Primary prevention of concussion is also an important area for research. Effective injury prevention in sport is informed by understanding the key inciting events. For example, we know that over 50% of injuries in rugby occur in the tackle or collision situation. Whilst modifying the tackle law seems like an obvious solution, a recent trial by the Rugby Football Union found that outlawing tackles above the armpit had a paradoxical increase of 67% in concussion rates and the study ended prematurely. There is continued debate around the most effective way to minimise risk of injury, without making fundamental changes to the nature of the game, its brand and culture.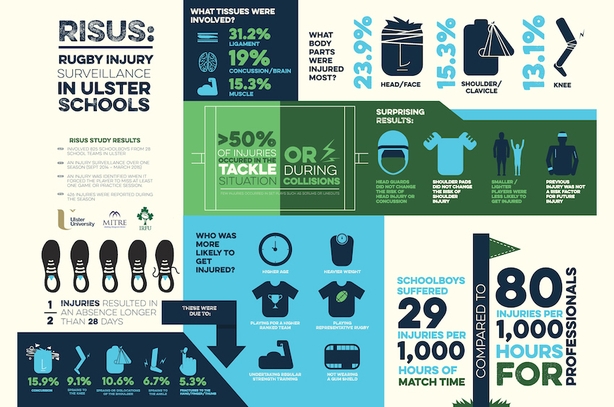 There have been anecdotal reports that certain players may be more susceptible to concussion. Athletes who are younger, female and have a history of migraines, motion sickness or eye misalignment can be at greater risk of suffering a concussion and/or experiencing a delayed recovery. Perhaps one of the most interesting findings is that reduced balance can also predispose players to concussion.
In a recent study, elite male rugby players with poorer balance were three times more likely to sustain a sports related concussion. In basic terms, good balance is a reflection of an individual's ability to maintain and control their body within their base of support. But this is a complex, multi-level process where the body is constantly sensing and interpreting nerve signals from multiple sources (eyes, ligaments, tendons, muscles, vestibular system) and adjusting accordingly to keep "balanced".
We must also consider that sustaining a concussion can, in itself, lead to further neurological deficits, increasing the risk of recurrent injuries.  A large study in professional rugby found evidence that players who suffered a concussion had a higher risk of incurring any subsequent injury throughout the remainder of the season, compared to players with no history of concussion.
We need your consent to load this rte-player contentWe use rte-player to manage extra content that can set cookies on your device and collect data about your activity. Please review their details and accept them to load the content.Manage Preferences
From RTÉ News, Justin Treacy reports on concussion in rugby
The mechanisms for this are not clear, but it seems that concussion has a negative effect on dynamic balance and reaction time. These changes can be prolonged, with post-concussed athletes presenting with reduced reaction times (of 30 - 40 milliseconds) for up to two months after injury. Even small deficits in cognitive and physical reactions could place athletes at higher risk of injury, particularly those returning to fast paced, dynamic, collision sports.
Balance remains one of the key correlates of neurological function in athletes and must be carefully considered during diagnosis, rehabilitation and when making return to play decisions. The Sport Concussion Assessment Tool (SCAT5th ed.), currently represents the internationally agreed, gold standard clinical assessment.
This involves a battery of clinical exams, including a balance test known as the modified Balance Error Scoring System (mBESS). This test is valid and user friendly, but it may not be sensitive enough to detect subtle balance deficits. Therefore, a key challenge for researchers is to develop a more reliable way to measure small changes in balance over time. It is also important that balance tests are developed to incorporate more of a dual-task component, that is, determining how well athletes' can interpret information whilst performing a physical task (multitasking).
We need your consent to load this rte-player contentWe use rte-player to manage extra content that can set cookies on your device and collect data about your activity. Please review their details and accept them to load the content.Manage Preferences
From RTÉ 1's Six One News, researchers examine ways rugby can reduce the risk of concussion and head injuries
Since 2018, Ulster University in collaboration with Ulster Rugby, Irish Rugby Football Union, University College Dublin and Mitre Foundation have using wearable inertial sensors in a bid to improve balance screening and concussion diagnosis across a large cohort of adolescent rugby players. This technology improves on the current state of the art by enabling researchers to quantify subtle changes in multiple dimensions of balance and multitasking.
Preliminary data is promising. Our first-hand evidence could help to more accurately predict which players are at risk of concussion and help to identify which subgroups require a longer time period before their balance and multitasking abilities return to pre injury levels. Collectively this will help to build on the current rugby union recommendations for graduated return to play post-concussion, which are 21 days for adults and 23 days for players under 20 years of age.
Mark Matthews is a Lecturer in Sport Physiotherapy at the School of Sport at Ulster University. Dr Chris Bleakley is a researcher and lecturer at the Centre for Health and Rehabilitation Research and the School of Sport at Ulster University 
---
The views expressed here are those of the author and do not represent or reflect the views of RTÉ
---