Analysis: March 17th was always a day for special rites and rituals throughout the country.
By Marion McGarry, Galway Mayo Institute of Technology
St Patrick's Day in Ireland is a huge event. Far from fading, customs followed on this day are growing in popularity and taking on new appropriations in a global context. This is in marked contrast the past, when St Patrick's Day was marked in a restrained way when compared to the more fervent ways many other saints' days were celebrated. Here are some of the customs of St Patrick's Day as lived by our rural ancestors - some are long gone, but some are still practised today.
Planting the spuds
The occurrence of St. Patrick's Day on March 17th marked a time full of the promise of improved Spring weather and longer evenings, a boon for rural farmers. It is traditionally held to be the time for planting potatoes and remains so for many gardeners. Potato planting did not take place on the day itself, which was a day of rest for many and a break from the Lenten fast for practising Catholics who formed the majority of the population.
From RTÉ Archives, On the Land's 1965 guide to good potato sprouting practice
A day off from Lent
Usually occurring in the middle of Lent, St Patrick's Day was considered a welcome break from fasting for Catholics to enjoy meat, treats and alcohol. The day only became a national holiday in 1903 and pubs were not allowed to open until 1973. Lore has it that the only legal place to get a drink in Ireland for many years was the RDS Dublin Dog show. But in the years when the pubs were closed in Ireland, people still found ways around the ban to consume alcohol by celebrating at gatherings in their homes or the local rambling house.
The alcohol consumed on St. Patrick's Day was known as "Póta Phádraig" or "St. Patrick's Pot". The tradition known as "drowning the shamrock" involves making a toast to St. Patrick then tossing a shamrock over the shoulder for good luck (most convenient considering that adults wore bunches of shamrock on their lapels).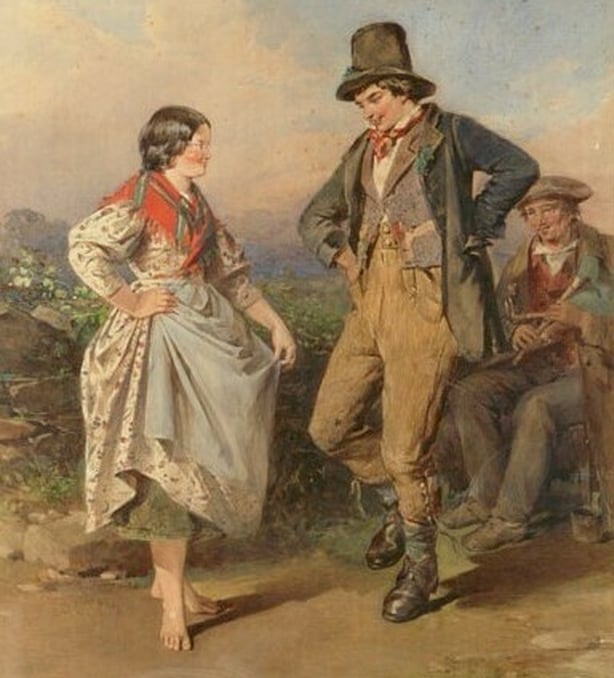 Because of the association with alcohol, the day became a focus for the Irish Temperance movement, which was an anti-alcohol, religious association that exemplified good behaviour and national pride. From the mid-19th century, they held colourful parades on St Patrick's Day which offered a celebratory teetotal alternative to alcoholic pursuits. These parades spread to Irish emigrant communities abroad and became embedded in the international celebration of St Patrick's Day.
The wearing of the green
Because of the shamrock, green is the colour now most associated with St Patrick, despite the colour blue being traditionally associated with our national saint. According to folklore, Patrick converted Irish pagans to Christianity by using the three leaved shamrock to explain the Holy Trinity. From the late 19th century onward, the colour green became more associated with Irish nationalism, and wearing green became a way of celebrating one's Irish identity on the day.
From RTÉ Archives, RTÉ News' reports on St Patrick's Day parades in Cork and New York in 1968
For hundreds of years, people in Ireland wore crosses to commemorate St Patrick on his feast day, with some wearing a large sprig of shamrock on their hat, shoulder or lapel and this continues today. In more recent times, adults wore shamrock while wearing the crosses became customary for children.
In the days leading up to St Patrick's Day, Irish children would busy themselves making their crosses, which were most often on a circular shaped badge. The crosses were different for boys and girl: boys' crosses were usually made from coloured paper, to be worn on the sides of their caps, while girls made theirs from coloured fabric and ribbon, sometimes formed into a rosette, and worn on their right shoulder. The cross was dropped in favour of harps and shamrocks and these evolved into the modern rosettes and badges that children wear today.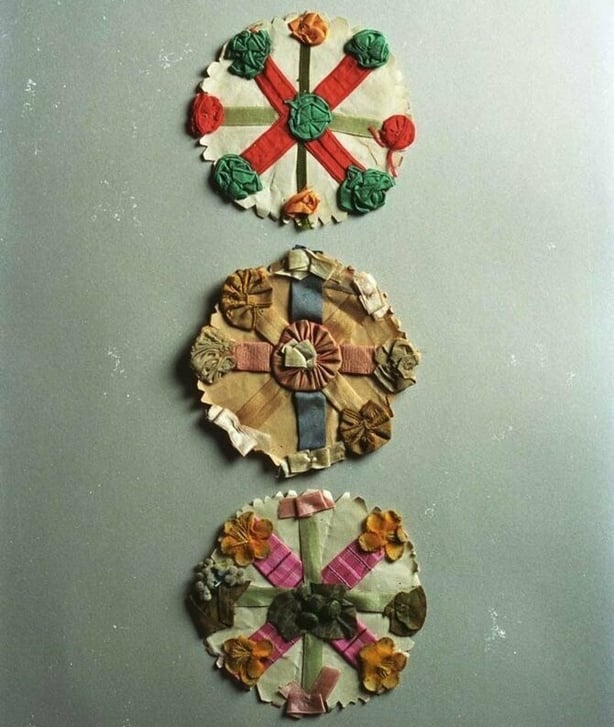 The grub
On the day itself, Mass was attended by all the family and the parade was watched before returning home for dinner. But what meat could a Catholic family have for dinner in the middle of Lent that did not arouse guilt?
According to one of the many myths around St. Patrick, the saint was believed to have eaten meat during Lent but became extremely repentant having done so. He put the meat he had been eating into water and it miraculously turned into fish or "St. Patrick's Fish". People took this to mean that they could eat meat during Lent if they dipped it in water on St Patrick's Day. Therefore, boiled bacon was fine to eat on the day (with cabbage and potatoes), as it was on most days outside Lent.
Dr Marion McGarry is an art historian, author, independent researcher and lecturer at Galway Mayo Institute of Technology
---
The views expressed here are those of the author and do not represent or reflect the views of RTÉ
---