Opinion: Hollywood transformed the image and perception of Irish American Catholics over the course of the 20th century
Al Smith was a candidate in the 1928 US presidential election. A four-time Democratic Governor of New York with a reforming reputation, Smith was the first Irish American Catholic to run for the White House, but he was heavily defeated in the election. Historians point to his religious identity as the reason for his failure; widespread anti-Catholicism meant that America was not ready for an Irish American Catholic President.
"Catholics had faced opposition from groups that are generally identified as nativist - people who thought that if you were born here you're OK", explains Professor James O'Toole from Boston College. "But if you are not born here, there is something suspicious about you. Nativists would say 'well, are Catholics really loyal to the nation? Don't they have this loyalty to the Pope after all, and isn't the Pope a foreign prince? How can they be true Americans'?".
"In the late 19th and early 20th century, Catholics were seen as outsiders", adds Professor Diane Winston from the University of Southern California."There was a lot of anti-Catholicism, a lot of nativism. The Klu Klux Klan were as upset about Catholics as they were about African Americans or Jews."
Professor Diane Winston on religious representation in Hollywood movies
Anti-Catholic discrimination in the US had deep roots going back to anti-Catholic attitudes brought to the American colonies by British Protestants. From the mid-19th century, such prejudice was reinforced by distrust towards increasing waves of poor Catholic immigrants, particularly from Ireland, Italy, Poland, and Mexico.
By the early decades of the 20th century, prejudice started to wane. Irish American Catholics in particular became more numerous and better educated and began to get political and economic power. And there was another force at work that provoked a change in societal attitudes: mass media.
Radio and movies were of immense cultural significance in America before the Second World War. From the era of the silent movies in particular where language was irrelevant, Hollywood provided a cheap entertainment that served to unite disparate ethnic groups and build social solidarity.
"Catholics were players in all the mass media and I think that had an effect of removing the prejudice against them"
"Movies were the place where people went to learn", says Winston. "It sounds funny because we think of movies as entertainment, but movies are doing a double duty. While they are entertaining you they are also conveying social, cultural and political values. So movies play an important role in changing how the culture sees its values and strengths and weaknesses".
"Catholics were players in all the mass media", says O'Toole. "And so people in other parts of the country who had never met a Catholic before but who might have been inclined to be suspicious of them, could suddenly start to say, well these seem like normal folks. I think that had an effect of removing the prejudice against them."
"If you think of the big films of that era like Going My Way, Mrs Miniver and How Green Was My Valley, these were very wholesome films where religion was part of the texture of daily life", explains Winston. "Those movies about Catholic priests - Boy's Town, Angels with Dirty Faces - were really instrumental in showing Americans a side of Catholicism that was loving and nurturing and religious. OK, they wore collars around their necks, they were a little bit different, but their values were very American."
From RTÉ News, a report on the death of Maureen O'Hara in 2015

The list of Irish-American movie stars of the 1930s and 1940s is impressive: Maureen O'Hara, Spencer Tracy, Maureen O'Sullivan, Jimmy Cagney, Ronald Reagan, Anthony Quinn, Tyrone Power, Gene Kelly, Jackie Gleason, Donald O'Connor etc. But the biggest Irish-American Catholic movie star was Bing Crosby – and there was one movie that catapulted him to the stratosphere of world celebrity.
Set in an inner city Catholic parish, Going My Way was a musical comedy-drama starring Crosby and Barry Fitzgerald as Irish American priests. Crosby played Fr Chuck O'Malley, who turns a gang of juvenile delinquents into a church choir. Going My Way was the highest-grossing picture of 1944 and was nominated for 10 Academy Awards, winning seven (including best actor for Crosby).
Movie exhibitors choose Crosby as the biggest box-office draw of the 1940s and a survey in 2000 found that he was the third most popular actor of all time with 1,077,900,000 movie tickets sold. Going My Way transformed the popular image of Irish Americans and turned the Catholic priest in to a popular hero.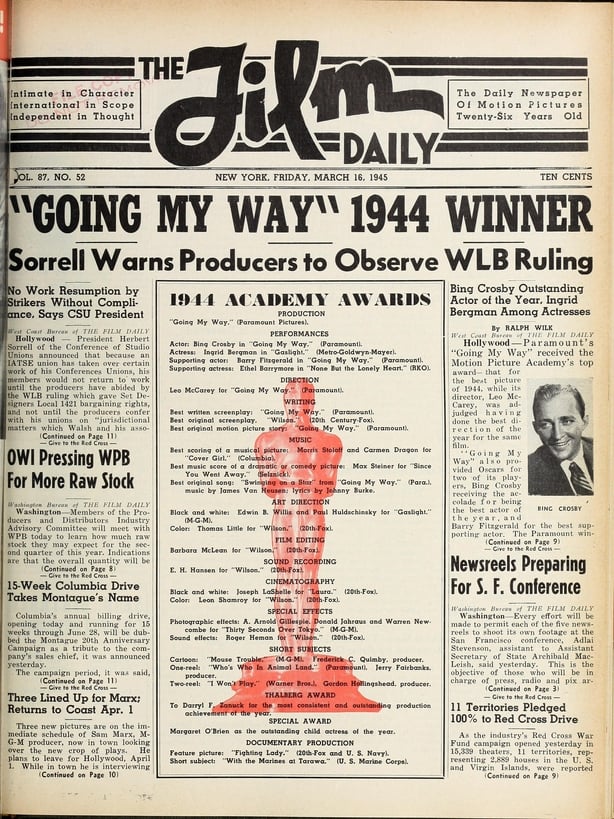 "I sometimes say to students that, given this history of hostility towards Catholics, by the 1940s when the most popular character in the movies is Fr Chuck O'Malley of Going My Way played by Bing Crosby, well that's a sign that hostility towards Catholics had fallen away to a considerable degree", says O'Toole.
Crosby unashamedly embraced his Irish-American Catholic heritage and his influence as a role model cannot be underestimated. In 1945, a Life magazine profile said "America's number one star, Bing Crosby, has won more fans, made more money than any entertainer in history. Today, he is a kind of national institution." At the end of the Second World War, Crosby topped the list as the person who had done the most for soldiers' morale, ahead of President Roosevelt and General Eisenhower. In 1948, American polls declared him to be the "most admired man alive."
READ: No reds under the bed: Irish-American Catholics vs the communists
By the 1950s, Irish-American Catholics were making great strides forward in socio economic and political status. They proved to be good citizens and true patriots and could no longer be considered a threat. Rather, they had joined the mainstream. And by 1960, America was ready to elect an Irish-American Catholic president.
Professor Diane Winston and Professor James O'Toole are contributors to the RTÉ TV documentary Guns & Rosaries which will be broadcast on RTÉ 1 on Thursday March 21st at 10.15pm. Guns & Rosaries tells the story of Irish-American priest Fr Patrick Peyton, who impressed Hollywood, the world and the CIA with the phrase "the family that prays together stays together". The documentary was produced by Esras Films for RTÉ with the assistance of the Sound & Vision fund of the BAI
---
The views expressed here are those of the author and do not represent or reflect the views of RTÉ
---