Opinion: the opening of the Hirschfeld Centre 40 years ago helped to bring Irish gay and lesbian individuals together like never before
By Patrick McDonagh, European University Institute
On April 25th 1979, The Irish Times reported that a "gay group opens new headquarters in Dublin" at 10 Fownes Street, Temple Bar. This gay group was the National Gay Federation (NGF), and the headquarters was the Hirschfeld Centre. Named after Magnus Hirschfeld, a pioneering sexologist who championed homosexual emancipation in Germany in the early 20th century, the Hirschfeld Centre officially opened its doors on March 17th 1979. While 1980s Irish queer history is primarily focused on David Norris' legal battle to decriminalise sexual activity between males, beyond the courtroom the Hirschfeld Centre was radically transforming Ireland's gay social scene, in the midst of both an economic downturn and rise of conservative forces.
While the Hirschfeld Centre was the headquarters for the NGF and its political activities, it was much more than simply a headquarters. It housed a disco (Flikkers), a cinema, telephone befriending service (Tel-A-Friend), secretariat of the International Gay Association, a support service for parents of homosexuals (Parents Enquiry) and a café.
At a time when laws criminalising sexual activity between males existed and considerable ignorance and shame surrounded homosexuality, the Hirschfeld Centre provided a space where Ireland's gay and lesbian community could feel accepted, supported, and meet others like themselves. It was a place where they could, even for just a few hours, drop the pretension of heterosexuality and embrace their homosexuality. Bill Hughes, who returned to Ireland in 1980 after four years in England, recalled that the Hirschfeld Centre was a "place where you could just be your complete self and just let it all hang out. If it wasn't for the Hirschfeld Centre, I think I'd have emigrated again."
From RTÉ Archives, Brian Black's report for Ireland's Eye on the Hirschfeld Centre in 1981
What is remarkable about the Hirschfeld Centre, in the context of this period, was the high-profile it enjoyed. Rather than try to keep its existence hidden from wider society, the NGF instead adopted a strategy of publicly promoting the Hirschfeld Centre. This represented a sign of the growing confidence of Ireland's gay and lesbian community to be more public in their resistance to heteronormativity. The opening of the Hirschfeld Centre was reported in The Irish Times, The Irish Press, In Dublin and Hot Press. Lynn Geldof encouraged her In Dublin readers to "check it out…the facilities are remarkable".
Within just two years, the Hirschfeld Centre was featured on RTÉ's Ireland's Eye, with reporter Brian Black asking "why is it the image of gay people seems to have taken on a profile?" One reason was the Hirschfeld Centre's disco, Flikkers (the Dutch word for faggot), which proved extremely popular and developed a reputation for playing the latest up-and-coming records in Dublin before anywhere else.
In The Irish Times, Maurice Haugh noted that the NGF imported records directly from London and played them months before they hit the radio charts in Ireland, making Flikkers one of the "liveliest and musically up-to-date in town". 1981 figures for Flikker's show that hundreds of people attended on a weekly basis, with one week alone attracting over 1,300 individuals.
From RTÉ Radio 1's History Show, Julien Clancy talks to activist Toni Walsh about the Hirschfield Centre
Francis Fay remembers that it was the music from Flikkers which first attracted him to the Hirschfeld Centre. "One night, myself and a friend were walking through Temple Bar, which was pretty deserted at the time, and we heard this pumping music coming from a building, and we followed it and it was the Hirschfeld Centre. The music was high energy, really fast, fast beats. But the biggest thing I remember from that night was when the music suddenly stopped and there was a slow set. And all these guys who just before were really aggressively dancing, they just started you know coupling and being very tender and slow dancing around. And that was an amazing moment for me. I'd never seen anything like it."
The greater sense of pride, community, and willingness to be more public about their sexuality was reflected in the organisation of gay pride weeks at the Hirschfeld Centre. While it was not until 1983 that the first gay pride protest march took place in Ireland, it was within the Hirschfeld Centre in 1979 that gay pride was first celebrated in Ireland. Over the years, the week's events varied considerably, from Gala Nights, art exhibitions, films and folk music sessions to fundraisers for David Norris' legal battle, jumble sales and pink balloon releases at St. Stephen's Green.
From RTÉ Archives, Ciana Campbell reports for Access: Community Television in 1984 on how the ideas of a group of young people about what it means to be gay are challenged when they meet a gay woman and man
One of the most popular events was the public picnic in Merrion Square. These picnics, in many respects, were a pre-cursor to gay pride parades in Ireland. Writing in 1980, about that year's gay pride picnic, Tonie Walsh remarked that "if one could only visualise 70 faggots and dykes all bedecked with pink carnations and triangles squatting on the grass in the middle of a public park! The sun shone down in all its glory on beaming happy faces and everyone, I think, enjoyed themselves immensely".
These gay pride weeks helped to promote the very concept of gay pride to Irish society before gay pride parades, with numerous articles appearing in the mainstream media. The Irish Times even included the 1979 gay pride week celebrations in its "What's On" section. By 1984 the success of the Hirschfeld Centre led Maurice Haugh to describe that area as the "Gay Paree" of Dublin, even crediting the centre with helping to revive Temple Bar.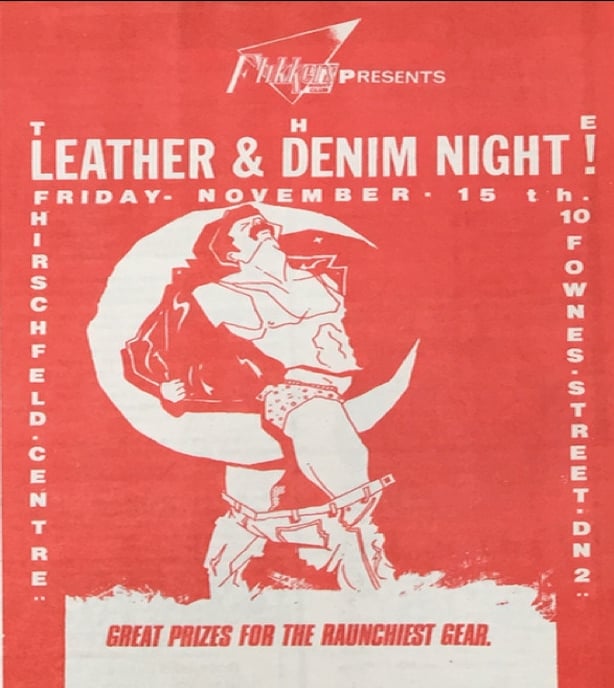 The Hirschfeld Centre hosted numerous fundraisers for GHA to produce their information leaflets - this was crucial at a time when the Irish government was negligent in its response - and also hosted information evenings on AIDS, and helped support Cairde, the first support group for people with AIDS in Ireland which was set up by GHA.
Ireland's first International AIDS Weekend was marked within the Hirschfeld Centre in 1987 and raised over £1,000. Had it not been for GHA and the Hirschfeld Centre Ireland's response to AIDS may well have been much slower and the impact of AIDS much worse. Senator Shane Ross stated in Seanad Éireann, in 1988, that "the Hirschfeld Centre and the gay community gave a lead in the fight against AIDS", a view that was shared by many both inside and outside Leinster House.
From RTÉ Archives, Alan McCullough reports for RTÉ News about the launch of an information booklet about AIDS by the Gay Health Action Group (GHAG) in 1986
The Hirschfeld Centre came to an abrupt end in autumn 1987 following a devastating fire, a fire Senator Joe O'Toole argued there was strong evidence to suggest was started maliciously. Its legacy lives on both in the revival of Temple Bar and particularly its role in transforming Ireland's gay social scene.
The Hirschfeld Centre started Ireland's gay consumer revolution with the emergence of venues catering to Ireland's homosexual community emerging in the late 1980s and early 1990s. Moreover, the Hirschfeld Centre helped to bring Irish gay and lesbian individuals together like never before. Through the numerous activities within the Hirschfeld Centre, thousands of Irish gay and lesbian individuals became more confident in their sexuality and more visible in Irish society. For many, the Hirschfeld Centre was a liberating space. One such individual was Gerard Lawlor who recalled that the Hirschfeld Centre was the "best thing that happened in Ireland to the gay scene; it gave us dignity in ourselves"
Through the Hirschfeld Centre, thousands of Irish gay and lesbian individuals became more confident in their sexuality and more visible in Irish society
During a decade when then there was very few positives to be celebrated for progressive groups in Irish society, including gay rights organisations, the Hirschfeld Centre was the one constant source of support and outlet for Ireland's gay and lesbian community. It could also be argued that the widespread awareness and discussion of it within the Irish mainstream media helped to de-radicalise perceptions of homosexuals in Ireland and played an important role in transforming Irish attitudes towards gay and lesbian individuals.
Dr Patrick McDonagh is a researcher at the Department of History and Civilisation at the European University Institute at Firenze
---
The views expressed here are those of the author and do not represent or reflect the views of RTÉ
---