Analysis: research has shown that unusually high levels of prenatal maternal stress are associated with a number of subsequent problems for the child
By Siobhain O'Mahony, Ted Dinan, James Keane and Gerard Clarke, UCC
Pregnancy is a wonderful experience, but may also be a stressful time for expectant mothers. Some mothers-to-be experience increased stress as they encounter a new set of worries or concerns. For some, high levels of prenatal maternal stress may have consequences for the mental and emotional wellbeing of the child in later life.
The experience of stress is an inevitable by-product of life in the modern world. While some people display a high degree of resilience to stressful encounters, others cope less well. Development of the central nervous system takes place in the womb and normal development may be affected by stress. The mother's physiological response to stress can reach the womb via the placenta and it is increasingly appreciated that this may play a crucial role in shaping development of the foetal brain.
From an evolutionary perspective, the association between maternal stress and foetal development probably served to prime the child for the environment it was likely to experience outside the womb. The pregnant mother's hyperactive "fight or flight" response conveyed to her offspring that the world they were about to be brought into was fraught with danger and the developing foetal brain was "programmed" to respond accordingly. For example, the child may have developed a higher level of sensitivity to stimuli from the surrounding environment which would have bestowed a better chance of survival. However, such traits may not always be beneficial in the context of modern life.
We need your consent to load this rte-player contentWe use rte-player to manage extra content that can set cookies on your device and collect data about your activity. Please review their details and accept them to load the content.Manage Preferences
From RTÉ Radio 1's Today With Sean O'Rourke, interview with midwife and antenatal teacher Nancy Murphy about preparation for pregnancy, birth and motherhood
Research in humans and animals has shown that unusually high levels of prenatal maternal stress are associated with a number of subsequent behavioural and cognitive problems for the child. However, it is not yet entirely understood how this stress shapes the developing brain. Stress has a number of biological effects which may explain how it might impact on the neurodevelopment of the infant. For example, stress can increase the immune response in the mother which can lead to low-grade inflammation. This has encouraged researchers to focus on maternal signalling molecules activated by stress and the immune system that can cross the placenta and act directly on the developing foetus.
Some people are more vulnerable to these effects than others so exposure to prenatal stress is likely to impact on the mental development of some children only. Appreciation is growing of the role the microbes in our gut play in determining a person's level of susceptibility to stress. The gut is home to a diverse array of trillions of microbes, collectively termed the gut microbiota, which live in a healthy symbiotic relationship with their host.
While a healthy gut microbiota, with microbes of many different species, helps protect against some of the harmful effects of stress, a less diverse microbiota may exacerbate the stress response. It has been suggested that one of these effects may be the development of increased gut permeability which allows bacteria and toxins to pass into the bloodstream. This, in turn, may be responsible for an undesirable, low-level activation of the mother's immune system in response to stress.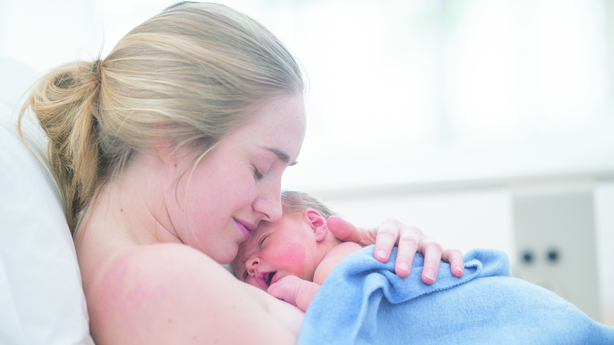 Another potential consequence of increased immune activity is the activation of metabolic pathways which break down and decrease the availability of tryptophan. This is an essential amino acid and building block for many important molecules including serotonin, a neurotransmitter important for signalling between nerve cells. In addition to producing less serotonin, the products which tryptophan is broken down into under these conditions are known to induce potent effects on the central nervous system and are thought to impact negatively upon its development. Animal studies have shown that elevated levels of these breakdown products in the mother are transferred to the foetus during pregnancy.
Our research at APC Microbiome Ireland, a SFI research centre at UCC, aims to better understand prenatal maternal stress and the role played by gut microbes during pregnancy. This will help identify women who could benefit from stress reduction initiatives.
There is no doubt that a better understanding of the biological link between prenatal maternal stress and undesirable foetal neurodevelopmental consequences is needed in this critical area of research. To this end, we are currently investigating how high levels of maternal stress affect prenatal brain development in susceptible individuals. We are particularly interested in testing whether increased gut permeability caused by maternal prenatal stress triggers the immune response. The possibility that this contributes to the breakdown of tryptophan into molecules that interfere with development of the foetal brain is also being investigated.
READ: are we stressing our children out?
READ: what happens to your body when you're stressed?
The ultimate aim of this project, which is funded by the Health Research Board, is to identify a comprehensive biological signature for vulnerability to prenatal maternal stress and adverse neurodevelopmental outcomes. This will allow for the identification of at-risk women who could benefit from the implementation of a stress reduction programme. We are also investigating nutritional programmes aimed at targeting the gut microbiota in susceptible individuals. The insights from this research will have the potential to benefit both the physical and mental health of mothers and their offspring.
Co-authors Siobhain O'Mahony and Ted Dinan will take part in a free public seminar on dealing with stress during pregnancy at Cork County Library tomorrow at 6pm. Tickets can be reserved here.
Dr Siobhain O'Mahony is a lecturer and Principal Investigator in the Department of Anatomy and Neuroscience at UCC. Professor Ted Dinan is Professor of Psychiatry and Principal Investigator at the APC Microbiome Ireland at UCC. James Keane is a PhD student at the APC Microbiome Ireland at UCC. Dr Gerard Clarke is a Lecturer in the Department of Psychiatry and a Funded Investigator at the APC Microbiome Ireland at UCC
---
The views expressed here are those of the author and do not represent or reflect the views of RTÉ
---