Opinion: as the vinyl revival goes mainstream, the cassette has become an increasingly attractive format for artists, labels and fans
The well documented vinyl revival has moved firmly overground and vinyl is once again firmly embedded in our commercial and cultural landscape. Worldwide vinyl sales continue to increase annually, with this clearly visible in the Irish retail landscape. Homegrown music retailer Golden Discs has reported significant growth in recent years and has reclaimed space it previously vacated in the nation's shopping centres and on its high streets. Chief executive Stephen Fitzgerald has attributed this growth largely to increased demand for vinyl LPs.
New vinyl pressing plants such as Dublin Vinyl have emerged to cater for the increased demand from labels and artists for vinyl production. Vinyl has also begun to inhabit our libraries and museums with its own dedicated conferences and symposia. In 2018, Dublin's IMMA and Dun Laoghaire's Lexicon both hosted vinyl festivals, Vinyl Dublin and Dun Laoghaire Vinyl Festival respectively, featuring listening sessions and panel discussions dissecting the medium's allure.
From RTÉ Radio 1's Drivetime, Liam Geraghty looks into what makes vinyl so special
However, this success has excluded many of those fans and artists who stuck with vinyl during the wilderness years. In the consumer market, vinyl has moved into the premium territory once captured so prominently by CD with such high priced archival releases as deluxe box sets, heavyweight audiophile pressings and expanded editions. For many music fans and former vinyl junkies, it has simply become too costly to continue to feed their vinyl habits.
Independent musicians and labels have found vinyl increasingly expensive and impractical to produce and distribute. Increased demand has lead to increased production costs and longer manufacturing timelines. Few in the independent music sector seem to have benefitted from the mainstream vinyl revival. The independent label Bokeh Versions recently tweeted that it "desperately want to stop making vinyl," citing the formats increasing lack of economic viability. A look at some of the top selling vinyl albums of 2018 - "Thriller", "Abbey Road", "Rumours", "Purple Rain" - suggests that the mainstream vinyl revival has little to do with contemporary musical culture.
From RTÉ Archives, a RTÉ News report by Michael Ryan from 1986 on Ryan Plastics in Waterford who were expanding because of increased demand for their cassette tape head cleaner
In contrast to this is the less discussed and lesser understood contemporary cassette revival which has seen a host of independent musicians and labels embrace the seemingly obsolete format of cassette. Labels such as Opal Tapes and Cork's Fort Evil Fruit represent a thriving sub-culture of experimental sounds that traverse the ambient, electronic and psychedelic spectrum. Others, such as Awesome Tapes From Africa and Nyege Nyege Tapes have carved out a niche reissuing obscure and previously overlooked cassettes from across the African continent.
Labels such as these typically issue short run physical releases of 150 to 200 cassettes accompanied by digital releases. These are usually distributed by non-mainstream retailers such as the digital platform Bandcamp or online independent retailer Boomkat. Audiences are niche but loyal and physical releases tend to sell out quickly.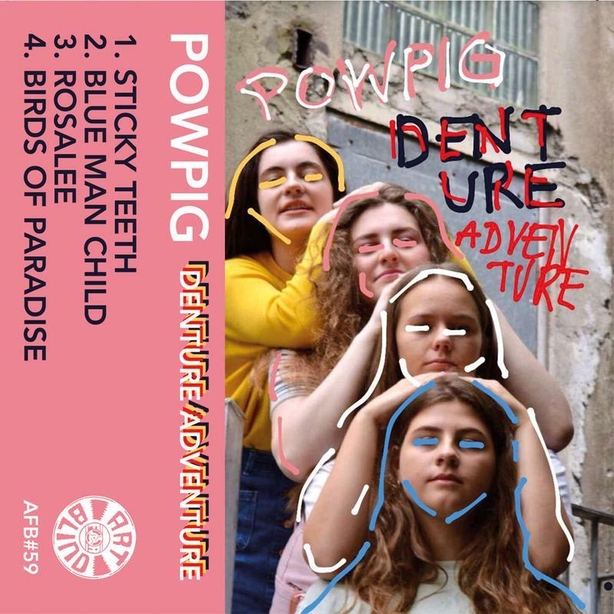 The Record Spot on Dublin's Fade Street has begun selling cassettes again, stocking a mixture of independent Irish artists, new or reissued releases by established alternative acts such as Joanna Newsom and Beach House along with a selection of secondhand titles. The store's Dennis Cassidy assigns this move both to public demand for cassettes and the staff's affection for the format which informed their formative listening experiences. The store's cassette customers, Cassidy says, are "a combination of everybody." Older customers who "just love cassettes and never stopped buying cassettes," younger customers attracted by the format's retro nostalgia and customers who still have cassette decks in their cars and are stocking up for road trip listening.
Sligo based independent record label Art For Blind has periodically put out cassette releases throughout its 15 year history. Recent releases include an EP by teenage Limerick four piece PowPig, while the debut album by Dublin underground trio Oranges is forthcoming on cassette. The label's Dani Guest notes a relatively small but consistent demand for cassette throughout the labels history. Vinyl sales for the label however, contrary to popular trends, have diminished greatly in recent years, a factor which Guest believes to be true for most independent labels.
From RTÉ Radio 1's Arena, artist and member of The Specials Horace Panteron his Cassette vs Vinyl exhibition
Guest outlines a number of practical, financial and aesthetic motivations for releasing music on cassette. The ease of the production process in comparison to lengthy production timelines for vinyl means the label can turn releases around quickly. The capacity for smaller production runs reduces the financial risk associated with vinyl pressings. It also suits acts who are less active on the live scene and not playing the large number of shows required to shift a vinyl pressing.
Cassette is also the most compatible format with the DIY ethos prevalent in many underground music scenes, says Guest. The capability to produce and duplicate your own cassettes and artwork and the potential to retain control over the entire production process make it perhaps the ultimate DIY format for physical music. This DIY cultural legacy is an important component of cassette's allure for contemporary artists and labels.
---
The views expressed here are those of the author and do not represent or reflect the views of RTÉ
---