Opinion: street art in cities from Belfast to Berlin often communicate messages of social significance
Cities display a rich array of street art, from the ubiquitous graffiti writers tagging their names to much larger works painted by well-known local and national artists. This aesthetic desire to create images in the public environment by individuals and collectives mirrors activists who lay claim to their right to the city by practising and appropriating public spaces. They do so by creating temporary placeholders on walls, shutters and other surfaces for contemplation.
Situating art in the public environment engages with our senses and allows us to imagine a different world. It briefly interrupts what images your eyes look at from advertising or street signs telling you to stop or walk and where not to go and what not to do. Street art adds new images for us to look at.
However, not all street art is simply that and it also communicates messages of social significance to those viewing it. When I think of social protest and artwork, I think of Pablo Picasso's Guernica. It is one of the most moving pieces of artwork by far with a strong anti-war message and still resonates today when we think of the horrors inflicted on the Spanish people during their Civil War in the 1930s. The painter deliberately used strong lines and dark shadows to bring his muted animals and people to life and I can't help but hear their voices and feel their pain.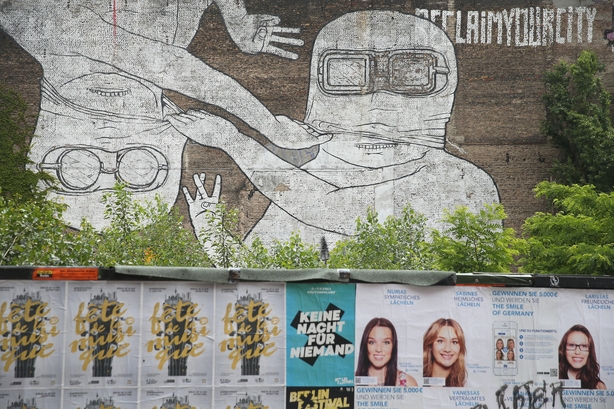 In 2014, two famous murals in the Curvystraβe neighbourhood, a multi-ethnic community and home to artists in Berlin, were blacked out in protest against the city's urban development policies in the area. This was done by the same artists who created them, namely Italian artist BLU and French artist JR. One of the two pieces initially featured a man whose Rolex-laden wrists were tied together by a yellow-coloured chain with the words "Reclaim Your City" written next to him, a clear message of the crisis of greed and capitalism which plagues many cities around the world. The mural next to it featured two people with their faces covered communicating with their hands, using the hand gesture for "E" and "W" to signify the connection of east and west Berlin.
Art communicates messages by engaging with our senses and imagination through the creation of images. Artists communicate their feelings of the world around them by actively taking part in creating those images. Unlike Guernica, which is on display at the Museo Reina Sofia in Madrid, street artists situate their work in the public to experiment with wall textures, colour and in most cases, to create temporary spaces for interaction and reflection for passersby. As one would stop in front of artwork to contemplate or zone out in a museum, street art in the public environment creates a temporary open-air art gallery.
The placement of artwork is deliberate. In fact, any time you speak with an artist who creates art in the public environment, the placement of their work matters – how many people can see it and where would it make an impact? You would rarely see street art painted inbetween bridges or out of sight. In some instances, whimsical googly eyes or scarves adorn telephone poles. The city offers a suitable canvas for artists to share their creations.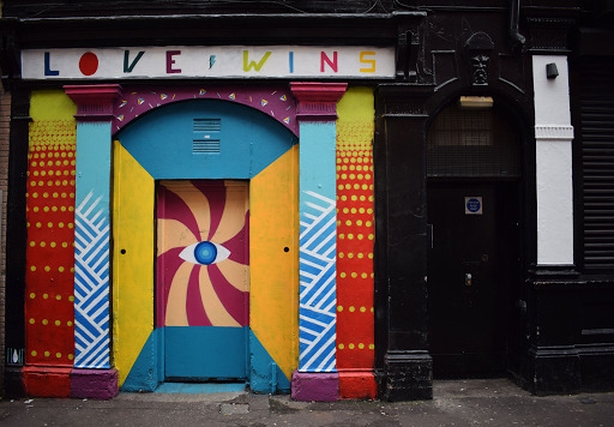 While the choice of canvas can differ, the passion and desire for the artist to create work is evident and demonstrative of reflecting on the changes in our general surroundings. If art does anything at all, it allows for our imagination to run wild away from the constraints of our everyday life. It also provides a temporary moment and space to think about ourselves in relation to the image, within the precise circumstances.
Specifically, artworks situated in the street exist on the walls, shutters, telephone poles and public furniture of a city and varied in style and form. From the discrete sticker reminding you to "Give Peas a Chance" to the scarf adorning the telephone pole to the large-scale masterpiece of Conor Harrington's "Duel of Belfast, Dance by Candlelight", street art comes in different sizes and surfaces of the city – the city's fabric.
READ: I'm sticking with you: the culture of street stickers
We have been writing on walls for tens of thousands of years. Our ancestors created the first stencil art on cave walls across the world depicting human activity promoting fertility and successful hunting. Caves in France and Spain depict some of humanity's earliest illustrative artworks, which featured figures of human activity on walls with the use of crude material like ochre and clay. At the turn of the 20th century, collectives of artists formed to paint murals promoting socialist values and attitudes in Chile during the 1960s and Mexico during the 1930s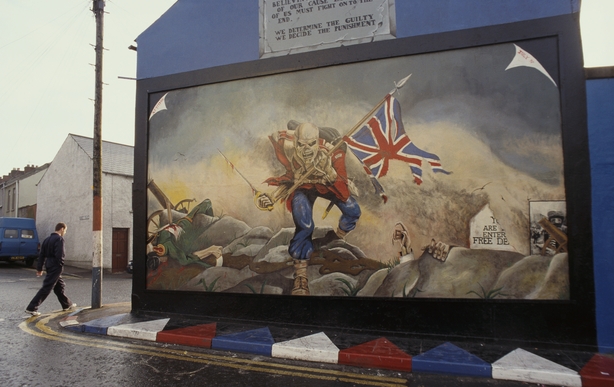 Northern Ireland predated these cultures, with artists creating the first-documented large-scale murals depicting images linked to cultural identity in 1908. But unlike the mural traditions in Chile and Mexico, which promoted an inclusive society based on common values and culture, Northern Ireland's murals were created to act as visual reminders of grievances felt by one community over the other and are the oldest continuous tradition of wall painting on anywhere in the world.
Murals were also used by Republican and Loyalist alike to demarcate territory and the messages which pulsed through those communities. On the one hand, Republican murals were more "varied" in the issues covered, from political, historical and social ones linked to Ireland and global rights movements. Loyalist murals were more concerned with a political ideology of union with Britain and often feature images of paramilitaries standing guard and vigilant against the perceived Republican aggressor. Clearly, a time where social protest and art came hand in hand but, unlike awe-inspiring images and messages of inclusivity of BLU, JR and Picasso, the Loyalist mural art created in Northern Ireland is exclusive and targeted at the people within that community.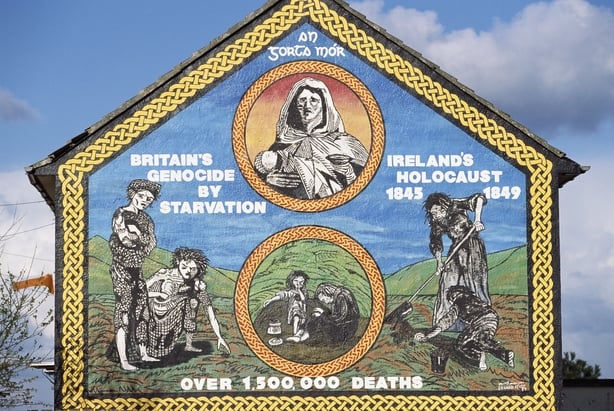 Some examples offer a glimpse into the types and forms of street art in public environs. The creation of art to visualize the "pulse" of society, in this regard, is very much part of our DNA. However, the artist's intentions are very much part of the creative process and in most cases, tends to subvert existing social context. The intention of BLU and JR's work os to engage in conversations about gentrification and urban development, but some artists clearly intend to support social movements, as is the case in Dublin's recent societal shifts.
In 2016, Joe Caslin created a large paste-up of same-sex couples embracing in the lead up to the annual LGBT Pride Weekend in Belfast. This highlighted the plight of Northern Ireland's same-sex couples who are unable to marry due to the conservative outlook of some politicians who routinely block same-sex legislation.
READ: The street theatre of Joe Caslin's art
During the Repeal the 8th campaign, many artists took to the streets to lend support. ACHES created a well-known street art piece at the Bernard Shaw pub in Portobello of Savita Halappanavar. Simply juxtaposing the word "Yes" on her face memorialised her tragic death while lending the artist's support for the campaign. Well-known street artist, Maser similarly showed his support for the campaign by creating a mural on the side of Project Arts Centre in Temple Bar.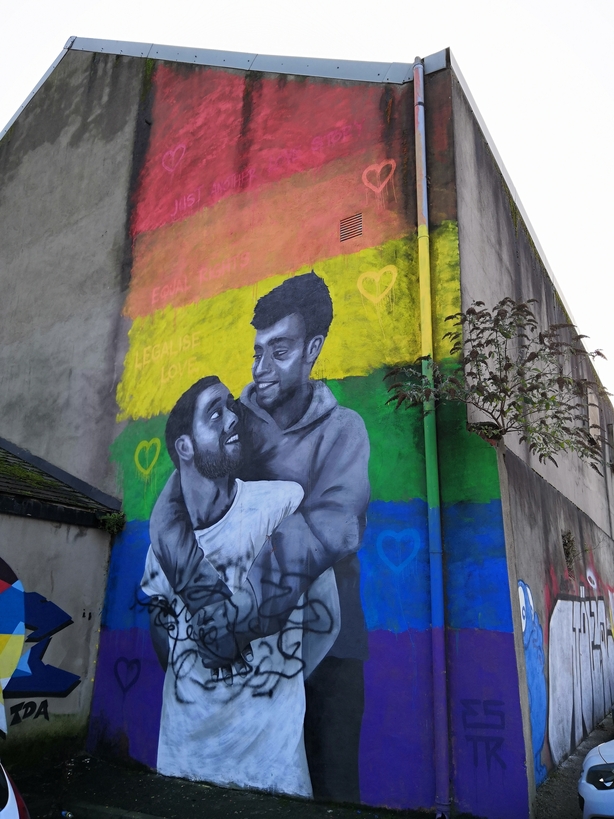 Although the street art scene in Belfast is relatively new, festivals have invited routinely artists to descend on to city centre and create art. Among Belfast's small street art community, a few pieces deal directly with societal issues, such as same sex marriage and the current political climate. This does not suggest that the artists themselves do not support the issues at hand. For example, street art was created in response to the Renewable Heat Initiative scandal which lead to the collapse of Stormont in 2017 and the ongoing homelessness crisis in Northern Ireland.
In a city such as Belfast, with its ongoing social problems such as unemployment, lack of affordable housing, human rights concerns and segregated education, civil society activists have fought tirelessly against the "dinosaurs" of the past. The last time social protest and street art came together as one was during the Occupy movement. The Bank of Ireland building was occupied by artists and activists in 2012, with graffiti still present on the former department store's windows.
Do the artists themselves view their practises as a protest or an act of rebellion - and if so, why don't we see more of it? Perhaps it' a matter of time before we begin to see more signs of protest in a post-Brexit landscape. 
---
The views expressed here are those of the author and do not represent or reflect the views of RTÉ
---