Analysis: the single-room mud cabins which were home to Ireland's rural poor were characterised by terrible poverty, overcrowding and filth
For sale: spectacular one roomed hovel in the heart of the Irish countryside. Walls constructed of clay and ramshackle roof give an earthy smell that add to the ambience (and the damp). Kitchen/bedroom/ dining all takes place around a communal fire (ventilation optional). For additional authenticity there is no electricity, central heating, windows, furniture or plumbing. However, a cess pit is located conveniently directly outside the entrance door. This property needs to be viewed to be truly appreciated.
This nightmare for-sale advert is not from the realm of dystopia, but describes a real dwelling once common in pre-Famine rural Ireland: the mud cabin. The cabin represented the reality of the terrible poverty of most of rural Ireland at that time.
Rural slums
The plight of those housed in the notorious tenement slums of Irish cities in the 19th century and beyond has been well documented. However, there were also slums in rural Ireland in the same era. A 1841 census showed that 40 percent of rural houses were single-room mud cabins. Like the urban tenements, the cabin was characterised by terrible poverty, overcrowding and filth.
Those who dwelled in the iconic stone-built traditional thatched cottages were impoverished by our standards of living today, but those houses were usually well thatched, better built and contained furniture and chimneys. In contrast, mud cabins were associated with a much grimmer type of poverty and were ramshackle, muddy and primeval.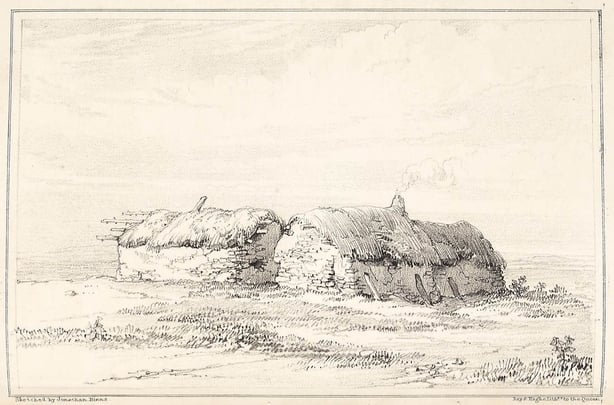 Some were used seasonally by travelling farm labourers, but many large, poor families lived in cabins on a permanent basis. Due to the tumbledown nature of their construction with earth piled around them, some cabins resembled smoking dung heaps. They were dotted across Ireland and would have been a very common sight.
Unfit for human habitation
Cabins were usually made of mud, sod, turf or scrap timber. They were basic, one-roomed and had few if any windows, with a single lean-to door. Many were merely lean-to makeshift shelters. Roofs were crudely thatched using heather, grass or sods of turf. They were draughty and damp and barely kept the weather out.
Entry was through a low door to a dimly lit, smoky single room, commonly "full of flies and with the odour of a stable". There was an open central hearth surrounded by stones, which was ventilated by a hole in the roof and used to cook food and cabin occupants usually had faces blackened by fire smoke. There was little or no furniture. Sleeping arrangements were pragmatic: the whole family, parents and children, slept together huddled on the floor beside the fire. Livestock, if any belonged to the family, shared these dwellings with humans.
These living conditions meant that the poorer population were more susceptible to illness at a time when fevers such as typhus were rampant
Directly outside the entrance to most cabins was a compost heap, known as a cess pit or "midden", containing household waste. The floor was of clay, uneven and littered with rushes or heather. One English traveller commented on a cabin that the occupant shared with two cows: "it was more like a floorless stable that had not been cleaned for a week, than a human habitation."
Heath and hygiene
These living conditions in an era of successive famines meant that the poorer population were more susceptible to illness at a time when fevers such as typhus were rampant. In the early 19th century, there was lack of medical understanding of these, compounded by lack of hygiene and actual medicine. Imagine giving birth in a cabin: little wonder rates of infant and maternal mortality were high. Or imagine trying to battle a disease such as cholera, and continuing to share the communal family bed on the clay floor. Cabin dwellers did not stand a chance in such situations and suffered greatly or were wiped out altogether.
Cabins were the dwelling places of a wealthy landowner's tenants. Tenants paid rent partly by working in the fields and raising livestock for landowners, a precarious existence. Tenants sometimes depended on the benevolence (if any) of the landlord if the weather was poor or their crops failed. The spectre of eviction always loomed.
We need your consent to load this YouTube contentWe use YouTube to manage extra content that can set cookies on your device and collect data about your activity. Please review their details and accept them to load the content.Manage Preferences
The bothán at UCC
Cabins commanded little rent and the land was more profitable when used for grazing livestock over a bigger area. After the Great Famine, the cabin was ultimately overtaken by the slightly larger and better built thatched cottage as the most common type of rural dwelling.
Many cabins were cleared from the land in the post-Famine period, their dwellers themselves swept off the face of the earth during these traumatic years. Hardly any trace of the dwellings remain. In May 2018, as part of the National Famine commemoration at University College Cork, a mud cabin - an Bothán - was constructed by the college's buildings and estates staff. It served as a harsh reminder of how the poorest people lived and died around the period of the Great Irish Famine in the mid 19th century.
---
The views expressed here are those of the author and do not represent or reflect the views of RTÉ
---