Opinion: we know the physical and mental benefits of outdoor swimming, but we should pay more attention to the places and spaces where swimmers meet
After the first day of the long hot summer of 2018, most newspapers had images of leaping teenagers plunging into water. As well as being a rite of passage, there is general agreement that swimming is of value for physical and mental health. Health psychology and neuroscience provide substantial evidence on the mental health benefits. In addition, organisations like Swim Ireland and Healthy Ireland promote swimming for its value as a life-skill, for health and safety and for fitness and physical activity.
As a health geographer, I would argue we need to pay more attention to the places and spaces where swimming happens and to think about why blue places and spaces are important in promoting swimming as a free, shared and caring activity for all. The focus of my research has always been on outdoors and non-competitive swimmers and reflects the increasing public interest in swimming. It's a very zeitgeist topic with the publication of new guides, the developing idea of 'wild' swimming and interesting work by writers and artists like Ruth Fitzmaurice, Phillip Hoare, Vanessa Daws and Gary Coyle.
From RTÉ Radio 1's Ray D'Arcy Show, author Ruth Fitzmaurice discusses her book I Found My Tribe and the tribe she has found through swimming
Geography these days is less about capitals and rivers and more about places and spaces. My research explores the wider idea of therapeutic landscapes and what we might call health-enabling places, including "blue space", and how particular locations and environments are seen and used to improve and maintain our physical and emotional health. If we think of urban parks as green spaces, then blue spaces are water-based, such as beaches, coasts, lakes, rivers, canals and reservoirs.
Research on blue space links activities such as swimming to measurable health benefits. like stress-reduction, nature-connection or attention-restoration, while a recent ESRI paper argues that a view of the sea improves depression scores. My own research is based on interviews and oral history research with outdoor swimmers that incorporates new spatial video methods. Questions on how swimmers value their swimming places were carried out at coastal locations like the 40 Foot, Seapoint and the Vico (Dublin), the Guillemene (Tramore) and the Pollock Holes (Kilkee), as well as inland places like the River Barrow and Lough Owel.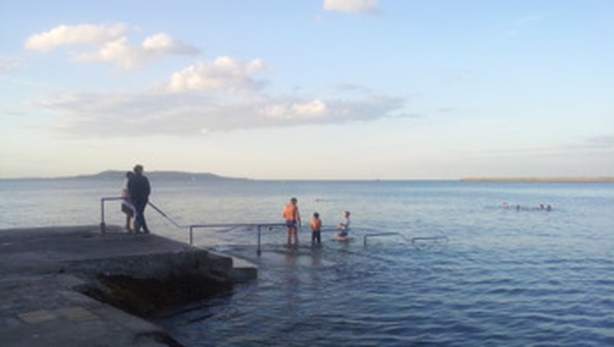 All of these places and spaces have many things in common. They are public, open, free and shared, where people of all generations, shapes, sizes and capabilities all meet up in ways they might rarely do otherwise. Almost all swimmers describe the value of swimming to their health and well-being in lots of different ways. Most importantly, swimmers explain this really eloquently. They think they have nothing to say but as they speak a rich voice emerges from the water, echoing the depth of their own place connection.
For outdoor swimmers, there are clear physical benefits, especially for brittle older bodies, for which other forms of weight-bearing exercise are not possible. As one Guillemene swimmer put it, "it's good exercise … in the sense that you're not putting any strain on your joints... my wife often says to me, she doesn't know anyone my age that isn't on a stick".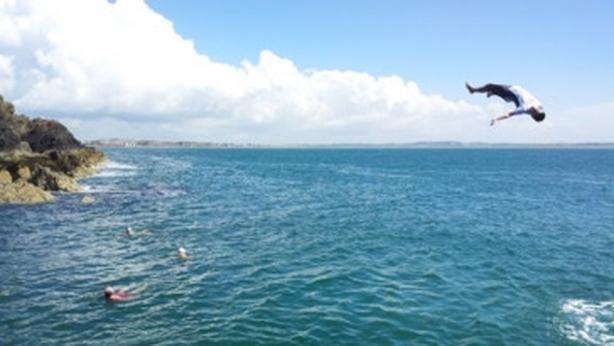 For people with disabilities, it is an especially important place where it becomes possible to make a body that is disabled on land becomes enabled in the water. At the 40 Foot, a swimmer noted a woman with multiple sclerosis. "Her great thing was to swim with her husband. He'd wheel her down in her wheelchair … every single day ... the water was life for her really … she could swim or she could stay afloat with little movements that she couldn't do in the wheelchair". A man with arthritis put it even more succinctly: "the only time I don't limp is when I am in the water".
From a mental health perspective, swimmer's stories reflect the typical benefits listed by psychologists, namely, de-stressing, attention-restoration and nature-connection. To de-stress is the opposite of distress; swimmers' stories always mention escaping from the pressure cooker of everyday life and letting it all go in the water. In a wonderfully ironic way one swimmer said "when things are complicated in your life and you have no solid ground to put your foot down, the sea is that for me'. In the clamour of a world where attention is the new commodity, many swimmers express the value of swimming as a way to unplug and switch off. A phone signal doesn't follow you in to the water.
From RTÉ Archives, a RTÉ News report by Donal Byrne from 1989 about a protest by woman at the Forty Foot male bathing spot in Dublin
Finally, most swimmers really value that very intimate connection with nature as a literal way of plugging in to a natural power source and charging up their own batteries to deal with the world. Even for inland swimmers, being immersed in a river or lake gives you a very changed perspective on the world where you are down at animal level looking out on the landscape differently. Swimmers who do an early-morning swim talk about a sense of power and going back to work feeling like a superwoman/man.
Place is central in the experience of swimming and every swimming spot, whether coastal or inland, has its own character and inhabitants, human and non-human. Sometimes jellyfish or e-coli scare people away or cold water and driving rain make the places more grey than blue. However, they are not for everyone and people also have negative responses to swimming places based on loss of life or as risky/dangerous spaces. In other countries, there are histories of exclusion of non-white bodies from beaches from South Africa to the US. We need to encourage Ireland's own migrant communities to come in to and engage with such spaces, as happens through the Welcome Wave initiative for children in Direct Provision centres.
One important thing I have discovered is that swimming places are really significant across people's lives in building up personal and communal resilience and emerge as important public health assets. They mean something to people in terms of memory and identity through their shared family histories, discovered afresh when children arrive, but lasting throughout people's lives. They are also important in creating spaces for communities of shared care and physical activity especially for older people or people with differences.
A RTÉ Brainstorm video on the joys of swimming in the great outdoors based on this piece
Rather than focus unduly on risk and safety, we need to emphasise the joy and pleasure made possible in these free shared spaces, where taking the plunge is an act of discovery, skill, capacity, power and healing. It is something that sustains and even strengthen us across our lives. As poet Nell Regan suggests, coming out of the water after a cold dip, we are revived, transformed and "stung to warmth".
---
The views expressed here are those of the author and do not represent or reflect the views of RTÉ
---