Analysis: research shows that commercial radio stations worldwide have remarkably common practices when it comes to playlists and songs 
An ongoing study of radio music programming practices in three different markets has found that commercial radio practices are similar - and at the same time remarkably different. Using case studies of KIIS FM 102.7 Los Angeles, Capital Radio 95.8 London and Nova 96.9 Sydney, the evidence shows that similarities are brought about by programmers' conceptions of the universal conventions of their format, while the differences are instilled by market features which prompt stations to adapt. KIIS, Capital and Nova are licensed to broadcast with the Contemporary Hit Radio (CHR) format.
Same artists, same sounds
Playlists from the three stations for October 1, 2018 shows that artistes featuring on global music charts are frequently played across the three stations. Table 1 reflects 14 songs from artistes who cut across the playlists of the sampled stations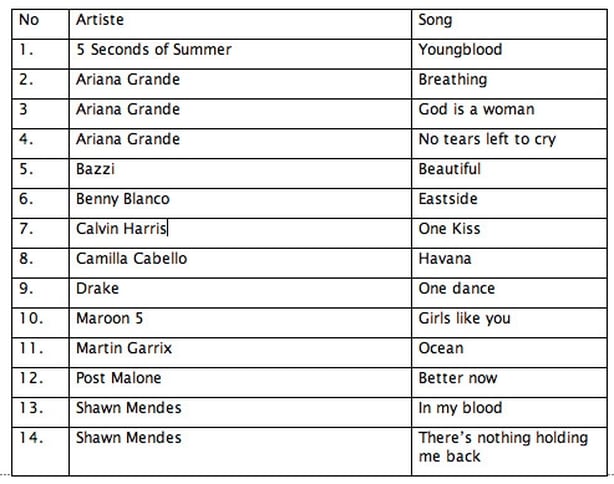 In cases where all the three stations did not play the same music, all of the stations were found to at least play some songs that one other station played. Table 2 shows 18 songs were played on Nova and Capital, but not played on KIIS: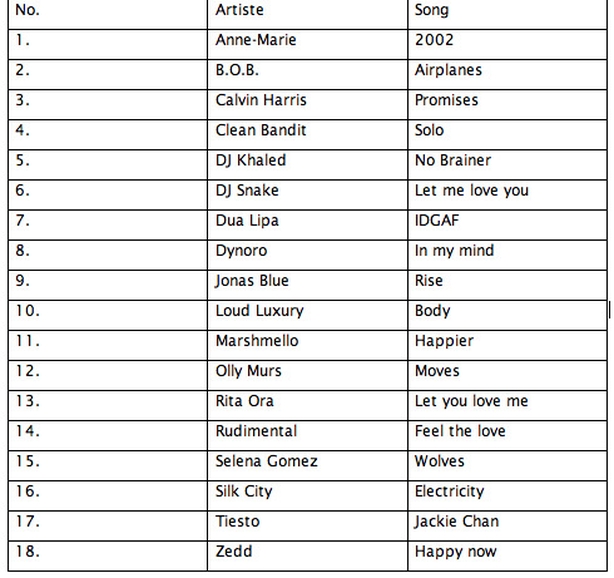 Similarly Table 3 reflects fourteen songs played on Nova and KIIS but not played on Capital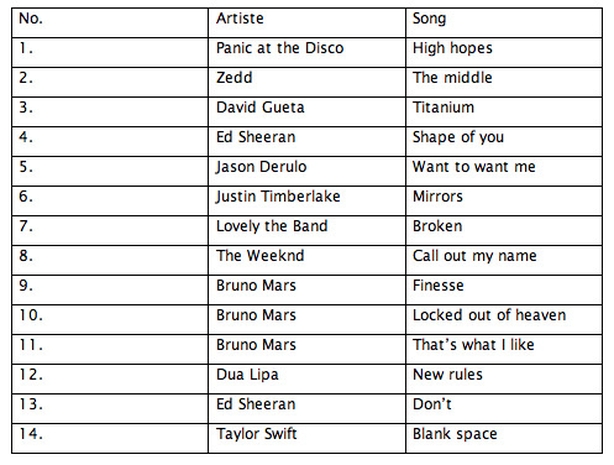 A total of five songs were played on Capital and KIIS but not aired on Nova indicated in Table 4:

In spite of these similarities, there were variations on the playlists of the three stations, with several songs being unique to their on air schedule. 108 (36 percent) of the songs played on Nova were unique to Nova, 72 (21.4 percent) of the songs played on Capital were unique to Capital and 66 (25 percent) of the songs played on KIIS were unique to KIIS.
We need your consent to load this YouTube contentWe use YouTube to manage extra content that can set cookies on your device and collect data about your activity. Please review their details and accept them to load the content.Manage Preferences
Furthermore, the three stations were found to play a lot of more music and carry less talk. KIIS played 264 songs (giving an average of 11 songs per hour) for the whole day, Nova aired 300 songs (an average of 12.5 songs an hour) while Capital played 336 songs (an average of 14 songs per hour).
All the stations maintain tight playlists and tight rotations (see Table 5). In CHR vocabulary, a tight playlist has few songs and a tight rotation is when songs are repeated quite often. 
Table 5 shows the frequency of repetition on the three stations.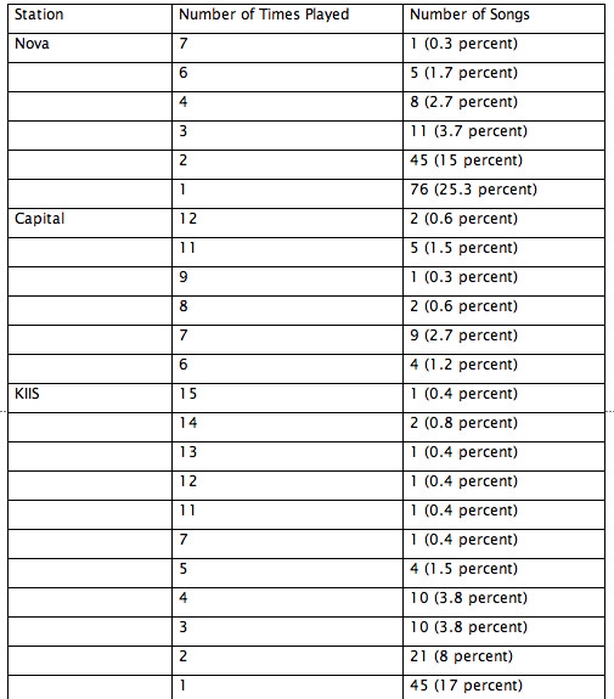 Besides these rotational practices, there is more new music than old music played on KIIS, Capital and Nova stations as they stay true to the CHR format. The majority of songs on the three stations came from the last twelve months, with only a few dating back to any earlier period. No songs from the 1980s were identified.
---
The views expressed here are those of the author and do not represent or reflect the views of RTÉ
---