Opinion: looking at art enables us to appreciate its therapeutic properties and understand many elements about the world
Stifling. Stuffy. Boring. Perplexing. Annoying. These were some of the words I used to associate with visiting art galleries. I'm one of those people who would look at a three squares on a wall and think "I could do that" and walk away. I just did not get it.
Not an uncommon experience. "We are likely to leave highly respected museums and exhibitions feeling underwhelmed, or even bewildered and inadequate", wrote Alain de Botton and John Armstrong in Art As Therapy, "wondering why the transformational experience we had anticipated did not occur".
From RTÉ News Archives, a report on the Roderic O'Connor exhibition at Dublin's National Gallery
My perspective changed when I started working at UCC as a lecturer in teaching and learning. My colleagues Marian McCarthy and James Cronin at the Centre for the Integration of Research, Teaching and Learning (CIRTL) have long used art as a way of talking with lecturers from many different disciplines. Working with lecturers and looking at artworks together is an approach which enables educators to understand many different elements about teaching and their students' learning.
Here is an exercise: Look at this painting: The Trees by Vincent van Gogh. What do you see? What do you notice about the colours? Look for the most important figure or element within the picture and describe why you have chosen that element. What do you imagine is the story behind the artwork?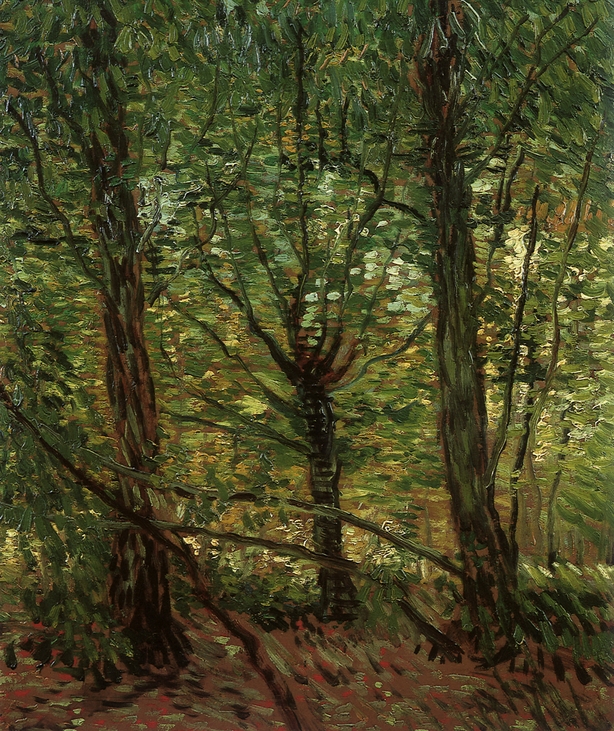 After completing the steps above, educators are asked what connections can they make between these activities and teaching and learning?
Some of their responses:
No two students are exactly the same, as no two trees or leaves are the same and so they do not learn in the same way… each student will have their own ways to interpret information best, as each leaf reflects the sunshine in its own way…as a teacher I need to have the understanding which allows me to teach each student in a way that I reach them all and find a path as the sun does to the undergrowth - A path that works best to provide the most accessible learning.
From RTÉ 1 Nine News, a report on Mandy O'Neill winning the National Gallery portrait prize
I believe that this reflects the need for teachers to remind themselves that although we emphasize particular aspects of subjects that we teach, we should always remember that each student sees the world differently.
Exploring an object or situation from different angles can offer different perspectives. This is an important skill not only in teaching and learning but also in all aspects of life.
The techniques which lecturers are engaging in above are a combination of approaches, such as Slow Looking/Seeing Slowly/Slow Art, Visual Thinking Strategies (VTS) and Project MUSE: Entry Points to Learning. Each of these approaches varies but has a common thread: prompting the audience to slow down, look closely and think about what it is they see.
Suddenly a whole new world was opened up to me. Art was illuminated to me as a way of teaching skills which are intangible and yet vital, such as critical thinking and observation. Not sure how or why? Watch UCC professor Tony Ryan's TEDx talk and I guarantee you'll be convinced
Tony Ryan's TEDx talk on using art education to make better doctors
We are so fortunate to have the Glucksman gallery right on our doorstep at UCC. Building on the legacy of work undertaken by my colleagues Marian McCarthy and James Cronin, I have been able to utilise the Glucksman space in my own learning and teaching moments, and have found it particularly useful in helping lecturers articulate the complexities of teaching in face to face versus online settings.
Being exposed to thinking about art as a vehicle was a light bulb moment for me - not only in thinking about art as a tool in my work, but also engaging in slow looking as a life skill. The process of slow looking contends that we slow down to observe the world carefully and to listen attentively to others, the perfect prescription as an antidote to today's fast pace lifestyle; mindfulness with a purpose. I began to dive deeper and discovered Shari Tishman's Slow Looking and De Botton and Armstrong's Art as Therapy.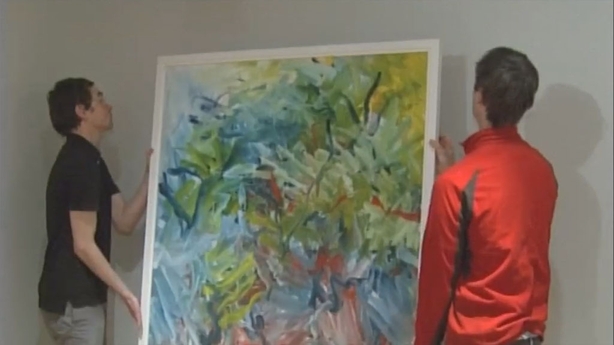 Tishman suggests that working with students and developing in the practice of slow looking, is a powerful way to foster compassionate and intelligent engagement with the world around them. De Botton and Armstrong present particularly powerful and thought provoking reflections about art and contend it is a therapeutic medium which can help us consider and work through our "psychological frailties" so we can become better versions of ourselves.
The problem is a lot of us just simply haven't been taught how to engage in this way with art and often feel alienated and daunted by the experience. Given the transformative power of art when viewed in multiple "slow" ways, it is perhaps not surprising then that there is a move in Canada towards allowing doctors to prescribe art to their patients. "By offering free admission to a safe, welcoming place, a relaxing, revitalizing experience, a moment of respite, and an opportunity to strengthen ties with loved ones, (art gallery) prescriptions contribute to a patient's well-being".
Perhaps we could all do with an art gallery prescription.
---
The views expressed here are those of the author and do not represent or reflect the views of RTÉ
---