Opinion: in a region of warzones and conflict, Oman has become a beacon of peace and hope
Oman's publicity shy Sultan Qaboos was recently in the news for hosting Palestinian President Mahmud Abbas and then meeting with Israeli Prime Minister Benjamin Netanyahu during his surprise visit to Muscat last month. These diplomatic moves initiated by Oman are unprecedented and should be seen as groundbreaking rather than merely symbolic for a number of reasons
Oman and Iran
Oman is the only country in the Gulf region that has enjoyed close ties with Iran over the last four decades. Sultan Qaboos, then a 30-year-old soldier trained by the British Army, assumed the leadership of Oman after deposing his father in 1970. The impoverished country was facing insurgency in its southern province bordering Yemen, which he quelled largely with the help of the last Shah of Iran, Mohammad Reza Pahlavi, along with the British armed forces and other regional allies thus setting the country on course for modernisation and prosperity.
Ever since, Iran has extended its military support to its Gulf neighbour, with whom it shares the strategic Strait of Hormuz. Both Muscat and Tehran have remained close allies, a relationship that did not change despite the 1979 Islamic revolution led by the Shia clergy. Sultan Qaboos made several attempts to hold talks between Iran, Iraq and other Gulf nations to mend fences and solve outstanding disputes, but the talks did not achieve success and the Iran-Iraq War eventually broke out in 1980.
With Abbas visiting Muscat just days before Netanyahu's historic trip, it seems Oman would like to get the peace process restarted or at least help with a reset.
This conflict and the Gulf wars notwithstanding, Oman has maintained its good relationship with Iran, as well as other key regional players like Saudi Arabia and Israel. It was also due to sincere Omani efforts that Iran reached the historic nuclear agreement with the United States and other world powers in 2015 after initial talks in Muscat between then US Secretary of State John Kerry and his Iranian counterpart Javad Zarif, along with top diplomats from other world powers. Muscat enjoys excellent trade ties with Tehran and is currently working out ways to salvage the gas pipeline agreement with Iran, which will run under the Sea of Oman and faces threats due to US sanctions on the Islamic Republic.
Reality of Israeli power and Palestinian cause
Sultan Qaboos reached out to Benjamin Netanyahu in a very direct and open manner because he understands that US president Donald Trump's administration is carving its Middle East foreign policy in accordance with Israeli interests. This is in contrast to the Obama administration, when Washington did not see eye-to-eye with Tel Aviv on several major issues.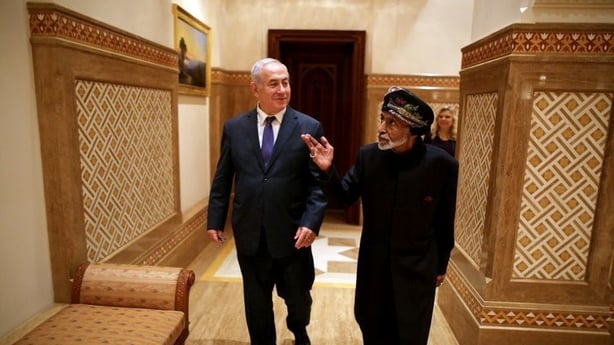 Historically, Oman has maintained some ties with Israel despite the three Arab-Israel wars in 1948, 1967 and 1973, though never diplomatically recognising it. For example, Muscat was one of only three Arab League members not to boycott Egypt after its peace treaty with Israel in 1979. It also actively supported Jordanian-Israeli peace talks in the ensuing years, which led to an agreement in 1994.
Oman has hosted the Israeli leadership in the past too and maintained some formal relationship after the Oslo Accords, which were signed in 1995. The warming up of ties continued until the second Palestinian uprising broke out in 2000. Despite a lull in Tel Aviv-Muscat ties during the last 18 years, which witnessed three brutal Israeli wars on the besieged Gaza Strip that drew strong Omani condemnation, the Omani leader is taking stock of the ever changing situation in the Middle East.
He clearly thinks it is the right time to engage with the Israeli leadership again, given the Israel-Palestine peace process is practically dead. With Mahmud Abbas visiting Muscat just days before Netanyahu's historic trip, it seems Oman would like to get the peace process restarted or at least help with a reset.
Regional developments
Taking into account Israel's growing ties with Saudi Arabia, UAE (and even Qatar), Oman feels it can maintain some kind of diplomatic relationship with Tel Aviv while not necessarily seeking close Israeli cooperation on matters of political, military, and economic interest. Muscat believes it has to maintain some channels of communication and understanding with Tel Aviv so as not to be left behind and preserve its peace-building and neutral image in the region while staying close to its long-time allies i.e. Iran and Qatar.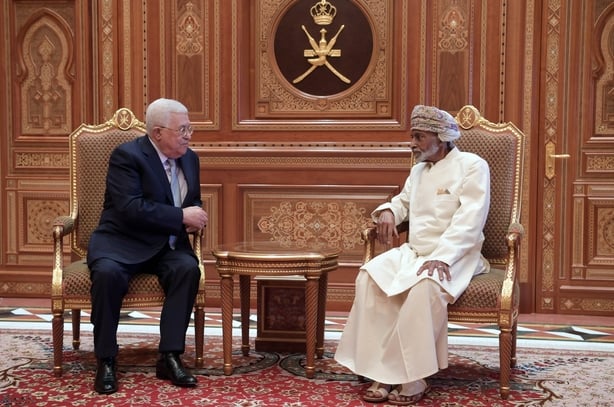 Bearing in mind policies adopted by Sultan Qaboos throughout the years, the approach can be seen as pragmatic and might actually help reduce tensions in the region. As indirect negotiations between Israel and Hamas continue, the Omani leadership believes Netanyahu's trip to Muscat will help improve goodwill on both sides. Despite muffled objections by some  Palestinian leaders over Netanyahu's surprise visit to Oman and whether Abbas was apprised of such a visit during his trip to Muscat, Oman maintains that both trips were facilitated to promote peace and stability in the region.
The Iranian angle and oil prices
While some analysts are arguing that the latest Omani move shows that it is throwing its old ally Iran under the bus, there are little signs to suggest such a strategic shift by Muscat. It is probably the case that the Iranian leadership is aware of Muscat's relations with Washington and Tel Aviv and might have themselves asked Sultan Qaboos for help, keeping in mind that the harsh US sanctions have already started kicking in this month.
Oman is perhaps seeking a way to reduce tensions in the region, which will also have a direct effect on oil prices and the global economy
Recent months have witnessed a sharp rise in oil prices due to US president Trump's unilateral abrogation of the Iran nuclear deal and slapping of sanctions on the Islamic Republic in a bid to reduce its growing influence in the region and to pacify Netanyahu's fears. Oman is perhaps seeking a way to reduce tensions in the region, which will also have a direct effect on oil prices and the global economy, out of its firm belief that diplomacy is better than war and hopes all sides realise it before it is too late.
Regardless of what ensues next in the Middle East, Oman would like to be judged as a nation striving for peace despite all the odds. If the old adage that "history is written by the victors" rings true, it can also be argued that "history has also been changed by the peacemakers".
---
The views expressed here are those of the author and do not represent or reflect the views of RTÉ
---