Opinion: there are many implications for airlines and customers as ultra-long range flights become commonplace
By Padraic Regan, TCD
Ultra-long range (ULR) commercial scheduled services have been around for about two decades. For example, Singapore Airlines operated the 15,000km 19 hour service from Singapore to New York between 2004 and 2013, but poor economics made it unsustainable. The recent resurrection of these flights has been prompted by two developments: technological advancements, principally lighter aircraft frames and more fuel efficient engines, and relatively low aviation fuel prices.
Singapore Airlines' record-breaking flight takes off from Singapore for New York
The aircraft used now by Singapore Airlines is the Airbus A350-900 ULR which has 161 seats (67 premium and 94 premium economy seats with no economy seats). Fuel savings of some 25 percent can be achieved compared to the A340-500 previously used on the route so even as crude oil prices edge above US$80 per barrel (they were US$100 per barrel in 2013), profits can be made without charging exorbitant fares - €1,000 premium economy return seats are on offer up to the end of 2018.
If the attraction of ULR for the airline is reasonably clear, what about the passenger? With no connection-related stress and up to six hours in time savings afforded by direct services, it is not surprising that business and leisure travellers alike find them attractive. This is seen by the much-heralded Perth to London ULR commenced by Qantas in March of this year which is filling over 90 percent of seats on each flight (Boeing 787-9 Dreamliners are deployed).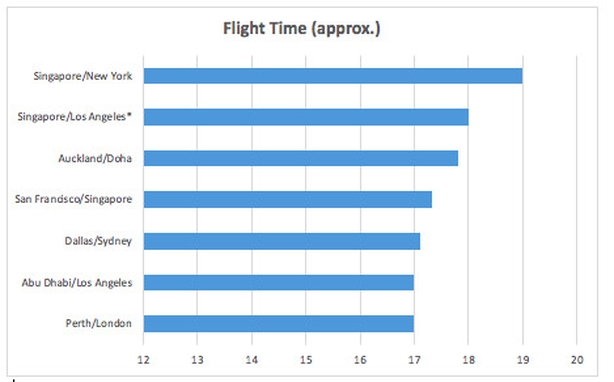 To counteract the negative consequences of jet lag and disrupted circadian rhythm, air carriers are prioritising wellness programmes for these flights, both in the air and on the ground. Aircraft design initiatives intended to reduce jet lag include higher ceiling, bigger windows, wider bodies, quieter cabins, higher cabin pressure to make breathing easier and LED lighting with up to nine settings from sunrise to sunset. Lowering window shades and serving meals at destination times can also help as circadian rhythm is influenced by light and food.
Nor is it just the timing of food that has been addressed but also the type. Singapore offers a "Wellness Set Menu" with an emphasis on lighter and more water content dishes. Its "Book the Cook" service even allows passengers to pre-book lobster thermidor up to 24 hours before departure.
A new lounge at Perth Airport includes such features as a wellbeing studio with stretching classes and "light therapy" in the showers to adjust the body clock
The new International Transit Lounge at Perth Airport for Qantas business class passengers includes such features as a wellbeing studio with stretching classes (mobility reduces the risk of deep vein thrombosis) and "light therapy" in the showers to adjust the body clock. Indeed, Qantas recently launched a partnership with the Charles Perkins Centre at the University of Sydney with the objective of designing evidence-based health and wellbeing programmes for ULR customers.
It's not just passengers of course that can face health issues from flying as aviation accounts for some two percent of greenhouse gas emissions (it would be in the Top 10 worldwide if it were a country). In this regard, non-stop flights services may prove beneficial as NASA reported that about 25 percent of aircraft emissions in 2010 come from landing and taking off so fewer take-offs mean less fuel.
From RTÉ Radio One's The Business, a profile of Qantas boss Alan Joyce
Not content with commencing the first non-stop service between Australia and the UK last March, the Irish-born CEO of Qantas Alan Joyce has challenged Airbus and Boeing to develop aircraft that will enable non-stop services with a full payload from Eastern Australia to Europe and North America by 2022. Titled 'Project Sunrise' and aimed at tackling what Joyce termed "the last frontier of global aviation", this ambitious endeavour would result in direct flights such as Sydney to London, Brisbane to Paris and Melbourne to New York.
READ: Why do so many airlines have Irish bosses?
Compared with the first trip on the so-called "Kangaroo Route" in 1935, which involved 10 major stopovers and 21 more refuelling stops over four days and costing the equivalent of €12,000, a direct Sydney to London flight taking 20 hours seems like an attractive option…with or without the lobster thermidor.
Dr Padraic Regan is Ussher Assistant Professor in International Strategic Management at Trinity College Dublin whose industry research focuses on Aviation Management
---
The views expressed here are those of the author and do not represent or reflect the views of RTÉ
---