Analysis: there is an increasing interest in learning Chinese but it's a language which requires a lot of time to master
Learning Chinese (Mandarin) as a foreign language has become increasingly popular in recent years. A growing economy, promise of excellent career opportunities and personal interest in the language and culture are just some of the many reasons for the rise in beginner learner numbers.
Yet Chinese is also deemed to be one of the most difficult languages to learn. Two features of the language appear to have warranted these preconceptions: (i) the tones and (ii) the writing system.
Firstly, one must master the pronunciation of the four tones used in spoken Chinese. These require the speaker to change the intonation of their voice in order to avoid confusion among Chinese words. For example, an incorrect pronunciation of ma could result in calling your mother a horse!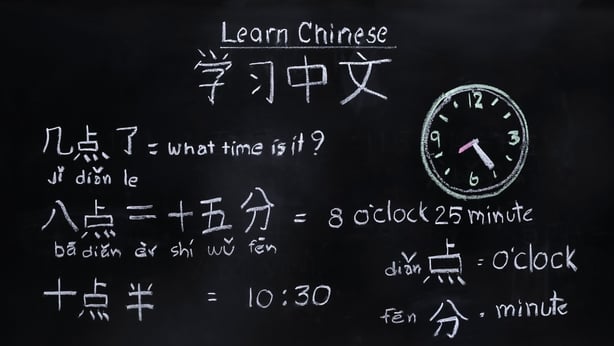 Secondly, there is no alphabet in Chinese. Instead, each Chinese syllable (like ma) is represented by a character made up of a number of strokes. Some Chinese characters are extremely complicated and can contain up to 58 strokes, while knowledge of a minimum of 3,500 characters is required to understand those used in day-to-day life.
Ireland is seen to be embracing the rising popularity in learning Chinese. Currently, a short course introduced to some schools since 2014 provides junior-cycle students with an introduction to Chinese language and culture, while a transition year module has also been taught in a number of schools since 2012. At third level, Chinese is available from the beginner level as a module or degree programme in eight Irish institutions. More recently, in 2017, then Minister for Education Richard Bruton announced that Chinese would be introduced as a two-year Leaving Certificate course within ten years as part of the Languages Connect: Ireland's Strategy for Foreign Languages in Education 2017-2026 plan.
This plan has four key goals: (i) improve language proficiency by creating a more engaging learning environment; (ii) diversify and increase the uptake of languages learned; (iii) increase awareness of the importance of language learning and (iv) enhance employer engagement in the development and use of trade languages.
The students mentioned that Chinese was a difficult language to learn and that they should have spent more time learning Chinese
Learning Chinese falls under the second goal. While it is hugely positive that the Department of Education and Skills have plans to introduce the first State-examined Chinese language course in the coming years, details of how this will be implemented have not yet been released.
Research currently being carried out by the author investigates various approaches to teaching Chinese to beginners with a particular focus on characters. The main data of the research stems from one academic year spent teaching Chinese to approximately 90 transition year students, whereby their assessment results and all-important feedback were documented. Therefore, some recommendations for the proposed Leaving Certificate course can be made based on the findings.
The strategy plan specifically mentions the importance of teaching quality in the foreign language classroom. My research examined the effects of four teaching approaches in four different groups, and hence sheds light on effective and quality teaching.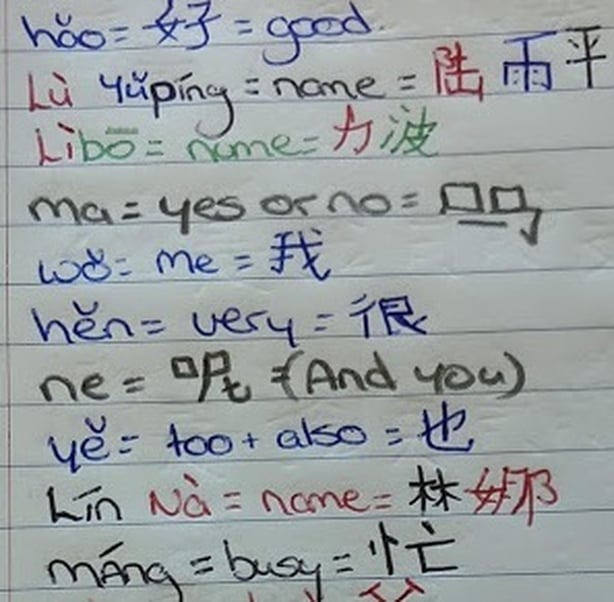 The results found that a combined methodology of repeatedly writing the characters using different colours according to their tone was most effective, while conducting a variety of reading, writing, speaking and listening exercises was most beneficial to developing the learners' skills of using characters. Therefore, a teaching methodology for the Leaving Certificate Chinese course could follow this pattern to ensure a well-rounded acquisition of Chinese.
The participant feedback was also useful to note. They mentioned, as a majority, that Chinese was a difficult language to learn and that they should have spent more time learning Chinese. In terms of class content, they wished to have completed more group work and project work. In addition, online resources were named as one of the more helpful aspects when learning Chinese. The latter coincides with one of the Strategy Plan goals in creating a more engaging learning environment; while the mention of projects and group work ties in with the incorporation of learning content through a foreign language (Content and Language Integrated Learning, or CLIL) that is also advocated in the Strategy Plan.
The participants in this study were only allocated two hours per week of class contact hours. If the above methodology of spending two hours writing characters and a further two practising the use of characters in exercises is to be incorporated to the classroom, it would mean that at the very least, four hours per week will be needed to ensure sufficient progress at the beginner level. As is evident from student feedback and current foreign language curricula recommendations, it is crucial that more time is dedicated to foreign languages in schools, whereby currently approximately only 2.5 hours per week are assigned.
Finally, as the Chinese writing system differs from other popular foreign languages learned in school, it is imperative that future students will be assessed on the production and recognition of characters in specific sections of their examinations.
The above recommendations have been made in relation to a research project specifically investigating the most effective ways to teach Chinese in an Irish secondary school, and therefore is a critical source in the development of the proposed Chinese language curriculum. While results from the participants' assessments have dictated the teaching methodology recommendations, their feedback shows correlations with the Strategy Plan goals. It is reassuring that some Strategy Plan proposals should be welcomed by future students according to current feedback. Consultation of this and other relevant research is vital in order to provide quality teaching for future students in line with the Strategy Plan goals.
---
The views expressed here are those of the author and do not represent or reflect the views of RTÉ
---