Opinion: It is possible to view the Count as Irish or influenced by the Ireland of Bram Stoker's time in many ways
By Dr Marion McGarry, Galway Mayo Institute of Technology
Many are probably aware of the Irish origins of the creator of Dracula, the 1897 novel that codified vampirism and profoundly influenced the horror genre. Bram Stoker was born in Dublin and attended Trinity College and worked as a civil servant in Dublin castle. He moved to London in his thirties and never lost his Irish accent.
Although middle-class, he was not shielded from the horrors that those living in 19th century Ireland often witnessed. It has long been suspected that he wove metaphors for these real-life revulsions into his famous novel which has been endlessly mined ever since, especially in the context Stoker's Irishness. It is possible to view the Count as Irish, or influenced by the Ireland of Stoker's time in many ways.
From RTÉ Radio One's Arena, Dr Jarlath Killeen on why the story of Dracula still has such a grip on popular imagination
Dracula and the Famine
Stoker's parents saw at first hand the effects of many famines which wrought havoc on the Irish poor. Stoker himself was born in 1847 (known as Black '47), which was the very height of the Great Irish Famine when around a million people died of starvation and another million emigrated. The effects of the Famine were witnessed by all levels of society: Dr Daniel O'Donovan memorably wrote of seeing one of his emaciated patients "crawling" along the road to visit his dispensary "as if the grave had that moment vomited her forth".
The Famine period is one which was cloaked in shame for many Irish who became imbued with a sort of "survivor's guilt" and silence on the subject. When Stoker moved to London, he may have incorporated such real-life disturbing imagery into Dracula.
Dracula and Sligo's cholera epidemic
Stoker's parents were from the north-west of Ireland and his mother Charlotte lived through the Sligo cholera epidemic of 1832. She wrote a credible account describing the disease which killed around 1,500 people in the small town in less than two months. She explained how people at that time believed cholera came from the sea and travelled overland like a mist, just like her son would later write of Count Dracula.
From RTÉ Radio One's The Business, Liam Geraghty reports on some of the businesses cashing in on Dracula
Charlotte witnessed people being "accidentally" buried alive in mass graves, along with other chilling events. She noted that the local catholic clergy seemed immune to the disease while continuing to tend to victims, with one priest armed with a horsewhip guarding cholera patients from murderous staff at the local infirmary. Charlotte's essay has parallels to Dracula in so many ways that Count Dracula himself can be read as the personification of Sligo's cholera epidemic.
Dracula and Irish landlords
Many see Stoker's vampire as a metaphor for the absentee landlords of large estates in Ireland, whose poor management aggravated the Famine. Many of these were English and seen as a predatory plague on poor Irish peasants. Count Dracula is technically a landlord who buys many properties and, like them, he is a foreign intruder who plans to take over a native population with the contagion he carries.
Dracula and Parnell
Paradoxically, it has also been noted that the agitator for tenants' rights Charles Stuart Parnell (1846 –1891), may also have influenced Stoker's creation. Like Dracula summoning the "creatures of the night" to help him, the charismatic and influential Irish MP might potentially summon the Irish peasant masses to rise up in a febrile time of Land Wars and rural unrest.
From RTÉ Radio One's Drivetime, Myles Dungan on Charles Stewart Parnell's 1880 fundraising tour for the Irish Land League and the dispossessed tenants who were victims of the Land War
Parnell supported the cause of Irish Home Rule (as did Stoker) and became known as the "uncrowned king of Ireland" because of his popularity. Naturally, he was disliked by the British establishment and was painted as the "Irish Vampire" by Punch in 1885. Dracula as both absentee landlord and Parnell is a testament to how the novel can be interpreted and 'read' in many different, often opposing ways.
Dracula and Irish folklore vampires
When Stoker lived in Dublin he frequented the home of Oscar Wilde's parents, whose salons were a haven for enlightened discussion. The Wildes were well known for their knowledge of and interest in such Irish folklore topics as banshees, fairies, old magic and even vampires.
At one such gathering, Stoker may have heard the tale of Abhartach, the 5th century chieftain who kept coming back from the dead demanding a bowl of blood from his terrified people. They managed to finally slay Abhartach the vampire by stabbing him in the heart with a timber sword and burying him under a cairn of stones. The stones remain in Derry, the home county of Stoker's father's family.
Was Dublin Castle the inspiration for Dracula's castle?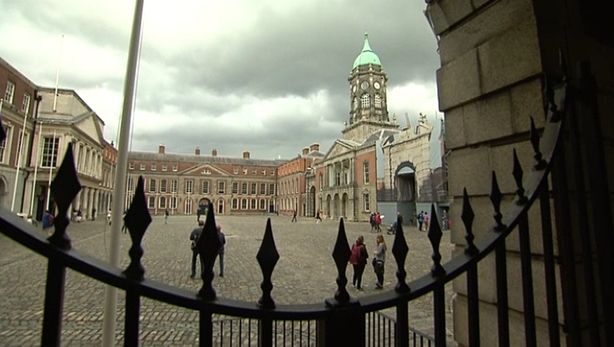 The plot of Dracula involves a legal clerk imprisoned in a castle by what gradually is revealed to be a vampire. Stoker had a real-life experience of being trapped in a castle as he worked for 13 years in a government job as a legal clerk in Dublin Castle. As a creative soul, he found the job stiflingly boring with duties he would later describe as "dry as dust".
To liven up his existence, Stoker wrote theatre reviews for the newspapers in exchange for free tickets to shows. This made him valuable connections in showbusiness and eventually allowed him to escape to a job in London managing the famous Lyceum theatre.
Yet Stoker never forgot his time in the castle. Legend has it he suffered nightmares while working there about "damned, headless corpses". It wasn't until the late 20th century, and long after Stoker had died, that archaeologists excavating the foundations of Dublin castle would discover many decapitated skeletons from the medieval period buried beneath.
Dr Marion McGarry is an art historian, author, independent researcher and lecturer at Galway Mayo Institute of Technology
---
The views expressed here are those of the author and do not represent or reflect the views of RTÉ
---