Opinion: during the Reformation, the Catholic Church in Ireland faced a crisis as profound as it does today and it was saved by Irish women
The result of the abortion referendum marked a decisive watershed in the history of Christianity in Ireland. It revealed in stark terms that most women in Ireland rejected the teaching of the Christian churches on a fundamental issue of doctrine, the right to life, in favour of a woman's right to choose what should happen to her unborn baby. The Christian clergy, who claim divine sanction for their teachings, found themselves exposed as bystanders in a society that no longer looked to them for guidance or blessings. 
One key reason for the clergy's loss of credibility among Irish women is their failure to come to terms with the most profound social revolution of the past half-century: the transformation of women's self-perceptions and corresponding changes in the roles, aspirations and concerns of women in contemporary Irish society. The expectation that women conform to the gender roles prescribed in the bible, a collection of religious texts that were written down by men in the eastern Mediterranean 1,900 to 2,600 years ago, means that most Irish women today feel a disconnect between what the churches teach and how they live their lives.  
We need your consent to load this rte-player contentWe use rte-player to manage extra content that can set cookies on your device and collect data about your activity. Please review their details and accept them to load the content.Manage Preferences
From RTÉ Radio One's Today With Sean O'Rourke Show, former President of Ireland Mary McAleese discusses her recent comments on the Catholic Church 
But the last time that the Church in Ireland faced a crisis as profound as it does today, it was saved by the women of Ireland. Queen Elizabeth (1558–1603), youngest daughter of Henry VIII, outlawed Catholicism in 1560 and insisted that everyone attend Protestant church services using her Book of Common Prayer. When people refused to conform, the queen established an Ecclesiastical Commission to coerce them into conformity. Catholics were fined and sometimes imprisoned.
A Dublin widow Margaret Ball was incarcerated in grim conditions in the dungeons of Dublin Castle until she died in 1584. Admittedly, Margaret was very unlucky to be dealt with so harshly, given her gender, her great age and her infirmities. But her Protestant son Walter was a member of the queen's Ecclesiastical Commission and made an example of her. 
Catholic clergy were at great risk of being imprisoned for not conforming to Elizabeth's Church of Ireland.  Richard Creagh, Catholic archbishop of Armagh (1564–1586), was imprisoned in horrendous conditions for a great many years before he died in suspicious circumstances in the Tower of London. Others were tortured and/or executed. Dermot O'Hurley, Catholic archbishop of Cashel (1581-1584), was tortured by having his legs boiled in oil while he was alive, before he was hanged. It was a savage age, an "age of atrocities", that melded Catholicism with Irish identity in reaction to English imperialism and sectarianism. 
Irish women almost invariably made sure that their children were baptised as Catholics and they reared them as Catholics.
Irish women played a key role in that reaction. Wherever the English authorities tried to force people to attend Protestant services, Irish women were conspicuous by their absence. In Waterford, women led the way in boycotting Protestant church services. In Dublin in 1590, the only local people attending any Protestant service were "the mayor, perhaps for duty, and some few with him … but none other man or woman". The directives of Protestant bishops, like Nicholas Walsh of Ossory and John Thornburgh of Limerick, for men to force their wives to attend Protestant services failed utterly. In Cork, and Galway too, Protestant services were attended by only a handful of men in the 1590s and no local women.
Irish women almost invariably made sure that their children were baptised as Catholics and they reared them as Catholics. Indeed, if they married Protestants they tried to win their husbands to Catholicism to save their souls from the fires of hell. We read reports of Irish women, with their children, starving and pinching Protestant husbands on their deathbeds to persuade them to return to Rome before it was too late.
In addition, women were more enthusiastic than men were in supporting Counter-Reformation Catholic priests and bishops. When Archbishop O'Hurley was executed by the English in Dublin, a number of local women preserved his head as a sacred relic. Because Irish women remained loyal to the Catholic Church during the Reformation, there could be no self-perpetuating community of Irish Protestants – without women that was a biological impossibility! By the time of Elizabeth's death in 1603, the number of Irish Protestants was reckoned to be no more than 120 individuals in the entire country.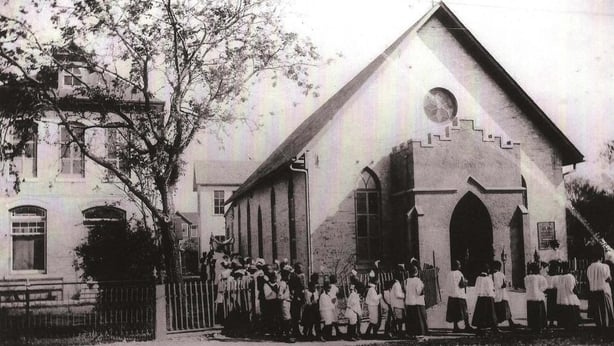 One does not have to be a Catholic to acknowledge that religious beliefs helped many people to survive Ireland's catastrophic history with its centuries of wars of conquest and re-conquest, colonisation, racial discrimination, religious persecution, social inequity, a murderous famine and the prolonged denial of political rights and liberty. Yet the traumatic experiences of the past inevitably affected Irish society. It may be that the Catholic Church in Ireland reflected the post-traumatic stress disorder in Irish society better than it reflected the positive teachings of Jesus of Nazareth.  
In 2018, the Catholic Church in Ireland stands at another crossroads, but its leaders give no clear indication that they know where they are going. They reject the calls of Catholic Irish women to be allowed to help to shape the future of the Church, which the current leaders have literally brought to its knees. Archbishop Diarmuid Martin rebuked Minister for Culture Josepha Madigan for commenting on the shortage of priests, while Pope Francis decided not to engage with former president Mary McAleese.
Such incidents suggest that the Catholic hierarchy still adheres to the Pauline imperative that "women must remain silent in churches. They are not allowed to speak, but must be in submission, as the law says" (1 Cor. 14:34). If the Church in Ireland is to have any kind of future, this must surely rank as a fundamental error of judgement. 
---
The views expressed here are those of the author and do not represent or reflect the views of RTÉ
---