Analysis: Renewable energy sources are all weather-dependent so we should think more strategically about where to place solar and wind farms
By Lucy Cradden, UCD
Ireland is currently undergoing strong winds of change in its energy system. While major developments have been made already to integrate renewables into our electricity network, there are big questions about how best to plan for different ways of using energy in future.
Research is underway into how to manage the combination of consumer demand and variable supply from renewables, and in particular, their mutual dependence on weather. One emerging approach is to use large-scale pressure patterns to generalise demand and renewable supply scenarios, and thereby make the best use of renewables in future electricity systems.
We are moving from a traditional, fossil-fuel based energy system where electricity generation is fully flexible and can be altered at short notice to meet supply, to one where an increasing proportion of generation comes from less flexible renewable sources. To address the issue of climate change and maintain a global temperature increase of less than 2°C, Europe wants to reduce energy-related greenhouse gas (GHG) emissions by 80 percent by 2050. In line with this, Ireland is bound by an EU target of generating 16 percent of its total energy (40 percent of its electricity) from renewable sources by 2020. As of 2016, the actual figure was 9.5 percent of energy (27.3 percent of electricity), mostly from wind power.
From RTÉ Archives, Tom McSweeney reports for RTÉ News on the launch of new wind power generators on Cape Clear in 1987
Renewable energy sources such as wind, solar and hydropower are all intrinsically weather-dependent. Consumer electricity demand is also weather-dependent to an extent. For example, around nine percent of domestic heating in Ireland is electric and thus sensitive to temperature, whilst lighting requirements are higher on cloudy days. This variability, which occurs over-and-above fluctuations caused by factors such as the time of day and the strength of the economy, is particularly important to understand during winter when demand is greatest.
Let's look at some examples. During the memorably cold, snowy Christmas of 2010, the highest ever consumer demand for electricity in Ireland was reported by Eirgrid on the evening of December 21st. It was very calm during this period and wind power production was below average. The more recent cold, snowy spell during the Beast from the East events of March 2018 was accompanied by very windy weather. The National Grid in Britain reported their highest ever wind power output and wind met over 50 percent of our electricity demand in Ireland. Identifying which types of cold spells are likely also to be calm, and how frequently these occur, is crucial for planning and managing the electricity supply in future.
From RTÉ Radio One's Morning Ireland, ESB chief executive Pat O'Doherty discusses a new, joint venture with Bord na Móna, to develop solar power which will provide energy for 150,000 homes
One way of understanding how temperature and other weather variables like wind speed are related to each other is to consider what is happening high in the atmosphere at a very large scale. This activity gives rise to the common patterns of low and high pressure that drive the airflow at the surface, and determines to a large degree what the weather will be like.
A research team at UCD have been studying these atmospheric pressure patterns and the likely renewable energy production and electricity demand scenarios associated with them. We have found, for example, that the pressure patterns occurring during the winter of 2010-2011 were unusual in the context of the last few decades. This paves the way for more research to determine whether climate model projections of future decades show a changed frequency of cold, calm scenarios, and if electricity system operators need to plan to manage them.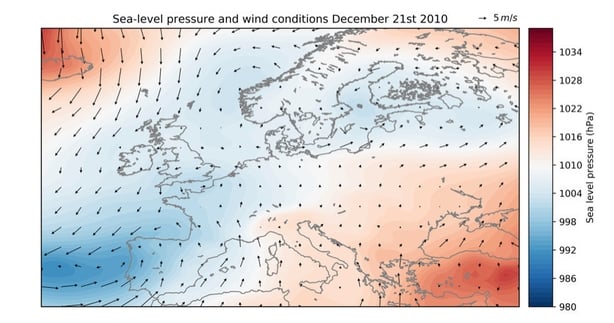 Analysis of pressure can also be used to help improve understanding of geographical patterns in renewable generation. It has been demonstrated by researchers in Switzerland that there are currently very few scenarios in which it is completely calm over the whole of continental Europe.
For example, a frequent pattern seen in winter has a low pressure around Iceland and a high pressure over the Azores which brings strong westerly winds to northern Europe and low wind conditions to the Mediterranean. When there is a high pressure situated over Iceland, which extends towards the UK and Ireland bringing calm conditions, it tends to be windy in Portugal, Spain and over the Mediterranean Sea. Theoretically, if wind farms were spread appropriately across the continent with sufficient electrical connections between countries, there should always be some wind power available.
There are currently very few scenarios in which it is completely calm over the whole of continental Europe.
Recent work we have carried out at UCD has shown that different renewable sources have different responses to pressure patterns at a national scale. For some of the most common types of pressure pattern, wind power production in north-western and south-eastern sites in Ireland is differently affected. For solar, eastern and western regions appear to have different levels of expected generation for a given pressure pattern. Strategic combinations of wind and solar in chosen locations could provide a more consistent supply of electricity. If solar farms were to be concentrated in the west of Ireland, for example, their production should tend to be relatively high during times when wind output overall is low and vice versa.
As Ireland begins to consider solar energy as a viable option, should we think more holistically and strategically about where to place large solar farms (and indeed new wind farms)? If more electrical interconnections were developed between countries, it would seem sensible to plan an optimal electricity supply at a European level, combining different types of renewables sited in different locations so as to most effectively meet expected demand. Socially, politically and economically this is a hugely complex proposition, but there may be something we can take from this research area in terms of how planning is approached.
Dr Lucy Cradden is a Senior Postdoctoral Researcher at the UCD Energy Institute and School of Earth Sciences, funded by the Energy Systems Integration Partnership Programme (ESIPP) project.
---
The views expressed here are those of the author and do not represent or reflect the views of RTÉ
---