Opinion: public engagement networks involving individuals and communities can aid Ireland's transition to a low carbon energy future
Most people have heard about the power of the pen. "The Pen is mightier than sword" wrote English author Edward Bulwer-Lytton in 1839. Pen is also a frequently used term when discussing administrative power. Today, though, we will talk about a different level of power which individuals and communities could bring to achieve the Ireland's low carbon energy future. These individuals and communities have the greatest ability to make this low carbon energy transition faster and smoother. 
This PEN is a Public Engagement Network (PEN), a strong network that is empowered to initiate and contribute in every energy decision which is affecting the lives of communities and societies. Without a strong PEN, it will be almost impossible to achieve our vision of reducing the greenhouse gas (GHG) emissions from the energy sector by between 80 and 95 percent by 2050, as targeted in the White Paper on energy policy produced by the Department of Communications, Climate Action and Environment in December 2015. 
We need your consent to load this rte-player contentWe use rte-player to manage extra content that can set cookies on your device and collect data about your activity. Please review their details and accept them to load the content.Manage Preferences
From RTÉ News, a bungalow in Co Mayo has been certified as Europe's most energy efficient home
What prevents public engagement?
In spite of several successful examples, the growth in terms of public engagement in Ireland has been slow compared to some other European countries due to such issues as:
(i) lack of knowledge: the citizen hesitates to get engaged in a technical topic like energy and often finds it difficult to trust in new energy technologies. What kind of knowledge and capacity building program is needed for ordinary citizens?
(ii) lack of motivation: there is often very little motivation to be involved because citizens are not aware of the bigger picture of the energy transition and why this is important for them and the nation as a whole. What is required to make citizens aware about the implications of the lack of an effective energy transition?
(iii) lack of infrastructure: There is no platform where the public or communities can start discussing with different stakeholders locally. Also, there is no standardised process on how communities need to engage. Such a platform could also be used for sharing the success stories of other communities. How can we create a local one stop shop for assisting local citizens and communities to prepare, develop and implement local community energy projects?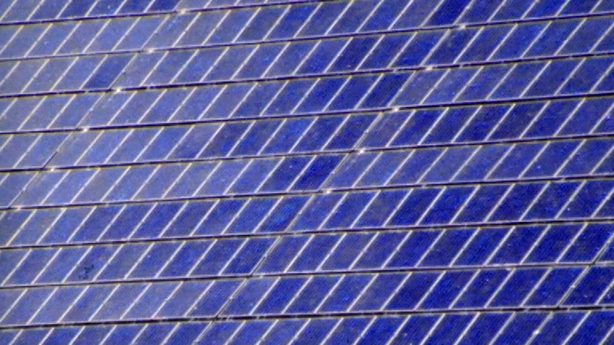 Started in 2016, the Citizens' Assembly vehicle has been an important step for placing the citizen at the heart of important policy issues. Here, a three level engagement strategy is proposed for a faster and smoother energy transition. Level 1 and Level 2 stakeholders will play a crucial role in this. At level 2, a strong horizontal collaborative framework will be required among local government, local SMEs, local NGOs and, of course, local communities to achieve this low carbon energy transition.
The local government needs to understand the strategic importance of energy transition and would need to be fully engaged in promoting a strong collaboration with other local stakeholders in defining their roles in the local energy transition. These Level 2 entities would work together to build a local group of volunteers to oversee the local energy transition, and will make sure that the volunteers are motivated and trained sufficiently to work on this energy transition mission.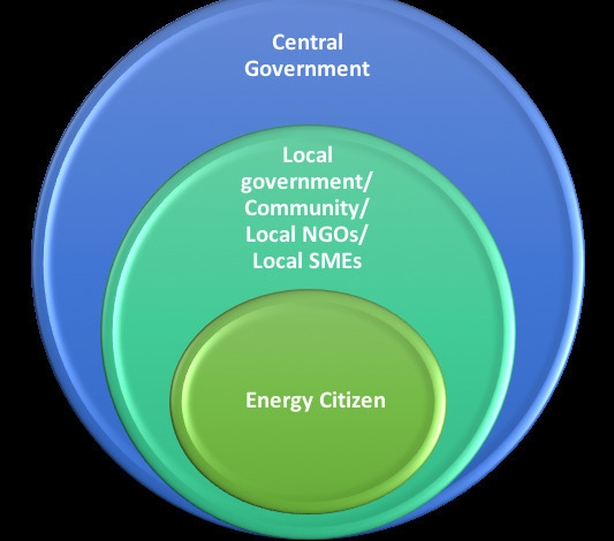 Central government could consider creating a competitive environment among communities, municipalities, cities, counties, NGOs, SMEs by providing an annual scorecard calculated from a range of relevant energy transition indicators. For example, the SEAI awards could be extended to NGOs and individual citizens working on energy transition mission. How about, for instance, choosing an Active Energy Citizen of the Year" in each county of the country?  Furthermore, similar to the EU Covenant of Mayors' awards for cities and towns for their local energy and climate actions, a national award program could be introduced for awarding municipalities, cities and counties as well. 
Central government will also need to provide the right capacity building programs for the local authorities, and help them to find the right expertise to take energy decisions of their locality. Creating an infrastructure will be another essential aspect. A PEN can be a mechanism to engage the local energy community and can provide a platform to engage with different energy stakeholders.
This is a good time to start such disruptive thinking as we should all work together to empower citizens and communities 
Through this PEN infrastructure, all the community projects could be brainstormed, decided, developed and implemented. This PEN infrastructure would also provide a platform to share success stories of other community energy projects.  There could be many more strategies worth considering as we explore the subject, but a more extensive research on PEN infrastructure is still being conducted at IERC.  
This is a good time to start such disruptive thinking as we should all work together to empower citizens and communities to lead this Energy Transition Mission. How about, for example, imagining a group of volunteers from each of the eight municipal districts in Co Cork taking a mission to make their municipality the lowest carbon energy municipality in the country by 2030? Are we ready to empower communities to take such challenges and support them along the journey? 
---
The views expressed here are those of the author and do not represent or reflect the views of RTÉ
---