Opinion: the figure of the Irish mother on the stage is at the centre of cultural and social debates about the roles and experiences of Irish women
The mother is a powerful figure in Irish culture. In various guises from Mother Ireland to the Virgin Mary, mothers symbolise the nation, the struggle for independence and the religious devotions that have often been closely intertwined with conceptions of nationalism and patriotism.
Padraig Pearse's poem The Mother depicts the willing sacrifice of sons in the service of a greater glory, thereby referencing both the Virgin's sacrifice of Christ and the tradition of the Sean Bhean Bhocht, brought to stage in Gregory and Yeats's 1902 play, Cathleen Ni Houlihan. There is an echo of the play in Pearse's lines "they shall be spoken of among their people, the generations shall remember them" and he must certainly have known the play.
Cathleen rejoices in the sacrifice of the sons who will fight and die for her sake, saying "they shall be speaking forever, the people shall hear them forever". Her transformation at the end of the play into "a young girl with the walk of a queen" offers a startling, even electrifying, image of the transformation of the mother-nation into the bride, through the spilling of blood.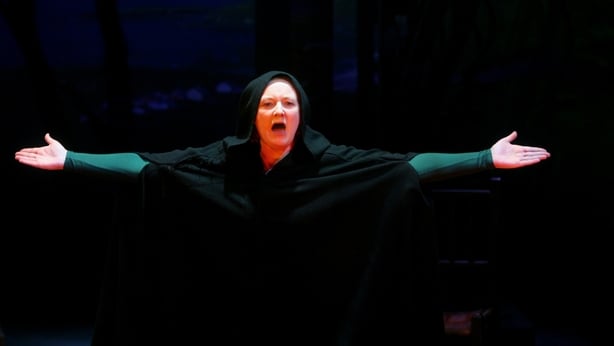 But these mothers are symbols and not naturalistic dramatic characters. The flesh and blood mother in Cathleen Ni Houlihan is not so quick to sacrifice her son; she tries to call him back to the fireside. The mothers in Sean O'Casey's Dublin Trilogy are similarly devoted to their children, and to their sons in particular. Unlike the mother in Pearse's poem, Juno Boyle and Mrs Tancred mourn their dead sons, and are not comforted by their sacrifice.
Juno cries out "blessed Virgin, where were you when me darlin' son was riddled with bullets, riddled with bullets?". She regrets her lack of sympathy with Mrs Tancred: "why didn't I remember that he wasn't a Diehard or a Stater, but only a poor dead son!" Yet even in her grief, she protects her surviving child Mary, who has become pregnant outside of marriage. Juno famously declares of the child that "it'll have what's far better [than a father] – it'll have two mothers".
O'Casey characterises the mother figure as strong and resilient, steadfast in her protection of her children and community, though often at the economic mercy of an immature or even violent husband. While his mothers are dramatically engaging characters, they tend to conform to a stereotype of motherhood. This is traceable to religious and nationalist symbols of maternity as entirely self-abnegating, imbued with agency only in that role, defining themselves as mothers and nothing else.
In By the Bog Of Cats, she saw "women's rituals and psychological dynamics sketched for the first time on the Irish stage"
In contrast, Brian Friel's Dancing at Lughnasa brings a darker dimension to his portrait of maternity in the form of the Mundy sisters struggling to stay alive in the poverty of 1930s Donegal. Set in a decade when women were being increasingly legislated into domestic roles in Ireland and across the Fascist regimes of mainland Europe, the Mundy sisters try to live on one sister's teacher's salary and their income from knitting to stretch scraps of food to feed a child and six adults.
Even here, they are dependent on unseen male characters: the teacher is sacked by the parish priest, and the arrival of the factory ends the cottage industries that were an economic life-line in the region. In the midst of this, the narrator Michael remembers his childhood self, innocent and loved even though his mother was unmarried, cherished by a family of mothers. His father makes a brief appearance on stage, but is a feckless and irresponsible man with another family in Wales.
We need your consent to load this rte-player contentWe use rte-player to manage extra content that can set cookies on your device and collect data about your activity. Please review their details and accept them to load the content.Manage Preferences
From RTÉ Archives, a 1991 Late Late Show appearance by actors appearing in the Abbey Theatre performance of Dancing At Lughnasa
Though fathers are often depicted as inadequate, the absent mother is also a recurring trope in the work of a number of Irish playwrights, though her absence is normally due to a premature death. The family in Tom Murphy's Whistle in the Dark is constructed as father and sons, with the mother unseen at home in Ireland.
Brian Friel's Philadelphia, Here I Come! is a family of father and son, with the housekeeper Madge as a foster-mother and locus of care and affection for both men. Enda Walsh's highly acclaimed play The Walworth Farce also focuses its grim humour on the absent mother and the father and sons, and Gary Mitchell's plays refer to off-stage or ill mothers who are never physically present.
Female playwrights have explored other aspects of motherhood, as Jozefina Komporaly outlines in her study Staging Motherhood, including the limitations it can place on women's other ambitions and identities. Writing in the 1930s, Teresa Deevy's plays include characters who dread motherhood, and who are themselves without mothers: Annie Kinsella in The King of Spain's Daughter "can't bear to think of it", and Katie Roche is a motherless child. Anne Devlin's mothers are either dead (in Ourselves Alone) or unloving (in After Easter), and are often intertwined in her characters' imaginations with the figure of Mother Ireland.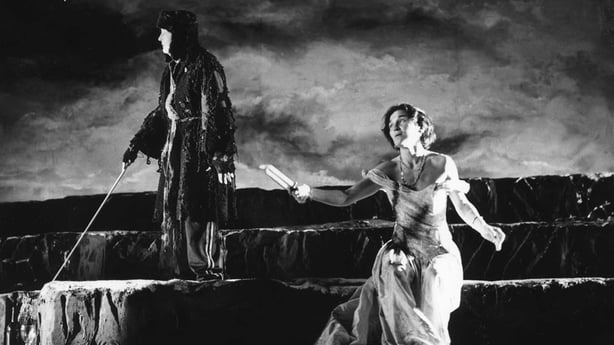 Marina Carr's plays focus intently on motherhood to stage tense, unloving relationships between mothers and their daughters. Though physically present on stage her mother figures are often physically overwhelmed by child-bearing, or emotionally unavailable, and at times even hostile to their offspring.
In her 1998 review of Carr's By the Bog of Cats, Victoria White commented on the unusual experience of attending a play about mothers and their daughters. In this play, she saw "women's rituals and psychological dynamics sketched for the first time on the Irish stage", "wedding dresses and communion dresses and mother-daughter relationships" that constituted "a whole symbolic system".
READ: Going back to Raftery's Hill with Marina Carr 
But there are also plays that celebrate the deep support that mothers offer their children, including Christina Reid's families of mothers and grandmothers in Tea in a China Cup and The Belle of the Belfast City. Often, the grandmother is character who can offer the greatest level of motherly love, unstressed by the demands of small children or husbands, or freed by dementia – like Mommo in Tom Murphy's Bailegangaire – to finally give voice to unspeakable truths. Or they make offer a greater wisdom and a sense of what is truly important, as the senile grandmother in The Belle of the Belfast City does, defying sectarian and racist thugs in defence of her daughters and granddaughters.
The figure of the mother on the Irish stage is at the centre of a set of cultural and social debates about the roles and experiences of Irish women. This extends from the representation of women as symbols of the nation and as the mothers of patriots, to grieving mothers in times of war, through contemporary feminist debates about intergenerational relationships between daughters and their mothers. This primal and primary relationship continues to be at the centre of Irish drama, telling stories from the perspectives of both mother and child.
---
The views expressed here are those of the author and do not represent or reflect the views of RTÉ
---