Analysis: over 50,000 students received CAO offers this week and many of them will now be wondering if they should rent, commute or stay in digs
The student accommodation market is changing rapidly. In the 1980s and early 1990s, around 60 percent of students rented, often in "digs", and one third of students lived with their parents. Living on-campus was very rare and was generally restricted to seminaries and teacher training colleges. Thirty years ago, this started to change, when NIHE Limerick (now University Of Limerick) developed the first Purpose Built Student Accommodation (PBSA)
From RTÉ Archives, Michael Walsh for RTÉ News reports on the new on-campus accommodation for Limerick's NIHE in 1988
The RTE News report expressed concern that the "landladies of Castletroy" would be put out of business by student accommodation, and indeed this came to pass. By 2006, 17 percent of students were living in PBSA, mainly at the expense of digs. Since 2013, student accommodation construction has resumed, and now one in four students lives in student halls. The percentage of students renting flats or houses has dropped sharply. The most recent Eurostudent survey showed the proportion of students staying in flats or rented houses dropping from 37 percent in 2013 to 23 percent in 2016. This is primarily due to a shortage of private rented houses / apartments. As a result, more students than ever before (44 percent) are living with parents and commuting.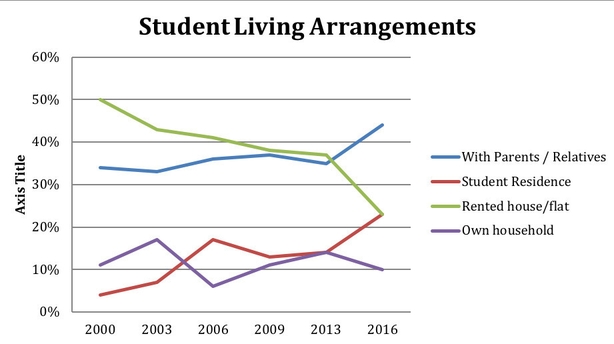 Commuter students
There was a perception in the 1980s and 1990s that living at home with your parents was the killer blow for an enjoyable college life, but this no longer seems to be the case. Irish students who live with their parents are the most satisfied with their living arrangements, by a considerable margin. In fact, the Eurostudent survey is carried out in 27 different European countries, and it showed that Irish students living with their parents were the happiest in Europe.
The main concern expressed by parents and students is that commuter students will miss out on the student experience with its clubs, societies and new friendships. Surveys show that commuter students spend as much time involved in extra-curricular activities as those students who are living in houses or apartments off campus, but less than on-campus students.
From RTÉ Archives, a RTÉ News report by Brian O'Connell from 1984 on the search for student accommodation
One area of concern does arise in final year when students living with other students (on-campus or in rented accommodation) significantly increase the amount of time they spend studying. This is not the case with commuter students and it may be that they miss the positive peer pressure of witnessing their fellow students cramming for finals. One might expect that students from low-income families would be more likely to live at home, but this is not the case in Ireland. As shown in the graph below, students whose family income is less than €20,000 per year are twice as likely to live in private rented accommodation, while students whose family income is greater than €90.000 per year are twice as likely to live at home.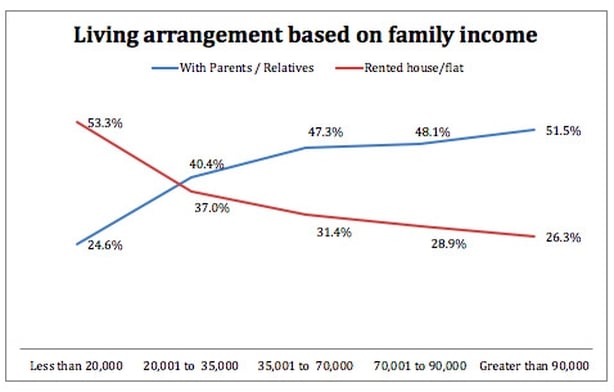 Purpose Built Student Accommodation (PBSA)
With the chronic shortage of rental accommodation, the development of student accommodation blocks is very welcome. The projections from the HEA show that almost 8,000 additional PBSA bed spaces will have been built by the start of the 2019 academic year and at least 5,000 more are in the planning stage.
There are many positive aspects to living in PBSA and these students spend 25 to 30 percent more time engaged in extra-curricular activities than other students. The major concern arising from surveys of Irish students living in PBSA is that they are less academically engaged than other students, despite living much closer to campus facilities such as the library.
From RTÉ Six One News, Emma O'Kelly reports on student complaints that the rents charged for purpose-built student accommodation are too high
Also, the research shows that students in PBSA consumed more alcohol and exceeded safe limits for alcohol consumption more often than other Irish students. This calls into question whether a "party culture" has developed in some student halls of residence in Ireland. Another key issue is the cost of the halls. Irish students living in PBSA are the least satisfied with their living arrangements and this would seem to be strongly connected to the cost of accommodation. In particular, the privately-owned, off-campus blocks of student accommodation are proving to be very expensive and out of reach of most students. As PBSA becomes the major living option for Irish students, it's important that both cost and culture issues are addressed.
The best option?
If you or your children are starting college in the coming weeks, what's my advice? Well, I haven't yet mentioned digs, also known as home-stay. This is experiencing a resurgence and most colleges have an excess of home-stay options on their accommodation listings. The old image of digs and an over-bearing landlady doesn't apply any more. Students who stay in digs report higher levels of satisfaction than those in PBSA or private rented accommodation. It's cheaper, widely available and a good way for a student to settle in to Dublin and to higher education. If you can't commute, go the digs route!
---
The views expressed here are those of the author and do not represent or reflect the views of RTÉ
---