Analysis: new research shows that increased consumption of fermented dairy foods is associated with reduced risk of cardiovascular diseases
By Ronan Lordan and Ioannis Zabetakis, University of Limerick
Cardiovascular diseases (CVDs) are a leading cause of mortality worldwide and 10,000 people die of CVDs in Ireland alone every year. There is a clear scientific and societal need to improve people's health with specific focus on CVDs and offer healthy foods to the wider public. Hence, our research group's interest on the cardioprotective properties of fermented dairy products. We want to understand what happens during milk fermentation and why and how fermented dairy is good for our hearts.
Yes, there have been some negative perceptions of dairy fats. They were wrongly associated with increased cholesterol levels due to their saturated fatty acid content leading to an increased risk of CVD development. However, scientific interest in fermented milk products has increased due to their potential health benefits. These products include yogurts, cheese, and fermented milk products such as kefir.
We need your consent to load this rte-player contentWe use rte-player to manage extra content that can set cookies on your device and collect data about your activity. Please review their details and accept them to load the content.Manage Preferences
From RTÉ Archives, report by George Devlin from May 1986 on the nutritional habits of Irish people 
Our latest review paper highlights that dairy product consumption has a neutral or positive effect on CVDs. Milk is a highly nutritious food and fermented products such as yogurts and cheese tend to possess even greater health benefits upon consumption. These nutrient-dense foods provide essential vitamins, minerals, macronutrients, micronutrients and, in the case of fermented dairy products, beneficial probiotics that reach the gut alive and improve the host's microbiome.
But as dairy products are the only food group composed of more saturated than unsaturated fat, it became apparent that they may be detrimental to cardiovascular health. Thus, it was proposed that low-fat or non-fat dairy products be recommended to reduce the risk of developing CVD. These new dietary trends led to the development of low-fat dairy products. However, recent research indicates that dairy fats possess putative anti-inflammatory polar lipids that may positively affect cardiovascular health contrary to previous research.
Can fermented dairy foods reduce cardiovascular risk?
As current dietary guidelines generally place an emphasis on the reduction of Saturated Fatty Acids (SFA) intake, it would be expected that dairy product consumption would be associated with an increased risk of CVDs. Interestingly, increased consumption of fermented dairy foods such as yogurt and cheese is associated with reduced LDL cholesterol, hypertension risk and overall CVDs risk. Furthermore, recent studies indicate that alternatives to cow dairy products, such as sheep and goat dairy products (in particular yogurts) may be more beneficial for your cardiovascular health due to their anti-inflammatory properties and positive or neutral effects on serum cholesterol levels.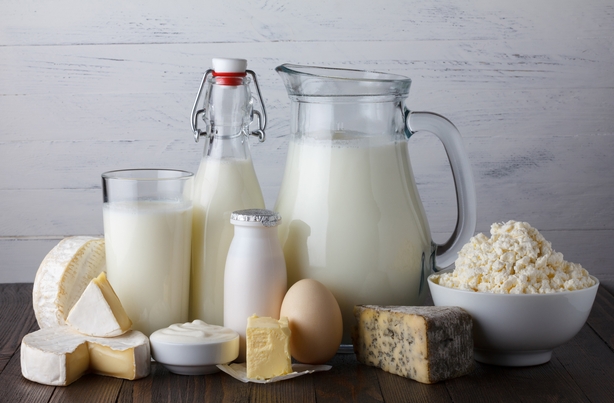 Question marks have also been raised over the science that suggested a causal relationship between a high intake of saturated fatty acids (SFA), high LDL-cholesterol, atherosclerosis and coronary heart disease. Indeed, despite high levels of SFAS, full-fat dairy foods have positive or at least neutral effects on cardiovascular health, while also contributing to higher intakes of nutrients such as vitamins D and K.
The food matrix
Research has moved away from focusing on single nutrients, such as saturated fat, towards considering the food matrix, the nutrient and non-nutrient components of foods and how they interact and affect body chemistry. Worldwide, researchers are also trying to pin down the specific effects of different types of dairy foods, including fermented products, such as yogurt, cheese and kefir, on cardiovascular health.
Although fermented dairy products are often linked with gut health, they also appear to benefit cardiometabolic health, which encompasses cardiovascular and metabolic diseases, including type 2 diabetes (T2D) and the metabolic syndrome. Higher consumption of cheese, yogurt and kefir is linked with lower levels of LDL-cholesterol and blood pressure, together with a lower risk of T2D, stroke and coronary heart disease (CHD). These potential benefits may increase the more you consume.
Choosing fermented dairy products is most likely to optimise nutrient intake and potential cardiovascular health benefits
Yogurts, with their diverse assortment of different bioactive, nutrient-rich compounds, especially when consumed with fruit, have been linked with a reduced risk of CVD, diabetes and metabolic syndrome – i.e. high blood pressure, high blood glucose, large waist circumference and abnormal blood fats.
How do fermented dairy products help your heart?
Exactly how fermented foods influence risk factors for CVD is yet to be uncovered. However, it is thought that probiotics and vitamin K2, which are both present in fermented dairy foods, may play a part. The fermentation process itself may also have a role as it leads to changes in the structure of fats and proteins. These may account for some of the observed effects. There may also be benefits of full-fat dairy consumption based on higher bioavailability of high-value nutrients and anti-inflammatory and antioxidant properties.
Hence while full-fat dairy products can continue to be consumed in moderation as part of a healthy balanced lifestyle, choosing fermented dairy products is most likely to optimise nutrient intake and potential cardiovascular health benefits.
READ: here's why the food pyramid is wrong
To address whether we should be concerned about the consumption of dairy products and their fat content, further studies are required. This is especially so in relation to fermented dairy products, where the exact mechanisms responsible for their positive health effects remains elusive. One of the main research questions that we address in UL is what happens during lipolysis (i.e. the breaking down of the fats) when milk is fermented and how cardioprotective lipids are formed. So far, it seems consumers can be confident in the knowledge that their dairy products are highly nutritious and may even positively affect their cardiovascular health.
Ronan Lordan is a PhD researcher at the Department of Biological Sciences at the University of Limerick. Dr Ioannis Zabetakis is a lecturer on Food Lipids at the Department of Biological Sciences at the University of Limerick
---
The views expressed here are those of the author and do not represent or reflect the views of RTÉ
---