Analysis: what are the various chemical processes, reactions and risks which occur when you apply dye to your hair? 
By Sylvia Draper, TCD
Henna has been used to dye hair since Egyptian times (Greek, Roman, Persian cultures). It was extracted from a Lawsonian plant boiled in hot water and placed on the head. Natural henna contains lawsone (2-hydroxy- 1, 4-naphthoquinone). Industrial classifications describe it as Natural Orange 6 and C.I. 75480. Henna only darkens hair tones and most dyes now use synthetic henna which contains a mixture of compounds.
40 percent of adults use hair dyes for grey hair. The process of "greying" is thought to involve the death of melanocytes and a chain reaction which breaks down the three naturally occurring hair pigments – emulelanin (brown), pheomelanin (red) and oxymelanin (yellow).
There are three types of hair dyes
Gradual – these use water soluble metal oxides and sulfides (and copper, nickel, lead nitrates). They leave a coating on the outside of the hair and need repeat use. Note that the metal deposits can accelerate the breakdown of peroxides in permanent hair dyes and can damage the hair shaft and make it brittle. Gradual dyes are suitable only for people who regularly cut their hair.
We need your consent to load this rte-player contentWe use rte-player to manage extra content that can set cookies on your device and collect data about your activity. Please review their details and accept them to load the content.Manage Preferences
From RTÉ Archives, a report from Summerhouse in 1981 by Áine O'Connor about hairstylist and businessman Vidal Sassoon
Temporary – these have large particle sizes so that they cannot permeate the cuticle. They are acid dyes - e.g azo, anthraquinone, triphenylmethane, benzoquinoneimine - and are known as FDC and DC dyes. They are essentially synthetic textile-type dyes.
Permanent and semi-permanent – these give tone on tone colouring. They use small molecules that penetrate the hair cortex. This is known as oxidation colouring and uses peroxides and couplers.
Permanent hair dyes - these contain colourless dye precursor molecules that react with hydrogen peroxide inside the hair shaft to produce coloured molecules. The precursor molecules vary but para-phenylenediamine (PPD) is a common one. It can be found in textile dyes, in dark coloured cosmetics, temporary tattoos and in printing inks.
As a dye precursor molecule it is reacted with hydrogen peroxide (sometimes called the developer or oxidant) to give reactive, partially oxidised intermediates. These are then coupled together using a coupler (e.g. resorcinol, ortho aminophenol). Changing the mixtures of coupler and precursor gives different shades.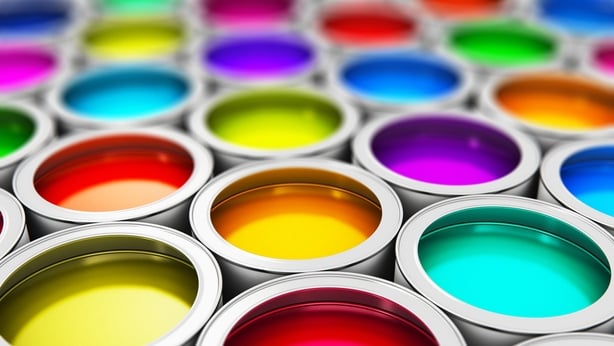 Hydrogen peroxide on its own can bleach hair. Its role in permanent dyes is to act as an oxidant to form the reactive (partially oxidised) intermediates which then couple together. Hydrogen peroxide is used in higher concentrations in blonde dyes (to tap into its bleaching properties). It is not as effective at breaking down the red natural pigment (pheomelanin) in hair so sometimes reddish hues start to emerge on prolonged use.
Permanent dyes are sold as two bottles containing colourless liquids (the dye precursors in an alkaline soap solution, and the stabilised hydrogen peroxide solution). These are mixed, and applied immediately. In the two step processes used in salons, the hair is often treated in a way to avoid one section of the hair shaft absorbing or "grabbing" more dye than the rest and this is called fixing. Sometimes the opposite affect is sought and the hair is "boosted" to absorb more dye with boosters which contain persulfates or ammonia.
What are the allergy risks?
The most common allergens in the above long list of chemicals are paraphenylenediamine (PPD, the precursor in permanent dyes) and ammonium persulfate (used as a booster to make the hair absorb more dye). Some brands offer PPD-free colouring but often another chemical is used in its place, such as paratoluenediamine, also called PTD and it is possible to be allergic to this as well.
We need your consent to load this rte-player contentWe use rte-player to manage extra content that can set cookies on your device and collect data about your activity. Please review their details and accept them to load the content.Manage Preferences
From RTÉ Archives, a 1968 episode of Newsbeat with Frank Hall discussing the price of a haircut with hairdresser Benny Blaney
When used in hair dye, the PPD amount must be below six percent, and application instructions warn that the dye "must not touch the scalp" and "must be quickly rinsed away". Black henna pastes have PPD percentages from 10 percent to 80 percent, and are left on the skin for half an hour! If you are sensitive to PPD, never have a temporary tattoo.
What are the allergic reactions to PPD in hair dyes?
Mild reactions usually involve dermatitis to the upper eyelids or the rims of the ears. In more severe cases, there may be marked reddening and swelling of the scalp and the face. In sensitised individuals, a major allergenic shock can occur.
How do you know if you are allergic to PPD?
Most hair colour preparations, particularly those containing PPD, carry a warning on the packaging telling the user that a patch test should be done. The most common patch test is to apply a mixture of the precursor and the oxidant either to the neck behind the ear or the inner bend of the elbow. The area (which should be about the size of a 20 cent coin) should be left uncovered for 48 to 72 hours. If no rash or irritation occurs, the dye can be applied to the whole head.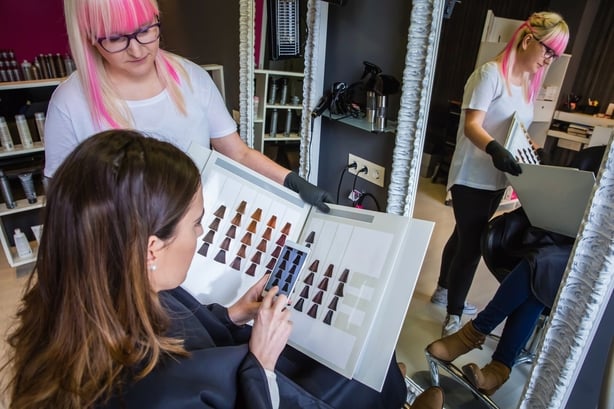 How do I treat PPD dermatitis?
In acute severe cases of PPD hair dye dermatitis, wash the hair and scalp thoroughly with a mild soap or soapless shampoo to remove the excess dye. Apply a two percent hydrogen peroxide or compresses of potassium permanganate in a 1:5000 dilution. The purpose of this is to completely oxidise the PPD. A wet dressing of cold olive oil and lime may be used to soothe the skin. Further treatment with a topical application of an emulsion of water and water-miscible corticosteroid cream, or oral corticosteroids may be advised by a pharmacist or doctor.
What should I do if I am sensitive to PPD?
If you have an allergy to PPD, you should avoid the use of all oxidation type hair dyes. These are the ones that come in a two-bottle preparation. Inform your hairdresser that you are allergic to PPD. Alert your doctor or dentist to the fact that you have an allergy to PPD as this is particularly important if you might require a local anaesthetic.
Some newer permanent and semi-permanent hair dyes may be suitable as they are PPD-free but approximately 50 percent of individuals who are allergic to PPD also react to the alternative chemicals in these. Metallic hair dyes and vegetable rinse hair dyes might be good, but these will not provide permanent colouring.
We need your consent to load this rte-player contentWe use rte-player to manage extra content that can set cookies on your device and collect data about your activity. Please review their details and accept them to load the content.Manage Preferences
From RTÉ Archives, a 1976 episode of Out On Your Own profiles 16 year old apprentice hairdresser Frances Beakhurst 
You should also avoid using related substances to PPD which may also cause an allergic reaction such as
Azo dyes: used in semi-permanent and temporary hair dyes, ballpoint pen inks, gasoline and diesel oil and as colouring agent in foods and medications
Benzocaine and procaine: these are local anaesthetics used by doctors and dentists
Sulfonamides, sulfones, sulfa-drugs: a PPD allergy may make you sensitive to the use of these drugs, but discuss this with your doctor before changing or stopping your medication
Para-aminobenzoic acid (PABA): this is used in sunscreens and creams. You should only used sunscreens that are labeled "PABA-free". Ask your pharmacist for suitable alternatives.
Para-aminosalicylic acid: used for tuberculosis
Read the ingredients carefully as PPD has lots of alternative names including Phenylenediamine base, p-Phenylenediamine, 4-Phenylenediamine, 1,4-Phenylenediamine, 4-Benzenediamine, 1,4-Benzenediamine, para-Diaminobenzene (p-Diaminobenzene), para-Aminoaniline (p-Aminoaniline), Orsin™, Rodol™ and Ursol™
Professor Sylvia Draper is Professor in Inorganic Chemistry at the School of Chemistry at TCD. She a former Irish Research Council awardee.
---
The views expressed here are those of the author and do not represent or reflect the views of RTÉ
---