Opinion: the country's progress to Sunday's final has reinvigorated national and football spirits and brought together Croats from around the world
I have a confession to make: I am not a fan of football. This is not so much to do with football as traumatising PE classes in primary school that made me averse to sports in general, so you can put away your pitchforks. Another confession: even though I was born and raised in Croatia, I have always fancied myself to be more of a citizen of the world than anything else and have never felt much national pride or a sense of belonging to this particular geopolitical entity situated in the north of the Balkan peninsula.
However, I will admit that recent events have been impactful enough to get even my wayward self to start paying attention. And there is a lot to pay attention to: Croatia are in the FIFA World Cup final for the first time in its history. But I am a computational linguist, with a background in the humanities so I cannot give you an analysis on how this came to be. What I can do, though, is scratch the surface of what a profound impact this has had on Croatian culture and people.
From RTÉ's FIFA World Cup Extras, highlights of Croatia's victory over England in the semi-final
Croatia has competed in the FIFA World Cup on five occasions since gaining independence in 1991. The furthest the Croatian team has ever got was in 1998, the first time they qualified, when they reached the semi-finals and were knocked out by France. This was quite an achievement for a first-timer, a country that had just gained its independence only several years earlier and was looking to put itself on the map.
I was only a pre-schooler back then, not understanding or caring much about what was going on, only happy to paint the Croatian checkerboard on my face and eat celebratory ice-cream with my family. But I remember how excited everyone was about the success, which seemed to have a profound and long-lasting effect on the country and its culture. Suddenly, we were a football nation.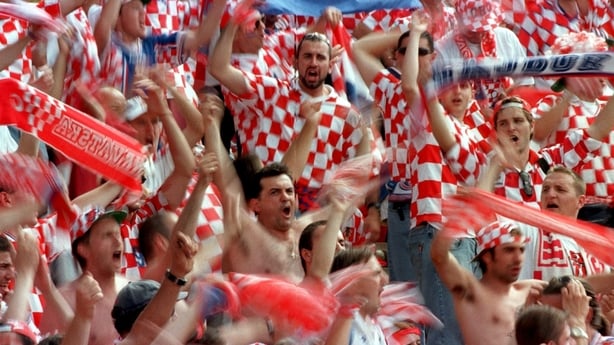 Certainly, there had always been interest in football in those parts long before 1998, but now it was tied in with national pride. That was a major win for us, it added to our legitimacy and showed the world Croatia was a force to be reckoned with. This kind of vibe could really be felt back in the day. Virtually everyone was into football, and those who were not were under pressure to get onboard. I remember spending much of the early 2000s feeling marginalised because of, among other things, not really liking and not being really good at this one particular sport which had now very much become the mainstream.
However, Croatia's subsequent World Cup campaigns were not quite as memorable, with Croatia never getting past the group stage. Over the years, there was a palpable sense of frustration with this streak of perceived failures. How could we, a formidable football nation, perform so poorly, after we had performed so well in 1998? It seemed that we were not as good at football as we thought after all.
When Croatia joined the EU in 2013, many new doors were opened, and one of them was green, white and orange
In parallel, though entirely unrelated, another streak of disillusionment started to form in part of the nation's psyche. Unreliable and oft-corrupt politics coupled with a wavering economy hammered by the 2008 recession set off a massive wave of emigration in the early 2010s. The image of the Croatian "gastarbeiter" working in Germany had become a tired trope at that stage
When Croatia joined the EU in 2013, many new doors were opened, and one of them was green, white and orange. The exact reasons and ramifications of this recent wave of Croats migrating to Ireland are grounds for an entirely separate article, but the fact is that, as of now, upwards of 20,000 Croats live on the Emerald Isle. Some are eager to look back and see the move as a temporary solution to an economic crisis, but many are very much of the mindset that they've left for good and found a better life here.
From RTÉ Radio One's Mooney Goes Wild, an interview with the then Croatian ambassador to Ireland, Jasna Ognjanovac, to mark Croatia becoming the 28th member of the European Union
Yet even this latter group has a remaining sense of love and devotion to the homeland, which is now heavily reflected by support for the Croatian football team. The excitement in Ireland is as palpable as that in Croatia. If social media is anything to go by, people seem to be going a bit nuts back home with celebration. What seems to be echoing across the expanse of the internet is that "Croatia is burning" (metaphorically and literally) We are a passionate people, if anything.
And though toned down over here, the elation is just as potent. The Croats in Ireland are getting together to organise public viewings of the matches, eager to show off their support for the home team, as well as their national pride and heritage. Hence, you are bound to bump into many a Croat in your local pub, dressed in a checkerboard jersey, cheering their team on in the finals.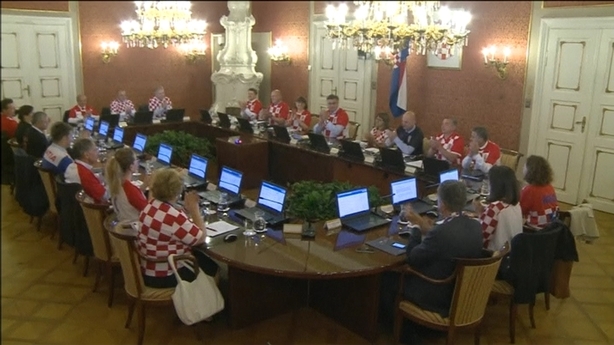 It seems like Croatia's outstanding performance in this year's Cup has reinvigorated the still heavily intertwined national and football spirits, spanning even national boundaries and bringing together Croats around the world. The unshakable air of national football pride is shared by the Croatian team itself, reflected even in their use of language. At a recent international press conference, the team's coach Zlatko Dalić was asked to reply to questions in English, as opposed to speaking Croatian and using a translator. His response, in Croatian, was: "you may not have expected us in the top four in the world, but here we are. So allow us to speak Croatian, because we're proud to be here and we're proud of our country."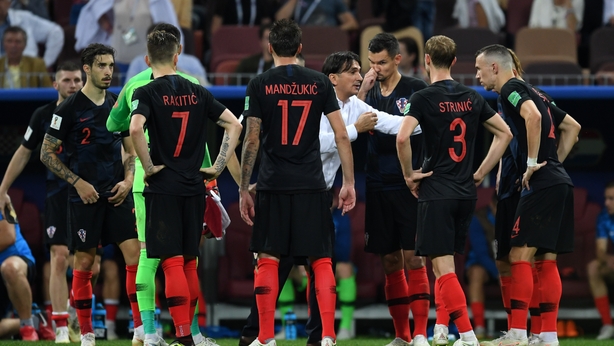 It seems this cup is bringing together minds and hearts and, though the fans can get a bit excessive in showing their support, the World Cup has generally been surrounded with a very positive air since day one, which can be felt overseas. Of course, there is no telling what the effect, if any, winning the final would have, But regardless of the outcome, I have a feeling this monumental event might bring a lot of good to the nation as a whole. Although, I am an optimist at my core, so take that with a grain of salt!
---
The views expressed here are those of the author and do not represent or reflect the views of RTÉ
---