Opinion: for Irish society to effectively respond to the immense challenges posed by climate change, we all need to be part of the solution
By Dr Amanda Slevin, Queen's University Belfast and Prof Kevin M. Leyden, NUI Galway
Ireland – and indeed the world – is in a period of transition.
The political status quo, and even the tenets of democracy, are being challenged in many countries. In this context, addressing major global problems like climate change and the transition toward cleaner energy has become increasingly difficult.
What can be done to enable changes at a time when people appear to be trusting government institutions and elites less?
The key to making change possible is the engagement of citizens. And it has to be real. Active involvement of communities is needed to enable our society to address entwined issues of climate change and energy use. 
A radical transformation of Ireland's energy system is necessary to meet climate policy objectives
Climate change is described as a strategic risk affecting our society and economy. The energy supply is another concern.
But energy and climate change are indelibly linked and, given the contribution of fossil fuels to climate change, the processes of energy production and consumption are simultaneously part of the problem – and a potential solution to some of the challenges we face. 
Multi-level imperatives to reduce the consumption of fossil fuels and aid the transition to a sustainable future include international protocols, agreements, European Union strategies and directives, national policies and plans.
Ireland's new National Planning Framework, as well as the country's adaptation and mitigation plans, are evidence of Irish policy being orientated towards renewable energy development hand in hand with efforts to reduce fossil fuel consumption and greenhouse gas emissions. 
Yet a radical transformation of Ireland's energy system is necessary to meet climate policy objectives.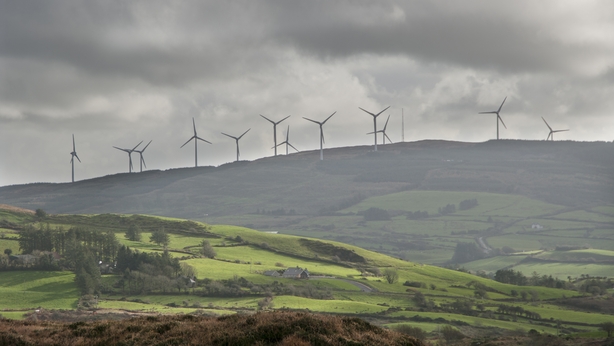 Existing policies and Citizen's Assembly recommendations can aid our transition to a low carbon society.
However, multiple challenges affect our collective capacity to respond to climate change, including the potential impacts of Brexit and opposition to renewable energy projects.
Wind is the largest source of renewable energy in Ireland and is regarded as central to creating a sustainable future.
But this form of energy generation is often met with resistance, prompting concerns about current and future projects. Solar and other renewable energy developments are also frequently contested.
Rather than unhelpful stereotypes as to why people resist movement toward more sustainable energy sources, we must instead get a better handle on why people oppose these projects.
They do not go far enough to address the concerns of local communities and other stakeholders
Geraint Ellis, for example, examines social acceptance of, and opposition to, renewable energy projects, and suggests the views of communities are often neglected.
Noreen Brennan's research on wind energy projects identifies some reasons for opposition, including concerns about noise and personal, physical, mental health and environmental impacts.
Resistance towards wind farms prompted reactions from state departments, culminating in planning guidelines, a code of practice, and a review of existing Wind Energy Development Guidelines.
The Irish Wind Energy Association also provides guidelines for developers, and recently published a community engagement strategy.
While such initiatives can be welcomed, in our view they do not go far enough to address the concerns of local communities and other stakeholders.
Rather than employing efforts to increase general acceptance and knowledge of renewable energy, there is a tendency to focus on individual projects, resulting in isolated fixes, such as community benefits or more consultation.
The social, environmental and political costs are harder to quantify
The voluntary nature of the guidelines mean there are differences in the approaches undertaken by developers and they offer no guarantee of quality community engagement or participation.
In many instances, there appears to be a lack of trust between developers and the communities where projects are to be based. 
An individualistic concern with advancing specific projects distracts attention from structural issues surrounding renewable energy, including the planning and approval processes, which relegate communities to bystander roles and thus generate tensions and prevent community viewpoints from being heard at key stages.
Despite Ireland's ratification of the Aarhus convention, which situates public participation as a cornerstone of development, community engagement around renewable energy projects are often restricted to limited consultations during planning processes. 
Gone are the days when notices in local papers can be regarded as engagement.
We need your consent to load this rte-player contentWe use rte-player to manage extra content that can set cookies on your device and collect data about your activity. Please review their details and accept them to load the content.Manage Preferences
Listen: A discussion on The Citizens' Assembly's final report on climate change. 
Community engagement is a multi-layered process requiring genuine input from all stakeholders. In line with a report by the National Economic and Social Council, participatory processes should be mandatory for all renewable energy developments.
In order to ensure collaboration, consent and the resolution of concerns at every stage of development, community participation in decision-making, as opposed to tokenistic engagement, is essential to ensure successful renewable energy development. 
New ideas must be explored.
For example, the Citizens' Assembly proposed that renewable energy generation should entail support for micro-generation and "the greatest possible levels of community ownership".
Community ownership of wind farms may be one strategy to enable participation in, and support for, renewable energy generation.
To ensure community participation becomes a cornerstone of renewable energy development, we can learn valuable lessons from the community sector, beginning with key values and practices.
Experienced community workers can explore preferred models of community participation in renewable energy projects with communities, considering options such as community ownership, community steering groups, mechanisms for democratic decision-making within the wider community, and community education around renewable energy.
Rather than unhelpful stereotypes, we must instead get a better handle on why people oppose these projects.
Learning from those with knowledge, skills and experience of working with communities in a holistic and developmental way is necessary to ensure communities are actively involved in decision-making from project design through to energy production.
Thus helping to develop consensus, minimise conflict around projects, and facilitate achievement of renewable energy targets as part of our transition to a low carbon society.
Consequences of failing to involve communities in energy decision-making are evident from the Corrib gas conflict, resistance to state hydrocarbon management and opposition to new renewable energy projects.
The economic costs of Ireland's failure to meet renewable energy targets and cut greenhouse gas emissions are clear.
But, even then, the social, environmental and political costs are harder to quantify and may produce wide-ranging and harmful outcomes for our society.
For Irish society to effectively respond to the immense challenges posed by climate change, we all need to be part of the solution – and that means ensuring communities are involved in decision-making at all stages of renewable energy development. 
Dr Amanda Slevin is a Lecturer in Social Policy at Queen's University Belfast. Prof Kevin M. Leyden is Professor of Political Science at NUI Galway
---
The views expressed here are those of the author and do not represent or reflect the views of RTÉ.