Analysis: an end may be finally in sight to the 30 year dispute between Macedonia and Greece which has stymied the former's attempts to join the EU and NATO
Last month, the European Commission recommended the opening of accession talks with a number of countries in the western Balkans including the former Yugoslav Republic of Macedonia. Federica Mogherini, High Representative of the European Union for Foreign Affairs and Security Policy, stressed that maintaining and deepening the current reforms must continue in all the partner countries. This particularly applies in the fundamental areas of the rule of law, human rights, democratic institutions and public administration reform, as well as on economic development and competitiveness.
But as well as meeting these standards, the Macedonians face another challenge if they are to become EU members: they must resolve a dispute with neighbouring Greece over the very name of the country. While Macedonia was granted EU candidate status over a decade ago in 2005, it had not been able to set a date for accession negotiations with the EU due to this issue.
Athens does not recognise its small neighbour by its constitutional title the Republic of Macedonia, viewing it as an expropriation of Greece's Hellenic heritage and a potential territorial claim against Greece's northern province of the same name. This has resulted in turbulent bilateral relations between the two countries. A trade embargo imposed on Macedonia by Greece in 1994 ended with the signing of an Interim Accord between the countries in which Greece agreed that it would not block Macedonia's entry into international organisations. Despite this agreement, the Greek government still vetoed Macedonia's accession to NATO at the 2008 Bucharest summit.
We need your consent to load this rte-player contentWe use rte-player to manage extra content that can set cookies on your device and collect data about your activity. Please review their details and accept them to load the content.Manage Preferences
From RTÉ Radio One's Drivetime, journalist Helena Smith on "the two Macedonias"
In 2011, the U.N.'s highest court, the International Court of Justice, ruled that Greece was wrong to block Macedonia's bid to join NATO because of the name dispute. However, the victory was largely symbolic because the Court's decision did not require Greece to alter its position in the future. It was clear that even though the Macedonians were found to be in the right, they would not be able to join NATO or the EU until the name dispute was resolved.
Although the question of Macedonia's name may seem superficial to outsiders, it is a deeply sensitive issue for both Macedonians and Greeks, making resolution through compromise difficult. The consequences of the dispute and how it has blocked Macedonia's integration into both the EU and NATO have been grave.
In Macedonia, there was great frustration surrounding Greece's actions. With the possibility of the country developing through NATO and EU membership apparently closed, former prime minister Nikola Gruevski turned to nationalist policies and an agenda of personal enrichment.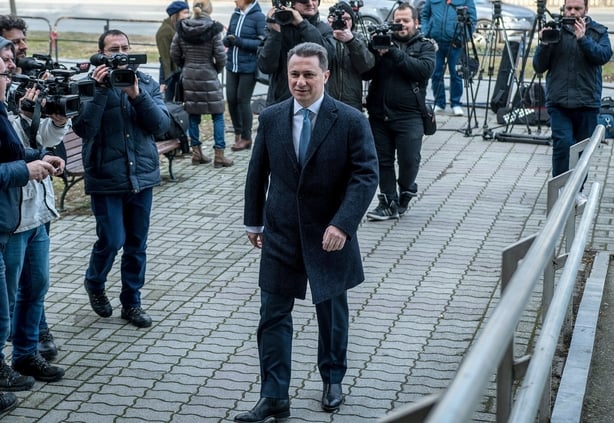 These policies included Skopje 2014, a project which involved erecting huge government and civic buildings as well as hundreds of statues in the heart of the capital and which ignored much of the role of the Albanian community in the country's history. Such nationalist policies threatened to re-ignite tensions between the two main communities in Macedonia, ethnic Macedonians and ethnic Albanians. Throughout the 1990s, ethnic tensions persisted as the Albanian community, constituting a quarter of the national population, grew concerned about language rights, access to quality education, the use of flags and symbols and calls for decentralisation.
These tensions erupted into violent conflict in 2001 when an Albanian group, the National Liberation Army, began to carry out attacks on Macedonian security forces. Aware that the conflict could quickly become a full-scale civil war, the international community were quick to intervene. A permanent negotiating team, led by former French foreign minister François Léotard and US Balkans expert James Pardew, was deployed and facilitated the signing of the Ohrid Framework peace agreement in August 2001. While this peace agreement introduced a range of reforms and measures to improve the position of the Albanian community and improve inter-ethnic tensions, Gruevski's nationalist policies threatened to undermine this progress.
After almost 30 years of stalemate, there appears to be genuine political will on both sides to resolve the dispute, but difficulties remain
Even more worryingly, Gruevski and his VMRO-DPMNE party carried out a programme of so called "state capture" across all branches and levels of government. They engaged in systemic political corruption in which their private interests drove state decision-making. This created an acute political crisis in February 2015 when then opposition leader Zoran Zaev revealed evidence of illegal wiretapping conducted by the secret service.
This crisis was resolved by a political agreement between the government and the opposition political parties which provided for new elections in December 2016. After months of political stalemate and tensions, including an angry mob storming the parliament and physically attacking MPs, a new government, led by Zaev, was formed in May 2017.
We need your consent to load this YouTube contentWe use YouTube to manage extra content that can set cookies on your device and collect data about your activity. Please review their details and accept them to load the content.Manage Preferences
It was the election of this government, the first significant transfer of power in over a decade, that reinvigorated hopes that the Macedonians can resolve the name dispute with their neighbours in Greece, paving the way for EU and NATO membership. Guided by a UN mediator, Zaev and his Greek counterpart Alexis Tsipras are considering four names: the Republic of Macedonia (Skopje), Northern Macedonia, Upper Macedonia and Vardar Macedonia.
After almost 30 years of stalemate, there appears to be genuine political will on both sides to resolve the dispute, but difficulties remain. Greek nationalists have rallied against any compromise and the Greek government wants the new name to be used in all contexts. Meanwhile, the Macedonians feel it should only be used in international environments and that they should simply use the name Republic of Macedonia domestically.
---
The views expressed here are those of the author and do not represent or reflect the views of RTÉ
---