Opinion: as the landscape begins to bloom again after winter, we should remember that springing to life involves a complex web of timings and relationships
It's that time of year again when life appears after a long, cold winter. Blackthorns are coming in to flower around the country providing a sea of white in our hedgerows, while yellow primroses adorn roadsides. It's a particularly colourful time of year in woodlands, with bluebell, wild garlic, wood avens and lesser celendine all forming carpets on the woodland floor. 
Their aim is simple: to complete their lifecycle before the canopy closes and the woodland floor is thrown back into summer darkness. For many of us, these signs of spring signal ever longer days and warmer weather and so it is no wonder they are a common talking point. With the "beast from the east" and other cold snaps this year, it is likely that many plants are taking longer to burst into life than usual and we have already seen the knock on impacts for farmers in terms of delayed growth of grass and other crops.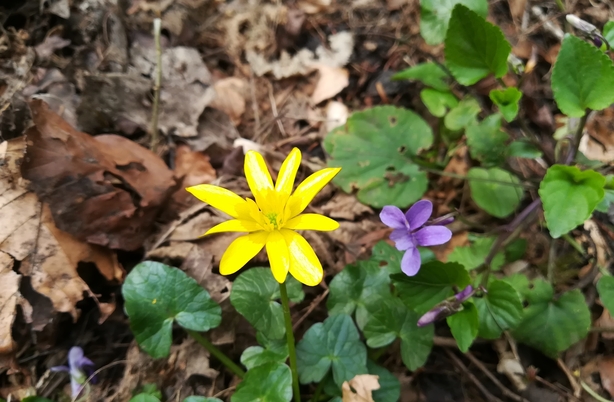 It seems easy to jump to the conclusion that this is climate change raising its angry head. Of course, climate change is a stark reality, but it takes many years of observations of the timing of these spring events to deduce these long term trends. This branch of science – known as phenology – examines the timing of spring events such as bud burst or flowering time and compares data over long timescales.
The National Botanic Gardens, Valentia Observatory and a number of other sites around Ireland are part of an international phenological network. Here, the same tree species with the same genetic origin are planted and the timing of spring events monitored. Research carried out by Alison Donnelly and colleagues at Trinity College Dublin found that the long term trend in Ireland is for these trees to begin growing earlier. However, uncharacteristic years like this sometimes buck the trend!
The timing of spring events is also important for insects that interact with the plants that are bursting into life. Bumblebee queens that have been hibernating for the winter are currently starting to emerge. This is a particularly crucial time in their lifecycle; they have been overwintering alone underground, and now have to visit flowers to collect nectar and pollen, make a nest and begin to lay eggs. Only then will the queen have workers emerge who can help her with her work.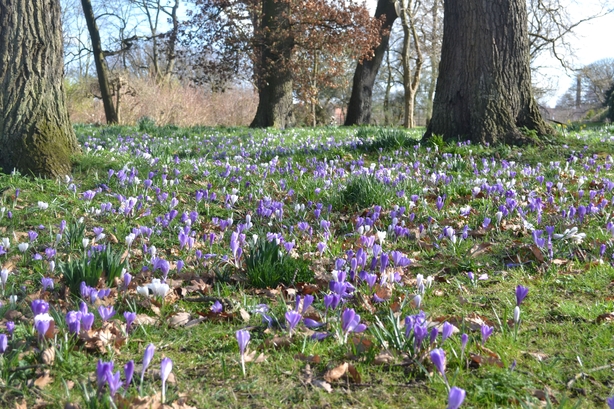 Having a source of flowers producing nectar and pollen at this time of year can be crucial for their survival. If the timing of spring events is "mis-matched" between the plant and its pollinator, it could have implications for both forage for bees and for the reproduction of plants.
A study in Japan found that in years when spring came early, flowers of a native plant species (Corydalis ambigua) emerged before their bumblebee pollinators and as a result did not set as much seed. In other parts of the world, it seems that although flowers are flowering earlier due to changes in climate, their bee pollinators are also emerging earlier and so both sides are keeping in rhythm.
As well as wildflowers, spring is also an important time for pollination of Irish crops. Globally, three quarters of all crops benefit from pollination by insects and other animals. About 30 percent of the food that we eat comes from crops pollinated by insects, including almost all of our vitamin C as well as other important nutrients.
We need your consent to load this rte-player contentWe use rte-player to manage extra content that can set cookies on your device and collect data about your activity. Please review their details and accept them to load the content.Manage Preferences
From RTÉ Lyric FM's Nature File, Anja Murry documents the wonders of Ireland's 20 different types of native bumblebee and 76 types of solitary bee
In Ireland, most of our crops that benefit from insect pollination flower in spring time. Again, the timing of spring and the emergence of pollinators is key. Apple orchards around the south-east are just coming into bloom and oilseed rape will soon be visible as large yellow masses of flowers around the country. Oilseed rape is partially pollinated by the wind, but in Ireland, insect pollinators increase yields by about a third, contributing about €4 million to growers annually. Apples are extremely reliant on pollinators and without them, there would be little or no yields at all.
So when you're looking at the emergence of the first flowers in spring, be cognisant of the fact that it is more than just the start of a new season – there is a complex web of timing and relationships with other organisms at play. One of the key ways in which to help bee populations is to ensure they have a sources of nectar and pollen in early spring time when new bumblebee queens emerge for the first time. If you want to do something for pollinators in your garden or on your land, the All Ireland Pollinator Plan has some useful information and guidance. 
---
The views expressed here are those of the author and do not represent or reflect the views of RTÉ
---