Analysis: new research into political sentiment examines how public opinion on Brexit and the Irish border intersects with Irish stock exchange movements
By Cathy Gormley-Heenan, Ulster University, Khurshid Ahmad, Stephen Kelly and Shane Finan, Trinity College Dublin
Sentiment analysis is a computational process which is used to measure positive, negative and neutral language in any type of source material. Also known as opinion mining, it can be used to measure people's attitudes or opinions on, for example, Twitter. In doing so, it can give us an early indication of broader public opinion in relation to anything from online shopping to reviews of the latest Hollywood blockbuster.
Political sentiment analysis takes things a little further. It can be used to determine how attitudes might change over a period of time. For example, Bloomberg carried a banner headline earlier this month saying Trump's Approval Rating Is Rising, and That's Bad for Stocks". The reporter showed that one of the economic barometers of US and possibly world economy, such as S&P 500, went down every time the US president's approval rating went up. It appears that people's sentiment has some impact on the movement of the US stock markets!
Our research shows that policy makers, researchers and politicians should pay heed to the 24-hour news cycles made even more noisy with Twitter
Consider the possibilities in relation to Brexit. The decision by the UK government to leave the EU will result in a raft of policy changes on foreign policy, national security, defence, immigration, trade, industry, agriculture and so on. What does public opinion say about the policy options under consideration at present during the Brexit negotiations?
Meanwhile, what does public opinion on the island of Ireland say about the Irish border, the single market, the customs union, and what effect do these views have on other aspects of Irish life? We know that Brexit and the implications for the Irish border is still a matter of disagreement between the British and Irish Governments. How does the view on Brexit and the Irish border intersect with Irish stock market movements? This begs the question, might potential investors see the post Brexit landscape in Ireland as a higher risk and can sentiment analysis help us to test for this?
From RTÉ Radio One's The Business, Anne Lanigan, Head of Enterprise Ireland's Brexit Unit, and David McGee, Brexit Task Force Leader for PwC Ireland, discuss if businesses are ready for Brexit
We took news reports, commentaries, op-eds, and editorials published between January 2016 and April 2018 in the Financial Times, the Belfast Telegraph and a number of Irish publications including the Irish Times, Irish Independent and Irish News. We analysed text using software developed at Trinity College Dublin, using the Lexis-Nexis database to retrieve over 30,000 news texts comprising over 30 million words. Our retrieval criterion was to select any news text that containing the word Brexit.
A dictionary of terms was collected and categorised for use in the analysis of each article. By counting the frequency at which these terms occurred in each article an estimate of the coverage of the categories across the corpus was produced.
Why does this matter? In short, it matters because sentiment is cause of market volatility
The three Bs that we have chosen - Barnier, bonds and border - are used to illustrate the effect of sentiment and public opinion on Brexit, with an emphasis on the issue of the Irish border. The frequency of occurence of terms in news articles shows how public opinion is emphasised over this period, and points of major interest (e.g. the UK General Election) or points of high negative sentiment (late 2016 in the UK) illustrate how volatility can have negative effects.
The Irish border issue started being prominent during the early periods of 2016 and lost its prominence after that until the 2nd Phase of Brexit Negotiations kicked in in the last few months of 2017. Michel Barnier, the European Chief Negotiator for the United Kingdom Exiting the European Union, was appointed in December 2016 and his prominence in news is developing steadily. Finally, the bond prices, a reflection of how confident people are in a country, became prominent in early 2017 (six months after the Brexit referendum in the UK).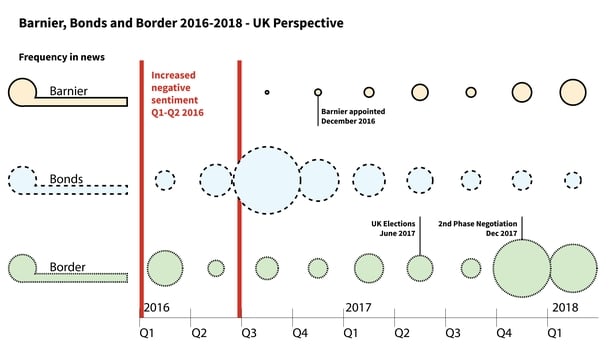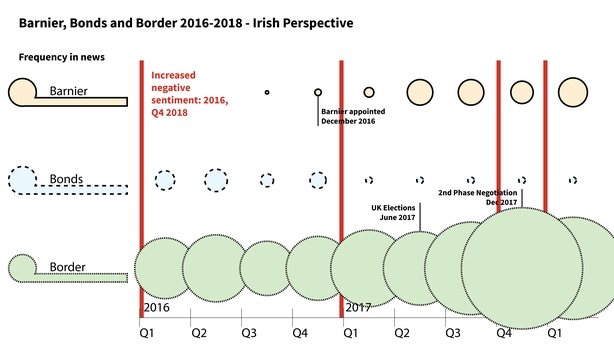 What is shown from an analysis of key terms is that news reports on political topics tend to be volatile. It is important to recognise this volatility and that negative sentiment can affect this volatility. As a vote of public confidence in the future of Ireland, Irish bond prices are a good point of reference to show economic confidence in Ireland.
A popular measure of Irish economy that relates to the performance of the Irish government, is the trading on the Irish Stock Exchange in Dublin (ISEQ). We have shown in past studies on share prices that sentiment can directly affect volatility in market prices. By illustrating this volatility, we can show how tracking negative sentiment can be useful in political and economic decision-making.
From RTÉ Radio One's Countrywide, presenter Damien O'Reilly speaks to farmers Gabriel Darcy, Brian Patterson and Gene McGinty; Joe Healy, president of the IFA, and Barclay Bell, from the Ulster Farmers Union, about what Brexit and the border will mean for farming
The relationship between the negative sentiment in our Financial Times Brexit Corpus and the Irish Stock Exchange 20 Index (ISEQ-20) over a two-year period (2016-2018) shows a correlation between negative sentiment and volatility. We have analysed the ISEQ share price against volatility in the market and negative sentiment. The rise in negative sentiment is generally inversely related the ISEQ 20 Index, and very clearly during the period of greatest uncertainty, January-July 2016. The reduction in negative sentiment appears to boost ISEQ 20 after the Brexit. Our result is similar to the volatility of the S&P 500 and President Trump's popularity.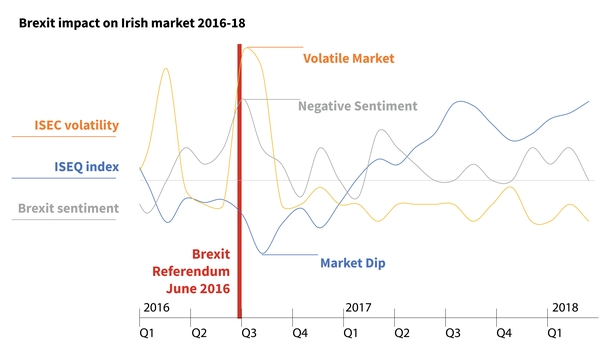 Why does this matter? In short, it matters because sentiment is cause of market volatility. Sentiment can account for volatility in prices. The analysis of sentiment in social media and formal media and its relationship to price movement in the markets can help with the buy/sell decision making process for those in the investment and finance space sector.
What our research has shown is that policy makers, researchers and politicians should pay heed to the 24-hour news cycles made even more noisy with social media systems like Twitter. This alternative data when used in conjunction with financial analysis will see an interaction between economics, psychology and politics. This interaction can only be ignored at the peril of society and its body politic.
For more information on our work on political sentiment and how it can be used in the context of Brexit, contact EADAIL team at Trinity College Dublin (TCD). EADAIL is a project funded by Atlantic Bridge. Ulster University are working with TCD on sentiment and Irish/Northern Irish politics. Contact Shane Finan at shane.finan@scss.tcd.ie
Professor Cathy Gormley-Heenan is the Pro-Vice-Chancellor for Research and Impact at the Institute for Research in Social Sciences at Ulster University. Professor Khurshid Ahmad is the Chair of Computer Science at Trinity College Dublin. Stephen Kelly is a Research Assistant at the School of Computer Science and Statistics at Trinity College Dublin. Shane Finan is Project Manager and Research Officer with the FÍOSÍN Group at the School of Computer Science and Statistics at Trinity College Dublin
---
The views expressed here are those of the author and do not represent or reflect the views of RTÉ
---