Opinion: artists' depictions of Dublin's past trace the course of history, be these economic developments, events or the rise and fall of public monuments
Photographs shared on social media have come to play a central role in how contemporary cities are visually represented, especially given peoples' preoccupation with documenting their daily lives. Accounts like Guardian Cities collate the best of this new urban photography, drawing from a wide pool of professional and amateur posts.
Dublin, of course, is no exception. At the time of writing, over eight million posts have been tagged "#Dublin" on Instagram, varying from sustained professional projects to quick snaps taken by commuters, strollers, protestors, and tourists, showing sunny days, snow days, and everything in between. The contemporary view of the city is not limited to photography: a recent project by NCAD Communication Design students titled My City powerfully illustrates the continued relevance of the city as a source for artistic attention.  
We need your consent to load this Vimeo contentWe use Vimeo to manage extra content that can set cookies on your device and collect data about your activity. Please review their details and accept them to load the content.Manage Preferences
As an art historian researching artists' depictions of Dublin in the 19th and 20th centuries, this interactive and public way of visually documenting the urban landscape offers an intriguing counterpoint to the historic artworks that I study. While Dublin's representation in literature and poetry is well-known (think of the writings of James Joyce, Maeve Brennan or Patrick Kavanagh), the art history of the city remains relatively unfamiliar.
Like images of the city made today, these historic artworks range from highly considered and polished views of landmark buildings and public spaces, to small and quick sketches, capturing a fleeting moment of urban life. While the medium and format used to capture the everyday experience of life has changed (watercolour and pencil are not social-media friendly), the impetus and the subject matter has not.
A new exhibition Drawing Dublin at the National Gallery of Ireland brings this comparison to the fore. Through watercolours, drawings, and prints, we can see how Dublin developed and changed over the centuries, not only in terms of buildings, bridges and monuments, but politically and socially too.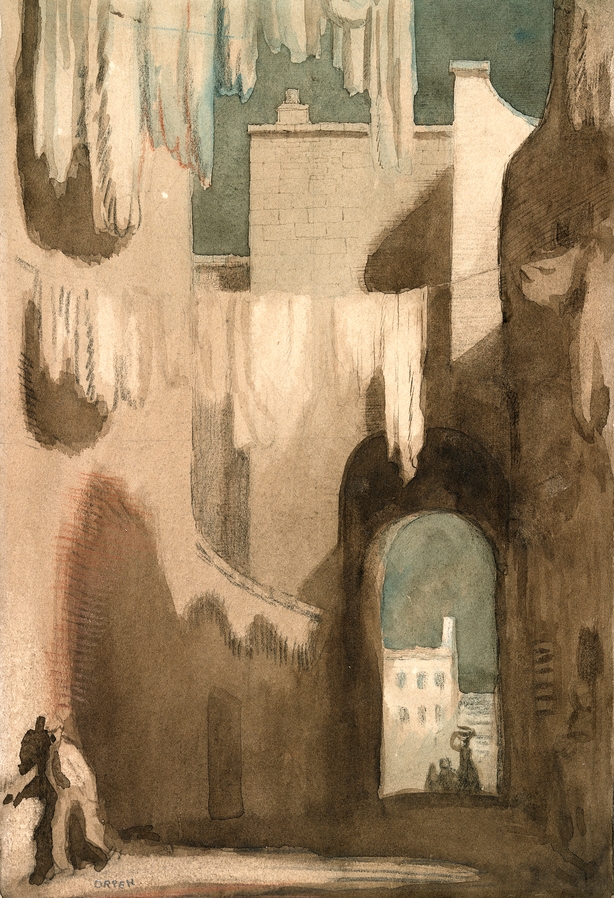 In 1853, the magnificently named Michael Angelo Hayes (1820 - 1877) offered a bold view of modern Dublin. Taking the middle section of Sackville Street (now O'Connell Street), Hayes' shows three key architectural features of nineteenth century Dublin: the General Post Office, Nelson's Pillar, and McSwiney and Delaney's New Mart, recognisable today as the site of the closed Cleary's department store.
Among the earliest purpose built department stores in Europe, the New Mart was architecturally innovative and beautifully designed, symbolic of a new commercial optimism in Dublin during the 1850s. Large plate glass windows along the street level invited Dublin's expanding bourgeoisie to view luxury wares, and Hayes includes well-dressed ladies and gentlemen in his painting.
Visual depictions of Dublin, whether made on paper or a smart phone, allow us to picture those generations, and share our own vision of Ireland's capital city
There are, of course, biases at work in this view of Dublin's main street. The New Mart was co-owned by Hayes' brother-in-law, Peter Paul McSwiney (later a nationalist political figure and Lord Mayor of Dublin), and anything but a flattering view of the business may have caused familial ructions. Equally, the painting elides any suggestion of the extreme poverty which surrounded Sackville Street at this time.  
In Rose Barton's (1865 –1929) watercolour, Going to the Levée at Dublin Castle, we see the divergent experiences of life in Dublin more clearly. Evocatively painted, a procession of carriages enters the Castle (the administrative and social centre of British rule in Ireland), flanked by groups of onlookers. While not depicted in great detail, the limited colours used to depict those gathered to see the procession contrasts with the touches of golden yellow on the carriages.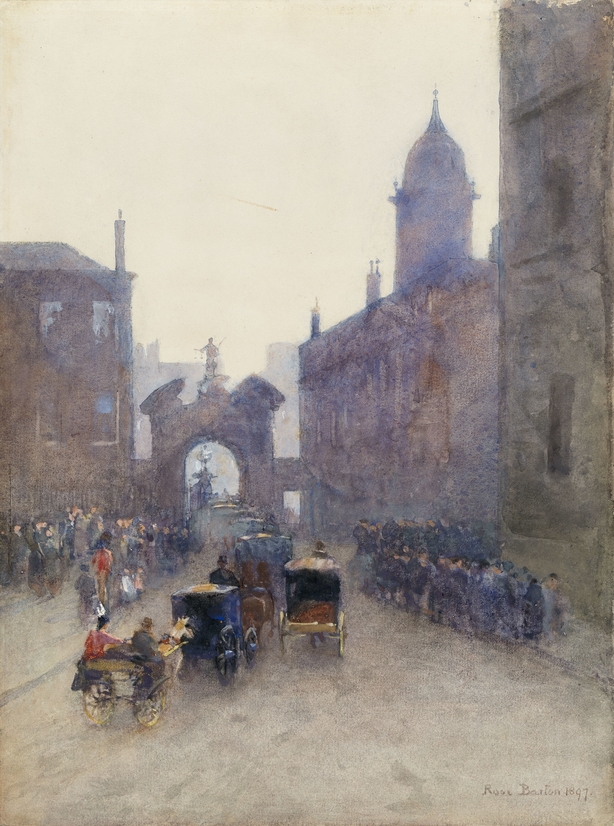 Viewers of Barton's paintings in the 1890s might also have been aware of how George Moore described a similar scene in A Drama in Muslin, recounting the journey of Olive and Alice Barton and their mother to an event in the Castle. "Never were poverty and wealth brought into plainer proximity", the novelist wrote, continuing that "the bloom of every aristocratic cheek, the glitter of every diamond, the richness of every plume were visible to the avid eyes of those who stood without in the wet and cold."
In contrast, Michael Healy's (1873 – 1941) quick pencil and watercolour sketches turn away from main streets and ceremonial occasions of the city, and instead show a range of Dubliners as they go about their daily lives. Although undated, these small sheets bring us firmly into the twentieth century: the long gowns of Hayes's window-shoppers have been replaced by knee-length dresses and the occasional bobbed hairstyle.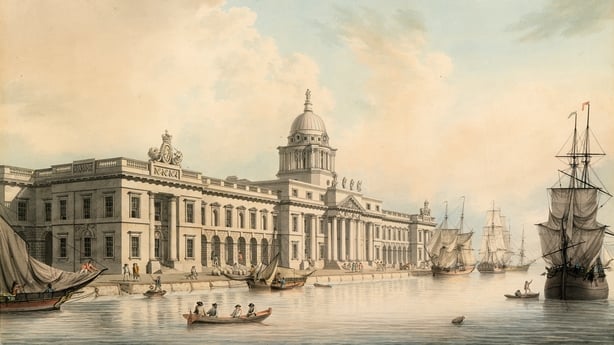 The artist shows Dubliners at work and play: we see dockers, labourers and jarveys, women chatting, and children playing in parks. Arguably, it is in these pocket-size artworks that we come closest to how many people create images of Dublin today: Healy carried a sketchbook in his pocket, ready to capture a person or scene that interested him, committing countless passing moments to the visual and historical record. 
We can turn to artist's depictions of Dublin to trace the course of Irish history, whether these be economic developments, past events that are now strange and unfamiliar, or the rise (and fall) of public monuments. Often however, the power of these artworks rests at a more relatable level: they offer a glimpse of the people who lived and worked in this city before us.
Writing about Dublin and poetry in 2014, Peter Sirr said that the city bears "multiple inscriptions of generations of lives, buildings, art, every imaginable context and achievement." Visual depictions of Dublin, whether made on paper or a smart phone, allow us to picture those generations, and share our own vision of Ireland's capital city. 
The Drawing Dublin exhibition opens at the National Gallery of Ireland on May 5 and runs until August 26. Admission is free. 
---
The views expressed here are those of the author and do not represent or reflect the views of RTÉ
---