Food is dignity. In its consumption, we encounter worlds and histories, both near and far. Food is emotion. It has a holy, magical significance and is a bridge to understanding.
It is this and more that Malawian activist Ellie Kisyombe, one of the founders of Our Table food project, wants people to understand. Dressed in a blushing pink business suit, buzzing smartphone in hand, her day is a hive of business and activist meetings. On a wet wintry Dublin day, we speak about how creativity, activism and entrepreneurship has fashioned her life in Ireland. Her project is one of many solidarity-building food initiatives in Ireland which seek to create public awareness on the challenges of life for asylum seekers in direct provision. 
Since 2010, Kisyombe has been living in direct provision, a system of detention and waiting which forms part of the Irish system of "migration management". Individuals and families live in direct provision, often for lengthy persiods, as they await decisions on their asylum application. Overseen by the Reception and Integration Agency (RIA), direct provision provides accommodation and board, as well as other essential services such as medical care. There are 34 direct provision centres in Ireland, with planning recently granted for an additional site in Lisdoonvarna in Co. Clare. The centres are fashioned out of old hotel premises, guesthouses, a convent, a holiday camp and a caravan site (to name a few), all sites unsuitable to house individuals and families for long periods of time. 
We need your consent to load this rte-player contentWe use rte-player to manage extra content that can set cookies on your device and collect data about your activity. Please review their details and accept them to load the content.Manage Preferences
From RTÉ Radio One's Marian Finucane show, sisters Ellie and Isabelle Kisyombe talk about life as an asylum seeker
---
When introduced in 2000, direct provision was only ever meant to be a temporary measure. But in 2018, it continues to exist amongst a global web of immigration detention. The increased privatisation of the system means inconsistent and sometimes substandard living conditions for asylum seekers while private companies make a profit.
A recent report from the Ombudsman shows that direct provision is not fit for purpose. It also highlights high incidences of food poverty and insecurity, issues which have been long highlighted by both grassroots organisations and NGOs such as NASC, but remain poorly addressed by the Irish state. Residents of direct provision continually report large amounts of unhealthy foods (such as chips) being served almost on a daily basis. Up until 2017, residents of direct provision could not cook their own food but, with the introduction of RIA's so-called independent living scheme, a number of direct provision centres have had kitchens installed.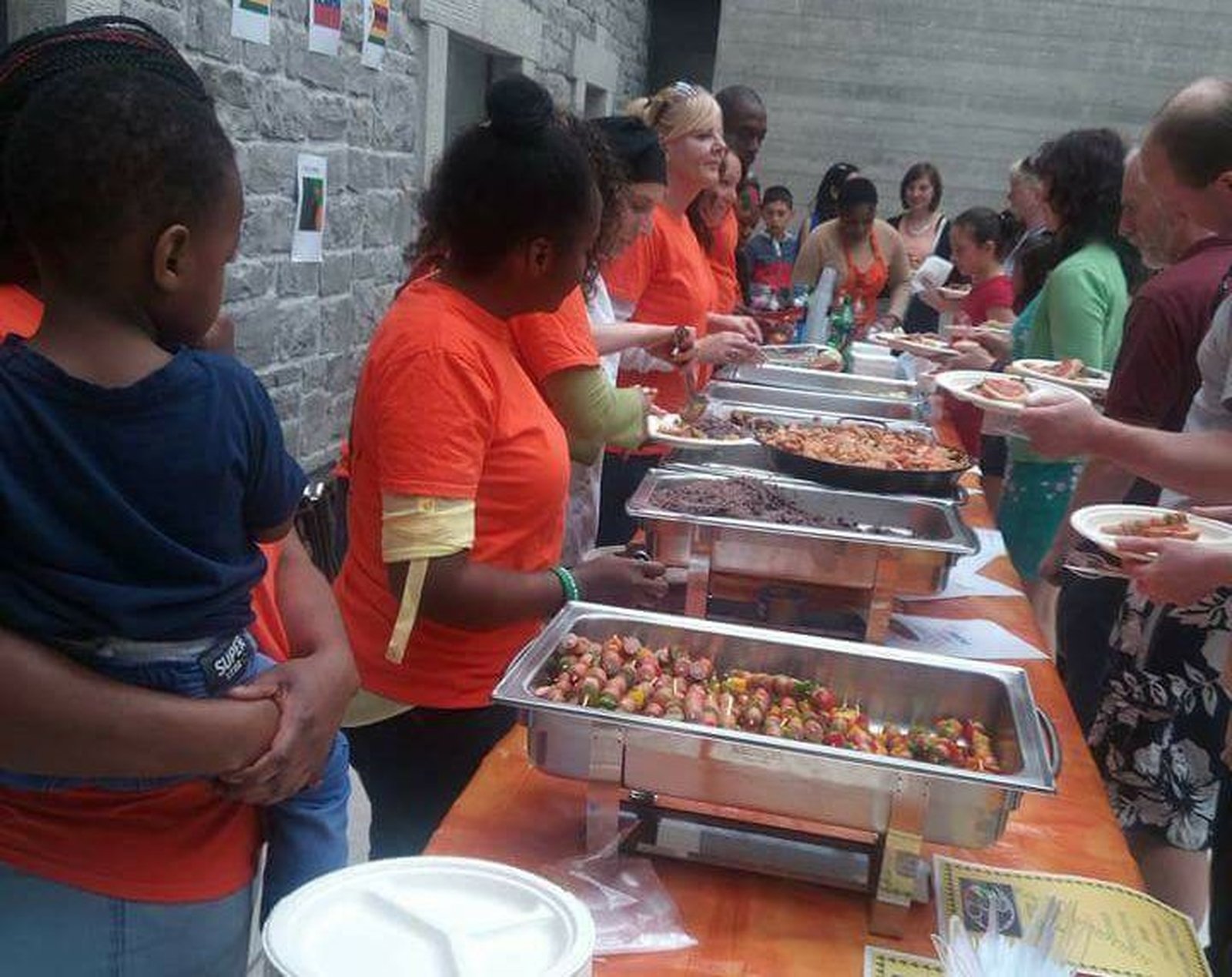 The continued existence of direct provision makes all of us witnesses to and heirs of yet another system of containment in a world where a protracted refugee situation needs a more muscular response. Kisyombe has lived in a number of these centres in her time in the asylum system. She details how direct provision has become a system of warehousing human beings seeking refuge in Ireland and describes her experience of direct provision. 
"You have to find ways to cope with the system of direct provision, particularly for your mental health, so I started to try and think of ways to help other asylum seekers-activities such as gardening, sewing (…) to help them. Not being able to cook or taste your own food is terrible. We are living a life of poverty in direct provision."
The overarching sentiment from critics of direct provision is that this is a system that strips people of their agency, autonomy and, in many cases, dignity. This is what has motivated Kisyombe to become one of the more vocal campaigners against direct provision in Ireland, alongside her colleagues in MASI (Movement of Asylum Seekers in Ireland). Her passion for cooking coupled with her despair at direct provision has called forth an activism articulated through food.
She used to dream of fresh vegetables. She imagined a lush garden punctuated with clusters of vegetables and fruits from her home country. She could see herself running her fingers along the jagged edged of a pineapple breathing in the elixir of a healthier life. She dreamed of cooking. She could see herself kneading, mixing, folding her way into nourishment. Crackling with courage and hope from the fresh taste of her dreams, she embarked on her protests against direct provision, a place where people cannot choose or cook their own food. A place that assumes people seeking refuge have only vulnerabilities and not capabilities.
Together with an Irish businesswoman Michelle Darmody, Kisyombe created the idea of Our Table. An initiative based on food and cooking, it served as a form of solidarity and protest, a creative response to direct provision that highlights a failure of political listening to asylum seekers and refugees in contemporary Ireland.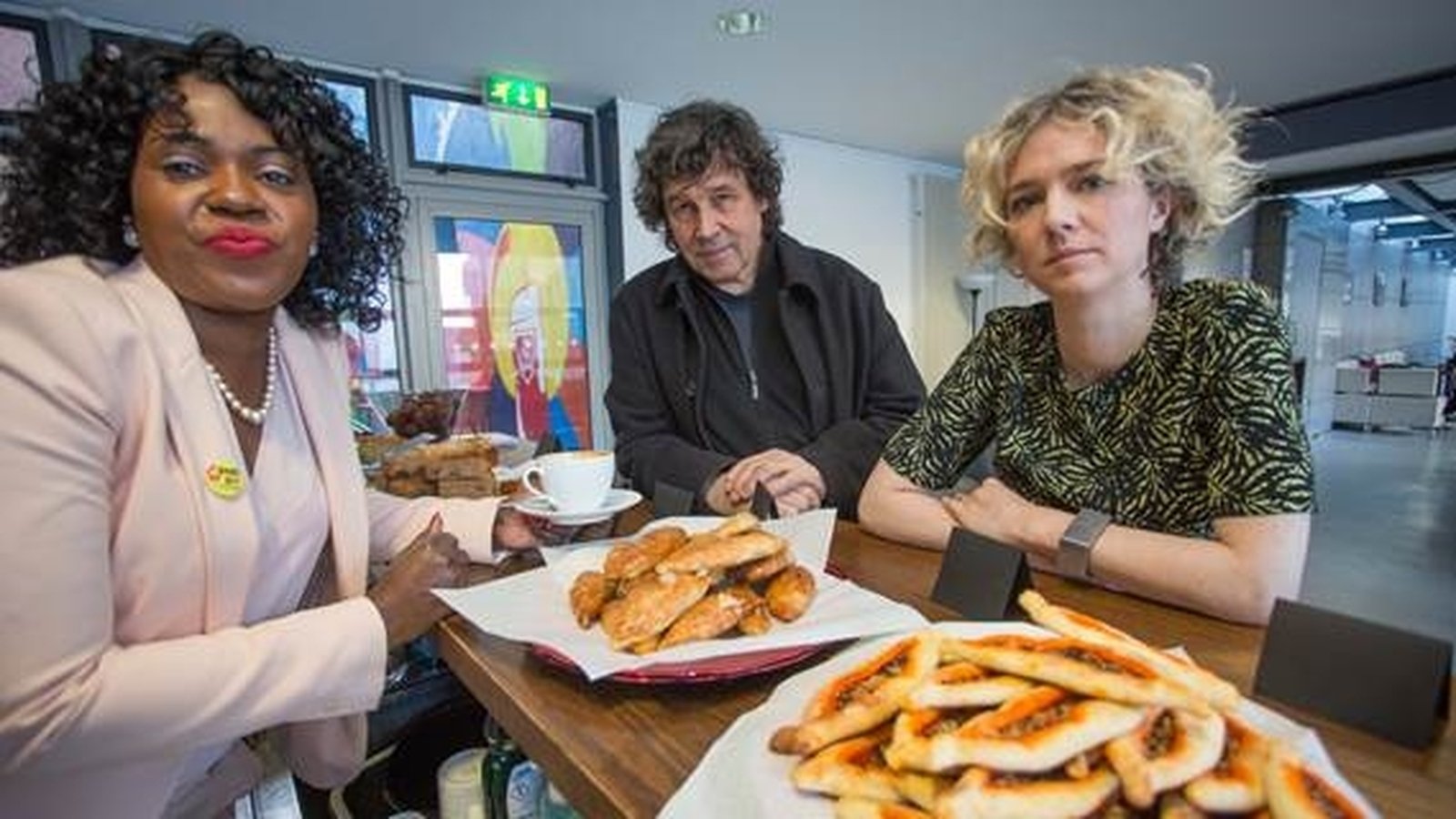 Her carving out of a protest brought her to work alongside the Irish Refugee Council. As part of her internship, she attempted to turn her dreams of gardens and cooking into a reality for asylum seekers stifled by life in direct provision. A fortuitous encounter with Darmody, who had established Dublin's Cake Café, brought a like-minded venture into being of cooking as a form of activism, education and solidarity building.

For a number of months, together with other women from direct provision, Kisyombe and Darmody cooked at a number of community events, including a pop-up event at IMMA. After years in direct provision, Kisyombe found the process of cooking traditional food from Malawi both liberating and emotional. Cooking for her became a lavish gift of agency shot through with the ability to protest and resist the hardships of life as an asylum seeker. It became a way of living a second life beyond the confines of direct provision.
As word spread, the pair were encouraged to reimagine their venture on a larger scale and this initially became a two day pop-up restaurant in Dublin's Project Arts Centre in April 2016. Kisyombe, Darmody and a team of volunteers created a menu which reflected the diverse food traditions of people in direct provision. It was a form of world-building and resistance through food, an event shared with the public as well as politicians, journalists and members of the civil sector society. Such was the success of this two-day event that the project then ran for a three-month period . 
We need your consent to load this rte-player contentWe use rte-player to manage extra content that can set cookies on your device and collect data about your activity. Please review their details and accept them to load the content.Manage Preferences
From RTÉ Radio One's In the Wings, Our Table co-founders Ellie Kisyombe and Michelle Darmody talk about the project
Kisyombe recalls the date of the launch of Our Table by actor Stephen Rea as the day the world heard about the election of Donald Trump as American president. For Kisyombe, this made the goals of Our Table, a celebration of diversity and resistance, even more important in the face of global challenges ahead and it gave her and the other women from direct provision back their power. "Our Table helped me gain confidence...there are times in direct provision where one feels as if they could give up, my training in Ballymaloe also gave me power and energy." She believes she and the other volunteers have become a guild of sorts, beckoning towards a space of resistance.
Recalling Stephen Rea's words on how Irish people should understand the significance of forced migration and food poverty, Kisyombe points towards the ignorance that exists regarding the experiences of asylum seekers and refugees in Ireland. Direct provision enables this kind of ignorance through the distance it creates between asylum seekers and citizens. In some respects, the very system itself attempts to narrow citizen responses to its existence. But the success of Our Table comes through its ability to radicalise the range of responses through something we can all identify with, namely food.
Kisyombe realised her dream of becoming a trained chef in Darina Allen's cookery school in Ballymaloe and has ran the Our Table food stall at Christchurch every Thursday to Sunday since January 2018. In a seismic rejigging of her every-day, her dreams about cooking and food have become a reality, but she continues to live in direct provision. 
We need your consent to load this YouTube contentWe use YouTube to manage extra content that can set cookies on your device and collect data about your activity. Please review their details and accept them to load the content.Manage Preferences
Similar stories and initiatives are unfolding elsewhere in Ireland. In Cork and Galway, Syrian chefs have come together to cook, fundraise and create awareness of the refugee experience. Bay Leaf, a Syrian restauran  in Bandon, has conducted a number fundraising and awareness building nights. In Sligo, an initiative called the Sligo Global Kitchen holds public food events once a month through the local arts centre, the Model, to create awareness about direct provision.
One of the members of this group, Mabel Chah, explained that "there are a lot of barriers when you live in direct provision" and these food events provide a connection to the local community in Sligo which facilitate friendship and solidarity. Awarded the Irish food writers guild community award in March, Sligo Global Kitchen is now looking to further their venture in a more sustainable manner. Similar initiatives have emerged in Limerick, Athlone, Millstreet and Killarney all working towards remedying the challenge of food poverty in direct provision.
We need your consent to load this rte-player contentWe use rte-player to manage extra content that can set cookies on your device and collect data about your activity. Please review their details and accept them to load the content.Manage Preferences
From RTÉ News, Philip Bromwell reports on Cork-based Syrian baker Mohamed Ghnaimi 
In Dublin, a group of women from a direct provision centre have created an initiative called Cooking for Freedom, which sees the women coming together to use an external kitchen to cook their own food and feed their families the well-being and culture denied to them.
One of the organisers of Cooking For Freedom, Mavis, explains that "the idea came because we can't cook for ourselves in direct provision. With the help of MASI and Refugee and Migrant Solidarity Ireland (RAMSI), we found a space to come together to cook. We are not losing our skills, we get a lot of mental health benefits from it too, it brings us together, helps us to discuss the challenges we have living in direct provision. Above all else, we get great pleasure from eating food from our own native countries that we have eaten ourselves. Even buying the ingredients brings such pleasure."
Mavis describes how Cooking for Freedom has alleviated some of the challenges experienced by families of children with food allergies. It has also brought women and families living in direct provision together to form a network of support and solidarity in a space where everyday life presents constant challenges and insecurity. Unfortunately, all of these laudable projects struggle for funding in their attempt to transform the wanton disregard of asylum seekers' well-being in direct provision.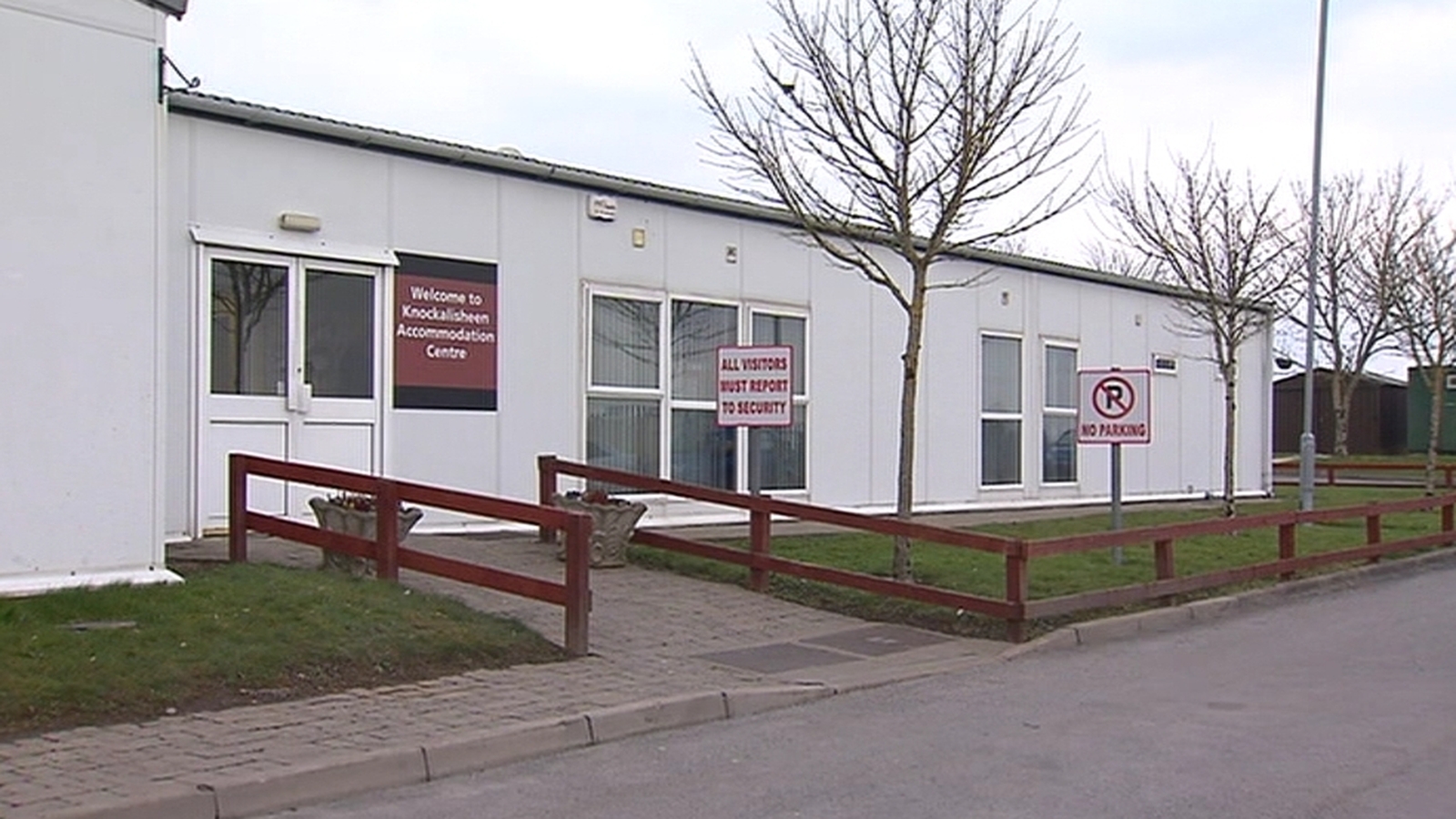 One of Ireland's many direct provision centres sits atop a hillside on the outskirts of Clonakilty in west Cork. Between ancient stone circles, jagged coastlines and undulating hills, tourists, artists, writers and activists live, move through or temporarily inhabit this place that sells a convincing narrative about a mythical, inspired Ireland. 
Beautiful as it may be, west Cork also bears witness to Ireland's detrimental system of asylum containment. What is inspiring and different about the response in Clonakility lies in a small community garden in front of a hotel which serves as a direct provision centre (known as the Lodge). The garden has been in existence since 2014 and came about through a collaboration between Clonakilty Friends of Asylum Seekers, the Lions Club, Grow It Yourself Clonakilty, West Cork Permaculture and Sustainable Clonakilty. It means residents of the lodge would have a place to grow their own food and they have had a kitchen installed since 2017. 
A member of the group Olive Walsh describes the garden as "one way of helping others recognise that asylum seekers need dignity and respect...it also brings residents together, builds good friendships and helps us to understand that fundamentally we are all the same, we share the same concerns and needs as human beings."
We need your consent to load this YouTube contentWe use YouTube to manage extra content that can set cookies on your device and collect data about your activity. Please review their details and accept them to load the content.Manage Preferences
On a bitterly cold day, I stood in a large makeshift dome in the garden amongst members of the Clonakilty Friends of Asylum Seekers and residents of the direct provision centre. Grasping hot ginger and lemon tea, I felt further warmed by the energy and passion for the garden amongst the group. Amidst this cluster of enthusiasm and warmth, the group also emphasized the Sisyphean challenge of living life in a place that creates a radical loss of confidence and sense of alienation. 
Iraqi Kurdish asylum seeker and nano-chemist Karzan Zangana stressed the particular impact life in direct provision can have on mental health and well-being. "The garden is important for everyone in the lodge. It is a very good place to refresh. Everyone experiences stress in direct provision, it is very very bad for mental health and the garden helps with this." 
In its own small way, the garden has provided some relief from the liminality of life in direct provision and has contributed to a sense of community amongst residents of the lodge. Individuals and families have made the garden into a space of solidarity and bridge building-a window out on to the small community of Clonakilty. It has also become a site to explore sustainability and ethical consumption, thereby invigorating new skillsets and mind-sets.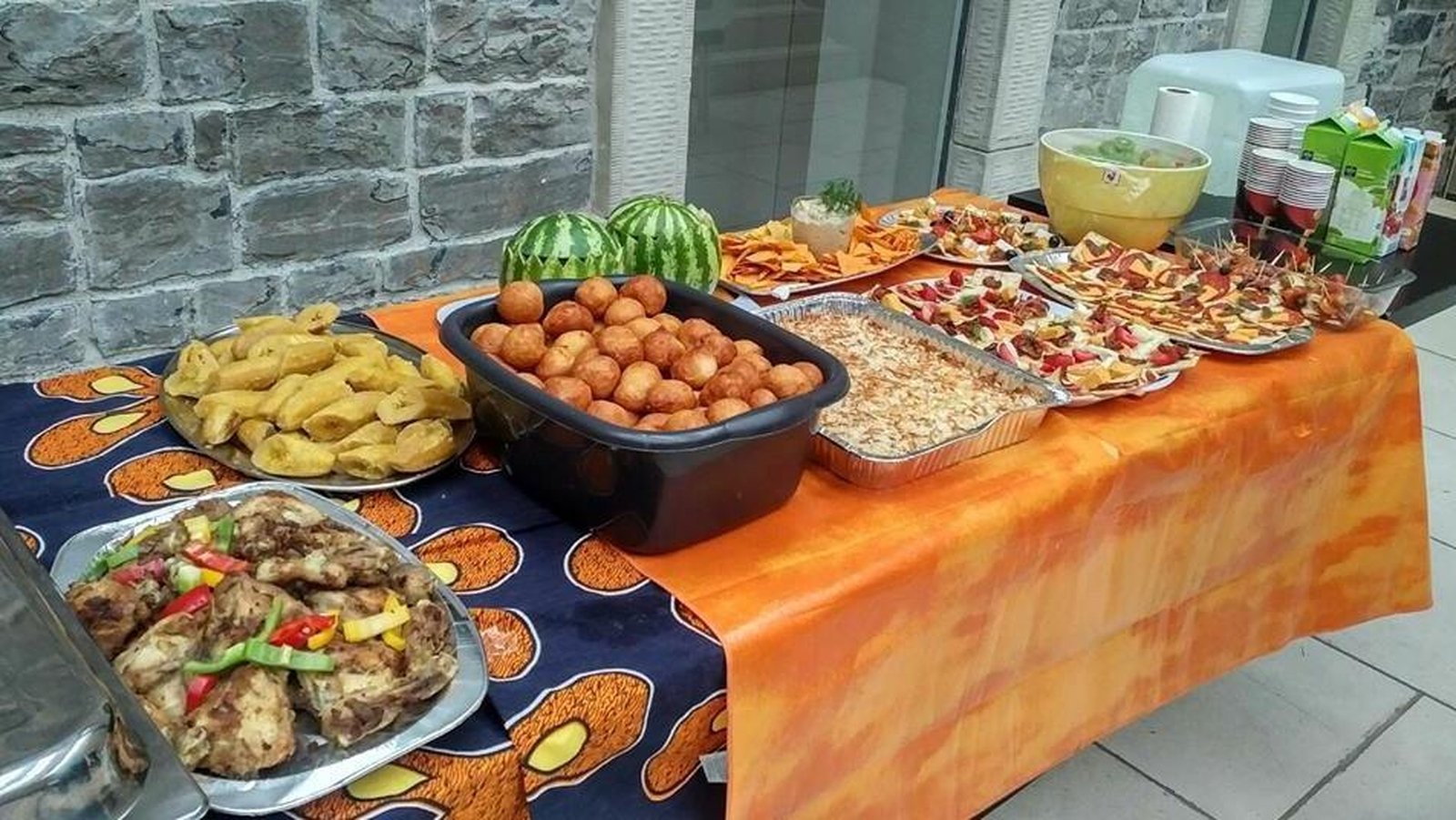 Istvan Markuly who offers free placements to residents of the lodge on his permaculture courses says "the garden is harmonising within the community (…) it also shows people how they can learn to live more sustainably." Residents of the lodge who have taken some of these courses shared how critical they have been to their sense of well-being and personal achievement while living a life of waiting in direct provision.
The garden exists as a site of solitude and escape, a means of bridging and connecting, and a place of nourishment and growth. It brings together different kinds of food activisms in a way which brings meaning to all of those engaged with the project and beyond into the local community. Like the other food initiatives, the garden is yet another creative response to direct provision which highlights the deficiencies of a system that does not give people seeking refuge the dignity and respect they deserve.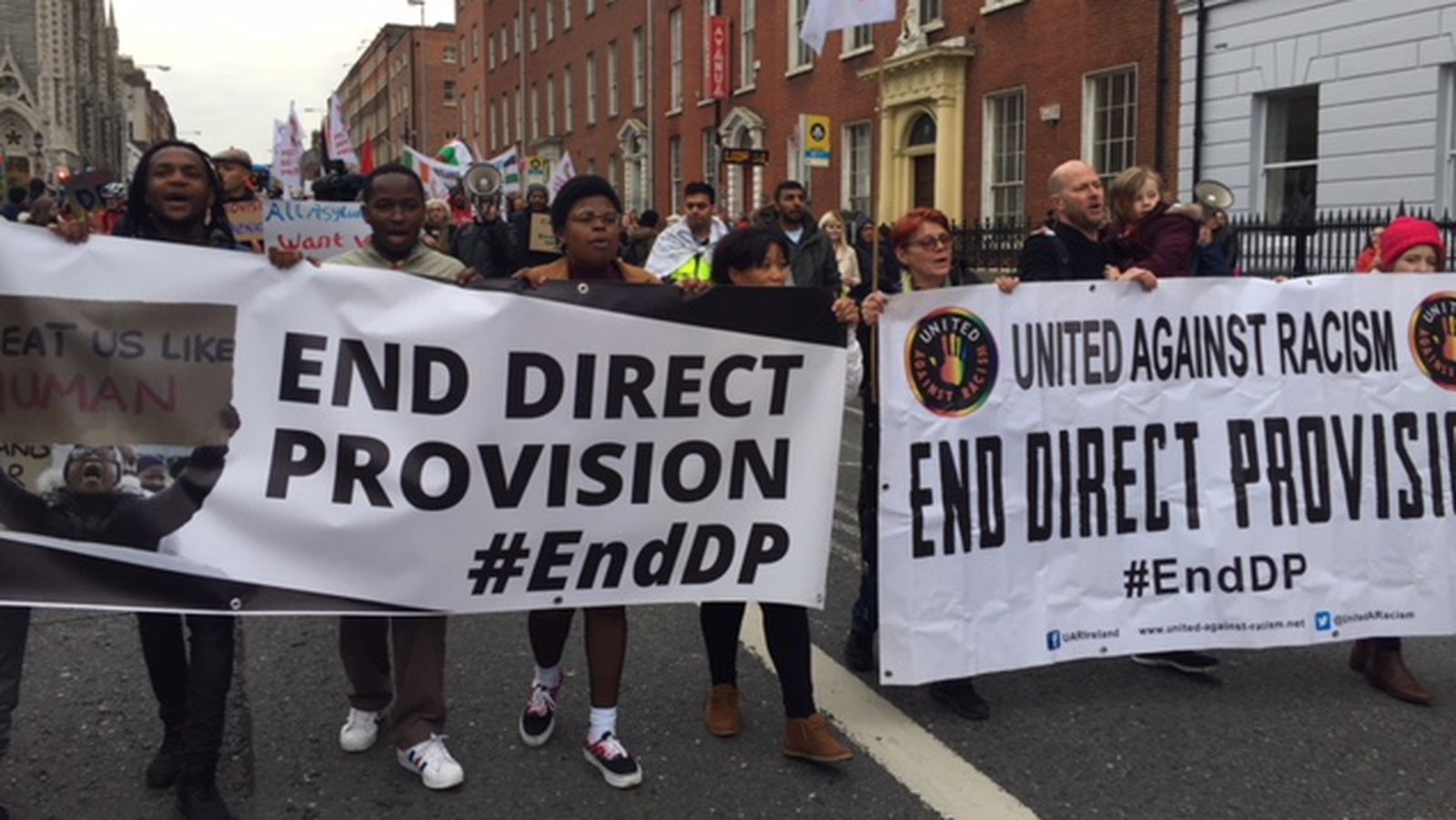 Kisyombe continues to wait, to protest and to cook. One day, she hopes that direct provision will end and a better solution will be put in place. The community garden in Clonakilty evolves as the seasons pass us all by. Mavis struggles to find funding for her Cooking for Freedom project, as her fellow residents in direct provision, grow concerned about their children's well-being and nourishment. The Sligo Global Kitchen Project wins a food award, but worries about becoming more sustainable.
Meanwhile, a limited right to work for asylum seekers is introduced without full recognition of the skills, capabilities and creativity of asylum seekers in direct provision. Planning is awarded for the development of a new direct provision centre with little heed paid to the concerns of activists, charities, NGOs, writers and scholars on the impact of direct provision on the mental and physical well-being of people seeking refuge.
From Eat Offbeat and Foodhini in the USA to the RAMSI solidarity dinners in Ireland or the Refugee Food Festival in France, many initiatives are seeking to transform political and public narratives about asylum seekers and refugees through food. Projects such as Our Table, Cooking for Freedom, the Clonakilty garden and the Sligo Global Kitchen also carve out a pathway towards new kinds of food entrepreneurship and creativity. 
But more significantly, they point to a system with serious failings. What these projects make clear is that an alternative to direct provision must be urgently found. To do so is the only dignified response to one of the more urgent crises of our time. 
Dr Fiona Murphy is a research fellow at the Senator George J. Mitchell Institute for Global Peace, Security, and Justice at Queen's University Belfast
The views expressed here are those of the author and do not represent or reflect the views of RTÉ