Report: how do you make a seasonal visit to Santa work for children with attentional or sensory difficulties?
By Dr Clodagh Murray & Dr Jennifer Holloway, School of Psychology, NUI Galway
Visiting Santa is something that most families take for granted. For children with attentional or sensory difficulties, however, it can be difficult for them to see Santa in shopping centres and other venues because of the noise and long queues.
Earlier this month, the School of Psychology at NUI Galway hosted a sensory-friendly Santa's grotto for children with autism or other additional needs along with the children's parents and siblings. It was organised by a team from the School's MSc programme in Applied Behaviour Analysis (ABA), who were on hand dressed as elves to ensure the 36 families had the best possible Santa experience.
With some small environmental changes, we were able to ensure that each child with additional needs was able to interact with Santa and to have a family photograph taken. The feedback on the day was so positive that we decided to share our strategy for anyone who would like to organise a similar event in the future.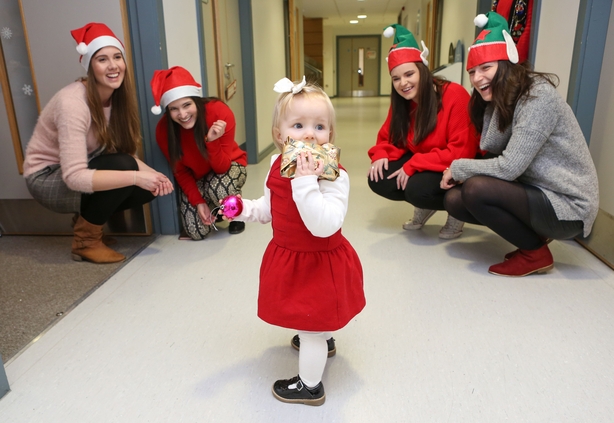 No queues. If it is really tough for any young child to wait in a queue, it's especially difficult for those who may have attention difficulties or who don't understand why they have to wait! We assigned times to parents in advance in ten minute slots so that a queue never formed and nobody had to wait for very long.
Distraction. In the event of having to wait for a few minutes, we had toys in our lobby to keep children busy. We had some Duplo blocks, colouring materials and a small variety of toys such as cars and dolls. This really helped to maintain a calm atmosphere throughout the whole process. We even had some families that stayed afterwards to play with the toys and we were delighted to facilitate this.
Minimise noise. We had some music playing in the grotto, but it was kept very low. Santa and the elves maintained nice, calm voices. Only having a few families on site at any one time meant that it never became loud or overwhelming.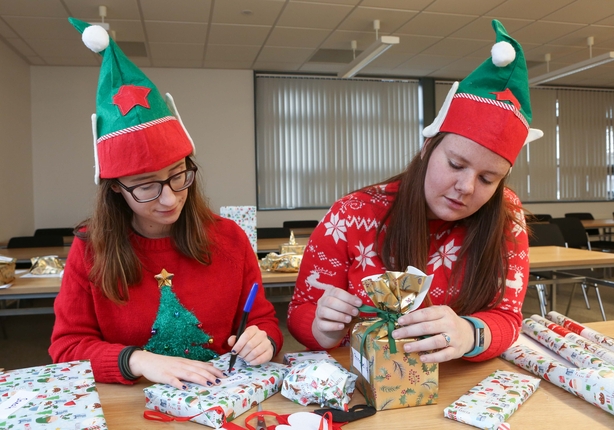 Space. We set up the grotto in a nice, big room. This meant that children could come in to the room but approach Santa slowly. Some of them liked to run around a bit first. They checked out the tree, threw a few giant cotton wool snowballs and then came to say hello to Santa. The lobby was spacious; there were no narrow corridors at any point.
Time Children were allowed to enter the room and approach Santa in their own time. If children are nervous, they usually come around and approach Santa when given time to do so. Some children were in and out in three minutes while others took around 15 minutes. It all evens out! There was no time pressure impacting on families as the scheduling was arranged in such a way to ensure there was enough time to allow for this. Parents appreciated this reassurance as much as children. Bubbles, balloons and the aforementioned giant snowballs are great ice-breakers and allow the children to settle.
Interaction. The child is in control of whether he/she wants to engage with Santa. Santa was relaxed and let the child approach him. He talked to the other siblings and gave them a present. The children loved when Santa threw a snowball at one of the family and often threw one back. If the child didn't want to approach, they could wave at Santa and then give him a high-5 at their own pace. For the family photo, the child didn't have to be right next to Santa and could be in a parents arms if they preferred.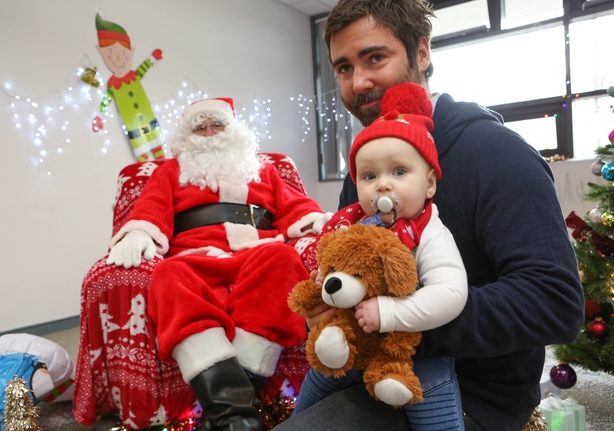 Present. We ordered presents from Thinking Toys who were really helpful and efficient. We chose a menu of toys and had parents select suitable items in advance. Just try to keep in mind the kind of things your target audience might like. The "cosmic ray wand" (€5) was a great hit. Avoid toys that have parts that can be pulled off and eaten. We had age appropriate toys for siblings that were generic in nature – it's the thought that counts!
Support We were really lucky to have a team of "elves" that are experienced in working with children with additional needs through their clinical training on the MSc in ABA . It's important to have someone welcoming children on arrival, someone to help support the child to settle with toys, if they will need to wait a few minutes. Santa needs a helper to hand him presents. We had one person to manage the schedule to keep things moving and let Santa know who's coming next. The more hands on deck the better, but each with a designated role.
Siblings We made sure that Santa and the elves were just as interested in siblings as the child with additional needs. We made a big fuss of them and made sure that this was a really inclusive family affair.
Dr Clodagh Murray is a lecturer in Applied Behaviour Analysis at the School of Psychology, NUI Galway. Dr Jennifer Holloway is the director of the PhD and MSc programmes in Applied Behaviour Analysis at School of Psychology, NUI Galway