Opinion: the attitude of Europeans towards allowing Muslims into their countries is a vital consideration in accommodating these refugees fleeing from wars, hunger and destitution
By Dr Thomas Turner  and Dr Christine Cross, University of Limerick
The issue of migrants and refugees entering Europe has become part of the fabric of everyday conversation in recent times. The recent upsurge in the number of refugees seeking asylum from North Africa and the Middle East presents profound practical and political problems for Europe and its citizens and it is acknowledged that they are both culturally and ethnically different from Europeans.
According to some nationalist commentators, Muslim refugees are likely to pose a significant challenge to the prevailing Judeo-Christian system of values which are characteristic of the European tradition. Such fears resonate with the nationalists' struggles in the Balkan countries during the 19th and early 20th century. As the Ottoman Empire weakened, hundreds of thousands of Muslims migrated, many forcibly expelled from the Balkans into other regions, above all the Ottoman Empire and Turkey. The rise of radical Islamism has again sharpened the differences between Christians and Muslims. Consequently, the attitude of European citizens towards allowing Muslims into their countries is a vital consideration in accommodating these refugees fleeing from wars, hunger and destitution.
We need your consent to load this rte-player contentWe use rte-player to manage extra content that can set cookies on your device and collect data about your activity. Please review their details and accept them to load the content.Manage Preferences
A report by Evelyn O'Rourke for the Today With Sean O'Rourke Show on RTÉ Radio One about the Muslim SIsters of Eire, an independent organisation of Muslim women living in Ireland
The latest European Social Survey carried out in 2013 and 2014 provides us with evidence of European attitudes towards Muslims coming to live in Europe. Respondents chose from four options: allow many Muslims into their country, allow some, allow few and allow none. Thus agreement ranges from a liberal, open-minded and positive perspective of allowing many to the more negative position of allowing none. Not surprisingly perhaps, the numbers at both extremes are not very high: less than a fifth (16 percent) agreed with allowing many Muslims, or with allowing no Muslims in (17 percent)
As Fig. 1 shows, there are considerable variations across the 15 countries surveyed, from a high of 39 percent in Sweden willing to allow many in, to an exceptionally low figure of one percent  in the Czech Republic. Country responses can be broadly grouped into the Nordic and German states (at or above the average), a middle group that includes Ireland (below the average and above 10 percent) and a bottom group of mainly eastern European (with below 10 percent). A significant number of respondents indicated that they would allow some or few, indicating a more cautious and restrictive approach to allowing Muslims into their country that is possibly reflective of apprehension for the future.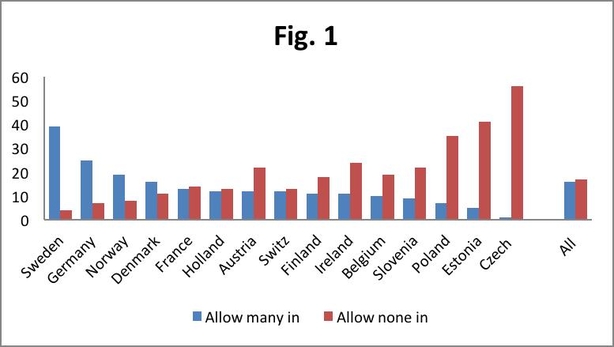 A respondent's politics, educational level and age are the factors which have the largest impact on attitudes to allowing Muslims into Europe. The closer respondents are to the left politically, the more liberal the attitudes to allowing many Muslims into Europe – nearly three times more than the respondents on the right of the political spectrum. Respondents with higher levels of education (over 13 years education) are more than twice as likely to allow many Muslims in and those under 45 years of age are also more liberal in their attitudes. Smaller differences (though still statistically significant) exist between men and women, with men reporting more liberal attitudes and interestingly, respondents with no religious affiliation more open to allowing many Muslims in than those with a religious affiliation.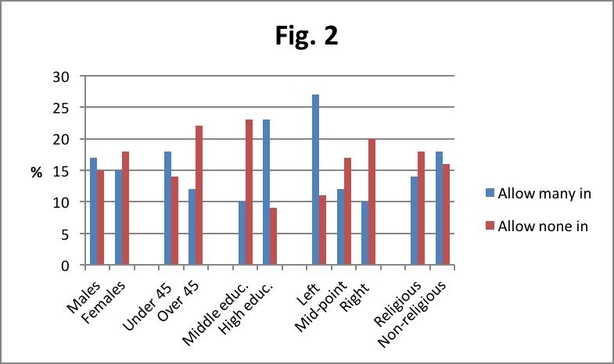 The central findings on this question from the European Social Survey show a minority in favour of allowing many Muslims into Europe and a minority against allowing any Muslims access. Importantly, a majority (67 percent) take a cautious position and are willing to allow some Muslims into their country. Those respondents who believe that no Muslims should be allowed in present an extreme view that arguably is incompatible with the open, humane and enlightened values of mainstream Europe. On the other hand, few of those who would allow many Muslims in are likely to mean an unlimited number. Allowing Muslims, and indeed all refugees, into European countries essentially reduces down to a question of numbers. Inevitably this will mean restrictions of some degree that require enforcement and the denial of a haven for many genuine refugees. 
Attitudes towards Muslims may have hardened in the year since this data was gathered. The refugee surge into Europe in 2015, in particular from Syria, and the atrocities in France and the UK may act to shift European citizens' attitudes towards a more restrictive stance to the influx of Muslims. The extent to which national political parties respond to recent events and the management of the refugee crisis is likely to have a significant influence on the majority of Europeans and their attitudes to allowing Muslims into Europe.
Dr Thomas Turner lectures in Personnel Management and Industrial Relations at the Department of Personnel and Employment Relations, Kemmy School of Business at the University of Limerick. Dr Christine Cross is Head of Department, Personnel & Employment Relations at the Kemmy Business School at the University of Limerick
---
The views expressed here are those of the author and do not represent or reflect the views of RTÉ
---