Opinion: Hurricane Ophelia was one of the big news stories of the year in Ireland, so can we expect more weather events like this in the future? 
The arrival of the remnant of Hurricane Ophelia in Ireland in October was a surprise to many. After all, we think of hurricanes as being part of the tropical world including the Caribbean and southern USA, but well away from Ireland and Western Europe.
Typically, Atlantic hurricanes form between five degrees and 20 degrees north and south of the Equator, where sea surface temperatures exceed 27 degrees C down to tens of metres in depth and far enough away from the Equator for the Coriolis effect to kick in. 
It is likely that Ireland and Europe will be increasingly affected by the remnants of hurricanes
Initially, Atlantic hurricanes tend to travel westwards towards the Caribbean and America where most expend their energy. Some travel northwards in the Atlantic and some travel northwards up the east coast of America, but only a few will travel back across the Atlantic towards western Europe and fewer still will reach the shore.
Ophelia was very different. It formed roughly 300km southeast of the Azores and stayed local for a few days initially, intensifying to a Category 3 hurricane, the strongest recorded in the satellite era this far east. It then tracked northeastwards affecting Portugal, Spain and France before travelling across the western third of Ireland, northern mainland Scotland, Norway, Sweden and Finland and eventually petering out over Russia. It was losing strength continuously due to moving into cooler waters and the effects of the friction of land on it.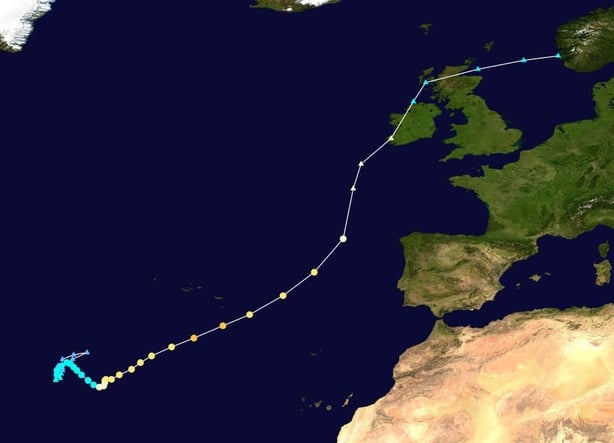 Ophelia was unusual in many ways. For a start, 2017 was a record equalling hurricane season with 10 named hurricanes, the only season to do so since 1893. Only a very small number of hurricanes during this time have ever not tracked westwards in the Atlantic.
Ophelia also had a number of unusual features in an Irish context. This was a big system and was still over 1,000km in diameter when it struck Ireland. The lowest central pressure of the eye of the storm was 962.2 hPa at Valentia Observatory in Co. Kerry and this helped generate very high winds. 
We need your consent to load this rte-player contentWe use rte-player to manage extra content that can set cookies on your device and collect data about your activity. Please review their details and accept them to load the content.Manage Preferences
From RTE Radio One's Drivetime, Philip Boucher Hayes talks to experts on the climate action we should be taking to avoid further Storm Ophelias
The highest gust recorded was 156 kmph at Roches Point in Co. Cork at the standard 10m height of the anemometer. However, a gust of 191 kmph was recorded at Fastnet Lighthouse on Fasnet Rock off the Cork coast at a non-standard measuring height of 61m, the highest wind speed ever recorded in Ireland. The highest 10 minute mean of 111 kmph was also recorded at Roches Point which set a new October record and was the eighth highest sustained wind speed ever recorded. These high winds and low central pressure helped generate very high waves and a new provisional record individual wave height of 26.1m (85.6 feet) was recorded at the Kinsale Energy Platform off the Cork coast. 
Temperatures associated with this storm were high which is typical of hurricanes which have a relatively warm centre, unlike mid-latitude storms which have a relatively cold centre. The highest air temperature of 19.4 degrees C was recorded at Valentia Observatory, Co. Kerry, which was some five degrees above the long term average. 
Ireland is regularly affected by the extra tropical remnants of Atlantic hurricanes. It doesn't happen every year, but Hurricane Charley in 1986 produced record rainfall and Hurricane Debbie in 1961 produced record wind. These remnants mostly go unnoticed as they just produce periods of high winds and rain which are not outside what would normally occur as part of Ireland's yearly weather.
Ireland has yet to experience a hurricane which brings both exceptionally high wind speed and rainfall
It is likely that Ireland and Europe will be increasingly affected by the remnants of hurricanes. The preconditions for Atlantic hurricanes to travel further northwards whilst retaining their strength is gradually increasing as a result of higher sea-surface temperatures, which is the main cause of their formation. In addition, hurricanes tend to travel towards the warmest waters and this aids their pushing northward as the sea and air heat up as a result of global warming.
One interesting and possibly diagnostic aspect of these weather events is their early dates, as they occur outside the normal stormiest part of the late autumn/winter/early spring part of the year. The peak of the Atlantic hurricane season is usually mid-September with Hurricane Debbie occuring on September 16, Charley on August 25 and Ophelia on October 16. 
This means that other historical storms which affected Ireland during these months may in fact be the extra tropical remnants of hurricanes. The storm of August 23, 1680 which wrecked many vessels around the coast of Ireland and the UK, has been linked to the remnants of a hurricane based on an analysis of ships logs from that time period.An example of a possible storm that has yet to be linked is that of the July 30, 1698 which was recorded in Limerick and was so powerful that it stopped the current of the Shannon.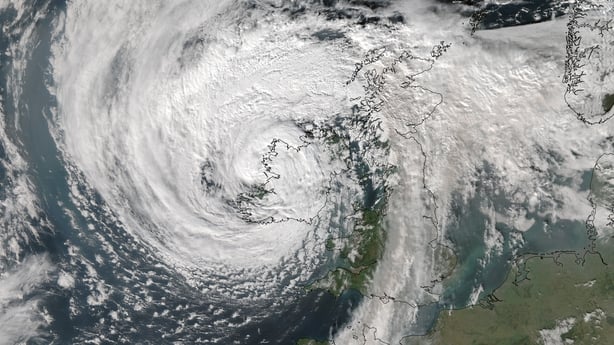 Ophelia caused death and destruction across Ireland and elsewhere. Three people in Ireland directly lost their lives as a result of falling trees. A further two people died whilst making repairs to the damage caused by the high winds. The high winds recorded in Portugal and Spain helped enhance and prolong the wild fires which killed another 49 people. 
The damage in Ireland was considerable, bring down a large number of trees and causing power outages which affected 360,000 people at their peak. Many people were also without water for several days. There was extensive damage to buildings including private homes, schools and sports stadiums. While the total insurance cost of this event is likely to exceed 100 million euro, the true cost is much higher as not every instance of damage will be covered by insurance. 
Because Ireland is located in a dynamic weather environment, we should never be surprised as to what this could throw at us
The devastating tail-ends of hurricanes like Debbie, Charley and Ophelia will still be rare and Ireland has yet to experience one which brings both exceptionally high wind speed and rainfall. Remarkably Storm Brian, which affected Ireland barely five days after Ophelia, also had a tropical origin east of the Caribbean and then generally travelled northeastwards towards Ireland, causing further damage and even one fatality in Devon in the UK.
Because Ireland is located in a dynamic weather environment, we should never be surprised as to what this could throw at us. Even without the effects of climate change, we can expect a cold spell from the north or east or a storm or hurricane remnant from the west or south west. We should also never underestimate the potential impact that these events can have.
Dr Kieran Hickey is currently working on the ClimAtt project, funded by the EPA, with Dr. Paul Leahy and Professor Ger Kiely from University College Cork and Professor Myles Allen from University of Oxford to analyse what percentage of an extreme weather event in Ireland can be attributed to natural variability and/or climate change
---
The views expressed here are those of the author and do not represent or reflect the views of RTÉ
---