Opinion: for many reasons, Ireland has an experience to share with the world both in terms of migration and food security, so what are the food-related global issues we need to address?
The modern world is moving at a pace never seen before and that certainly applies to migration. The 2017 World Food Day focuses on food security and rural development to change the future of migration. As we have seen from history, migration has a dramatic effect on society and hunger, poverty, conflict and extreme weather are contributory factors to this. Interestingly Ireland has seen an increased influx of migration in recent years, though the majority of human migration movement usually occurs within the emigrant's own country.
We need your consent to load this YouTube contentWe use YouTube to manage extra content that can set cookies on your device and collect data about your activity. Please review their details and accept them to load the content.Manage Preferences
For many reasons, Ireland has an experience to share with the world both in emigration and food security. From the past, Ireland's history points to how a nation can be considered a main provider of foodstuff and, at the same time, suffer the most devastating consequences of food poverty that forced millions of Irish people to flee their homeland.
While Ireland shares the same issues of migration of rural population to the city with other countries, the Irish food industry still has an important rural base. If you talk with any foreign person about food in Ireland, you might need a bit of extra time to explain why such rural areas as Mitchellstown, Tralee, Tyholland, or Kilkenny are home to multinationals with worldwide coverage.
Because of this Ireland is in a privileged situation to contribute to the migration and rural development discussion worldwide around WFD2107.
Irish food production is an industry that supports rural Ireland, securing the employment of 163,000 people in primary production and food processing, with over 80 percent outside Dublin. Irish food is produced by farmers, fishermen and agri-food companies across the country and exported to over 175 countries around the world. While the business end makes all the right noises, it is important to remember that this industry also serves the purpose to ensure that Irish population is fed, literally, with healthy food in a sustainable way.
There are some interesting food-related global questions around those aspects which are the focus of Irish government, the profession and society at large
(1) Global food security: how should we participate in the discussion on how to secure our global food production system for the future and help others doing it as well?
As an island which is part of the European Union, our food imports and exports are made in a complex way. The Irish market has a demand for products which may come from very unexpected countries, such as lentils from Turkey or quinoa from the UK. Similarly, our exports place butter in Germany, meat in Japan and dairy formula in Saudi Arabia. Our rural development and that of the world is influenced to the changes in global food trade and the problems of other places in the world are also ours. Climate change, food safety and conflict are having a significant effect in the challenge to feed the global population and the inequality created in the world with hunger.
Zero hunger can help to build a safer, more prosperous world for everyone and Ireland is participating through societal engagement in this challenge. The world has the rare chance to end hunger within a generation time and the 2030 agenda established by FAO.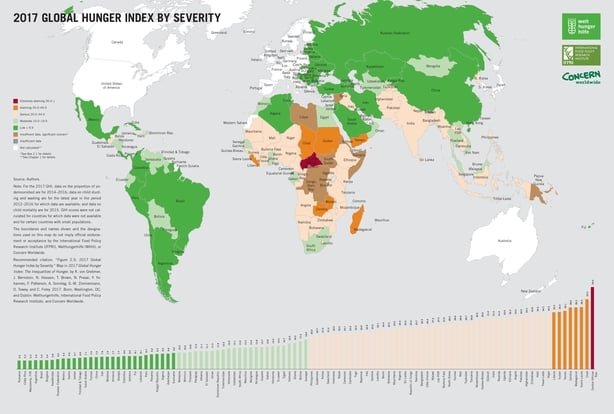 (2) Global food sustainability: do we need to engage in developing a world that produces food in a sustainable way?
"Sustainable" is a label that is permeating every discussion on human activity and food is no different in Ireland. As we see on a regular basis, Ireland is concerned with climate change among other environmental challenges. The tackling of food waste and the development of production systems worldwide, and ensuring both address environmental sustainability to the same level as economical sustainability, is part of the Irish future of the food sector. There is good evidence that the world produces enough food to feed all population and efficient production system minimising waste together with a fair distribution of it will have a significant effect.
The WHO and FAO have set an agenda the form of a number of Sustainable Development Goals of which many are directly related to food and agriculture. The objectives of this agenda look to transform the food production systems contributing to rural development to address migration. In turn, this will create jobs that are not only based on primary production (such as dairy, food processing and horticulture), but also invest in creating a resilient rural livelihood. This is a significant challenge to respond to migration, trying to address the root causes of it and creating alternative livelihoods for those displaced and in crisis situations.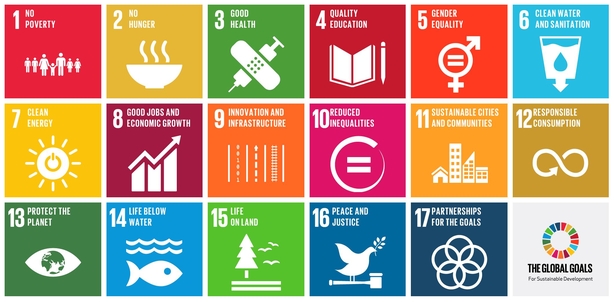 (3) Food poverty: do we need to commit to provide the right food for a healthy world?
The access to the appropriate healthy food has a significant effect on society and this is now a global problem shared by all countries. Healthy food is an expensive commodity and maybe a commodity out of reach for many. This is related to the fact that one in three people suffer from diet related malnutrition and that one in four children globally will not reach their full physical and cognitive potential.
Global malnutrition nowadays is a double-duty health challenge. On top of the effect of no access to appropriate nourishment, the problem of obesity is creating as well a challenge to ensure healthy food access. It is telling that a recent article in the Lancet has studied the obesity trends since 1980 and has seen a ten-fold increase of obesity in children and adolescents throughout the world. Moreover, if future trends continue there will be more overweight children and teenagers than underweight ones.
---
The views expressed here are those of the author and do not represent or reflect the views of RTÉ
---