Episode One
Design: Sun and Games' Garden.
Before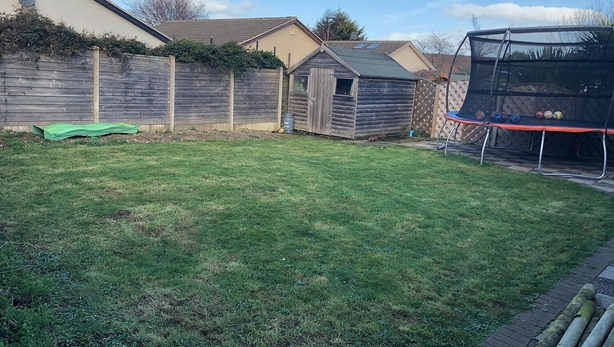 In the first show of the new series Dermot Davis wants to create a contemporary, modern, Al Fresco style garden in Greystones, Co. Wicklow. With his Sun and Games garden Dermot wants to showcase his eclectic ideas and prove he has what it takes to go to Bloom 2019. The judges are concerned Dermot may be trying to do too much in one garden – can Dermot prove them wrong?
While the judges feel that his design has the potential to be an eye catching show garden, Judge Brian Burke feels that Dermot has a lot of elements that don't quite work together - 'I don't see a unifying theme I see a lot of quirky elements'.

After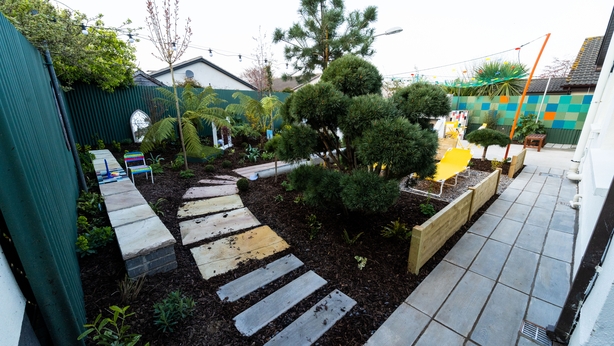 Before the build gets underway Judge Monica Alvarez advises Dermot to decide on one feature to remove form his design plan. 'It's almost like you wanted to create Bloom garden 20 times and here you're putting them all in one small space'.

Dermot knows he might have to re-evaluate some parts of his design but despite the judges concerns he is sure his design will work. 'I really feel it works and it's definitely a Bloom garden'.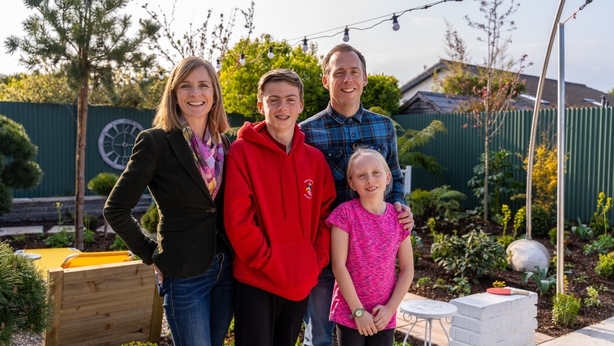 In the first weeks of the build Dermot works in the garden alone and he's feeling the pressure. The schedule is tight and Dermot can't afford any delays if he is to pull of his design. When Monica visits Dermot's garden true to his word, he removed a feature but the design ideas are still changing. His original crooked window idea has now become a falling wall and Dermot is moving his water feature and adding a clock. Monica is concerned - 'Dermot has a designers mind, with tonnes of ideas, I feel what he really needs to do is focus on one'.

With judging day looming: has Dermot stopped adding more ideas or will he simply run out of time? Or will he stick to her guns and risk alienating the judges and losing his chance of making it to Bloom?

Plant List
Episode 2
Design: 'Circle of Life' garden
In episode 2, Property Manager Lelia Walsh designs a garden inspired by the Disney film The Lion King. Lelia wants to create a social space for children and adults to explore nature, bringing education as well as relaxation into the garden.
Designer: Lelia Walsh (60), Portmarnock, Co. Dublin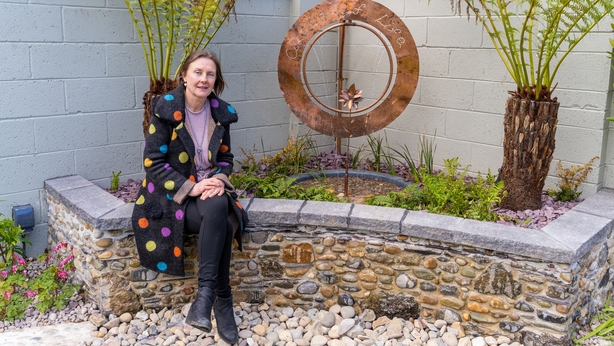 Occupation: Property Manager
Property Manager Lelia Walsh lives in Portmarnock has worked in finance all her life but her true passion has always been for her garden. After restoring her own six-acre Victorian walled garden, Lelia returned to education and 6 years later she holds a First Class Honours Degree in Horticulture and a Masters of Architectural Landscape Studies. Daughter Sarah (31) and son Daniel (29), whom Lelia adopted from Romania in 1990, do not share their mothers passion for horticulture. Regardless they were 100% behind her decision apply for Super Garden.
Lelia turned 60 last year but she feels 26 and is hoping to launch a whole new career in Garden Design. She would like to create a social garden to encourage the homeowners to spend more time outside. Using all her experience and knowhow Lelia hopes her 'Circle of Life' Super Garden will take her straight to Bloom!
Homeowners: Nikita Dunne (30) and Darragh McCarthy (32) Swords, Co. Dublin
Nikita & Darragh, live in Swords, Co. Dublin with their sons Ryan (10) and Alex (5).
They started their family young, with their son Ryan arriving just before Nikita's 20th birthday. They bought their family home the following year. The last 10 years have been busy for the couple, raising two young boys, studying and working fulltime. Nikita and Darragh admit that their home, in particular the garden, have really taken the back seat. Now that they have a slightly more relaxed schedule, a garden space would be ideal for them to catch up on some much needed family time with their boys. Nikita and Darragh are behind Lelia 100% and they're confident she will be crowned Super Garden Winner 2019!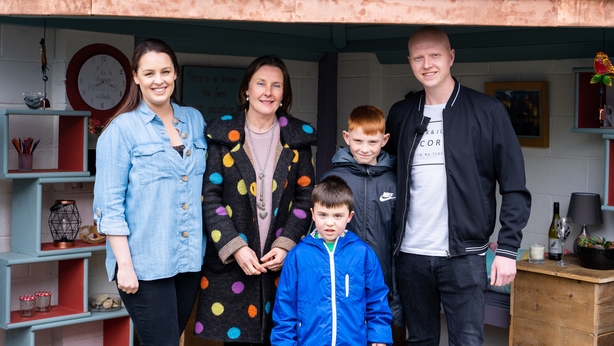 Design: 'Circle of Life' garden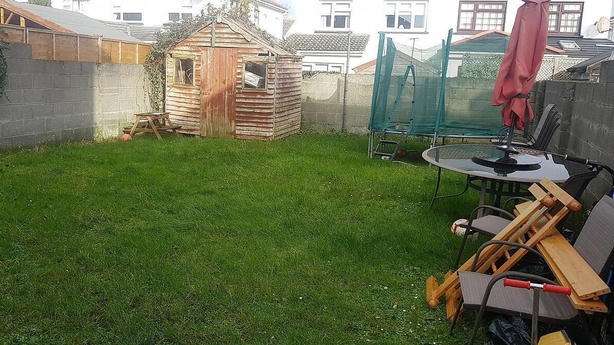 Lelia applied to Super Garden with her 'Circle of Life' design inspired by the Disney film The Lion King. Circles are an important part of Lelia's design and they are represented throughout her design in her lawn area, water feature, sculpture and planting. Using natural elements such as wood, copper, stone and planting wildflower beds Lelia is bringing nature into a suburban garden.
Lelia has two separate seating areas in her design for the homeowners to take advantage of the garden whatever the weather. One out in the open, on a circular paving area connected to the second, a copper roofed summer house, using copper leaf stepping stones. Comfy seating inside the summer house will provide shade from the sun or rain cover while the family take in the view. A semicircular performance space for children includes a blackboard. Nestled amongst a backdrop of ferns her circular water feature further cements Lelia's 'Circle of Life' theme. Being crowned the winner of Super Garden 2019 would be the ideal kickstart for Lelia's new life chapter.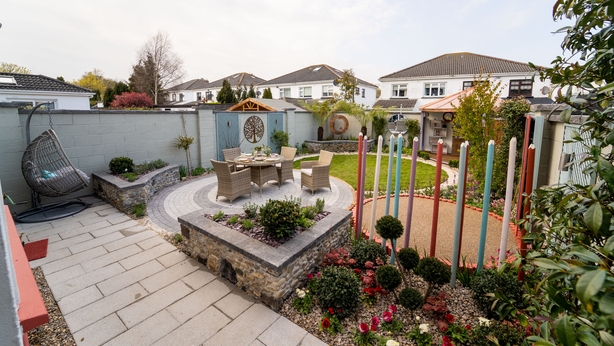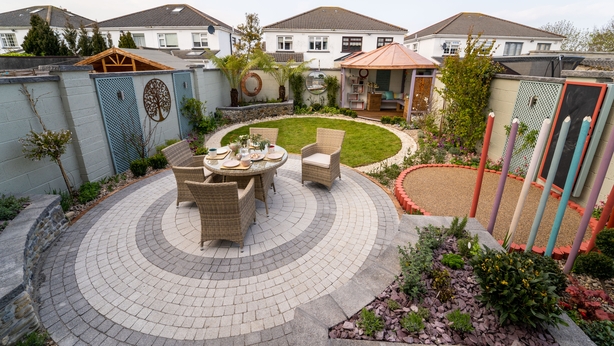 Episode 3
Design: 'Family Togetherness' garden.
The competition is heating up on Super Garden as five budding garden designers battle it out to secure a coveted show garden spot at Ireland's premier garden festival, Bloom 2019.
This week's designer, Landscaper Paddy McDermott, is as competitive as they come. The fact that Donegal has never had a Super Garden Winner before was reason enough for him apply. Paddy entered Super Garden with his 'Family Togetherness' design with one aim in mind, getting to Bloom! He'll have to win over the judges first.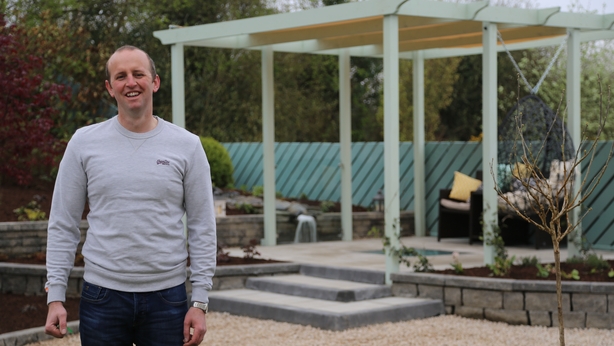 Wife Lynn describes Bloom as being the 'All Ireland of his profession' and Paddy feels his signature water feature will give him the design edge on his fellow contestants.
Before he can even present his design to the judges though, he discovers a problem with his design space. An existing crumbling retaining wall needs to be completely replaced. 'There's a lot of work to be done here before we get to the stage to start on our actual design'.
Before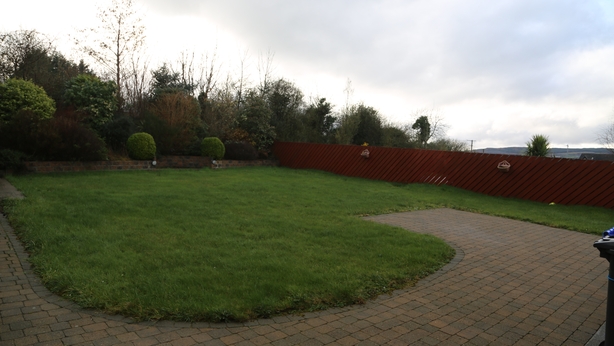 At the Design Appraisal the judges feel Paddy has the start of a good design but that he's still thinking like a contractor. Brian Burke feels Paddy has not pushed the design element far enough to get the Bloom 'Wow Factor'.
'From a design perspective it's leaving me a little uninspired, what's going to wow the Bloom visitor'.
A man of few words Paddy wants to let his work speak for itself 'I'll let the garden do the Wow Factor'.

After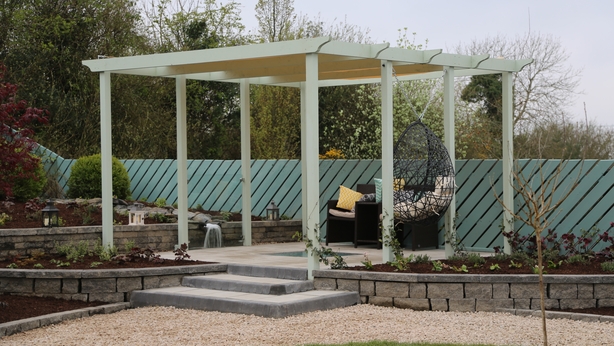 The weather seriously hampers Paddy's progress but he pushes on regardless. Halfway through the build and his signature water feature is taking shape. Paddy, did take on board the judges feedback by adding more curves to his design. He's pinning his hopes of going to Bloom on his water feature. Using the existing bank to create a stream Paddy is trying to mix the contemporary style of his water feature with the natural surroundings of the garden. When Monica comes to visit however, she is not happy with his approach and feels he needs to pick either a natural or a contemporary style.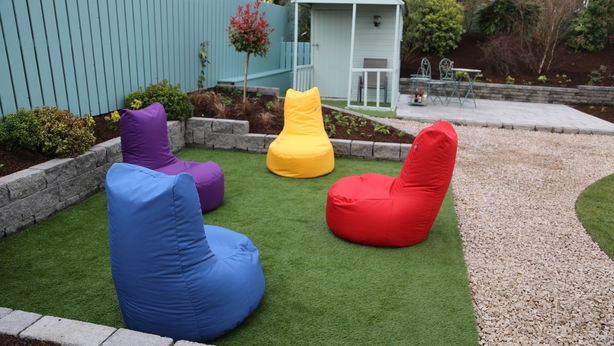 After a bit of discussion, Paddy is sticking to his guns, 'I still want it to feel like it was my design and not theirs'.

Will this decision cost Paddy his chance of going to Bloom? Or will the judges be blown away and award Donegal it's first every Super Garden winner?
Episode 4
Design: Summerhill Escape
In tonight's episode of Super Garden our youngest designer hopes to outdo the other four budding designers and secure a coveted show garden spot at Ireland's premier garden festival, Bloom 2019.
Our youngest Designer, 25 year old Horticulture student Patrik Weisser, originally from the Czech Republic, is ambitious beyond his years. His Super Garden entry will the very first garden he has ever built! Patrik has just 4 weeks to transform the O'Gormans garden in Portlaoise, Co. Laois. He's aiming to impress the judges with his 'Summerhill Escape' design, a mix of modern features with a classic style and fresh bright colours. Fortune favours the brave, but will the judges feel this student is ready to graduate to Bloom?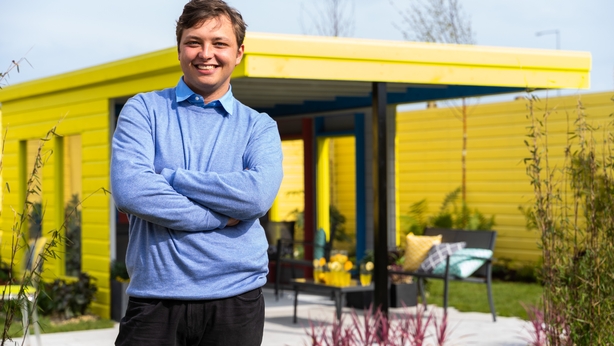 Designer: Patrik Weisser (25), Abbeyleix, Co. Laois
Occupation: Student
Patrik lives in Abbeyleix, Co. Laois, but he is originally from the Czech Republic. He moved to Ireland at the age of 13 with his parents but with a name like Patrik though he felt right at home. Leaving school, Patrik didn't know what he wanted to do until he discovered horticulture and now he's fallen in love with garden design. He's currently in his 2nd year studying Horticulture TUD (T.U. Dublin).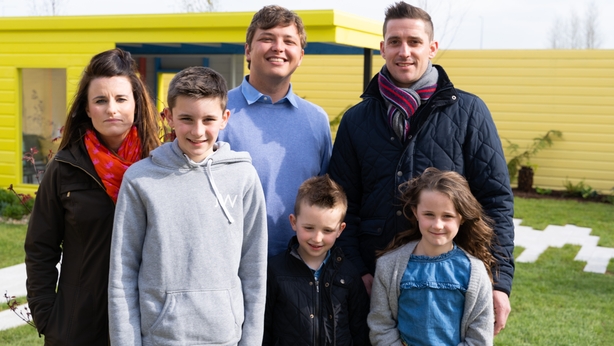 Patrik has an outgoing personality that he hopes will reflect in his design and colour choices. Patrik isn't worried about his planting plan but he does lack experience actually building a garden. He admits the hard landscaping and construction elements of his design will be way out of his comfort zone. Although he may not have the experience Patrik feels he can produce an amazing garden for Bloom. Patrik turns 26 in May, winning Super Garden would be the ultimate Birthday present!
Design: Summerhill Escape

Before: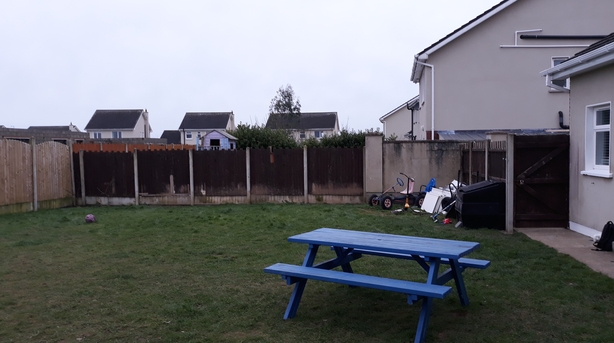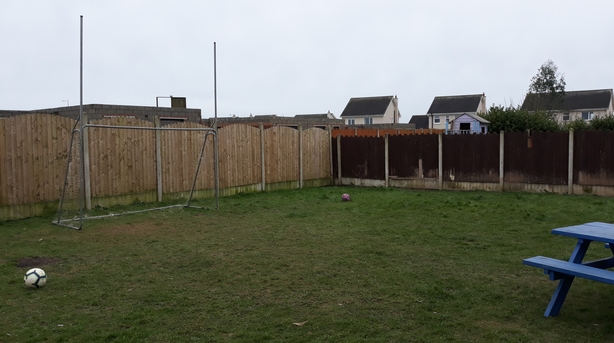 With his Super Garden entry Patrik is looking to create a garden that mixes modern with a classic style, using bright and bold colours to make his garden stand out. Providing 3 separate seating areas Patrik wants the homeowners to be able to enjoy the garden, whatever the weather. A garden house with two connected, yet separate areas provide shade and shelter from the rain. Patrik is hoping to make a bold statement by painting his garden house a vibrant yellow which he feels will pop nicely and bring brightness to the garden.

After: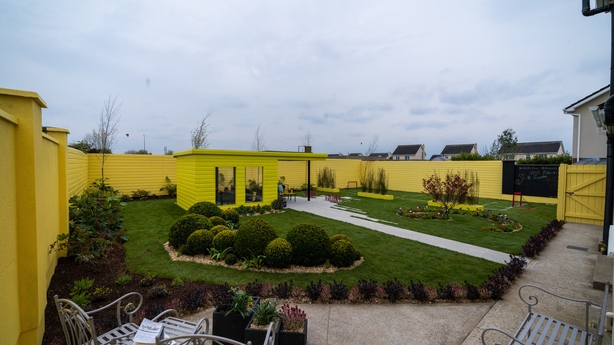 There's also third seating area across the lawn with cubed planters filled with herbaceous plants (blue, red, yellow and pink) to stand out against the yellow wall. The back fence will be painted another shade of yellow and a line of trees will back to provide background. A playing pitch separated by bamboo planters gives Patrik's design a 2 zone effect providing for young and old. Designing a garden for Bloom has been a dream of Patrik's for the last 3 years, is that dream about to become a reality?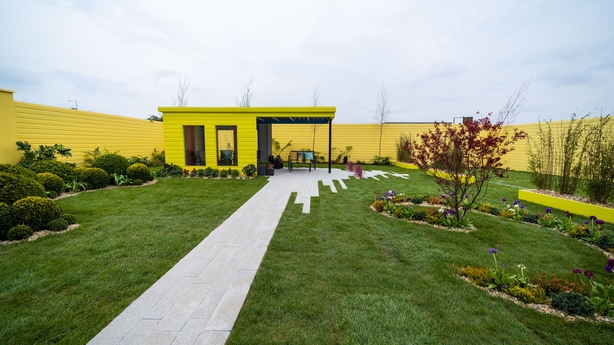 Plant List

Product List


Episode 5
Design: The Under Dogs Garden
Tonight in the penultimate episode of Super Garden 2019 we meet the last of our five budding designers battling it out to secure a coveted show-garden spot at Ireland's premier garden festival, Bloom 2019.
Our final Designer Gráinne Walsh is no design novice, she's worked as a Fashion Designer for over 30 years. Gráinne didn't enter the competition with any old design, she wants to create a show stopping garden fit for dogs! She'll have 4 weeks to build her 'Under Dogs Garden' for homeowner Aileen McDonnell in Knocklyon, Co. Dublin before our judges arrive to see if Gráinne is in fact, 'best in show'!
Designer: Gráinne Walsh (52), Chapelizod, Co. Dublin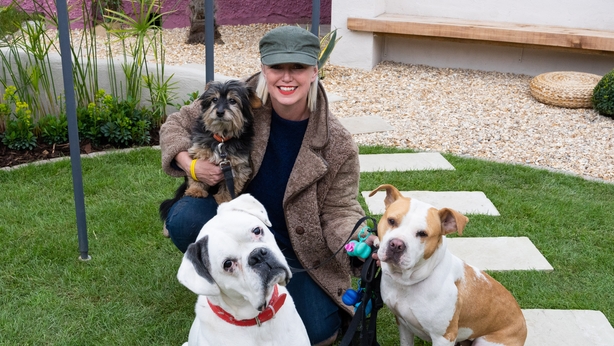 Occupation: Fashion Designer and Consultant
As a child Gráinne entered Texaco Art Competitions and her competitive streak has pushed her in many different directions throughout her career. Gráinne prides herself at being a Jack-of-all-trades and is able to adapt well to the ever changing world of design. Gráinne started working as a set designer a few years ago. She also bought and opened her own studio in Chapelizod called 'Grey Area' which she renovated and decorated herself. A devoted animal lover, Gráinne often comes home with lost dogs she finds in the Phoenix Park. The ones she can't reunite with owners or re-home tend to become part of her fury family. Currently she has four rescue dogs and they are the love of her life.
In late 2016 Gráinne discovered a lump on her left breast, after a biopsy she was diagnosed with breast cancer. She had a mastectomy and had to undergo chemotherapy where she lost all her hair. Follow up tests revealed the cancer spread to the lymph nodes under her left arm and they had to be removed. She is currently cancer free although she is taking medication to prevent the cancer returning. Due to this Gráinne suffers from mild lymphedema but it doesn't hold her back. Gráinne is hoping her unique design will prove to the judges that you don't have to choose between your dog and beautiful garden.
Homeowner: Aileen McDonnell (52), Knocklyon, Co. Dublin
Aileen only moved into her home 2 ½ years ago with children Rachel (23) & Joseph (20).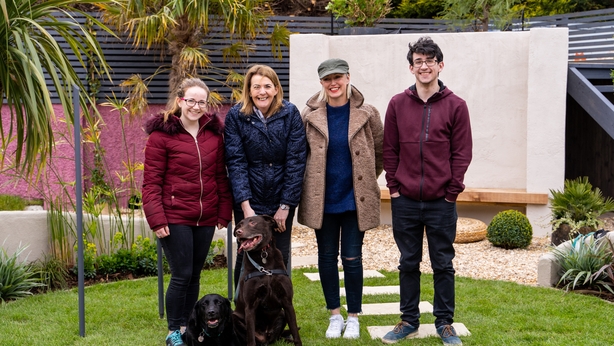 They also have two dogs, Mossy a 10 year old Labrador & Dexter, an 8 year old lab/pointer, both of which are rescue dogs. Animal lover Rachel is in her final year in UCD studying veterinary medicine while Joseph is in 3rd year in Trinity College studying computer science and business. The family moved into the house in 2016 but they haven't had the time or money to do anything with the garden. Now the deck is a rotten and crumbling hazard, they've had chair legs go straight through and Aileen has even taken a fall or two on it in rainy weather. Aileen loves gardening, and is so excited at the thought of being able to help out with the build and learn lots of new gardening tips and tricks. The whole McDonnell family, including Mossy and Dexter believe Gráinne's design has to go to Bloom
Design: The Under Dogs Garden
Before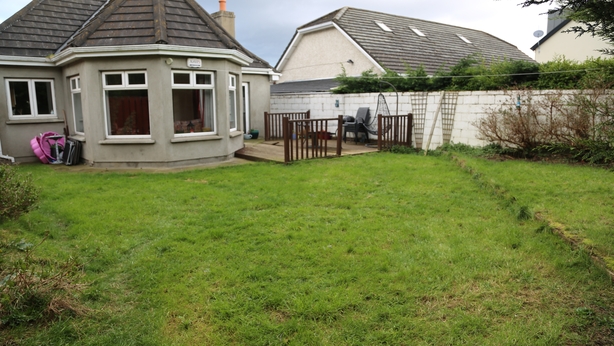 Gráinne's Super Garden entry is full of dog friendly features that enhance without dominating the landscape of the garden. She wants her garden to reflect her eclectic tastes, styles and her love of animals. The inspiration for her design came from her own rescue dogs and a recent visit to gardens in Marrakech. Gráinne's colour palette of red clay, white and green will give the garden a Moroccan vibe. Planting in pots and raised beds will be used to keep out of temptation from curious pooches. Gravel will also be used to discourage the dogs from 'hanging out' in lower flower beds. An elevated rockery area will provide camouflage for a secret doggy tunnel complete with a light shaft for dropping treats.
After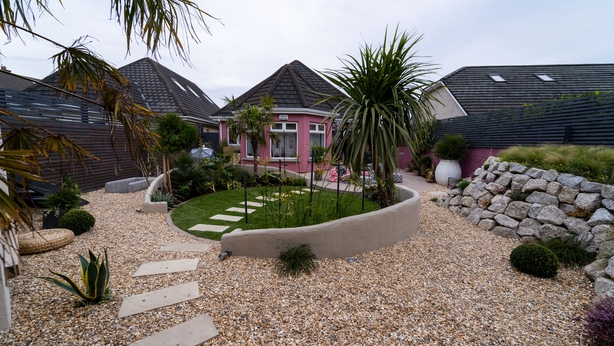 For warm days Gráinne has designed a cool down area with a pooch plunge pool, a pimped out two storey kennel and a doggy dome for some chill out time. She's also created a composting/waste recycling area for the dogs to do their business and benefit the garden. Gráinne has designed elevated areas to allow the dogs to keep watch and seating areas for the humans of the house to relax in. A fashion wall can be used as a projection screen at night time. Gráinne hopes the Super Garden judges don't think her 'Under Dogs Garden' is barking up the wrong tree!