Episode 1
DESIGNER PAUL FERRY
Designer, Paul Ferry from Gweedore, Co. Donegal is an online marketing executive. Paul dreams of one day becoming a garden designer but with no horticulture experience he is entirely self-taught through watching online videos and gardening programmes on TV. He's designed his mother-in-law's garden but that's it. Can Paul really raise his game enough to deliver a Bloom worthy Super Garden for the Moore Family? Tom and Catherine Moore have four children and the household is country music and BBQ mad. They want a transportive space that takes them to the American south west of Texas.
To deliver this Paul has designed a 'Way Out West' garden and will build a garden that will mix tropical planting with an arid desert feel. Can he really create the American desert in Co.Meath?
Paul will have just three weeks to channel his inner cowboy and to bring his design to life to give The Moore's the garden of their dreams. Will the Super Garden judges be impressed enough with Paul's garden to give him the chance of winning gold at Bloom?
Homeowners: Tom & Catherine Moore and their four children:
Tom & Catherine Moore live with their four children Katie (18), Roisin (15), Emily (13), and Joshua (11) at their new home in Riverside. Having their children young meant Tom & Catherine have never travelled but that hasn't stopped them embracing their love of Americana. They are American country music and BBQ mad. They play country music 24/7 and Tom loves slow-cooking brisket in the back-garden for hours.
They want a garden that transports them to the American desert, somewhere like Texas, and that enables Tom to entertain family gatherings with his BBQ skills.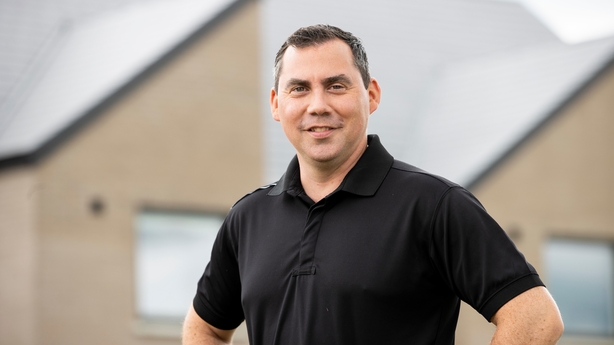 EPISODE 2:
DESIGNER – KATHLEEN BARRETT
Episode Two's Designer, Kathleen Barrett from Limerick has a wealth of horticulture, gardening and landscaping experience. She's worked in the business for 34 years but she's also an accomplished floral artist and has won Gold medals at Bloom for her creations. No stranger to competition she's also competed in floral art, at Chelsea and other international competitions. A busy lady, she runs a donkey sanctuary in spare time – she's ready to take on her biggest challenge yet, to design a garden worthy of Bloom.
Kathleen's homeowners are the Majzel family from Poland. They want a garden with social area for chilling out, some plants and specifically a dedicated area for their eight year old son Jacob who is very active.
Kathleen has two weeks to design and three weeks to build a garden that will give the Majzels what they're looking for plus impress the judges. With the help of her husband Tommy, Kathleen embarks on a brave design journey but can she bring home gold?
Designer: Kathleen Barrett, Co. Limerick
Occupation: Horticulturist, Limerick City County Council
Kathleen is a passionate determined gardener. She is married to Tommy and lives in Valley View Heights 146-acre animal welfare equine retirement farm and beef farm on the border between west Limerick and north Kerry. Kathleen has been gardening for 34 years and is a qualified horticulturalist for the last 28 years. She owned and ran her own small garden centre for 14 years, but as she was doing it on her own, she found it too much to keep up with that and the equine farm. Presently Kathleen works with Limerick City and County council Parks as a Craft Gardener. She also worked with Kerry Education & Training board as a horticulture tutor. She spends most of my time on her three-acre garden in Valley View, where she loves to farm, garden, and enjoy the company of her 10 horses, 19 donkeys, and five dogs. She has won awards for her Floral art and design at Bloom and Chelsea and also has won in the world flower show in Jaipur, India.
Homeowners:
The Majzel family are originally from Poland but moved to Ireland in 2011 for a better life. Dad Sebastian moved first to secure work before bringing his wife Barbara and two children – Alijca (now 19) and son Jacob (now 8). Now they've found a home in Riverside, Kells.
Barbara works at a Polish school while Sebastian works for a local pharmaceutical company. Daughter Alicja is the fluent English speaker in the family. Having just moved to Riverside the family have undertaken some planting in their garden but they are delighted to hand over the reins to Kathleen. Their key requirement is somewhere dedicated to son Jacob to play. An active eight year old he likes water and running around. Can Kathleen understand their requirements and deliver the garden they want!
Garden Design: Floral Fantasy
Kathleen's garden design uses straight pathways & angular shapes – can it deliver on her floral promise and get her to Bloom? Her flower bed on the left hosts colourful perennials AND a floral art installation. In the top left corner an open timber pergola provides the gardens key area for socialising. While at the rear, triangular raised-planters support floating benches. The lawn has been shrunk down to make way for more flowers and laurel hedging divides the garden in half. For active son Jacob, Kathleen has designed a sunroom and if he wants to kick a ball against the wall – it will have to be through the water rill on the right. Blue colours adorn the walls & aim to give this garden a heavenly effect.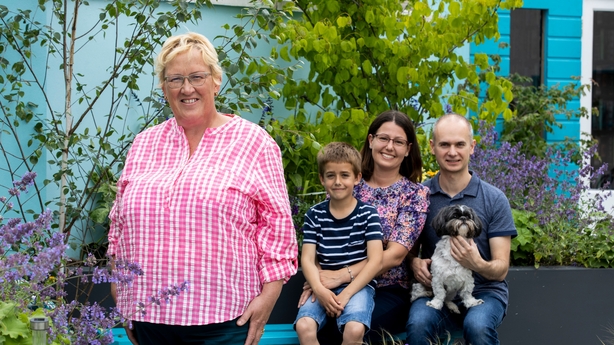 Episode 3 Designer: Mary Anne Farenden, Belfast
Occupation: Self-employed artist, designer and entrepreneur
Mary Anne Farenden is from Belfast and is a multi-talented creative dynamo. Mary Anne is a graduate architect, an artist, a singer and has even worked briefly as a wrestling announcer. This bubbly Belfast girl is completing a horticulture course (at CAFRE) and is keen to set out on a new adventure as a garden designer. Mary Anne is currently self-employed, small business owner of "Chalkboard Art Belfast" and "Mary Anne Designs". She also creates illustrations for the restaurant businesses in Belfast. In terms of design, she loves Cottage gardens, fairy gardens, woodland gardens, productive gardens, artistic gardens, water gardens, zen gardens – Bits of all of them combined!
Mary Anne says that her love comes from her late grandmother "She loved gardening and instilled a passion for it in me at a young age, and her sister, my great-aunt Elisabeth is much the same". Her mum and dad are keen hobby landscapers and have created an amazing wildlife pond up from an empty field at their house in the countryside (it has little row boats and everything!)
When it comes to helping out Mary's mum is the person for the job, "My mum is an engineer by trade, and can solve any problem that is put in front of her, so she will be an incredible resource to me during this process".
Homeowners:
Shannon and Kevin Devine have been renting their young lives. They've moved nine times in seven years but now they've found their forever home in Riverside. With three young children – Noah (4), Daisy (3), and Arthur 6 months they also have two energetic dogs – Poppy and Luna.
Kevin is from Kell's originally but neither he or Shannon have green fingers. They want an area that will excite the children throughout their childhood, offer a place for adults to socialise under cover and be dog friendly.
Garden Design: Enchanted Playland
Mary Anne's Enchanted playland bravely aims to create a woodland in the suburban garden. From the side gate a willow lined gravel path leads to a log playhouse surrounded by toadstools. Alongside, a gate leads into a grass area for dogs but will anyone else get to use it? Wooden stepping-logs lead to another play area – this one with tyre climbing frame, swing and slide. The adults haven't been totally forgotten – a timber decking leads directly from the house to a picnic bench and table under a wooden pergola with a protective Perspex roof. Brickwork planters contain herbs, fruit and perennials & give the garden its form. The whole area is bravely hidden under a canopy of trees to complete that woodland effect. This busy garden is crammed full of design ideas from fairy doors to blackboards. But will Mary Anne be able to deliver so much detail?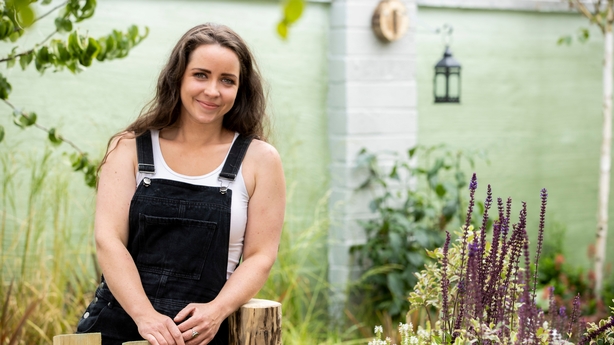 Episode 4 - Odhran Field, Dalkey, Co.Dublin
Episode Four's Designer, Odhran Field is the youngest in this year's competition. At just 22 he has recently graduated from horticulture college. Can Odhran convert his book smarts into practical garden design? He may know everything about plants but his Achilles heel is set to be construction and hard landscaping.
Odhran's homeowner is Lisa Tormay and her three children. Lisa is a Special Needs Assistant who is looking for a special hideaway and some 'me' time in her new garden. Overlooked by several neighbours Odhran has his work cut-out turning this overlooked back-garden into a sanctuary space for Lisa.
Odhran has two weeks to design and three weeks to build a garden that will give Lisa the garden she's looking for and impress the judges?
Designer: Odhran Field, Dalkey, Co.Dublin
Occupation: Graduate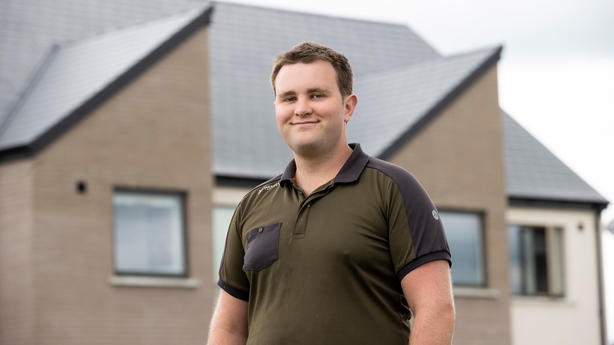 Odhran lives in Dalkey with his parents Brona (Doctor), and Paul (Teacher) and his brother Oscar Field who has just graduated with a Masters in European Law and Human rights from the university of Utrecht in the Netherlands. He would describe himself as hardworking, intelligent and driven, with a good sense of humour. He has competed in a number of high-profile rowing events, and came first in his age group at the European junior rowing championships in Belgium back in 2016.
Odhran has also set up a small cut flower business, with the aim of producing for the florist trade. Odhran is super excited about taking part in Super Garden: "I love seeing my designs take shape, I am always looking to learn and improve my skills, and an experience like this is an incredible opportunity to do so". Odhran has plenty of helpers when it comes to implementing his designs. His dad Paul is a coded welder and lifelong metal worker and will be helping him for the duration of the competition.
Homeowners:
Lisa Tormay is young mum of three and an SNA (Special Needs Assistant) at a local school. Lisa has a very young baby Calum (6 months) and two other children, son Bobby (6) & daughter Bella (7 yrs). A very busy working mum, Lisa has little time for herself so is looking for her new Super Garden to deliver a private sanctuary for socialising and chilling out where she can have some 'me'-time.
Garden Design: Green Haven
Odhran's Green Haven garden aims to create a sanctuary using plants and trees.
Raised beds lined with metal edging give the garden its shape and lead through to private patio space for Lisa at the heart of the garden. Odhran is suspending a large canvas sail for shade. A large corten steel water feature connects a view from house to the garden.
The planting scheme is a prairie-style mix of perennials and grasses. Will it be too wild for the homeowner? Trees block off overlooking view-points and offer privacy. The boundaries are painted a dark green with the side walls covered in horizontal burnt-pine slats.
Finally, Odhran is positioning a large swing for both children and adults to enjoy in this minimalist garden.
Episode 5: Designer – Aimee Moore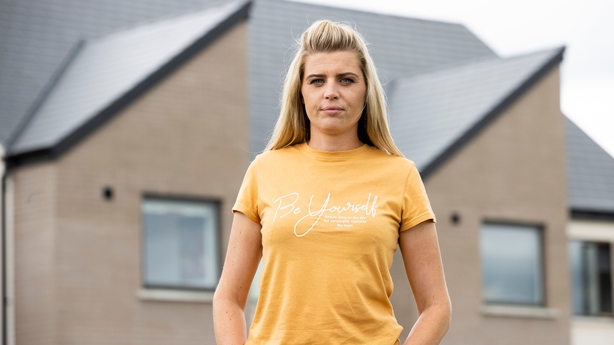 Episode Five's Designer, Aimee Moore is a mother of one who has worked in the gardening sector her whole life. Having dedicated her life to raising her daughter Khia and working for other gardening & retail companies Aimee's made a life-changing decision – she's prioritising her dream and her future career as a garden designer. The first step on that road is winning Super Garden – she hopes!
But there's one big challenge in her way – for the first time ever on Super Garden, Aimee will have to design and build a FRONT GARDEN for her homeowner. With a unique set of challenges and design considerations can she deliver for her homeowner and the Super Garden judges?
Aimee's homeowner is Anna Connaty (70s) who has resized to a home in Riverside after leaving her family home of 42 years. With her children all having grown up & fled the nest, Anna has taken the plunge to move in on her own in the new Riverside estate.
Aimee has two weeks to design and three weeks to build a garden that will give Anna the garden she's looking for and impress the judges. Can she pull it off & realise her dream of getting to Bloom?
Designer: Aimee Moore, Kilkenny
Occupation: Horticulturist
Aimee's love of gardening began with her father who also has green fingers, and has studied horticulture. Dad, Martin was teaching and designing the gardens in The Midlands Prison up to retirement last year. Aimee is a strong independent women & believes firmly in 'women-empowering-women'. Aimee says that she finds strength in other woman "I am also part of a great group of strong independent women, and we meet up a few times a year, we rent out a big house in the most scenic of places where we run workshops over a weekend with yoga, meditation, crafts, and there's always some fire dancing. It really is a magical thing to be a part of".
Aimee will be helped on the build by her dad, Martin, boyfriend Stephen and friend/landscaper, David.
Homeowner: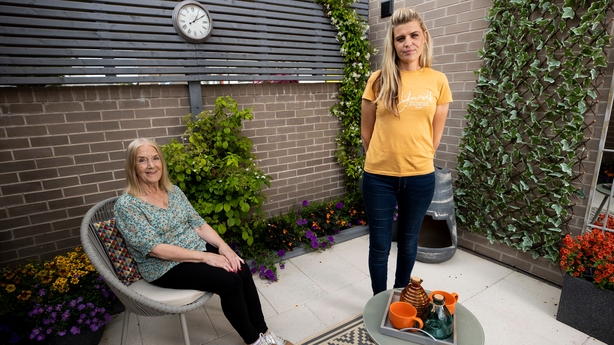 Anna Connaty (70s) has resized to a home in Riverside after leaving her family home of 42 years. With her children all having grown up & fled the nest, Anna has taken the plunge to move in on her own in the new Riverside estate. She has just moved into a new ground floor apartment with a front garden.
Anna has 4 children, Laura (who is currently pregnant, and drops in on a regular basis). Son's Ross (Works in construction and she feels he might lend a hand), Mark, and John Paul. All the children are not too far from Kells. But she also has 12 grandchildren with another on the way! A devoted granny, she's excited about her grandkids running around her new garden.
One critical requirement for Anna was an element of privacy in her front garden but also some connection with her old family garden. In particular, she was a fan of her buddleia bush which attracted butterflies.
Can Aimee connect Anna to her old garden, in her new home in Riverside PLUS take into account the unique design challenges of an exposed front garden?
Garden Design: The Chrysalis Garden
Aimee's Chrysalis garden aims to celebrate butterflies and new beginnings in a contemporary style. Stepping from the house a gravel pathway curves under an arch to a social area at the top of the garden. Trees provide screening from the road but will they be enough? The path continues around a raised brickwork planter & onto a raised lawn area for grandkids to run and play. At the rear of the garden a secluded reflection area is enclosed with wooden fencing and a pergola. On the opposite side of the house bins are screened off from view.
Aimee is introducing lots of orange and purple colours in a planting scheme which holds structure through the year. A dedicated butterfly perennial bed has a butterfly house while native planting and hanging feeders will bring no shortage of wildlife to this front garden.