Starved of festive football for two days, the World Cup returns with a bang on Friday as tournament favourites Brazil look to book their place in the semi-finals.
Brazil strolled through the last-16 encounter with South Korea to book their place in the quarter-finals, while it was the complete contrast for Croatia who were taken to extra-time and penalties by a determined Japan outfit.
Later on Friday, the evening kick-off sees the much-fancied Dutch come up against the magician, Lionel Messi and Argentina.
The winners of Friday's two quarter-finals will meet in Tuesday's semi-final at the Lusail Stadium.
The 2018 World Cup finalists, Croatia, stand in the way of Tite's boys from Brazil, following their penalty shoot-out victory over Japan in the round of 16.
Brazil, had no such issues, as they waltzed, and in fact samba'd, their way past South Korea in the last round, storming out of the blocks to take a 2-0 lead inside 13 minutes, then taking a 4-0 lead into the break.
Tite's side could really have doubled that tally but eased down through the gears in the second half to record a 4-1 victory.
Croatia will, no doubt, feel the effects of that extra-time encounter against Japan ahead of this one, and it was noticeable that key players like Luka Modric and Mateo Kovacic did not last the entire game, which suggests that fatigue could well prove a major factor in Friday's game - both sides have good grounds to complain when compared to the teams in the day's other quarter-final.
One Croatia player, however, who will be brimming with confidence coming into this game will be goalkeeper, Dominik Livakovic, who proved the hero in the penalty shoot-out, saving three out of four spot-kicks to see his side progress.
And the Dinamo Zagreb stopper will have to be performing at the highest level on Friday as he will be the last line of defence against an incredible attacking Brazil unit.
The four-pronged attack looks likely to resume where they left off with Richarlison leading the line, flanked either side by Vinicius Jr and Raphinha, with Neymar pulling the strings in the number 10 role.
But in essence, it's a ten-man attack that Croatia will have to handle at times with central defenders Thiago Silva and Marquinhos happy to join in the fun in their opponents' half.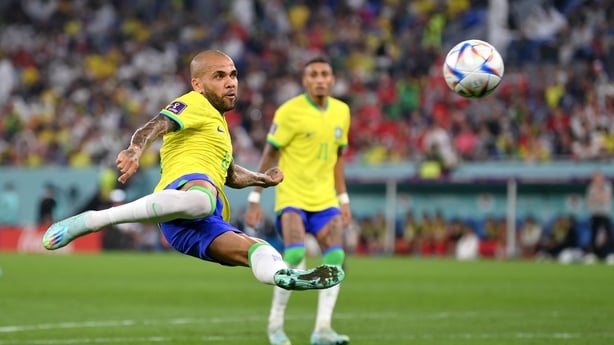 Vinicius Jr said they would not stop dancing to celebrate goals at the World Cup as it was an expression of happiness that was part of Brazilian culture.
Brazil's dancing celebrations as the goals flew in sparked criticism from pundits like former Manchester United and Ireland midfielder Roy Keane, who felt it was 'disrespectful', which generated a viral discussion online.
"Sure, some love to complain when they see other people's happiness and we Brazilians are a joyful people, so it will always bother," said Vinicius.
"The goal is the most important moment in football, in a World Cup it is even more important so it's a moment of joy not only for us, players, but for our entire country.
Vinicius Jr also lauded Tite's leadership and ability as a mentor and the impact that both had in his development as a player.
The 22-year-old has become a key part of Brazil's team that is bidding for a record-extending sixth World Cup title after a brilliant season with Real Madrid.
He scored the Spanish giants' winner in the Champions League final against Liverpool and finished eighth in the Ballon D'Or ballot last month.
"I always try to evolve, not only here, but at the club where I have more time to work," said Vinicius.
"(Real Madrid coach Carlo) Ancelotti helps me a lot and he sometimes works together with Tite, they communicate and are very similar in the way they talk and relate to the players.
"In football, even more so at the top level, you don't have time to complain, you have to evolve, learn."
Croatia are planning to give Brazil the respect they deserve, yet still come into the game with a strong sense of conficdence, as the Balkan nation feel they can play even better than they have so far.
"Brazil were favourites before the tournament. They have two teams that can play at this level," said veteran defender Dejan Lovren.
"Any of their substitutes can come on and make an instant impact. We respect everybody and that is how we work."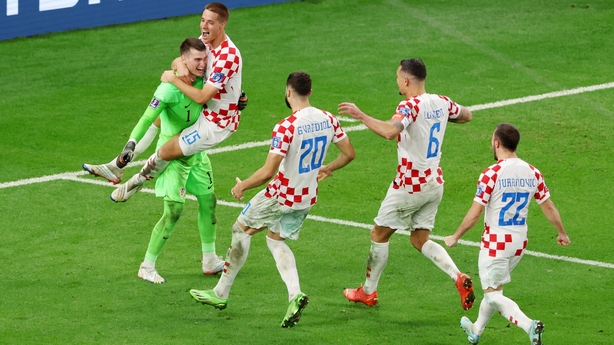 Coach Zlatko Dalic described Brazil as "terrifying", however, midfielder Kovacic added that fitness is not a concern coming into the game.
Dalic admitted that he would have preferred to meet a side of Brazil's standing later on in the tournament and has compared the magnitude of the game to the World Cup final against France four years ago.
"I believe the match ahead of us will be the most demanding one, I can compare it to the final against France in the previous World Cup," he said.
"They are a great opponent and a great challenge for us. I wish such a difficult match was waiting for us a bit later. But life is such.
"We are ambitious and we will not rest here and we try and win tomorrow."
"We showed that we are in great physical shape," Kovacic said. "We worked a lot during these World Cup games. The Japanese team were very disciplined and it was difficult to break them down."
"But we showed a lot of physical fitness and I believe we can play even better."
"How we can stop them?," Lovren said. "It is simple. Our goal is to try and stop the whole team. It will be a very difficult fight."
As for Brazil's exuberant celebrations when they score, which some have said are disrespectful to their opponents, Lovren said he had no problem with them.
"Honestly, everybody can celebrate however they want. I have no issues with that," he said. "I don't think it is disrespectful."
"There are boundaries for everything, but Brazilians were born singing and dancing and I have no problem with that."
---
A re-run of the 1978 World Cup final as Netherlands take on Argentina for a place in the last four in Qatar.
With all the talk of fatigue and games being too close together, neither side here can complain about fitness concerns considering they both secured their place in the quarter-finals last Saturday and have had six days to prepare for this clash.
Argentina enjoyed a hard-fought victory against a well-organised Australia to progress thanks to goals from Lionel Messi and Julian Alvarez, while the Dutch proved too strong for the USA with two first-half goals putting them in control of the game heading into the second half.
Both sides appear to be improving as the tournament progresses with Argentina's defeat to Saudi Arabia seeming a long time ago, while Netherlands looked a much improved unit compared with some of their sluggish peformances in the group stages.
The spotlight shines brightly on Messi for this one, naturally, as the gifted Argentina attacker looks to complete his medal collection with the one that's missing from his incredible haul.
And despite that awful start to the campaign, the South Americans are eventually looking like contenders with the entire team contributing, not to mention the excellent job that coach Lionel Scaloni is doing to create and maintain that togetherness and winning mentality.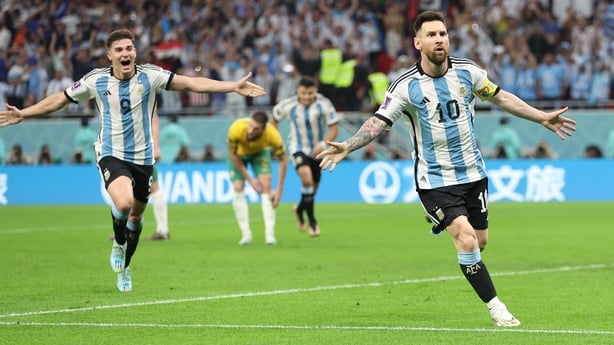 Of course, it is no secret that their dreams of a third World Cup triumph lie largely on the shoulders of Messi but at 44, Lionel Scaloni is the youngest coach at the World Cup and he will pit his wits against the oldest, 71-year-old Louis Van Gaal, for a semi-final spot.
"I'm proud to take him on, everyone knows what he's done for football and how many people have tried to copy him," said Scaloni. "This is one of the pleasures that football gives you, especially as it is happening at a World Cup."
In his four years in charge of Argentina, Scaloni has already built up a huge bank of goodwill at home, most notably for delivering the 2021 Copa America, their first major trophy since the 1986 World Cup and Messi's first for his country.
It was little more than a month before Argentina beat the Dutch in 1978 to win their first World Cup that Scaloni was born in the small interior town of Pujato.
A hard-running wing-back, Scaloni had a successful playing career mostly for Deportivo La Coruna in Spain and made the Argentina squad for the 2006 World Cup, playing briefly with a young Messi against Mexico.
Scaloni has helped get one over the Dutch Master at least once before when he was at Deportivo, who pipped Van Gaal's Barcelona to the 1999-2000 La Liga title.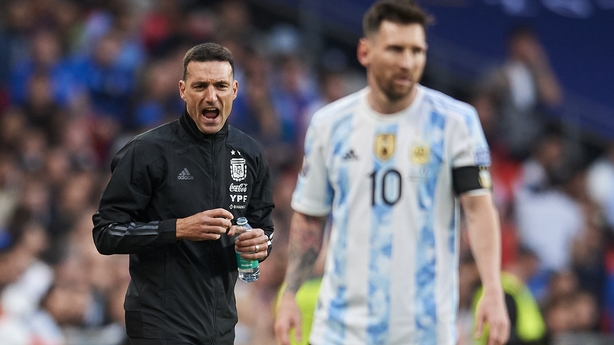 He cut his coaching teeth at Sevilla as an assistant to Jorge Sampaoli in 2017 and his compatriot took him along when he was awarded the Argentina job ahead of the 2018 World Cup.
Scaloni took over with Pablo Aimar as caretaker coaches when Argentina lost to eventual winners France in the round of 16 in Russia but it was he who was named permanent successor to Sampaoli.
His first major tournament was the 2019 Copa America, where Argentina finished third after losing to hosts Brazil in the semi-finals.
Scaloni tightened up the defence and his rejuvenated side, always with Messi at its beating heart, of course, finally delivered the South American title on the back of a 20-match unbeaten streak.
They followed that with an impressive 3-0 win over Euro winners Italy in the "Finalissima" at Wembley in June and by the time they arrived in Qatar, the streak had been extended to 36 games.
The team has long been dubbed La Scaloneta, a play on the coach's name and the local word for a van inspired by a meme showing the two Lionels at the front of a team bus with the rest of the players in the back.
Scaloni has never been comfortable with the nickname and always been quick to emphasise the difficulty of the task facing Argentina, even with Messi in the side.
"All the games are hard," he said, after the Mexico win. "If you think that just because we won today, we are going to become World Cup winners, you're wrong."
"We prepare for this match the same way we prepared for all the others," said Scaloni, speaking at the pre-match press conference. "Of course there is anxiety, we want the game to start right now. After five or six days we are eager to play but we are calm. I know the team will break their backs as they have done in the previous games.
"Sometimes we have played well, sometimes not, but we have always faced our opponents. That's what our people value the most. We know we will give it all on the pitch.
"Sometimes football can be beautiful. Sometimes football can be cruel."
The Dutch, meanwhile, are eager to break new ground and win a World Cup after losing in three finals.
"There is a hunger, dreams and a feeling that we really want to get it (the World Cup)," said captain Virgil Van Dijk.
"When you are in the quarter-finals you are only three games from glory. This is our opportunity. But obviously we have to get past an Argentina side with one of the best players of all time."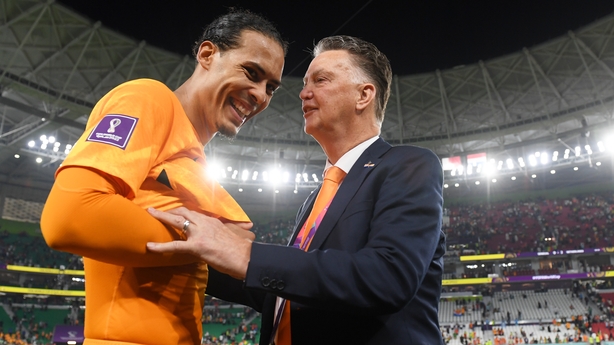 The Dutch also face the possibility of the majority of the 80,000-odd crowd cheering on Argentina as a surprisingly small number of orange-clad Dutch supporters have travelled.
Usually, the Dutch get significant support on the road but without them, Van Dijk believes an early goal might be important to quieten the opposing fans.
"Then it comes a whole different game," he said. "But I think it will be nice to play in such an ambiance."
Looking ahead to the quarter-final, Van Gaal did his best to dampen the romanticism, pointing to the more defensive nature of modern football, but that could well mean it takes a moment of magic to separate the sides.
"(Bergkamp's goal - the stunning quarter-final winner at the 1998 World Cup) was an amazing moment for the country, and what a goal," said Memphis Depay, speaking at the pre-match press conference. "This game will be decided by moments. We believe we can catch a moment and go through."
The 71-year-old Van Gaal nodded as he listened to the Barcelona winger.
"Football is no longer being played as it was in 1998 or 1974 or whatever," said the coach. "Then it was an open game which it no longer is. Football has evolved but it is always possible, as Memphis has said, to have decisive moments that you remember years later, like Bergkamp's goal."
Van Gaal will step down after this World Cup with Ronald Koeman due to start work in the new year, and though he plans to stop he said he could not rule out accepting another role if the right opportunity emerged.
"I'm only doing this for the country, it was an emergency situation and I committed to that," he said. "But you never say never. We had a wonderful example in Dick Advocaat. He is older than me and recently took a job (at ADO Den Haag).
"If I am presented with a wonderful challenge it could well be I continue to work but I'm 71, even though I look marvellous."
We need your consent to load this YouTube contentWe use YouTube to manage extra content that can set cookies on your device and collect data about your activity. Please review their details and accept them to load the content.Manage Preferences
Follow every game from the 2022 FIFA World Cup via live blogs on RTÉ.ie/sport and the RTÉ News app, or watch live on RTÉ Television and RTÉ Player