The Boys from Brazil are back in action on Monday night as the World Cup favourites look to book their place in the quarter-finals of this year's tournament.
Looking to bounce back after their unexpected blip, losing to Cameroon in the final group game, South Korea stand between them and a place in the last eight.
Japan and Croatia meet in the early kick-off (3pm Irish time) with the winners of both games meeting in Friday's quarter-final.
Japan will invoke the spirit of the Samurai warrior in their clash with Croatia on Monday as they look to banish the memory of their exit from the last World Cup and reach the quarter-finals for the first time.
The heartbreaking defeat by Belgium in the last 16 four years ago, when they gave up a 2-0 lead and lost to a stoppage-time goal, still haunts Japan and veteran defender Yuto Nagatomo said they were desperate for redemption.
"I have never forgotten about that battle against Belgium. Sometimes scenes from the match suddenly come back to me and the last four years have been very tough," said the full-back, who is playing at his fourth World Cup.
"But I think we have grown mentally as well as physically and... as far as I can see, this team is the best and the strongest that has ever competed for Japan at the World Cup.
"So tomorrow, we intend to beat Croatia and enjoy a new landscape and I am looking forward to shouting 'Bravo!'."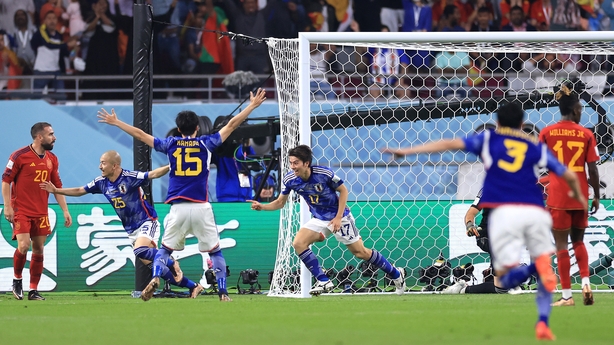 The former Inter Milan stalwart said he had taken to shouting the Italian word "Coraggio!" in unison with young players at the start of the campaign to emphasise the importance of playing courageously.
Nagatomo, who believes Japan have the most united team at the World Cup, said he had also drawn on Japanese cultural references to drive the point home.
"I use the analogy of the Samurai, before they go to battle, they polish their weapons and try to improve their techniques," he added.
"But if they are scared during the battle, they will not be able to use their weapons and their techniques fully. It's exactly the same with football.
"In order for us to maximise all the tactics that we have been discussing and practising in the last four years, we need courage. So tomorrow, I would really very much like to showcase how courageously we are fighting."
Nagatomo said beating Germany and Spain to top their group had given the team huge confidence as they look to win a last-16 clash for the first time in four attempts.
Coach Hajime Moriyasu said he had also tried to engender in the younger players an idea of the history of Japan at the World Cup, including the Belgium defeat, so they understand the significance of what they are trying to achieve.
"We have a long history of participating in the World Cup," he said. "We have had a lot of experience and we are going to use all the lessons that we have learned to play the match tomorrow, all the things that we have done as a football nation."
Croatia have performed wonders to punch above their weight for so long in international football and are determined to keep their reputation going against Japan said coach Zlatko Dalic.
"They will apply the Samurai warrior philosophy. So will we. If we want to go further, we must apply that same attitude, do our best and never underestimate anyone," said Dalic, noting Japan's scant possession statistics in both those wins.
"Japan have the least ball possession in the world, but they make great transition. This is the most perseverant, persistent opponent. They simply do not give up. We have a similar mentality, Japan and Croatia. We stand on equal ground."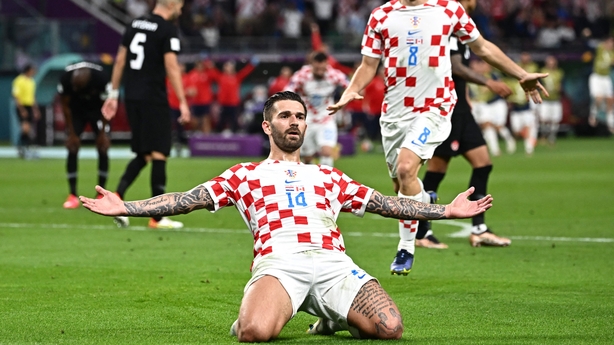 The coach said Croatia would fight to match or even better their performance in Russia.
"Everyone has their right to dream. In 2018, we demonstrated that dreams can come true," he said. "In the last 20 years, Croatia have played magnificent matches. If you look at the countries in the round of 16, we are the country with the smallest population. We are here against the odds."
Dalic singled out Croatia's captain Luka Modric, who has again played outstandingly despite being in the twilight of his career at 37.
"I cannot compliment him enough on his performance. This will not be the last tournament he will play for Croatia. His professionalism, his good shape, his training, his working on self-improvement is unprecedented," he said.
"We will need Luka for some time more in the future."
Defender Borna Sosa faces fitness checks later on Sunday and remains a doubt for the Japan game.
"If he's not up to the challenge tomorrow, we won't take any risks. We need fully prepared players," Dalic said.
Young defender Josko Gvardiol said he knew Japan's spirit well from their presence in the Bundesliga where he plays.
"I know the Japanese players very well," he added. "They represent quite a danger. They are a fighting team. They fight to the very end. They do not surrender."
Brazil's injury worries appear to be less serious than anticipated following the news that Neymar has been passed fit to start this World Cup last-16 match against South Korea.
Injury issues remain, however, as Alex Telles and forward Gabriel Jesus, who were both injured against Cameroon, were officially ruled out for the rest of the tournament by the Brazilian FA on Saturday.
Starting full backs Danilo and Alex Sandro picked up injuries earlier in the competition, however, it is expected that the former is available again.
Tite may still opt to use Real Madrid centre-back Eder Militao as a full back, as he did in the absence of Danilo against Switzerland.
Full back Danilo was also cleared by the medical staff for the game against South Korea.
"Neymar will train today in the afternoon and if he trains well he will play," Tite told a news conference.
Neymar has suffered many issues with his right foot and underwent surgery four years ago for a fractured metatarsal.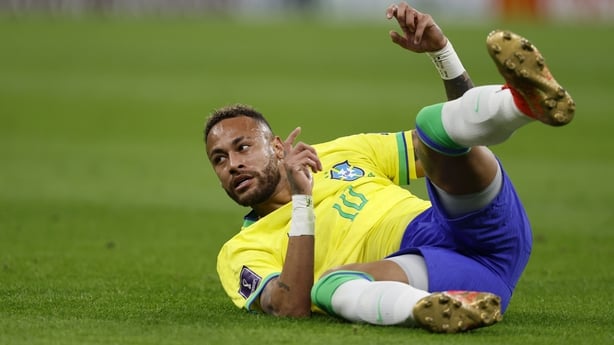 The news of his return to the starting lineup came after Thiago Silva was asked during a news conference if Neymar would play and Tite took hold of the microphone and said "yes".
Tite stressed that Neymar's return was with the full backing of the team's medical staff and the player's physical health was the priority.
With Neymar back, Tite said there will be no changes in the forward line from the team that started against Serbia, with Lucas Paqueta behind Neymar, Vinicius Jr., Raphinha and Richarlison.
The biggest question mark is who will play left back with Sandro and Telles ruled out.
Marquinhos replaced the Sevilla defender after he sustained the injury against Cameroon, but right back Danilo and midfielder Everton Ribeiro are also options.
"Alex Sandro's replacement will be a player that have already played in that position in his club. Make your research and you will find out who he is," Tite said.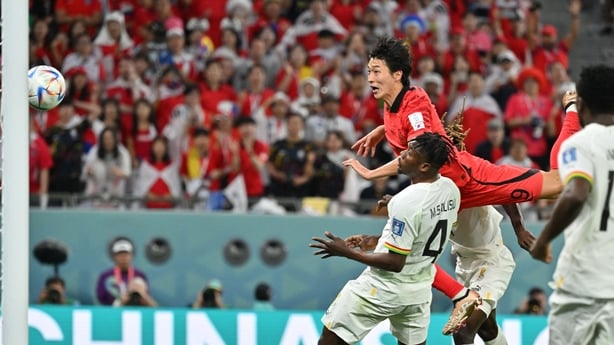 Brazil inflicted a 5-1 defeat on South Korea in their previous meeting back in June but they will face a side brimming with confidence.
South Korea will rely on talisman Son Heung-min to lead them against the odds-on favourites, after he ran himself into the ground on Friday to ensure his team reached the last 16 with a dramatic come-from-behind 2-1 win over Portugal on Friday.
The Koreans are the only Asian side to have reached the semi-finals before, when they were co-hosts with Japan in 2002.
Hwang Hee-chan's stoppage-time goal helped Korea secure that shock win to send them into the knockout phase.
While boss Paulo Bento is frustrated at the short turnaround between fixtures, he knows his side will give everything to produce another World Cup upset.
"There is nothing to lose, absolutely nothing to lose and only something to win," Bento said. "In my opinion I do not think it's fair to play a match every 72 hours but we need to accept it.
"If that is FIFA's decision, we need to understand and accept it. We also need to create the conditions for those that do not have them.
"It is difficult to play against such a great team in Brazil. In my opinion Brazil has the likelihood of winning the World Cup and if we add to this the burden we already have, our task obviously will be very difficult but, having said that, we will try and not give up."
We need your consent to load this YouTube contentWe use YouTube to manage extra content that can set cookies on your device and collect data about your activity. Please review their details and accept them to load the content.Manage Preferences