After two weeks of four-game days, the festive football pre-Christmas diet kicks in on Saturday with only two games to view on Day 14 of this unseasonal World Cup.
We'll be shedding teams over the next fortnight as we come to a conclusion in Qatar, while the last few days have seen 16 such squads pack their bags, exiting after the group stages.
The knock-out phase begins today and first up sees the clash between the much-fancied Netherlands, who will take on the good old US of A for a place in the quarter-finals of this year's tournament, kick-off 3pm (Irish time).
Two hours, in theory, between the games with the second match starting at 7pm, allowing time for extra-time and penalties should they be required.
And it's a battle between Argentina and Australia in the late game with the winners set to meet either Netherlands or USA in the last eight.
The USA are boosted by the news that Christian Pulisic appears to be fit for their vital last-16 encounter with the Netherlands in what is the first game of the knock-out stages.
And coach Gregg Berhalter said he will look to draw on the lessons he learnt in the Dutch league during his playing career having played with PEC Zwolle, Sparta Rotterdam and Cambuur Leeuwarden during an 18-year playing career.
The Americans, who have not reached the quarter-finals since 2002, will be underdogs against three-times finalists Netherlands but will fancy their chances against a Dutch team that stuttered through the group stage.
"I learnt so much in Holland," said Berhalter. "It's almost like, what concepts haven't I taken from Dutch football? It was a great experience being there.
"After every training session and every game, you have a debate with your players about it. People love to discuss soccer and you really learn a lot. And it was a great time for me.
"If I wasn't in Holland, I don't think I would have had that background that really helped shape my ideas."
Pulisic has been cleared to return for Saturday's last-16 tie, the US Soccer Federation said on Friday, after he sustained a pelvic injury during Tuesday's nerve-shredding 1-0 win over Iran in their final Group B match.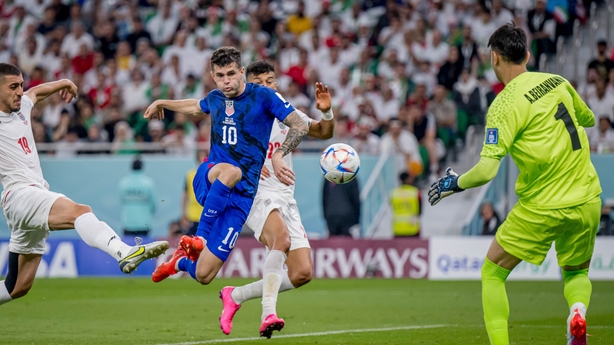 The Chelsea forward scored the goal that secured the US passage to the knockout round but clattered into Iran goalkeeper Alireza Beiranvand in the process and was forced off at half-time.
Josh Sargent also left the Iran match in the second half after hurting his right ankle and Berhalter said he was "a little less" optimistic about the availability of the Norwich City forward.
Pulisic clarified that, unlike what most had assumed after seeing replays, he was not kneed in the testicles.
"I'm alright. It was very painful," he said. "I took a knee ... to a nice pelvis area. That bone is there for a reason to protect you and I hit it well. I was sore."
Standing in the path is the Netherlands, who had two wins and a draw to win Group A and has one of the most dangerous scorers in the tournament in Cody Gakpo, who became the first Dutchman to score in all three group games.
"I'm happy but I'm not thinking about that now," Gapko said. "We want to win the World Cup. We're united, and I'll try and help the team in any way I can."
Lionel Messi will look to take a step closer to winning the World Cup as Argentina face Australia for a place in the quarter-finals in Qatar, kick-off 7pm.
Argentina coach Lionel Scaloni complained about the limited recovery time but has promised that his team would play out of their skins to ensure there are no more surprises at the tournament.
Scaloni and midfielder Rodrigo De Paul said they have yet to train, instead focusing on down time and recovery over the past two days.
"We will break our backs on this pitch to compete, we know how difficult this World Cup is, this is football," said Scaloni.
"We saw what happened yesterday (when Germany and Belgium were knocked out in the group stage) but this is not surprising. When you say big national teams deserve to be in the next stage, that doesn't always happen."
There were concerns winger Angel Di Maria was injured when he was taken off in the 2-0 win over Poland, and Scaloni said they would assess the winger's fitness ahead of the game.
"Di Maria is feeling fine, we hope he will be fine and is able to play. At the moment we don't have a clear picture," said Scaloni.
"What's important is everyone knows what they need to do. We will go match by match and won't always play the same team if it isn't necessary."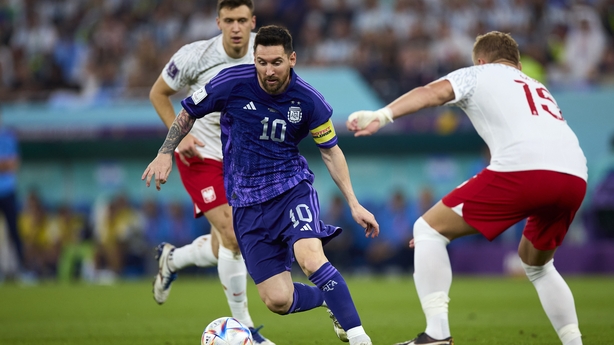 Scaloni said Argentina must shed the "favourites" tag going into the contest, while De Paul said they had analysed the team that beat Tunisia and Denmark in the group stage.
"It will be a similar game to that of Poland, we'll have the ball but they'll have wide players on the flanks - coverage will be important," said De Paul.
"I think it's a very fast team, focusing on wide players, and they have tall centre backs as well. I think we shouldn't make fouls near the area.
"They have very fast wingers and their main strength is their counter-attack, so we need to be very careful. We shouldn't be on the back foot... It will be difficult for our midfield and defence so our forwards are free to roam."
Australia coach Graham Arnold has promised Argentina a war on Saturday when the Socceroos look to spring an upset for the ages.
With a blend of team spirit and dogged determination, Arnold's unheralded underdogs have already notched up victories over Tunisia and Denmark in Qatar to reach the knockout stages for only the second time.
Arnold said they were not finished yet and would be in Argentina's faces for 90 minutes to try and give the South Americans as little time on the ball as possible.
"No disrespect to Argentina or anything at all, but it's 11 v 11, and it's 10 blue shirts against 10 yellow shirts, and it's a battle," said Arnold.
"It's a war, and we've got to fight that and make sure that the boys are in great physical shape, great mental shape, they've got great energy, and we go out there and give it all guns blazing."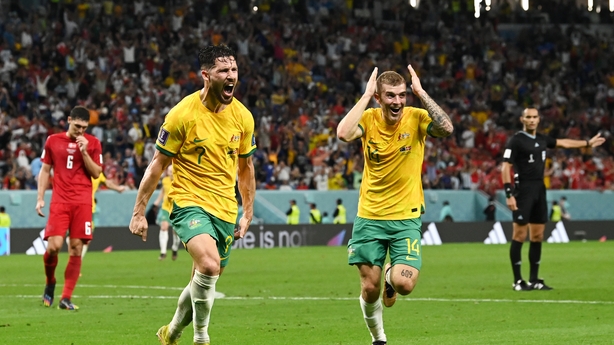 Arnold, who as a player in 1993 came out on the wrong end of a two-legged World Cup play-off against an Argentina side featuring Maradona, said playing the twice champions was a big plus in terms of motivation.
"You're going to see the best of every player on the pitch for Australia tomorrow night because of who we're playing against," he added.
"The brains need to be switched on and ... be switched on for every second ... because they play in two waves. Slow to try to make you relax, but when you relax, that's when they hit you."
Harry Souttar, who has been outstanding in Australia's last two games, reflected his coach's confidence but conceded that shutting down Messi would be a tall order.
"We know it's going to be a difficult task," said the Scottish-born centre-back.
"Obviously, we respect the player massively. But I don't think it's just an individual thing. It's going to be a team effort, our team collective, I don't think it can come down to just one individual trying to stop him."