World Cup 2022: What to expect on Day 10
The breakfast game no more, as we move into Day 10 of the Qatar World Cup, and while the two early time-slots bid adieu, there are still four games to look forward to on - checks calendar - Tuesday.
It's the start of the third round of games and by day's end both Group A and Group B will come to a conclusion.
The race is already run for the host nation, who lost both their games so far, and they will bow out in what should be a tough test for the Netherlands who are all but through.
Ecuador and Senegal go head-to-head in the other game, both 3pm kick-offs (Irish time), with the winner likely to join the Dutch in the last 16.
The @rtenews channel is available on:
Saorview - Channel 21
Virgin Media - Channel 200
Sky - Channel 517
Eir - Channel 517

— RTÉ Sport (@RTEsport) November 29, 2022
Group B will finish with the evening games as England take on Wales, while the USA face Iran.
All four teams are still in with a shout of making it through, however, Wales are left with a tough ask to win a high-scoring game against England who currently top the group with four points.
Ecuador are sweating on the fitness of captain Enner Valencia after he was carried off late in the Netherlands draw with a recurrence of a knee strain.
The South Americans need a win or draw to qualify, after beating Qatar 2-0 and outplaying the Dutch in a 1-1 draw to go joint top of Group A.
Valencia, the 33-year-old forward, has scored all three of Ecuador's goals in Qatar, adding to the three he bagged in Brazil in 2014, and is key to their chances of reaching the knockout round for only the second time.
"My knee's ok. I hope to make it ok to keep helping the team," said Valencia.
Speaking at the pre-match press conference, Ecuador coach Gustavo Alfaro said: "Everything that we've done in the past will be useless tomorrow, it's a totally different game. We just want to win in order to qualify.
"I'm convinced we've done everything we can, we've done our homework, hopefully tomorrow we will be strong and fortunate enough against Senegal, who are a great team, and hopefully we will go through, because we deserve it.
"He [Valencia] has a big heart and he wants to be in every battle for our national team.
"He is an extraordinary player and I would always pick him. If not from the beginning, I hope he can be present at some point. But he will want to be there."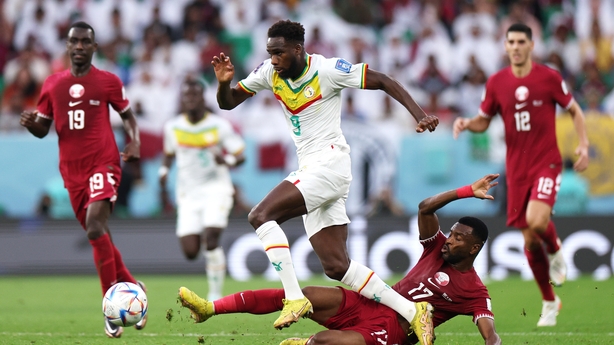 Senegal coach Aliou Cisse said his team are expected to reach the World Cup knockout stages due to their status as African champions but his players are adapting to the pressure well.
Having reached the quarter-finals on their World Cup debut in 2002, Senegal were eliminated in the group stage on fair play points four years ago in Russia.
Senegal need to beat Ecuador in their final Group A game on Tuesday to qualify for the last 16. They could still remain in contention with a draw, in the unlikely scenario of Qatar beating three-times finalists Netherlands.
"I come from a country where we don't like losing," said Cisse. "We're always hungry for that win. Not going to the round of 16 would be difficult to digest.
"We're okay, we're dealing with the pressure and stress. For me, it's good stress.
"We've got a very strong and experienced team, they're a well-oiled machine. We've got the right mixture of veterans and players, players who are used to these types of challenges."
Dutch striker Memphis Depay is not expected to be rushed back into the starting line-up for the Netherlands' final Group A match against Qatar.
Netherlands are joint top of the group on four points with Ecuador and the sides have identical records, so goal difference could well be needed to decide top spot.
After two defeats Qatar will be playing only for pride on Tuesday, and on paper the Dutch should win handsomely.
Depay, who has recovered from a hamstring injury that sidelined him for two months prior to the World Cup, only started on the bench against Senegal or Ecuador.
"We will not take risks with Memphis Depay," said coach Louis Van Gaal.
"To become world champions we need Memphis so we will do anything and everything to make sure we progress to the next round because that's what it's all about.
"With Memphis I decide. It all depends on what I see. Memphis has to deliver as well."
After scoring two late goals to beat Senegal, the Netherlands were fortunate to get a draw against Ecuador and Van Gaal said his team must improve from the showing.
"We made bad decisions against Ecuador," van Gaal said. "But in my view that was an exception to the rule."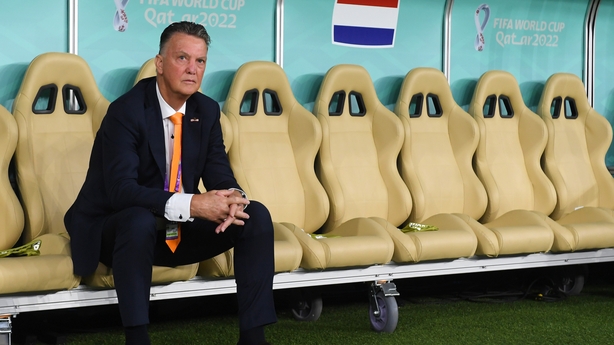 While the Netherlands first of all need to make sure they get three points against a very limited Qatar side, making sure they finish top of the group is a major incentive.
Should Van Gaal's side finish second they would most likely face England in the last 16.
Van Gaal said he would be monitoring the score from the Ecuador-Senegal game and would "take measures" to chase goals if the situation arose.
"I think it's straightforward," Van Gaal said. "Of course I will keep tabs on the other game and I will be informed.
"But the fact of the matter is, if you want to become world champions you have to be capable to beat everyone."
Qatar's coach Felix Sanchez said he would not change a thing if he were to go back in time to before the start of the World Cup.
"If I go back in time? It's easy to talk about things after it's over," said Sanchez.
"I think we have prepared in the best possible way, but everything has to be considered in perspective, we have been working with this group for a long time. Sometimes things don't go the way you want them to.
"We are turning a page and starting a new one. Qatar are committed to football at all levels and will continue to prepare for a new tournament and play at the highest level.
"We played against the African champions [Senegal], and Ecuador is a strong team, and we have a difficult match against the Netherlands tomorrow.
"If we continue to work on a daily basis, I think we can reduce the gap with the other teams and achieve something."
England manager Gareth Southgate knows Wales will have "additional motivation" when the two sides clash in their final Group B game.
The so-called Battle of Britain at the Ahmed bin Ali Stadium has been eagerly awaited on both sides of the border and a derby atmosphere is guaranteed for the evening kickoff.
England, who have not tasted defeat by the Welsh since 1984 and who have won the last six meetings, have all but qualified for the last 16 barring a four-goal defeat.
For Wales, their hopes of progression are hanging by a thread with their destiny far from in their own hands after a dramatic late defeat by Iran on Friday.
Rob Page's side need to win and hope the match between Iran and the United States is a draw, or beat England by an unlikely four-goal margin.
"They are a proud team with some very good players so we expect them to play well and we will prepare in the same way we prepared for previous opponents," said Southgate, who has a fully fit squad to pick from apart from an ailing Ben White.
"They have some world class players who can produce moments of brilliance with their clubs and country, they have good spirit and organisation and we know they seem to have additional motivation to play England."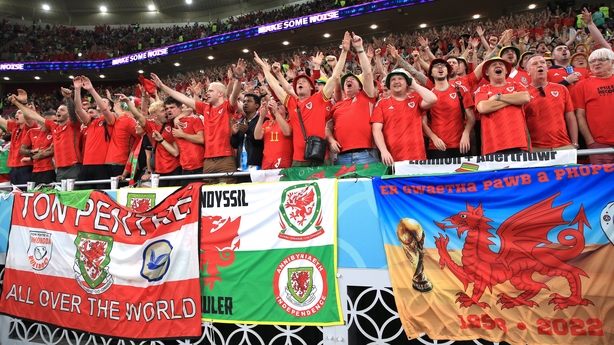 Four years ago in Russia, England won their first two group games and then Southgate made eight changes for a clash with Belgium and finished second.
"We will pick a team that we believe can win the game, that's the priority always," said Southgate said.
"We have to balance freshness with stability, that's always the decision you make when you pick a team."
Wales manager Robert Page says his squad have addressed the issues that have seen them struggle to make an impact at the World Cup.
He said: "My frustration and disappointment is that we've shown nowhere near the levels that have got us to the World Cup.
"We've addressed it and have got to give a performance that our supporters want. I'll pick a team that will go out and try to get us the win.
"Playing England adds a bit of spice. But we don't look back at stats for motivation. We're all hurting as a group. That's the motivation we need.
"I think every team is beatable. England have got some top-class players but, of course, they are beatable."
United States coach Gregg Berhalter insisted his team is focused only on Tuesday's Group B showdown with Iran as he sidestepped the political fracas around the game caused by decades of enmity between the nations.
In a tense and unusual news conference on Monday, Berhalter was questioned about US immigration and naval policy while US captain Tyler Adams was asked about discrimination in the States and chided by an Iranian reporter for mispronouncing the country's name.
Washington and Tehran severed all formal diplomatic ties in 1980 after the Islamic Revolution and bilateral relations were hostile when their soccer teams clashed in the 1998 World Cup group stage.
Ties have been strained in recent years after then-President Donald Trump pulled the US out of an Iran nuclear deal. The US killed a top Iranian general in 2020 and Tehran responded with missile strikes at US forces based in Iraq.
Iran earned a famous 2-1 victory in the 1998 tournament, a game widely viewed as the mostly politically charged in World Cup history and dubbed at the time as the "mother of all football matches".
"That game just sticks in my mind and burns in my mind," Berhalter told reporters before the Group B showdown.
"I was doing commentary on Dutch television for that game. What I saw from the opening whistle is one team that really wanted to win the game and one team that didn't. Iran were really committed, really focused. And for us to have a chance tomorrow, that's going to have to be the mindset."
The US could secure a place in the knockout round with a win while Iran only need a point.
"We know exactly what Iran are going to bring, and we don't want to make the same mistakes as we did in the past," Berhalter said. "We want to learn from that and be able to put it into performance."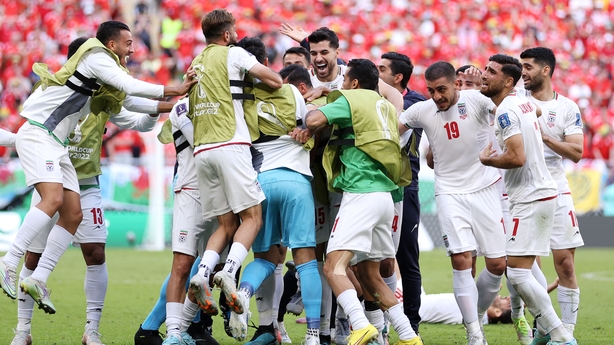 Iran's players have been dragged into a political crisis at home, pressured by protesters seeking to challenge the legitimacy of the country's clerical rulers to side with them publicly and condemn a deadly state crackdown.
The US Soccer Federation temporarily displayed Iran's national flag on social media without the emblem of the Islamic Republic to show "support for the women in Iran fighting for basic human rights". Players were not consulted on the decision to alter the flag.
"I can only reiterate that the players and the staff knew nothing about what was being posted. Sometimes, things are out of our control," Berhalter said.
"All we can do on our behalf is apologise on behalf of the players and staff, but it's not something that we we're a part of... Of course, our thoughts are with the Iran people, the players and the whole country, but our focus is on this match.
"I don't want to sound aloof or not caring by saying that, but the guys have worked really hard for the last four years. It's a knockout game, both teams are desperate to go to the next round. That's how we're looking at this match."
Iran coach Carlos Queiroz is determined his team will also adopt the right mindset.
"We have a strong belief that we can play good football," said Quieroz. "Good football is the starting point to increase our opportunities to win, and this is exactly our focus.
"When we have the ball, we will try to keep it, enjoy it and to build up our opportunities.
"To win or not to win, this is in the hands of the gods of football and not in our control."
Follow every game from the 2022 FIFA World Cup via live blogs on RTÉ.ie/sport and the RTÉ News app, or watch live on RTÉ Television and RTÉ Player
The RTÉ News channel is available on:
Saorview - Channel 21
Virgin Media - Channel 200
Sky - Channel 521
Eir - Channel 517
We need your consent to load this YouTube contentWe use YouTube to manage extra content that can set cookies on your device and collect data about your activity. Please review their details and accept them to load the content.Manage Preferences